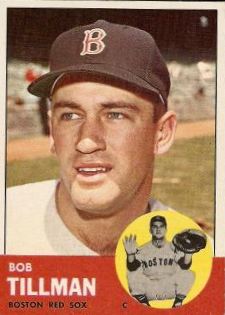 ---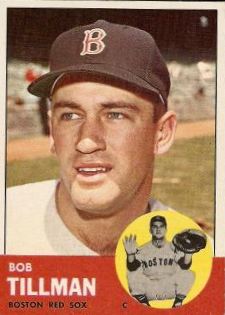 A Tennessee native who played baseball and basketball at Georgia Tech,1 Bob Tillman caught the eye of Red Sox scout George Digby, who signed him out of Middle Tennessee State on January 18, 1958. Tillman, a 6'4″ right-hander, earned a place in baseball history with his first official major league at-bat, which left the yard in a 6-5 Red Sox loss to the Los Angeles Angels on May 19, 1962.2 Bob's career highlights also include being behind the plate for two no-hitters, Earl Wilson's in 1962 and Dave Morehead's in 1965. The latter no-no provided one of the few high spots in an otherwise dismal season (the Red Sox lost 100 games and finished ninth of 10 clubs) that also marked the last time Tillman appeared in more than 100 games in a season.
John Robert "Bob" Tillman was born in Nashville, Tennessee, on March 24, 1937, to Joseph Earl and Ruth Elizabeth Tillman, and graduated from Isaac Litton High School. After attending both Georgia Tech and Middle Tennessee State, he signed with the Red Sox in 1958. Tillman began his professional career with Raleigh in the Class B Carolina League. He was named to the All-Star team as the starting catcher that first year in pro ball.3 He progressed to Allentown in the Single-A Eastern League in 1959, where he was again named a starter for the All-Star team.4
In 1960, Tillman moved to the Triple A American Association, where his Minneapolis Millers team included future major league teammates Carl Yastrzemski, Dick Radatz, and Earl Wilson.5 Tillman's performance in Minneapolis included a two-home run, four-RBI game in July. The following year, with the arrival of the major league Twins in Minneapolis, the Red Sox AAA franchise moved to Seattle in the Pacific Coast League. With the Seattle Rainiers, Bob played for manager Johnny Pesky, with whom he would be reunited in 1963 when Pesky took over as manager in Boston. Pesky, and the Red Sox, were impressed with his power numbers: in his four years of minor league ball, Tillman had slugged home run totals of 18, 25, 24 and 14.
In 1962, Tillman stuck with the big club out of spring training. With two other catchers, Russ Nixon and Jim Pagliaroni, on the roster, Tillman appeared in just over half of the games, including Wilson's no-hitter, one of two such games pitched by Boston hurlers that year.6 His first action came on April 15, when he worked a pinch-hit walk off Steve Barber at Baltimore's Memorial Stadium. He then sat on the bench until May 16, when he played a single defensive inning at Fenway Park against the Yankees. Three days later, Tillman got his first start when he was remarkably installed as the
cleanup hitter against the Angels' Ted Bowsfield. After drawing a walk in the second inning, he hit a solo home run in the fourth –in his first official at bat. This helped get him the bulk of the catchers' duties for the next six weeks.
Tillman ended the year with 14 home runs but batted only .229, and later admitted in a radio interview that as a rookie he "couldn't hit a curveball with an oar." As a result, Tillman was sent to the Florida Instructional League over the winter to overcome, in the words of general manager Mike Higgins, a tendency to "swing at many curveballs that are not in the strike zone."7
The 1963 season saw increased action for Tillman, whose new major league skipper, Johnny Pesky, was familiar with Tillman and liked what he saw. When asked about Tillman's tribulations with the curveball, Pesky said many hitters had trouble with it, including him, and that Tillman would learn to hit it.8 Not all observers were convinced, and longtime Boston sportswriter Larry Claflin observed, "The curveball is to Tillman what television is to movie theatres."9 Nevertheless, over the winter it appeared that Tillman would be named the number one catcher in 1963; with Pesky showing loyalty to a player he once called "a right-handed Bill Dickey."10 Tillman returned the favor by getting in early workouts with Bill Monbouquette at an indoor facility at Tufts University, before reporting to spring training in Scottsdale, Arizona.11 While off-season conditioning is taken for granted now, in 1963 it was quite unusual, and was considered an encouraging sign by Pesky. Unfortunately, despite the high hopes of the winter, 1963 was not a good year for Tillman at the plate, where he continued to struggle, hitting .225 with only eight home runs and 32 RBIs in 96 games.
Pesky did not lose faith in his catcher, however, installing him as the starter in 1964, and Tillman responded with what would turn out to be his best year offensively. He hit .278 with 17 home runs and 61 RBIs in 131 games. His 17 home runs were a Red Sox record for a catcher until Carlton Fisk hit 22 in 1972. To further put his performance in perspective, Tillman in 1964 was tied with Tim McCarver for fourth in the majors for catchers in runs created, behind future teammates Joe Torre and Elston Howard, and Bil Freehan, and ranked fifth in runs created/game, behind Howard, Freehan, and Torre. Pesky was fired before the end of the '64 season (another example of the classic Red Sox deck-chairs-on-the-Titanic managerial moves of the '50s and '60s). Billy Herman replaced Pesky for the rest of '64 and into '66, when Herman was in turn replaced by interim manager Pete Runnels for the last 16 games of the season.
With Pesky went much of Tillman's playing time, which dropped to 111 games in 1965, when he hit .215 with six home runs and 35 RBIs. For the third consecutive season he was the team's opening day starter, but his continued struggles with the bat caused Herman to give a great deal of playing time to Mike Ryan and Russ Nixon as well. Neither of them hit that well, either. Nevertheless, Tillman was behind the plate (and was 0-3 at bat) for Dave Morehead's no-hitter in September of 1965, witnessed by a reported crowd of 1,247 (perhaps not surprising for a team that lost 100 games). In 1966, Tillman played in 78 games as Ryan's backup, hitting .230 with three homers and 24 RBIs, while the Red Sox again finished deep in the AL standings, just a half-game ahead of the last-place Yankees in the 10-team league.
And then came 1967, which saw former teammate Dick Williams take the helm in the spring and put Tillman in his doghouse shortly thereafter. It was well known that Williams's doghouse was the size of a double-wide trailer, but Tillman's spot appeared to be set in stone on May 12, when, in an effort to cut down Al Kaline on a steal attempt, Tillman's throw to second was interrupted by relief pitcher John Wyatt's head, to the dismay of the 15,000 fans in attendance. After the ball struck Wyatt, it caromed to the on-deck circle, allowing Kaline to take third. Kaline then scored what proved to be the winning run on a sacrifice fly by Willie Horton. It was the first run allowed by Wyatt that year.12 In a story reviewing the Red Sox's struggle to find a reliable signal caller, written after Carlton Fisk had finally been installed as the everyday catcher in 1972, Larry Claflin recalled Tillman's errant throw and noted that Tillman "became the prime tenant of Williams' doghouse" and was benched for 38 games thereafter.13
After acquiring Howard, the Red Sox had four catchers. Someone had to go. In a move that would be nearly inconceivable today — there would be charges of trading with the enemy – Tillman was sold to the Yankees on August 8, 1967, after the Red Sox had traded Pete Magrini and a player to be named later (Ron Klimkowski) to the Yankees in return for Elston Howard five days earlier. Tillman, when he reported to the Yankees, said, "All I ask is a chance to play a little and prove myself. I've been to bat only 64 times all season and no one can prove anything in that time. I proved I could hit when I batted .278 in 1964 as the regular catcher in Boston."14
Backing up his words, Tillman started four games in his first week as a Yankee and had seven hits in 17 at-bats, driving in six runs in one game with a homer, a single, and a sacrifice fly. All told, Tillman appeared in 22 games as a Yankee, garnering almost as many at-bats in August and September as he had in the first 100 games of the season, and hitting almost 70 points higher (.254 to .188). Tillman's performance impressed manager Ralph Houk, who said in September that Tillman "fit right in" with his club, only to see Lee MacPhail send Tillman and Dale Roberts, a rookie pitcher, to Atlanta in December in exchange for future manager Bobby Cox.15 In 1968, he again played a backup role, this time to another future skipper, Joe Torre. The change of league unfortunately did not improve Tillman's performance, as he hit only .220 with five home runs and 20 RBIs. He did achieve one career milestone, however, getting his first and only major league stolen base.
In the off-season, the Braves traded Torre to St. Louis for Orlando Cepeda, and Tillman got his fourth opening day assignment. Nevertheless, Tillman soon settled into a role as the backup to rookie Bob Didier, playing 69 games. Despite the lack of playing time and a dismal batting average (.195), Tillman rediscovered his power, hitting 12 home runs in only 190 at-bats. Three of those dingers came on July 30 at Philadelphia's Connie Mack Stadium, in the same game in which Hank Aaron hit his 537th to move past Mickey Mantle into what was then third place on the all-time list.16 All three of Tillman's home runs were hit off Grant Jackson. The Braves won the National League West that season, and Tillman saw his only post-season action, a single defensive inning in the final game of the Braves's three-game sweep at the hands of the Mets.
In 1970, Tillman's last year in professional ball, he shared the catching duties with Hal King and Bob Didier, appearing in 71 games and batting .238, with 11 homers and 30 RBIs. In December 1970, Tillman was traded to the Milwaukee Brewers in exchange for Hank Allen (brother of Dick and Ron Allen), Paul Click, and John Ryan, the latter two of whom never made it to the major leagues. After the trade Brewers manager Dave Bristol was quoted as saying that he expected Bob Tillman to play in 1971.17 After a front-office shakeup, however, new general manager Frank Lane promptly placed Tillman on waivers and traded outfielder Carl Taylor, both of whom had just been acquired by his predecessor, Marvin Milkes.18 No team selected him off waivers and so Bob Tillman's 775-game major league career was in the books.
He returned to his native Tennessee, where he lived with his wife, Dolores Cirillo, (a Boston-area native he met in 1962 and married in 1963) and his two sons, Joel (born in 1967) and John (born in 1971). After a stint with a soft side luggage company, Bob worked for a food broker and food distributor until he retired on April 1, 1998. Sadly, his retirement was short-lived, as Bob Tillman passed away on June 21, 2000, of a heart attack at the age of 63.
Note
This biography originally appeared in the book The 1967 Impossible Dream Red Sox: Pandemonium On The Field, edited by Bill Nowlin and Dan Desrochers, and published by Rounder Books in 2007.
Sources
Interview with Dolores Tillman by Barb Mantegani on June 2, 2006.
1 Minshew, W. "Tillman Solves Tepee Quest for No. 2 Backstop," The Sporting News 12/30/67, p. 38.
2 All references to specific games are from www.retrosheet.org unless otherwise noted.
3 The Sporting News 7/16/58, p. 38.
4 The Sporting News 7/22/59, p. 39.
5 The Sporting News 4/27/60, p. 31.
6 Interestingly, Pagliaroni, who caught Bill Monbouquette's no-hitter in August 1962, also ended his career having caught two no-hitters, the latter being Catfish Hunter's perfect game against the Twins on May 8, 1968.
7 Holbrook, B. "Morehead and MacDonald Add Glitter to Hub Hose Hill Corps," The Sporting News 11/3/62, p. 17.
8 Holbrook, B. "Loafers, Playboys to Face Pesky Wrath," The Sporting News 11/24/62, p. 3.
9 Claflin, L. (in the Boston Record American) "Question-Mark Catchers Could Distress Pesky," The Sporting News 11/24/62, p. 4
10 Hurwitz, H., "Tillman Top Entry in Hub Mitt Tussle," The Sporting News 1/5/63, p. 15.
11 Hurwitz, H., "Early-Bird Tillman Tunes Muscles for Shot at Steady Job," The Sporting News 2/23/63, p. 34.
12 Claflin , L., "Throw to Second Base Konks Wyatt on Hill," The Sporting News 5/13/67, p. 19.
13 Claflin, L., "Bosox Catching Job-A Tale of Woe," The Sporting News 5/13/72, p. 19.
14 The Sporting News, 8/26/67, p. 18.
15 Ogle, J., "Power-Socker Cox Joins Yank Third-Base Tussle," The Sporting News 12/23/67, p. 36.
16 July 30, 1969, at home against the Philadelphia Phillies.
17 Whiteside, L., "Brewers Narrow Fan Gap During Winter Caravan," The Sporting News, 1/30/71, p. 34.
18 Whiteside, L., "Lane Obtains Kuenn Again — and Nobody Fires Rocks," The Sporting News, 2/20/71, p. 43.
Born
March 24, 1937 at Nashville, TN (USA)
Died
June 23, 2000 at Gallatin, TN (USA)
If you can help us improve this player's biography, contact us.
http://bioproj.sabr.org/bp_ftp/images2/TillmanBob.jpg
600
800
admin
/wp-content/uploads/2020/02/sabr_logo.png
admin
2012-01-04 20:45:27
2012-01-04 20:45:27
Bob Tillman