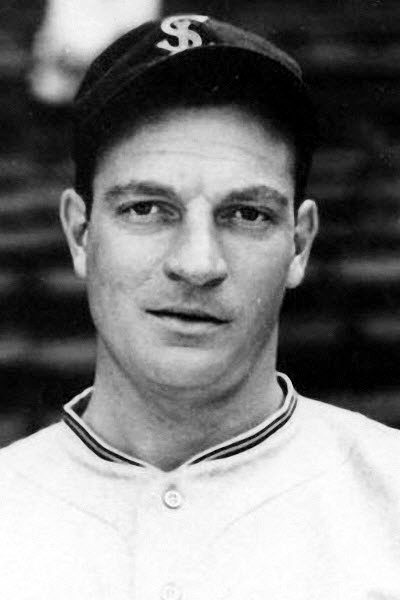 ---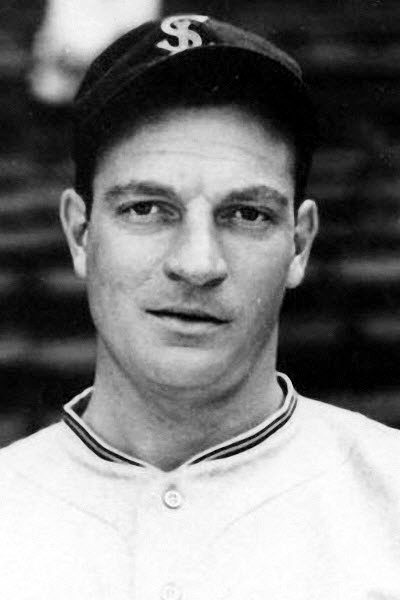 Left-hander Bob Weiland's record is a reminder that the team you play for can have as much as anything to do with your won-loss totals. It was his misfortune to play for the worst two teams in the American League for the first six and a half years in the majors, pitching for the White Sox and Red Sox from 1928 to1934 and putting up a combined record of 20-50. When he moved from Boston to the Indians in mid-1934, it still took him a while to right his ship, and he was 1-5 for the balance of the year. Near the end of his career, he was fortunate to enjoy three full seasons with the "Gas House Gang" St. Louis Cardinals, with much better results.
As far as we know, Bob Weiland never claimed to be the son of God, but he truly was the son of Christ. His father was a policeman in the city of Chicago by the name of Christ Weiland; "Christ" was probably pronounced to rhyme with "mist." He had come to the United States in 1889 with his parents and seven siblings, his own father Jacob a dairyman. Bob Weiland was born on December 14, 1905, on Chicago's South Side to Christ and Mathilda Weiland; he had a sister, Esther, who was two years older. Bob grew to become rather tall for the times, 6-feet-4, and had a major-league playing weight of 210. In Chicago, he went to the Lowell School for his first eight years of education and then put in four years at Lane Technical High School.
As a southpaw, it didn't take long for Bob to acquire the predictable nickname of "Lefty." He may have first picked it up on the playgrounds of Humboldt Park, where he played ball as a teenager. At age 20, in 1926, he signed with the Peoria Tractors of the Three-I League (Illinois-Indiana-Iowa League), a Class B team for which he never played. His first year in organized baseball was in the Class D Mississippi Valley League with the Moline Plowboys. He was 10-8 in 187 innings of work during the 1927 season, improving to 20-10 in 1928 with a reported league-record 210 strikeouts.[1]
He was purchased by his hometown Chicago White Sox on July 23 for $3,000 and earned a September call-up.[2] He appeared in just one game for his hometown Chicago White Sox, on September 30, and shut out the Philadelphia Athletics, 1-0, allowing seven hits and walking five while whiffing nine. He singled once in three at-bats.
In 1929, he was up and down between the White Sox and the Toledo Mud Hens, 2-4 with Chicago and 3-4 with Toledo. In 1930, he pitched for three teams, but never did win a game: 0-1 for the Mud Hens, 0-1 for the Buffalo Bisons, and 0-4 for the White Sox. In 1931, Weiland pitched to an 11-8 season (3.89 ERA) for the Louisville Colonels. He was 2-7 for the White Sox, with a 5.16 ERA, and was traded to the Red Sox on December 2 for pitcher Milt Gaston. He'd been 5-15 for Chicago with an earned run average of 5.39 over the parts of four seasons. The White Sox had finished seventh, seventh, and eighth his last three years.
Joining the Red Sox might not have seemed to offer any brighter hopes of finishing in the money. Boston had placed eighth, eighth, and sixth. If there was a trend, though, it may have seemed it was towards improvement. The Red Sox finished eighth again in 1932, however, and Weiland's 6-16 led the team in losses. His ERA of 4.51 was distinctly better than the team's own 5.02. He had trouble throwing the ball over the plate, walking 97 while only striking out 63 and putting up a WHIP (walks and hits per inning pitched) of 1.676.
Weiland improved his second year with the Red Sox, and finished 8-14 (3.87) with 97 strikeouts (but an even 100 walks) and a WHIP of 1.373. The team finished seventh.
He started with a 1-5 record for the Red Sox in 1934, but then was traded to the Cleveland Indians in May. It was a good deal for Boston. They sent Weiland and Bob Seeds and $25,000 of new owner Tom Yawkey's money to Cleveland for Wes Ferrell and Dick Porter. For the Indians, he pitched better but also put up a 1-5 record for them, making it 2-10 on the season. That November, he and Johnny Burnett were sent to the St. Louis Browns (along with $10,000) for Bruce Campbell.[3]
He didn't pitch much for the Browns, and was 0-2 with 31 bases on balls in 32 innings. His WHIP of 2.188 and his ERA of 9.56 left a great deal to be desired. Most of the year he spent in the minor leagues, and after manager Rogers Hornsby released him on option to Albany on June 14, he was a 9-10 combined with Albany and Rochester, which acquired him in a deal with the Browns for Tom Carey.
Weiland saw no big-league duty in 1936, but had a very successful full season with the Rochester Red Wings (23-13, leading the International League with 171 strikeouts) and earned himself another shot. He signed with the St. Louis Cardinals in 1937 and put together back-to-back winning seasons, 15-14 and 16-11. Playing with a better team certainly helped, but his ERA was down dramatically, too. He did seem to have found himself again. In 1939, when the Cards reached second place, though, Weiland slipped some, to 10-12 – though his ERA was almost identical to the two previous years (3.54, 3.59, and 3.57). These had been happier years; Weiland even played the jug in a musical group called the Marvelous Musical Mississippi Mudcats, led by manager Pepper Martin.[4]
In the offseason, Weiland worked for about six weeks during January and February in Orlando as an instructor at the Joe Stripp Baseball School. On April 26, 1940, he pitched his final time in the major leagues. It was the only inning he pitched that year, only two-thirds of an inning. He allowed three earned runs before being removed from the game. He was released outright, sold to the Pacific Coast League's Los Angeles Angels on May 10, and was 12-7 in 1940. He was 1-4 with the Angels in 1941 but was sold to the Milwaukee Brewers where he was 0-2 in American Association play. Weiland requested his release and, as a ten-year man, was granted it. He worked in a defense plant in 1942 and did not return to the game. During the summer of 1942, he pitched semipro ball in Chicago for the Winkler Motors team.[5]
Bob Weiland worked selling auto parts for a number of companies from 1940 up to his retirement in 1976.
Bob married Esther Nielsen on October 11, though accounts of the year differ. He reported the year as 1928 in his questionnaire submitted to the Hall of Fame. Cook County marriage records have the year as 1930.[6] The union produced two children, Robert and Karen Ostrowski. Later in life, Bob suffered some heart problems and the amputation of both legs.
Bob Weiland died of a stroke and congestive heart failure on November 9, 1988, in Chicago.
July 17, 2011
Sources
In addition to the sources noted in this biography, the author also accessed Weiland's player file from the National Baseball Hall of Fame, the online SABR Encyclopedia, Retrosheet.org, and Baseball-Reference.com.
---
Born
December 14, 1905 at Chicago, IL (USA)
Died
November 9, 1988 at Chicago, IL (USA)
If you can help us improve this player's biography, contact us.
http://bioproj.sabr.org/bp_ftp/images5/WeilandBob.jpg
600
800
admin
/wp-content/uploads/2020/02/sabr_logo.png
admin
2012-01-04 20:31:30
2012-01-04 20:31:30
Bob Weiland