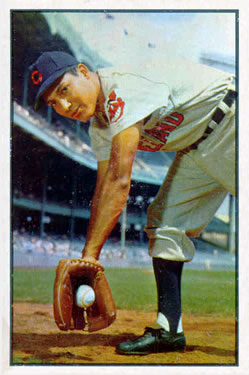 ---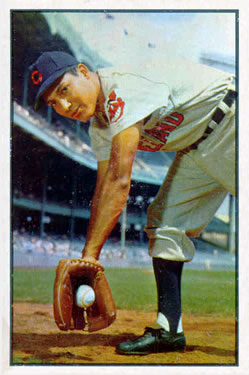 Cleveland Indians General Manager and Hall of Fame outfielder Hank Greenberg once said of Bobby Avila, "He has that something extra that makes a great hitter. Call it competitive instinct. … He's always fighting the pitcher, never choking up and never giving an inch. … In a tough spot, I'm always glad to see Bobby coming to the plate."1
"Everybody knows who Avila was in Mexico," said former Los Angeles Dodgers great Fernando Valenzuela. "He was an inspiration, of course, for Mexican ballplayers to follow to the States and play in the major leagues. He did a good job. Everybody knows and recognizes what he did."2
With the 1954 Indians, Avila played the best baseball of his 11-year major-league career.3 He led the American League in hitting (.341) and received The Sporting News American League player of the year award. His extraordinary 1954 performance made him the first Mexican-born player in history to lead the American League in batting.4
Roberto Francisco (Gonzales) Avila was born on April 2, 1924, in Veracruz, Mexico.5 He had four sisters and three older brothers. His father, a lawyer, wanted Bobby to also become a barrister. While at a preparatory school in Veracruz, Bobby excelled in many sports, including baseball, soccer, and basketball. When he was 14 a professional soccer team, Espana Club of Veracruz, offered him an opportunity to play left wing. For about $70 a month and with his father's approval, Bobby joined the club and traveled throughout Mexico as a professional soccer player.6
Avila decided the following year to concentrate his athletic efforts on baseball and signed with the semipro Cordoba club. At the time baseball in Mexico suffered from a lack of good instructors and coaches. Fortunately for Bobby, an older brother, Pedro, played baseball, and taught him the game. Although he started as one of Cordoba's pitchers, he switched to second base in order to get more playing time.
In 1943 the Mexican League offered Avila a contract to play for the Puebla club. He and his father remained at loggerheads over his future. He partly addressed his father's concerns by agreeing to also enroll at the University of Mexico to study engineering. Avila signed with Puebla for 700 pesos a month.
In 1946 Avila emerged as one of the league's top hitters, finishing with a .340 average. He also played Cuban baseball and performed well. Major-league scouts noticed and several made offers to him. Reportedly, the Brooklyn Dodgers even brought him to their spring-training camp to evaluate him.
Avila later said that most of the offers were in the $6,000-to-$10,000 area. Rather than jump at the offers, he decided to stay put. The following year Avila led the league in hitting, with a .347 average. The Indians' Cy Slapnicka, who scouted and signed many great baseball stars over his career, extensively evaluated the 5-foot-11, 170-pound Avila. He recommended that the Indians offer Avila a $17,500 bonus to sign. With the full support of his once skeptical father, Bobby signed.7
Cleveland assigned Avila to its Baltimore affiliate in the Triple-A International League. In 1948 he played in 56 games for the Orioles and hit .220.8 At first his unfamiliarity with English significantly hampered his transition to American baseball. His first minor-league manager, Tommy Thomas, described Bobby as a "stranger in a strange land."9
Avila went from Mexican stardom to American anonymity. He struggled both socially and professionally. His self-confidence plummeted. "[It] was very hard for me at first," he said later. "Any Latin ballplayer who comes here must fight the language." 10 To make matters worse, Avila also suffered a hernia, which had to be corrected with offseason surgery.11
Avila began with Cleveland in 1949 and roomed with pitcher Mike Garcia, US-born but of Mexican heritage. Garcia remembered, "At first, Bobby didn't speak a lick of English. All he would do was point and say, 'Como se llama eso?' meaning 'What's that?' " On the major-league roster only because of major-league requirements related to his signing bonus, Avila used his time on the bench in 1949 to learn the English language and American customs.12 He appeared in 31 games, only one as a starter, had only 15 plate appearances, and finished with a .214 average.13
In 1950 Joe Gordon, the Indians' hard-hitting and slick-fielding second baseman, suffered an injury and Avila made the most of his unexpected opportunity.14 Appearing in 80 games and getting 201 at-bats, he ended the year with a .299 average.15 Gordon was released after the season and Avila became Cleveland's regular second baseman in 1951, playing in 141 games and hitting .304. 16 He had the best batting day of his career on June 20, 1951, hitting a single, a double, and three home runs (one inside the park) against five different Boston Red Sox pitchers.17
In a seemingly minor move, the Indians in 1952 obtained veteran utility infielder Hank Majeski from the Chicago White Sox. Cleveland assigned Majeski to room with Avila. The two quickly became good friends. "He (is) like a big brother to me," Avila said. "He helps me more than anybody. He makes you think you can do it. Sure you have to have the ability, but he help(s) me all (of) the time." 18 Avila responded positively to this new environment by hitting.300, scoring 102 runs, leading the league in triples (11), and making his first appearance in an All-Star Game.19 With his All-Star appearance, he became the first Mexican-born player to be picked for the honor. 20
Although Avila increasingly felt comfortable playing in Cleveland, he maintained his strong ties with his friends and family in Mexico. On his major-league salary, he supported his mother, his wife and two children, and his widowed sister and her son. In addition to his direct dependents, Bobby often received requests for financial help from other friends. According to Majeski, "In every town we go to people gather around him and he's always picking up the tab. After every payday, you ought to see the number of money drafts he sends to Mexico."21
Avila was now an international (US, Cuba, Mexico) baseball star. In Mexico and Cuba, he went by the popular nickname Beto, short for Roberto. "Beto" adorned all of his autographed baseball pictures and even his bats. Beto never caught on in the US, so he went with the nickname Bobby. He ended up with two sets of bats in Cleveland: his Bobby bats and his Beto bats.22
Avila suffered a slight drop in his hitting production in 1953. In 141 games he finished with his lowest batting average (.286) in four years.23 On the field, though, Avila led all American League Second Basemen with a fielding average of .986.24 Building on the footwork skills he used in soccer, he became very adept at turning the double play. He also used his soccer training to perfect the art of sliding into a base while simultaneously attempting to kick the baseball out of the fielder's glove. This angered some opposing players, who threatened retaliation.25
Within the framework of the Indians' spectacular 1954 season, Avila surged to the best year in his 11-year major-league career. He led the league in hitting with a batting average of .341, and was the only Indian regular to hit over .300. (Al Rosen hit exactly .300.)
Avila's 1954 batting title has been the subject of some controversy, particularly among Boston Red Sox fans. During 1954 spring training, the legendary Ted Williams broke his collarbone diving for a ball and missed 37 games. In addition, opposing pitchers walked him 136 times. The missed games and walks combined to give Williams 386 official at-bats. Although he finished with a .345 average, to be eligible for a batting championship at the time, a player had to have 400 at-bats.26
However, Avila also had both a significant injury and a possible suspension to address. After his unusually good start with the bat, he suffered a broken thumb on June 2. He remembered, "Hank Bauer slid into second and broke my thumb." At the time of his injury, Avila's average was .392.27
Avila played five games after his injury before deciding to get his increasingly sore right thumb X-rayed. The film revealed a chip fracture near the joint. The doctor put a splint on the injury and told him not to play for at least a week. He also told Avila "not to shake hands" for a while.28
When Avila resumed playing, he found he couldn't swing the bat as well as he had earlier. Over the next two months, his average dropped to .313. As the thumb got better, his average climbed and he finished at .341. Noting that confidence at the plate is a key factor in good hitting, Avila said that if he had not had the injury he could have hit for an even higher average. 29
In addition to his injury, on June 4 Avila made contact with home-plate umpire Bill Grieve while arguing a third-strike call. Umpire/player contact incidents required a ten-day suspension. Upon his review, however, Baseball Commissioner Ford Frick decided that the incident was minor and could have actually been accidental. Instead of a suspension, the commissioner gave Avila a warning and fined him $100.30
Avila also hit a career-high 15 home runs in 1954. Although that may seem modest, The Sporting News noted that 13 of the 15 either tied or won games in the late innings. 31 Avila played in his second All-Star game, which that year was played in Cleveland. He went 3-for-3 and drove in two runs in the American League's 11-9 victory. 32 Avila also led the league in sacrifice hits (19) and scored a career-high 112 runs.33
Yogi Berra was voted the Most Valuable Player in the American League that year, but Avila received several postseason awards. The Sporting News selected him as its AL Player of the Year and Major League All-Star second baseman. The Cleveland Baseball Writers named him their Man of the Year.34
When the Indians won the pennant, Avila faced the daunting task of satisfying a huge number of World Series ticket requests from Mexico. The Sporting News reported that he even got a call from the president of Mexico, who wanted tickets for himself and all of his cabinet members.35
Avila hit only .133 (2-for-15) as the Indians were swept by the New York Giants in the World Series. The Sporting News said the poor hitting of Avila and teammate Lary Doby made them the "top patsies" of the Series.36 Reflecting on the Giants' sweep of the heavily favored Indians, Avila said, "You know how it is in baseball. Most of the breaks went for them and they beat us."37
In 1954 Avila, with the permission of General Manager Greenberg, became a part-owner of the Mexico City Reds of the Veracruz Winter League. After the World Series he received a hero's welcome when he returned to Mexico to begin his player/owner duties.
Mexican officials met Avila in Nuevo Laredo at the U.S.-Mexican border and gave him a motorcycle escort all the way to Mexico City (900 miles).38 As the Reds were not doing well, Avila also took over as their manager.39
In 1955 Avila's batting average dropped to .272, nearly 70 points below 1954. Several factors combined to produce these disappointing results. Before the season Avila held out
for a salary increase from $20,000 (including bonus) to $32,000. On March 25 he became the last Indian holdout to sign. He ended up with $27,500 and additional bonus opportunities of $2,000. The heavily publicized holdout embarrassed the Indians, particularly Greenberg.40
The Indians' trade of his roommate, mentor, and close friend Hank Majeski to Baltimore in early July had a negative effect on Avila's hitting. Although the trade made sense for the Indians, Avila had always praised Majeski for helping him keep his hitting focus.41
Injuries also played a role in Avila's slump. He suffered a sprained right toe early and missed several games.42 In mid-July he had a corneal cyst surgically removed from his right eye. The surgery was publicly characterized as minor. However, it wasn't until mid-September that Avila acknowledged he felt comfortable at the plate again.43 44 Although his batting average tumbled, he was again selected to play on the AL All-Star squad. For the second year in a row, he led the league in sacrifice hits (18).45
When the season ended Avila returned to Mexico to play. This time his team won the Veracruz League pennant. Early in the winter season he signed teammates Early Wynn and Bob Lemon and White Sox outfielder Jim Rivera. Wynn and Lemon made only a few appearances, but Rivera played a full season.46
Avila again held out in the spring of 1956. He agreed via phone to a base salary of around $25,500 and reported three days after the Indians started their spring training. Greenberg took his frustrations with Bobby's negotiating tactics public.47 Avila's batting average again dropped sharply, from .272 to .224. The Indians requested that he try eyeglasses when hitting. He wore glasses the last week of the 1956 season but the results were inconclusive. He and the Indians agreed that he would have an eye exam during the winter.
The Indians began the 1957 season with a new manager, Kerby Farrell. Because of his poor 1956 hitting, Avila played no winter ball in Mexico. To the Indians' surprise, he showed up at spring training without glasses. He said his doctor's eye examination revealed he did not have any problems.
By the end of May Avila's batting average stood at .211. Greenberg told him to see the Indians' eye doctor, told him he was nearsighted and needed glasses. The first time he wore his new glasses Avila got three hits. Although he steadfastly refused to wear glasses on the field, he wore them while batting. He finished the year with a .268 batting average.48
In 1958 Frank "Trader" Lane succeeded Hank Greenberg as the Indians' general manager, with Bobby Bragan as the manager. Lane said second base was one of the infield positions where the Indians needed to start a rebuilding effort. 49 Throughout the season, Lane frequently used Avila's name when he spoke publicly about possible trades. Within this fluid framework, Avila ended up playing 82 games at second base and 33 games at third base. He ended the season with a .253 batting average and a .349 on-base percentage.50
After the season Lane traded Avila to the Baltimore Orioles for pitcher Russ Heman and $30,000. After playing in 20 games for the Orioles in 1959, he was sent to the Red Sox for the waiver price in mid-May. Avila played in 22 games for Boston and was put on waivers again. The Milwaukee Braves selected him to replace their ailing second baseman, Red Schoendienst. Bobby played in 51 games for the Braves, who were in a tight pennant race, which they lost to the Los Angeles Dodgers in a one-game playoff after the close of the regular season. For his three teams Avila played in 93 games and ended with a .227 season average and an OBP of .314.51
After the 1959 season Avila was the player-manager of the Jalapa team in Mexico. Recovering from a slow start, it lost the pennant on the last day of the season in a controversial game.52 53
The 1959 season was Avila's last in the major leagues. At the start of 1960, the Braves optioned the 35-year-old Avila to their farm team in Louisville, which in turn optioned him to the Mexico City Tigers of the Mexican League.54 The Tigers won the pennant as Avila hit .333 and scored a record 125 runs.55 It was his last season as a player. During his 11 seasons in the major leagues, he played in 1,300 games, had 4,620 at-bats, produced 1,296 hits and registered a batting average of .281 and an on-base percentage of.359.56
In October 1960 Avila was named the president of the former Veracruz League, which in his honor was named the Roberto Avila League.57 In 1971 he was elected to the Mexican baseball hall of fame as a player.58 Two Mexican League Stadiums were named after him: Estadio Beto Avila (capacity 7,782) in Cancun and Parque Beto Avila (capacity 9,000) in Veracruz.59
In 1980 Avila began a new career, as a Mexican lawmaker. He was elected the mayor of Veracruz and then to the Mexican Congress, where he served two three-year terms. He also remained active as a businessman and busy grandparent. He had four children and ten grandchildren.60 On October 26, 2004, Avila died in his hometown Veracruz of complications from diabetes and lung disease. He was 80 years old.61
Avila may have summed up his baseball career best: "I loved the game. And I was real honest about my job. Nobody could ever say they saw Bobby Avila drunk or playing around. I was honest about my career and I gave it everything I had."62
This biography is included in the book Pitching to the Pennant: The 1954 Cleveland Indians (University of Nebraska Press, 2014), edited by Joseph Wancho. For more information, or to purchase the book from University of Nebraska Press, click here.
Notes
Full Name
Roberto Francisco Avila Gonzalez
Born
April 2, 1924 at Veracruz, Veracruz (Mexico)
Died
October 26, 2004 at Veracruz, Veracruz (Mexico)
If you can help us improve this player's biography, contact us.
http://sabr.org/sites/default/files/Avila-Bobby.jpg
600
800
admin
/wp-content/uploads/2020/02/sabr_logo.png
admin
2012-01-04 20:42:18
2021-03-17 12:29:07
Bobby Avila