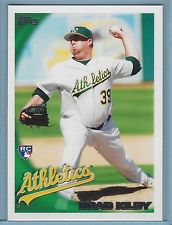 ---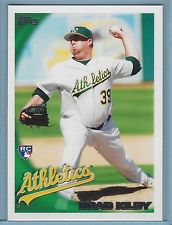 Among pitchers who pitched as many innings as he did, the lowest career ERA belongs to seldom-remembered left-handed reliever Brad Kilby. His 1.07 career ERA is 30 points lower than that of his closest competitor, Harry Otis, who pitched in 1909. This ranking is not a result of comparing mismatched scoring environments. Adjusted for his ballparks and pitching peers, Kilby's ERA+ is 413, the best in baseball history for pitchers who pitched as many innings. The next closest retired pitcher is Mariano Rivera, with a career 205 ERA+. The obvious caveat to this trivia is the specified amount of innings. Despite his success on the mound, Kilby managed only 25⅓ innings in his major-league career.
Brad Kilby was born on February 19, 1983, in Modesto, California, to Dave and Kim Kilby, joining an older brother Bryan. A sister, Erin, would follow. Growing up in the Sacramento area, the young Kilby followed the local teams – the San Francisco 49ers, San Francisco Giants, and Sacramento Kings. But his vocation was chosen when he was only 4 years old and Will Clark, then of the Giants, on TV. From that moment, his dream was of playing baseball in the major leagues.1 The left-handed Kilby idolized fellow left-handers Clark and Ken Griffey Jr. and envied their smooth swings. Said Kilby years later, "Before I became a pitcher, I was a left-handed hitter. I liked to model myself after Will Clark and Ken Griffey Jr. I tried to model my swing after, tried to emulate them, tried to be like them."2
In 1989 the Kilby family moved to Elk Grove, a growing bedroom community just south of Sacramento. "We were some of the first people to live in Laguna [part of Elk Grove]," said Kilby. "That's the neighborhood I grew up in and the neighborhood I still live in."3 Through his career at Laguna Creek High School, the future major-league pitcher was primarily a hitter. Todd Melton, Kilby's varsity baseball coach at Laguna Creek, said that Kilby "could flat-out hit. He was a complete ballplayer back then."4 Kilby played the outfield and pitched, but was not scouted until his 2001, his senior year. That season he batted .522, still (as of 2017) the second highest single-season mark in school history.5 After he became the first Laguna Creek High School graduate to reach the major leagues, the school retired his number and honored him with a sign on the outfield wall.6 In 2009 the Elk Grove Citizen named Kilby to the Elk Grove all-decade team.7
Kilby's performance in 2001 earned him a scholarship from San Jose State University.8 He played sparingly as an outfielder at first. After improvements to his mechanics under the guidance of pitching coach Doug Thurman, Kilby became a full-time pitcher9 and began to prosper, lettering from 2003 through 2005. In 2004 he was named First Team All- Western Athletic Conference as a reliever. After becoming a starter in 2005, Kilby led the team in wins despite missing four starts due to injury at the beginning of the season. His 1.82 ERA led the WAC, and he was named WAC Pitcher of the Week for March 28 and Second Team All-WAC.10
In 2005 Kilby was selected in the 29th round of the free-agent draft by the Oakland Athletics. His goal remained to reach the majors. "If I don't get to the pros it would be disappointing. My family is proud of me already, but anything short of the big leagues is a failure," he said.11 Twenty-two years old, Kilby began in 2005 with the Low-A Vancouver Canadians. He was named to the Northwest League's postseason all-star team. From there, he began a steady climb up the minor-league ranks, from Kane County to Stockton to Midland to Sacramento. Kilby operated exclusively as a reliever. Despite an underwhelming fastball, he was successful, averaging more than a strikeout per inning in his minor-league career.
In 2008 Kilby spent the entire season with his hometown Triple-A Sacramento River Cats. During high school and college, he had attended many River Cats games. Now locals frequently came out to watch him play, and his parents bought season tickets.12 Kilby performed solidly, and the team won the Pacific Coast League title. By 2009 spring training, the major-league roster seemed in reach. Said Kilby, "If you break it down, I was a 29th-round pick, and if you're a 29th-round pick they expect you to move up a level each year. This is my Triple-A year and potentially will be my year to get called up." However, after a spring-training performance that he acknowledged was "a little up and down," he again began the season in Sacramento.13
After starting the season with a short stint on the disabled list for a minor hamstring ailment, Kilby proceeded to improve on his previous work with the River Cats. In 45 appearances, he notched a 2.13 ERA and 10.9 strikeouts per nine innings. After the season the team named him its Pitcher of the Year.14 On August 8 the team spotlighted Kilby as part of Elk Grove Night. He personally greeted the first 100 fans to the ballpark, signed autographs before the game, and caught the ceremonial first pitch tossed by Elk Grove Mayor Pat Hume. The Elk Grove City Council passed a resolution honoring Kilby.
"I was really honored," said Kilby. "I know my teammates will probably tease me about it, but good we get to celebrate the growth of Elk Grove."15
When major-league rosters expanded in September, Kilby's professional dreams came true as the Oakland A's called him up. Oakland manager Bob Geren planned to employ him in a one-inning setup role. "He's done a nice job in Sacramento," said Geren. "He's one of those guys, he's left-handed, but he doesn't have huge differences [against opposite-handed hitters]. He's a local guy. He's aggressive and confident."16 Kilby was the first graduate of Laguna Creek High School to reach the majors and only the second from Elk Grove after David Hernandez's debut earlier in 2009 for the Baltimore Orioles.
Kilby did not have to wait long for his major-league debut. On September 2, 2009, he faced the Kansas City Royals after relieving starter Trevor Cahill. He tossed two shutout innings, giving up one hit and striking out two. As souvenirs of his debut, he kept the ball from his first strikeout, David DeJesus looking, and the lineup card. "That's pretty cool, I'll probably frame it," said Kilby about the lineup card. "It was something I've been dreaming about for 20 years."17 More importantly to Kilby, many fans, friends, and family were able to support him in person. Said Kilby, "You walk out onto that field, and it's the best thing ever. I was even luckier. The first game I pitched in, there was about 100 people from Elk Grove and Sacramento in the stands. People I have known forever, most of my family was there. I had a great start to my career."18
On September 19 Kilby replaced starter Gio Gonzalez with two outs in the fourth inning against the Cleveland Indians. After inducing Jamey Carroll to pop out, Kilby struck out the side in the fifth. With the A's 8-4 victory, Kilby received the win. "It still hasn't sunk in yet," he said after the game. "It's just an unbelievable feeling. I'm just trying to do everything I can to help the team win and keep us on this roll."19 In the last game of the season, manager Geren chose to go with a bullpen committee rather than use one of his starters. For the first time since San Jose State, Kilby started a game, going two scoreless innings. "They even gave me the opportunity to run in from [the bullpen] if I wanted," he said, "but that would have been a little weird."20
In his one appearance against the Seattle Mariners, on September 30, Kilby had the opportunity to face one of his childhood idols, Ken Griffey Jr. In their only game matchup, Kilby struck out Griffey looking. While the Mariners conducted batting practice the following day, Kilby timidly approached Griffey, asking if "Mr. Griffey" could sign a ball for him. "He goes, 'Kilby,' and I didn't even think he knew who I was, he goes, 'You strike me out, and you're gonna call me Mr. Griffey, you make me feel like I'm 45 years old. You're making me feel like my dad.'" They laughed, chatted for a few minutes, and Kilby obtained his prized autograph.21
In his first run through the majors, Kilby did not surrender a run until his ninth appearance of the season, his only run allowed in the majors that year. Overall, he pitched 17 innings in 11 games with 10.6 strikeouts per nine innings. Opposing hitters batted only .164 again him, and he quickly gained Geren's trust and favor. "All of his pitches are above average," said Geren. "He's tough against lefties and righties. He goes right after guys. He throws strikes. There's a lot to like. He's got a very sneaky fastball."22 Complimentary though Geren was, Kilby's primary pitch, his four-seam fastball, was average at best, only reaching 90 mph by 2009. However, Kilby possessed a large frame (6-feet-1, 235 pounds) and used his bulk to hide the ball during delivery, preventing hitters from gaining early reads on the pitches. As a result, he generated a well-above-average number of swings and misses.23 Geren compared him to former New York Mets pitcher Sid Fernandez, a similarly stout athlete: "He throws it in the low 90s, but it 'plays up' because he hides it well."24
After the season Kilby spent most of his time in Elk Grove. His older brother, Bryan, worked as the basketball announcer and varsity baseball coach at Elk Grove's Franklin High School. Brad spent part of the winter working the scoreboard for basketball games alongside his brother.25 "My brother is my best friend, and he announces the games. Anytime I get to spend time with my brother during the school year when he doesn't have a lot of free time, I'll take it."26
Kilby's baseball career remained the primary goal. As 2010 spring training approached, he said, "Obviously, my goal is to break with the big club and start the season with the A's and be up there all year. That's my plan. It's been my dream to spend 10 years in the big leagues."27 However, Kilby endured a rough spring. While given ample opportunity in spring training to impress and his 10 appearances tied for the team lead, he pitched to a 6.75 ERA and was uncharacteristically plagued by walks and home runs. Two days before Opening Day Kilby was among several surprise cuts from the roster.28 For the third straight year, he began his season with Sacramento.
After three weeks, five appearances, and only one run allowed with Sacramento, Kilby was promoted back to the A's. He was immediately utilized in all three games of a series with the Cleveland Indians.29 In all, Kilby pitched in five games. He pitched 8⅓ innings, struck out 8, walked none, and allowed two runs. On May 2, 2010, he made the longest appearance of his career, tossing 3⅔ scoreless innings in a loss to the Toronto Blue Jays. With the return of reliever Michael Wuerch from the disabled list, Oakland optioned Kilby back to Sacramento.30
Back in Sacramento, Kilby's performance began to suffer. His ERA ballooned from 1.69 at the time of his promotion to 5.54. On May 27, the day after a poor appearance against the Nashville Sounds, Kilby was placed on the disabled list with a torn labrum and a small tear in his rotator cuff. Dr. Lewis Yocum performed surgery and Kilby prepared for the lengthy rehab and uncertain return. For Kilby, "hearing all these stories about guys that never make it back from those injuries and how hard it is to come back from shoulder injury … kinda lost it there for a little bit." However, he was carried by the support he received: "Thankfully I had my family to fall back on and support me and help me get through the situation."31
Through the rest of the 2010 season for the River Cats, Kilby remained with the team while rehabbing. He frequently served as the first-base coach, alternating with Hall of Famer and special instructor Rickey Henderson. Trailing the Reno Aces 6-5 on June 17, Kilby chose to squeeze into a pair of too tight pants before taking his position in the eighth inning. The River Cats responded with three runs that inning on the way to an 8-6 win.32 The rally pants, as they were known, became a brief sensation for the team. Between innings at home, other team employees donned flashy pants and shorts while dancing on the dugouts.
Two days after their initial appearance, Kilby and the rally pants preceded a walk-off win over the Salt Lake City Bees.33 On July 2 the rally pants were again credited for influencing a River Cats victory, a come-from-behind, extra-inning win over the Fresno Grizzlies.34 Kilby, who required the help of two others to pull the pants on, claimed that the team appreciated the humor. "The guys like it. It gets everyone relaxed and have a little laugh before we go out and hit. It's caught on a little bit. I'll keep going with it. If I can't play, I'm going to do anything I can to help the ballclub right now."35
The shoulder injury was the first significant injury for Kilby in his baseball career. During his rehab, he spent three days a week at the River Cats' facility, working with a physical therapist. He also endured daily weight training. By November he had lost 15 pounds and planned to lose 15 more. And he remained hopeful about his career, saying, "My arm feels better right now than it has felt since about June of 2009 so I'm really excited for the upcoming season."36 At this point, Kilby was ahead of schedule, already throwing from 75 feet. He was also considering a change to his pitching motion, perhaps mimicking the mechanics of C.C. Sabathia.37
Besides rehabbing, Kilby again spent part of his offseason working the scoreboard alongside his brother.38 He reported to 2011 spring training, but a strained muscle from a bullpen session sidelined him. Examinations of his arm at that time revealed no major injury, and he hoped to return to the mound within a month.39 By May he was still in extended spring training, attempting to regain his form.40 However, his arm had not recovered. "Anytime I got ready to start facing hitters," said Kilby, "it would start hurting. After getting an MRI, I had the option to rehab or try surgery. … It was pretty clear. It was to the point when I wore a seatbelt my shoulder was hurting, and I was tired of trying to play through pain. Everyone has a little day-to-day pain the long season of baseball, but I was at the point when I couldn't deal with it anymore."41
On June 5, 2011, Kilby underwent a second shoulder surgery. He remained optimistic, but also began to imagine a life and career after pitching. "I would definitely consider being a coach in the minor leagues, or in college or wherever. There has been a little talk that if I can't come back, maybe the A's would invite me to be a coach in the minors. It's a rough life, but it's baseball, and you'll still be getting a life in the game."42 On November 2, 2011, the Oakland Athletics granted him free agency, marking his official departure from professional baseball. That winter Kilby became the pitching coach for Franklin High School, assisting his brother. That season, the Wildcats won the Sac-Joaquin Division I North title for the first time.43
Through April 2012, Kiby still held hope of continuing his pitching career.44 By September he had to acknowledge reality and retire. His arm never recovered its former strength; "I can hit 80, and that isn't fast enough to get anyone out."45 Pitchers recovering from shoulder injuries face longer odds than those who undergo Tommy John surgery for their elbows. In 2012 Baseball Prospectus author Jay Jaffe examined the recovery rates for pitchers after shoulder surgery. He found that of the 67 pitchers surveyed, only 9 achieved any amount of post-surgery success.46 No major-league pitcher has recovered from two shoulder surgeries.
In the fall of 2012 Kilby joined the baseball coaching staff at Cosumnes River College, a Sacramento community college. CRC, then the defending state community college champions hoped that Kilby would particularly help in recruiting.47 He remained on the staff for three years, leaving in 2015 to take a year off from coaching. Raymond Hernandez, who had seen his pitching career shortened in the minors after shoulder problems and was the brother of major leaguer David Hernandez, replaced him on the staff.48 Kilby planned to "watch lots of baseball on TV and try to get a real job." He had majored in social science at San Jose State and considered obtaining a teaching certificate.49 On November 5, 2016, he married Courtney Hetherington.
Only two other players taken in the 29th round of the 2005 draft made the majors, Justin Turner and Tanner Scheppers. Neither signed that year, and both were drafted far higher when they did enter professional baseball, the seventh and first rounds respectively. Said Kilby, "I got a chance to do what I have wanted to do my whole life. I told my dad at 5 years old that I wanted to be in the big leagues. That's what I wanted to do for my job. There aren't a lot of 19th-round and lower guys who make it to the big leagues. I had to put up good numbers for five years in a row to make it."50
Last revised: March 28, 2017
Notes
Born
February 19, 1983 at Modesto, CA (USA)
If you can help us improve this player's biography, contact us.
https://sabr.org/sites/default/files/KilbyBrad.jpg
600
800
admin
/wp-content/uploads/2020/02/sabr_logo.png
admin
2017-03-28 17:22:38
2017-03-28 17:22:38
Brad Kilby