---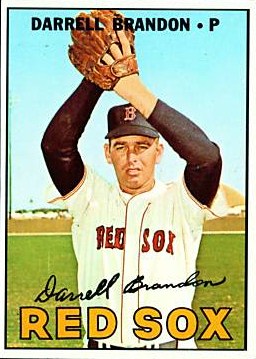 Darrell Brandon grew up rooting for Joe DiMaggio and Mickey Mantle. On July 5, 1966, the right-hander earned his first big league win, striking out Mantle twice as the Red Sox defeated the New Yorkers, 7-1, in Yankee Stadium. Brandon went on to win 12 more games for Boston, including five for the 1967 pennant winners. Overall, he posted a record of 28-37 in a seven-year major league career that included stops in Seattle, Minnesota, and Philadelphia.
Born on July 8, 1940 in Nacogdoches, Texas, Brandon had what he called "a good childhood, always playing sports." He primarily followed the Yankees, who made regular appearances on The Game of the Week, and the Cardinals, whose games he heard via the strong signal of St. Louis radio station KMOX. Turn the dial ahead to 1967, and Brandon would be part of a New England Summer of Love that saw the airwaves filled with both the Beatles and the voices of Ned Martin and Ken Coleman on WHDH. It was a long and winding road that brought him from the Lone Star State's oldest city to his place in Red Sox history.
After graduating from Nacogdoches High School in 1958, Brandon signed with the Pirates and began an eight-year journey to the big leagues the following season. "I made it through perseverance and faith in myself," said Brandon. "Starting out as an outfielder, and getting released a few times, I almost should have given up."
Primarily a shortstop in high school, Brandon spent 1959, his first professional season, in the outfield. He appeared in only one game as a pitcher, allowing seven runs in five innings for Salem in the Appalachian League. He was subsequently released, but signed with the Cardinals the following year after attending a tryout camp in Tulsa. He played the entire 1960 season with Dothan in the Alabama-Florida League, again mostly as an outfielder. He got into five games as a pitcher, allowing eight earned runs in 10 innings. The next year, in spring training, he asked if he could pitch full time, but the Cardinals weren't interested. Instead, he found himself released for the second time in two years.
Out of organized baseball in 1961, Brandon pitched on a semi-pro team near his home in Texas and worked as a milkman to earn his living. "I actually did that in the off-season for three or four more years," explained Brandon. "In those days, I made more money driving a milk truck than I did as a minor leaguer."
But driving a milk truck wasn't Brandon's career goal, and a good showing at another tryout camp landed him a job in the farm system of the expansion Houston Colt 45s in 1962. It was there that he acquired the nickname that would stay with him throughout his baseball career.
"When I was in class D ball," Brandon explained, "there was this little Indian kid from California on the team, and he had buck teeth. He had "Bucky" carved into his glove, and I ended up buying it from him. A few years later, when I went to spring training with Houston, I had it with me. It was really beaten up, so the guys on the team gave me a hard time about it and started calling me "Bucky."
Along with a new nickname, Bucky Brandon also went into the 1962 season with a new position. Finally given an opportunity to pitch full time, he posted a record of 9-5 in 17 games with Modesto in the California League, establishing himself as a legitimate prospect. He followed that by going 14-6 for Durham in the Carolina League in 1963, 15-7 for San Antonio in the Texas League in 1964, and 13-6 for Oklahoma City of the Pacific Coast League in 1965. When his Triple-A season in Oklahoma City came to an end, Brandon was told he would be getting called up to Houston for the final month of the season. However, "See You in September" by The Happenings wouldn't hit the Top 40 until the following year, and Brandon's big league debut would likewise have to wait.
"I was told to report to the Astrodome," Brandon explained, "which meant I was going home to play in the big leagues. But while I was loading my trailer, I got a call saying I had been traded to Boston for Jack Lamabe. That was disappointing, because I barely knew where Boston was at the time, and they didn't bring anyone up from the minor leagues that year."
The Red Sox were coming off a 100-loss season when Brandon reported to spring training in 1966. One of several new faces on the team — George Scott, Joe Foy, Reggie Smith, and Mike Andrews all saw their first big league action that year — he pitched well, earning himself a spot as a reliever. On April 19 at Fenway Park, wearing the number 27 on his Red Sox uniform, he made his major league debut against the Tigers.
"We were losing 6-0 when the phone rang in the bullpen," Brandon remembers, "and the first hitter I'd be facing was Bill Freehan. Dick Radatz was the bullpen spokesman, and he told me Freehan likes the ball out over the plate, so I should pitch him inside. That's what I did, and Freehan hit my first pitch off the wall in left. Afterwards, Radatz said, 'I meant high and inside, not inside at the belt.'"
Brandon proceeded to strike out the next batter, Denny McLain, recording the first out of a career that would see him pitch in 228 major league games, 43 as a starter and 185 in relief. The following month, in his 13th appearance of the season, Brandon again pitched in relief as Lamabe, now with Chicago, pitched a one-hitter at Fenway Park in an 11-0 White Sox win.
Moved to the rotation on July 1, Brandon pitched well, finishing the season with a record of 8-8, 3.31. After his inaugural win against the Yankees on July 5 — a complete game in which he contributed to his own cause with two hits, including a triple — he threw another complete game on July 9, beating Gary Peters and the White Sox, 4-2.
He went on to earn wins in four of his last five starts on the season, one of them a 5-4 decision against Lamabe at Fenway Park. He threw two shutouts in September, one in his final appearance, and went into 1967 with high expectations. His ERA was the best on the team amongst pitchers with 100 innings pitched.
Going into the season, Brandon was considered to be one of the set members of the rotation, along with Jim Lonborg and Jose Santiago. While a solid contributor to the '67 pennant winners, Brandon was unable to replicate his promising rookie season, finishing a disappointing 5-11, 4.17. He began the year in the starting rotation, but was inconsistent and by early August pitched only in relief.
"I pitched well in spring training," Brandon remembers, "but then didn't have the year I hoped to. I made the mistake of getting cute rather than going after hitters like I did the year before. I was trying to pitch to weaknesses, and just wasn't making the pitches like I did in '66."
Brandon started the second game of the 1967 season, and got a no-decision as the Red Sox lost at home to Chicago. Ironically, the winning pitcher was again Lamabe. Brandon went on to lose his first four decisions, but pitched better than his record indicated as he allowed only nine earned runs in those outings. The toughest of the four defeats came on April 30, as he lost to Jim Nash and Kansas City 1-0 on a Danny Cater home run. His first win finally came on May 21 when he out-pitched "Sudden Sam" McDowell as the Red Sox defeated Cleveland 6-2 at Fenway Park. That effort was followed, however, by a 10-0 shellacking in Baltimore that saw him give up two home runs to Frank Robinson.
"I remember thinking that I had good stuff that day," recalls Brandon, "but Frank hit it harder than I threw it. He was probably the toughest hitter I ever faced, and I think he hit six home runs against me in my career."
[Editor's note: Robinson had 10 hits in 23 at-bats against Brandon, with five home runs.]
Brandon was still in the starting rotation when the Red Sox went on their longest winning streak of the season — 10 games — establishing themselves as serious pennant contenders and eliciting more than a few exclamations of "Oh Mercy!" from Ned Martin in the broadcast booth. He won twice in that stretch, including a complete game 6-2 triumph over Luis Tiant and the Cleveland Indians on July 21 that moved the Red Sox into second place. It was to be Brandon's final big league win as a starter. He started three more times in 1967, twice losing to the Twins and Jim Merritt, and spent the remainder of the season in the bullpen.
Two of Brandon's best relief outings came in August, a month that saw the hub gripped by pennant fever and the Buckinghams reach the top ten with "Mercy, Mercy, Mercy." On the 16th, he relieved Lee Stange early in the game and pitched seven shutout innings to earn what would be his last win in a Red Sox uniform. On the 29th, he went five strong innings but gave up a run in the 20th inning to lose in Yankee Stadium, a game in which New York's starter was former Red Sox ace Bill Monbouquette.
The low point of Brandon's season came on September 24 in Baltimore, a game that saw Jim Lonborg win his 21st game and Jose Tartabull steal home. While throwing a pitch to the Orioles' Boog Powell in the ninth inning, Brandon suffered a shoulder injury that ended his season and forced him to miss the World Series. Despite being unable to pitch in the fall classic, Brandon did, however, make a contribution — albeit a unique one — to the team's effort against the Cardinals.
"A fan sent me a paper horseshoe in the mail," Brandon explained, "and I gave it to Lonnie (Jim Lonborg) before he threw the shutout in Game Two. It worked pretty well… until Game Seven, anyway."
The Supremes had a hit with "Reflections" as the Red Sox and Cardinals did battle in the fall of 1967, and Brandon has mixed feelings when he looks back at his role in one of the most exciting seasons in team history.
"It really hurt not to pitch in the World Series," Brandon said. "And while it was the thrill of a lifetime to be part of the team that turned baseball around in New England, on a personal level it wasn't as satisfying. I always tell people that I helped contribute to an exciting season, because we'd have won going away had I pitched better."
When the 1968 season got underway, Brandon's arm was still less than 100 percent. Unable to earn a spot on the Red Sox pitching staff out of spring training, he ended up spending most of the year with Triple-A Louisville, going 13-11, 3.32 as a starter. Simon and Garfunkel topped the charts with "Mrs. Robinson" that summer, but they could just as easily have sung "Where have you gone Darrell Brandon?" as Brandon pitched in only eight games with the big league club, all in relief, going 0-0, 6.39 in 12 2/3 innings. His final game in a Red Sox uniform came on September 24 in Washington, as he pitched two innings in a 10-2 loss to the Senators.
After the season, Brandon was truly gone, taken by the Seattle Pilots in the 1968 expansion draft.
"Sal Maglie was the pitching coach there," Brandon explained, "and he recommended they draft me. He had been my pitching coach in '66 and '67, and liked me as a pitcher. A few other guys came over from here too, like Gary Bell, but going there wasn't good. I'd have liked to have stayed in Boston."
Brandon began the 1969 campaign in Triple-A Vancouver and won his first three games as a starter. He was called up to Seattle by the end of April, but appeared in only eight games out of the bullpen for the expansion Pilots, two of them against the Red Sox. On May 6, at Seattle's Sick's Stadium, Brandon gave up a home run to Syd O'Brien in the ninth inning of a 12-2 Boston win. On May 17, he pitched three scoreless innings in a game the Red Sox won 6-1 behind Mike Nagy. On July 8, Brandon's 29th birthday, the Pilots sold him to Minnesota. He pitched in only three games with the Twins, seeing most of his action in Triple-A Denver where he went 4-2, 3.17.
Released by the Twins at the end of spring training in 1970, Brandon was signed by the White Sox and spent the entire season with their Triple-A team in Tucson. Again a starter, Brandon went 15-10 and led the Pacific Coast League in strikeouts.
"Looking back, it was hard going back and forth," Brandon said. "These days you're either a starter or a reliever. Back then you'd be a starter in the minors, and when you got called up they would stick you in the bullpen. That didn't make sense to me. I should have been a starter, because I was getting the job done when I was."
In January, Brandon was sold to Philadelphia where he spent the final three years of his major league career. Finally comfortable pitching out of the bullpen, he enjoyed two of his best seasons. In 1971 he appeared in 52 games for the Phillies, going 6-6, 3.90 with four saves. In 1972 he finished 7-7, 3.45 with two saves in 42 games. On a team that won only 59 times all season, Brandon's seven wins were second on the team to Steve Carlton's 27.
In 1973, Brandon returned to the City of Brotherly Love and went 2-4, 5.43 in 36 games. He also recorded two saves, which ironically came in relief of former Red Sox teammates Ken Brett and Jim Lonborg on consecutive days in July. In what was to be his last season in a big league uniform, Brandon also made eight appearances for Eugene in the Pacific Coast League. After spending 1974 with Toledo in the International League, and 1975 with Coahuila in the Mexican League, his pitching days were over.
After retiring, Brandon started a pitching school in Cherry Hill, New Jersey, where his second pupil was 16-year-old Orel Hershiser, who would go on to win 204 games in the big leagues. In 1976, Brandon moved to Hanover, Massachusetts, where he continued to teach young pitchers for over 20 years. Nearly four decades after being a part of the 1967 Impossible Dream Red Sox, Darrell "Bucky" Brandon now works in the insurance business.
Note
This biography originally appeared in the book The 1967 Impossible Dream Red Sox: Pandemonium On The Field, edited by Bill Nowlin, and published by Rounder Books in 2007.
Sources
Interview with Darrell Brandon, February 2006
www.retrosheet.org
www.baseball-reference.com
www.thebaseballcube.com
Photo Credit
The Topps Company
Born
July 8, 1940 at Nacogdoches, TX (USA)
If you can help us improve this player's biography, contact us.
/wp-content/uploads/2020/04/no-bio.jpg
600
800
admin
/wp-content/uploads/2020/02/sabr_logo.png
admin
2012-01-04 20:42:53
2012-01-04 20:42:53
Bucky Brandon