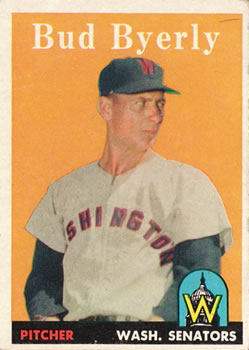 ---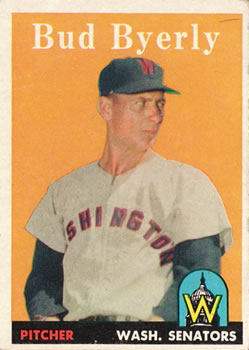 Bud Byerly grew up and pitched for his hometown St. Louis Cardinals during the World War II years of 1943-45. They were the first of 11 seasons in which he pitched major-league ball. He was undefeated in his first year of big-league pitching, and undefeated in his final two seasons as well, 1959 and 1960 for the San Francisco Giants. His record each year was 1-0.
Byerly was a 20-game winner—over the course of his entire career. The 6-foot-2 1/2,185-pound right-hander pitched in 237 games (17 starts) with a record of 22-22 and a career ERA of 3.70.
Either his parents misinformed him, or he created a "baseball age" for himself. When he completed questionnaires for the American League and for the National Baseball Hall of Fame, he self-reported October 26, 1920, as his date of birth in Webster Groves, Missouri. However, when the United States census enumerator completed the form on which young Eldred Byerly was first listed, baby Eldred was listed as three-months-old with the form dated February 10, 1920. He had an older sibling, sister Laverne, who was 17 months older.
Eldred's middle name came from his father, William Harrison Byerly. His mother was Esther A. Byerly. William Byerly was, in 1920, the manager of a dairy farm. Ten years later, and again in the 1940 census, William Byerly was employed as an agent by Railway Express. Laverne and Eldred—who had picked up the nickname, "Bud"—were later joined by younger siblings Doris and James.
Bud attended the Goodall School followed by four years at Webster Groves High School. It was his high school coach who helped him get into professional baseball. As Byerly wrote on his American League questionnaire, "My high school coach took me to Sportsman Park for a try out with the Cardinals—Charles Barrett, a Cardinal scout, signed me to a contract."1
He graduated from Webster Groves High in 1939 and had his first pro season in 1940 for the Portsmouth (Ohio) Red Birds in the Class-C Middle Atlantic League. He worked in 21 games, pitching 121 innings, with a record of 4-8 and a 4.46 ERA. In 1941, he improved considerably in Class-B ball (the Three-I League), pitching for the Decatur (Illinois) Commodores, with a 3.63 ERA and a record of 14-8.
In 1942, it was the Texas League, classified as A1 baseball. Pitching for the Houston Buffaloes, he continued improvement in ERA, lowering it to 2.77. His record was 8-10.
He was, for some unknown reason, declared 4-F and exempt from military service.
In 1943, though saddled with a won/loss record of 9-21 for the last-place Sacramento Solons (who were 41-114 and finished 69 games out of first place), he improved his earned run average to 2.49. And he occasionally showed he wasn't bad with the bat—when he shut out Oakland on May 25, he drove in three of Sacramento's six runs, with three base hits.2 Sacramento also had the Pacific Coast League leader in ERA, Alpha Brazle (1.69), but the team just couldn't win games. There were some heart-breakers, such as Byerly's 1-0 loss in a four-hitter on July 1 against Hollywood.
Brazle was called up to the Cardinals in July; Byerly got the call in September, reported on the 22nd, and had his major-league debut on September 26 in the second game of a doubleheader against the visiting Philadelphia Phillies. The Cards won the first game, 4-1. They had long since clinched the National League pennant and were sitting on an 18-game lead before the games began.
Byerly started the game, picked up a one-run lead in the bottom of the first, and held the Phillies scoreless through six full innings. He yielded one run in the seventh and another in the eighth, but was removed for a pinch-hitter in the bottom of the eighth as the Cardinals tied the score. The game went for 11 innings, Red Munger taking the 3-2 loss (on a wild pitch). Byerly had given up the two runs (one was unearned), on six hits and two walks with five strikeouts.
His only other appearance in 1943 gave him his first decision, a 5-4 victory over the Giants on October 3. He pitched five innings; Munger threw the final four and earned a save.
Byerly did not appear in the 1943 World Series, won by the New York Yankees in five games.
He spent most of 1944 with the International League's Rochester Red Wings, joining them in late April. He was 3-9, 3.83 in 15 games, and was called back to join the big-league club on July 22. It was more than a month before he saw game action. His first appearance was as one of six pitchers in a 14-6 loss to the Pirates. He worked three innings, with one of the Pittsburgh runs charged to him.
He appeared in seven games in September, four in relief and three as a starter. He won two and lost two, with a 3.40 ERA in 42 1/3 innings. He was 1-1 in two complete games. And he had an opportunity to pitch in the World Series.
The Cardinals had returned to the World Series, this time against the St. Louis Browns. Both teams shared Sportsman's Park, so the entire Series was played in one ballpark. Byerly only appeared in Game Three, pitching the last inning-and-a-third of a game the Browns led, and won, 6-2. He came on in the seventh, with two outs and runners on second and third, and struck out Al Zarilla. In the eighth, he induced three consecutive infield groundouts.
The 1944 World Series ran six games, the Cardinals winning four of them, making Byerly a World Champion for his hometown club.
In 1945, Byerly spent the full season in St. Louis, appearing in 33 games for the Cardinals. Eight of them were starts, the rest in relief. His record was 4-5 (4.74); he walked 41 and struck out 39 with a WHIP of 1.60.
With considerable numbers of big-league players returning from military service, Byerly spent the next four years playing minor-league ball. During these offseasons, throughout, he—like his father—worked for Railway Express.
In February 1946, Rochester acquired Byerly from the Cardinals on an option. Working exclusively as a starter, he appeared in 29 games and had a decision in every one of them (15-14, 3.89).
After the 1946 season, Byerly married Margie A. Ruder on October 9.
It was Rochester again in 1947. This time, he was in 28 games, but eight of them were relief jobs. His ERA jumped nearly a full run, to 4.88. The following year, he was dropped a level, "going down the ladder instead of up," from Triple-A Rochester to the Double-A Texas League.3
He began the season with Houston, but he was released outright on May 5. On May 6 he signed with the Tulsa Oilers, a Cincinnati Reds farm team.4 His record was 10-7.5
In 1949, he was able to edge back up into Triple A. He started the season with Tulsa and wasn't having a good year (3-7, with a 4.97 ERA), but then he caught a break: He was traded up the ladder on June 18, to the Syracuse Chiefs of the Triple-A International League. With the Chiefs, he was 11-4 (4.15). He had another good stretch for Syracuse in 1950, winning 17 games and losing 12, with 19 complete games. He improved his ERA to 3.79, and earned himself a call up to Cincinnati on September 9. He didn't pitch much, just 14 2/3 innings over four games, with one start—which he lost—in the second game of the October 1 doubleheader. In that game, he had no run support, allowing two runs in eight innings but suffering the loss since the Reds only scored once. His ERA for Cincinnati was 2.45.
Byerly spent all of 1951 with Cincinnati, and pitched well for manager Luke Sewell. The Reds finished in sixth place. Byerly appeared in 40 games, all in relief. His 3.27 ERA was third-best on the team. His record was 2-1.
Two bad outings sank him in 1952. He opened the season with the Reds and gave up only two earned runs over his first five appearances, but in one-third of an inning on May 19, he gave up five more in the Reds' eventual 19-1 loss to Brooklyn. He got a start in the second game of the Memorial Day doubleheader, but the Cubs clubbed him for six runs in the first two innings, and he was removed. His ERA through June 10 was 5.11.
On June 15, the Brooklyn Dodgers signed former Boston Brave Tommy Holmes to bolster their offense. To make room for him, they sent pitcher Bud Podbielan to the Reds for Byerly and cash. They kept the cash, and placed Byerly with the St. Paul Saints. He was 3-2 (3.54) with the Saints in 61 innings.
There was another transition in 1953, as Byerly began the year in St. Paul, but then was soon traded by the Dodgers to the New York Giants for minor-leaguer Norman Fox. The Giants had him play on the other side of the Mississippi River in the Twin Cities, pitching for the Minneapolis Millers.
In 1954 and 1955, he played two full seasons for the Millers and was even in wins and losses both years, going 10-10 in 1954 and 8-8 in 1955. His ERA improved from 4.39 in 1954 to 3.60 in 1955. The Millers won the American Association pennant in 1955, and won the Junior World Series in seven games over Rochester. Byerly's performance was poor, as he yielded seven earned runs in four innings. He pitched for Santurce in Puerto Rican winter ball.
Byerly next became part of the Washington Senators system, "obtained from Minneapolis shortly before the season opened," and he began the season with their Triple-A club, the Louisville Colonels.6 On June 13, Washington sent pitcher Truman Clevenger to Louisville and purchased Byerly's contract from the Colonels. Senators VP Joe Haynes had "advised his purchase," saying that Byerly was "by far the most effective pitcher for Louisville and could help solve Washington's relief problems."7 He had a 1.47 ERA for the Colonels at the time.
He did contribute well for the Senators, pitching in 25 games with a 2.96 ERA. His record was 2-4, with three of the losses being by just one run (and two of those coming in the 12th inning). The team's center fielder was Whitey Herzog, and after Byerly's passing in 2012, he was quoted as recalling, "I don't know if he was a flame-thrower or not early in his career before he came to Washington. But he knew how to pitch. He always said he threw a 'dry spitter,'" said Herzog, laughing. "I'd never heard of a 'dry spitter.'"8
Byerly had another good year in 1957, working in 47 games, closing 33 of them. His record was 6-6, and he pitched to a 3.13 ERA.
In 1958, he had two differing experiences, pitching in 17 games with a 6.75 ERA for the Senators (he was 2-0) and then in 18 games for the Boston Red Sox with a 1.78 ERA (1-2). The transition came via trade on June 24, with Boston sending left-hander Jack Spring to the Senators.9 Byerly first went to Minneapolis (the Millers were now in the Red Sox system), appearing in five games before being brought to Boston on July 14.
The Red Sox sent him to Minneapolis to start the 1959 season (he was 6-4, 3.45). On the 26th of July, he was traded to the San Francisco Giants for Billy Muffett and cash. He appeared in 11 games for the Giants, going 1-0 with a 1.38 ERA in 13 innings of work.
He was 1-0 in 1960 for the Giants as well. He had a 5.32 ERA, and pitched in his last big-league game on July 21, a hitless inning against the Phillies. He was later sent to Tacoma for rookie Sherman Jones.
He relieved in 19 games for Tacoma in 1961, posting an 0-2 record (9.72 ERA). In October 1961, he was named manager of the Eugene, Oregon Emeralds of the Class-B Northwest League for the 1962 season. The Emeralds finished last in the six-team league.
After baseball, Byerly worked in the construction industry.10
Byerly died at St. Anthony's Medical Center in St. Louis on January 26, 2012, after what was described as a brief illness.
His widow Margie died just four months later, at the end of May. Their sons Steve and Ken survived the passing of their two parents, as did five grandchildren.
Acknowledgments
This biography was reviewed by Joel Barnhart and fact-checked by Kevin Larkin.
Sources
In addition to the sources noted in this biography, the author also accessed Byerly's player file and player questionnaire from the National Baseball Hall of Fame, the Encyclopedia of Minor League Baseball, Retrosheet.org, Baseball-Reference.com, Rod Nelson of SABR's Scouts Committee, and the SABR Minor Leagues Database, accessed online at Baseball-Reference.com.
Notes
Born
October 26, 1920 at Webster Groves, MO (USA)
Died
January 26, 2012 at St. Louis, MO (USA)
If you can help us improve this player's biography, contact us.
https://sabr.org/sites/default/files/ByerlyBud.jpg
600
800
admin
/wp-content/uploads/2020/02/sabr_logo.png
admin
2017-05-25 12:53:13
2017-05-25 12:53:13
Bud Byerly