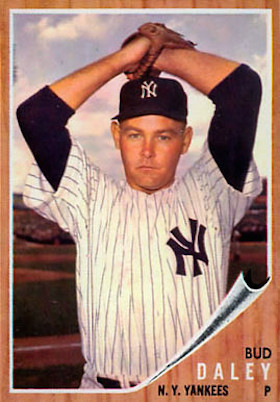 ---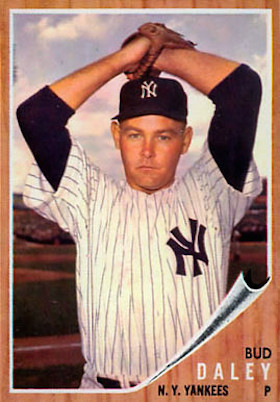 October 9, 1961. Game Five of the World Series, at Cincinnati's Crosley Field. All that separated the New York Yankees from another championship was outlasting the Cincinnati Reds. New York scored five runs in the top of the first, chasing Reds starter Joey Jay. A home run by Roger Maris in the top of the second gave the Yankees a 6-0 cushion. But the Reds were not deterred. New York starter Ralph Terry gave up a pair of singles in the third and Frank Robinson, author of 37 home runs during the regular season, soon to be named the National League's Most Valuable Player, connected for a three-run homer to right-center. Suddenly it was 6-3 and Terry's afternoon was done. It would now be up to left-handed reliever Bud Daley to hold back the Reds.
Daley had come to the Yankees from the Kansas City Athletics on June 14 in exchange for pitcher Art Ditmar and first baseman Deron Johnson. (It was the 17th deal between the Yankees and Athletics since 1955.) Daley had made his World Series debut in Game Three when he relieved starter Bill Stafford with two outs in the bottom of the seventh. The Reds had just taken a 1-0 lead. Daley got Vada Pinson on a fly ball and his work was done. Johnny Blanchard tied the game with a homer in the eighth and Roger Maris's homer in the ninth won it, 2-1.
This time the situation was different. Daley was in to protect a lead that would give the Yankees the championship. "I was really nervous," Daley said. "I don't know why. I wasn't nervous the first time. The second time I really was."1
Daley gave up a bunt hit to Gordy Coleman and a double to Gene Freese. A home run would tie the score. But Daley got Johnny Edwards to foul out to third baseman Clete Boyer, and that ended the threat.
The Yankees came roaring back in the top of the fourth and plated five runs, with Hector Lopez's three-run shot off lefty Bill Henry the key blow. It was 11-3. Daley was touched for a two-run homer by Wally Post in the fifth, but the Yankees scored two in the top of the sixth (one on Daley's sacrifice fly), and led, 13-5. Daley cruised the rest of the way, retiring the side in order in the ninth, and the Yankees were the 1961 World Series champions.
Leavitt Leo Daley was born to Leavitt and Helen Daley on October 7, 1932, in Orange, California. (At some point — exactly when is unclear — he legally changed his name to Buddy.) An instrument the obstetrician used during the delivery slipped and pinched the newborn's right shoulder, causing paralysis. While this provided a challenge to Leavitt, it did not define him. "It never had bothered me other than … a few awkward positions that I can't get in, like when I fielded the ball I fielded almost everything backhand because I couldn't turn my palm all the way around," he said.
An only child, Leavitt grew up in the hills outside San Diego. The Daleys' nearest neighbor was miles away. From a young age he used a flat rock to pretend he was pitching. He never played in an organized baseball game until he got to Woodrow Wilson High School in Long Beach, California. When he was a sophomore he tried out for the junior varsity baseball team. He aspired to play first base, but with 15 others applying for the position, Daley figured he'd have a better shot at pitching, as fewer auditioned to hurl.
Still, Daley played right field as a junior and did not pitch. As a senior he played in the outfield (.450 batting average) and pitched (11-1 won-lost record). This was before the major leagues came to the West Coast, and Daley said he couldn't even name four major-league teams when he got out of high school. He wanted to make it to the Pacific Coast League.
By Daley's account, 14 of the 16 major-league teams were interested in signing him. He chose the Cleveland Indians because Indians pitcher Bob Lemon, a future Hall of Famer, also graduated from Wilson High. He turned down one offer to sign as an outfielder because, as he described himself, he was a very slow runner and could not hit for power.
The 18-year-old's first action in pro ball came with the Bakersfield Indians of the Class C California League in 1951. Pitching in 25 games (23 starts), Daley went 9-10 for the last-place team, posting a 5.54 ERA in 156 innings. (His ERA was better than the average in the offense-minded league.) With Cedar Rapids of the Class B Three-I League in 1952, he won 14 and lost 9, with a 3.09 ERA. (Young Rocky Colavito was a teammate.) From 1953 to 1955 he kept moving up the ladder in the Indians' farm system. When he was called up to the Indians on August 18, 1955, he had won 18 games for Sacramento,
Daley made his major-league debut on September 10, 1955, against the Boston Red Sox at Fenway Park, pitching a scoreless inning in relief. On the 25th he started against the Detroit Tigers at Briggs Stadium and was the losing pitcher in a 6-2 defeat, giving up five runs in six innings.
Daley spent 1956 and 1957 shuttling between the Indians and their farm system. In 1956 he was 11-1 with Triple-A Indianapolis. In 1957 he was with the Indians long enough to make 10 starts (2-8, 4.43 ERA).
Just before Opening Day in 1958 the Indians traded Daley and outfielders Dick Williams and Gene Woodling to the Baltimore Orioles for outfielder Larry Doby and pitcher Don Ferrarese. Two weeks later the Orioles flipped Daley to the Kansas City Athletics for right-handed pitcher Arnie Portocarrero. Daley said Orioles manager-GM Paul Richards "called me in his office and says 'We got six left-handed pitchers and they all have more experience than you do. I just can't keep you. I'd like to keep you … but I just can't keep you.'" Daley's sole appearance in an Orioles uniform had been in a spring-training game against the Reds, in which Richards told him to pitch almost nothing but knuckleballs.
Daley pitched in 26 games for Kansas City his first year, mostly out of the bullpen, and also pitched for Triple-A Buffalo. Two highlights of the season were a 4-3 victory over the Chicago White Sox on July 4, and a complete-game gem in his last appearance of the season when he shut down the Red Sox in a 4-1 victory at Kansas City.
The next season, Daley became a starter. Inserting the lefty into the rotation proved to be a solid move; he made 29 starts and went 16-13 with a 3.16 ERA and 12 complete games. Daley was named to the American League All-Star Team, and pitched in the first of the two All-Star Games that season, striking out Ernie Banks and retiring Orlando Cepeda on a foul fly in the eighth inning of a 5-4 loss.
"Sherm Lollar was catching and he called a knuckleball," Daley said. "I threw it and Banks … missed and [Lollar] called three straight knuckleballs and I threw three knuckleballs and struck him out. The next hitter was Cepeda and he called a knuckleball again and I threw a couple and he popped it up."
The 1960 campaign was Daley's last full season with the Athletics. Making 35 starts, he was 16-16 for the 58-96 A's. Again he was an All-Star. American League manager Al Lopez offered Daley an option: He could either pitch in the final inning of the first game before hometown fans in Kansas City, or he could start for the AL two days later in the second game at Yankee Stadium. Without hesitation, the lefty chose the former and even considered it a bigger deal than being the winning pitcher of Game Five of the 1961 World Series.
Daley gave up only a walk and struck out two in his inning. "That was one of the biggest thrills I ever had," he said. "I came in in the ninth inning to pitch the last inning and the bullpen was in dead center field. I opened the gate and started walking in. From the time I opened the gate until I got to the mound I had a standing ovation the whole way."
In 1960 Kansas City team owner Arnold Johnson died and the team was sold to Charlie Finley. It was supposed to be a different direction for the club, no longer being considered the farm club of the Yankees. To back this up, Finley appeared in a 1961 newspaper photo in his suit with his hat off in front of a burning bus marked "Shuttle Bus to Yankee Stadium."2 However, new GM Frank Lane was notorious for making deals and had traded Daley from Cleveland to Baltimore. So Daley said put his house in Kansas City up for sale after Lane was hired. And sure enough, Lane traded him to the Yankees.
While the trade was being made, the Athletics were in Minnesota. According to Daley, utilityman Lou Klimchock picked up the telephone to make a call and realized he was listening to a conversation between Finley and Yankees general manager Roy Hamey. What Klimchock discovered upon picking up the phone was the moment the seemingly inevitable became the reality. Daley said that Klimchock listened to the whole conversation, and then informed the lefty he had been traded to the Yankees for Ditmar and Johnson. He joined the Yankees in Cleveland. Daley said, "I'm sitting there in the hotel and they were playing a night game and after the game, they came in and Skowron comes up to me and he says, 'Welcome aboard, but I just lost 20 points on my batting average,' because he did hit me pretty good."
Indeed, Skowron was very successful against Daley. In 53 plate appearances and 45 at-bats, Skowron collected 17 hits for a .378 batting average. He belted two home runs off Daley, drove in 13 runs, had a .453 on-base percentage and a .644 slugging percentage.
Daley said the trade pleased him no end. Despite claiming in 1960 that he was relieved he was staying with the Athletics, he said everybody on the team wanted to be traded to the Yankees, and he was no different. He made an inauspicious debut with the Yankees on June 17. New York was in a tight pennant race in third place in the American League. He started against the first-place Tigers opposite former Indians teammate Don Mossi. New York lost 12-10, and Daley was the losing pitcher. He pitched just 1⅓ innings and gave up six hits and seven runs. Daley's second start as a Yankee, on June 21, was much better. Pitching against his old teammates in Kansas City, he gave up just three runs in 8⅔ innings and was a 5-3 winner over the Athletics. He and his erstwhile teammates had little to say to each other. "I was real glad to see I pitched halfway decent against them, anyway," Daley said.
After losing to the Los Angeles Angels in his next start, Daley tossed three straight starts that were his best as a Yankee during the regular season. On July 2 he pitched into the ninth inning of a 13-4 win against the Washington Senators, with seven strikeouts. In his next outing, a 14-3 blowout against the Red Sox, he pitched a complete game. Nine days later, he blanked the Orioles on four hits in a 2-1 complete-game victory.
The good times, at least for the immediate future, did not last. From July 19 through August 13 he lost six out of seven decisions, putting his record at 9-16 and costing him his place in the Yankees pitching rotation for three weeks.
But if August of 1961 was a rough month for Daley, September was recovery time. He went 3-1 in four starts from September 4 through 19. All three of his wins were complete games and the Yankees kept on rolling. The Yankees clinched the pennant on the 20th and were going to the World Series for the 26th time in franchise history.
In 1962 Daley pitched in 43 games but started only six of them. He was 7-5 record with a 3.59 ERA. "'62 was a year that I pitched really, really well for them," Daley said. "But most of it was in relief, which was fine. … Of course, you want to start, but you don't mind." The Yankees won the pennant again and toppled the San Francisco Giants in the World Series. In contrast to his heroics in the '61 Series, his only action in 1962 was a scoreless bottom of the eighth in Game Two in San Francisco, which the Giants won, 2-0. In the deciding seventh game, Daley and Bill Stafford were warming up in the bullpen as Ralph Terry struggled.
"(Terry) got men on second and third with two outs and McCovey was the hitter and (we) were warming up in the bullpen," Daley said. "[Manager] Ralph Houk went out to the mound and I thought, 'Oh my God, he's going to bring me in to pitch' because we were ahead just 1-0 but Terry talked him out of it, thank goodness, and Terry got [Willie] McCovey out with a line drive to second base.
Daley was supposed to spend 1963 out of the bullpen. Instead, after one game, he spent it on the shelf. He relieved Jim Bouton in the bottom of the ninth in a game at Kansas City on April 10. The Athletics had just scored a run and trailed by 5-1. Daley gave up two hits and a sacrifice fly, and the Yankees won, 5-3, only because they pulled off a rare short-to-second-to-third double play. But an arm injury sidelined Daley for the rest of the season. In 1964 he pitched sporadically except during May, and spent part of the season at Triple-A Richmond. He pitched his final major-league game on July 26, going six innings and getting a 5-4 win in Detroit. The Yankees sent him to Cleveland after the season. Daley went to spring training with the Indians in 1965, but was released.
During his career, Daley had an affinity for eating pork chops. His wife, Dorothy (they were married in 1952), made him pork chops before a game in which he pitched well and got the win. It thus became a habit for him. He had them one time, only to find out he wasn't pitching that day. The next day, he had them again, but the game was rained out. Daley ate pork chops the third day in a row after that.
"She is kind of superstitious," Daley said. "I had won a ballgame and I had pork chops. So, the next time I pitched, she says, 'Well, we'll try pork chops again,' and I won again, and that's kind of how the pork-chop thing started. I didn't eat pork chops on the road, only at home."
Daley said his favorite catcher to work with was Elston Howard. He didn't like working with Yogi Berra too much, because Berra would never let Daley shake him off. Daley figured that if he was going to get the loss, it'd be on a pitch he wanted to throw and not one Berra wanted him to throw. He enjoyed working with Howard because they thought the same. "He knew like in 3-1, 3-2, I liked to throw curveballs," Daley said. "He'd just automatically call them, almost. Yogi, he wouldn't do that. So I had to shake him off and he'd get upset and I'd get upset.
The Daleys moved to Wyoming in 1975 and as of 2016 resided in Riverton. He said he no longer followed baseball, saying his region considered it a "non-sport." Rather, the former southpaw said he was a pro football fan, cheering for the Denver Broncos. When he lived in California, he was a fan of the Los Angeles Rams, but that changed once he moved to Wyoming. He said he enjoyed playing golf as a hobby, and was a single-digit handicap golfer. The Daleys have four children, six grandchildren, and, as of 2016, five great-grandchildren.
Last revised: November 11, 2016
Sources
Besides the sources cited in the notes, the author consulted the following:
Barra, Allen. Yogi Berra: Eternal Yankee (New York: W.W. Norton & Co., 2010), 306.
Baseball-reference.com.
Moore, Mark. http://kansascitybaseballhistoricalsociety.com/Daley20article.pdf.
Terrell, Roy. "The Pork Chop All Star," Sports Illustrated, July 11, 1960, 22, 28.
Notes
1 All comments from Daley are taken from telephone interviews conducted by the author on May 14, 2016, and June 11, 2016.
2 Rob Neyer, Rob Neyer's Big Book of Baseball Blunders (New York: Simon & Schuster, 2006). 85; John E. Peterson, The Kansas City Athletics: A Baseball History, 1954-1967 (Jefferson, North Carolina: McFarland & Company, 2003), 136; Associated Press Wirephoto, 1961.
Born
October 7, 1932 at Orange, CA (USA)
If you can help us improve this player's biography, contact us.
/sites/default/files/DaleyBud.jpg
600
800
admin
/wp-content/uploads/2020/02/sabr_logo.png
admin
2016-11-11 13:14:24
2016-11-11 13:14:24
Bud Daley