"Not getting booed at Ebbets Field was an amazing thing. Those fans knew their baseball, and Gil was the only player I can remember whom the fans never, I mean never, booed."—Clem Labine1
"...epitomizes the courage, sportsmanship and integrity of America's favorite pastime."—back of a 1966 Topps baseball card.
"Gil Hodges is a Hall of Fame man."—Roy Campanella2
"If you had a son, it would be a great thing to have him grow up to be just like Gil Hodges."—Pee Wee Reese3
"Gil Hodges is a Hall of Famer; he deserves it and it's a shame his family and friends have had to wait so long."—Duke Snider  
"He [Hodges] was such a noble character in so many respects that I believe Gil to have been one of the finest men I met in sports or out if it."—Arthur Daley, The New York Times.4
Gil Hodges was born Gilbert Ray Hodge April 4, 1924, at Princeton, Indiana, in the state's southwestern corner. The origin of the discrepancy between his birth name of Hodge and the name by which he became well-known is unclear; however, the family name was Hodges at least by the time of the 1930 U.S. census. Gil's parents were Irene K. (née Horstmeyer) and Charles P. Hodges. When Gil was seven years old, the family, including older brother, Robert, and younger sister, Marjorie, moved thirty miles north to Petersburg. Big Charlie, as Gil's father was known, did not want his two sons to work in the coalmines as he did. (Big Charlie lost an eye and some toes in various mining accidents and died of a heart embolism in 1957.) 
Charles Hodges taught his sons how to play sports, and Gil was a four-sport athlete at Petersburg High School. He ran track and played baseball, basketball, and football, earning a combined seven varsity letters. In 1941, like his brother before him, Hodges was offered a Class D contract by the Detroit Tigers, but he declined it and instead enrolled at St. Joseph's College on an athletic scholarship. St. Joseph's, located 100 miles north of Indianapolis, had a well-regarded physical education program, and Hodges had designs on a college coaching career. Gil played baseball and basketball for the Pumas and was a member of the Marines ROTC.
After his sophomore year, he was offered a contract by local sporting goods storeowner and part-time Dodgers scout Stanley Feezle. The lure of playing in the major Leagues was too much this time, and Hodges left St. Joseph's and signed with Brooklyn, who then sent him to Olean, New York. He worked out with the Class D Oilers but did not appear in a game. 
Brooklyn called up the nineteen-year-old Hodges late in the 1943 season. He made his debut at Crosley Field on October 3, the Dodgers' last game of the year. Facing Cincinnati's Johnny Vander Meer, Gil went 0-for-2 at the plate and made two costly errors at third base. Eleven days later, he entered the Marine Corps and was sent to Hawaii, first to Pearl Harbor and later Kauai. Hodges served as a gunner for the 16th Anti-Aircraft Battalion. From Hawaii he went to Tinian, the sister island of Saipan in the South Pacific. In April 1945, Sergeant Hodges, now assigned to his battalion's operations and intelligence section, landed on Okinawa with the assault troops and was subsequently awarded the Bronze Star. Don Hoak, a future Dodgers teammate, said, "We kept hearing stories about this big guy from Indiana who killed Japs [Japanese soldiers] with his bare hands."5 Discharged in February 1946, Hodges went to spring training with Brooklyn.
The solidly built Hodges stood a half inch over six feet one, and weighed 200 pounds. He batted and threw right-handed, and was considered big for a baseball players of that era. However, Hodges was a gentle giant, often playing the role of peacemaker during on-field brawls. His hands were so large that teammate Pee Wee Reese once remarked that he could have played first base barehanded but wore a mitt because it was fashionable. 
Dodgers president Branch Rickey sent the now twenty-two-year-old Hodges to the Newport News (Virginia) Dodgers, the club's entry in the class B Piedmont League, where he was converted from infielder to catcher. Gil played 129 games, hitting .278 with eight home runs for Newport News. For his efforts, Hodges was named to the all-league team. He went to the historic and tumultuous Dodgers 1947 spring training and made the team. He was the second-string catcher but played just twenty-four games behind the plate as the backup to Bruce Edwards.
On May 17 at Forbes Field, Hodges, batting for pitcher Harry Taylor, singled off Pittsburgh's Fritz Ostermueller for his first major-league hit. Gil hit his first major-league home run on June 18, at Chicago's Wrigley Field. His blast came in the seventh inning against Cubs starter Hank Borowy, and broke a 3–3 tie. 
Hodges appeared in twenty-eight games overall in 1947, hitting an anemic .156. He clearly needed more playing time, but he was not going to get it behind the plate. With Roy Campanella on the way to take over for Edwards, another position change for Hodges was in order. The next spring Dodgers manager Leo Durocher "put a first baseman's glove on our other rookie catcher, Gil Hodges. . . Three days later," Durocher said, "I'm looking at the best first baseman I'd seen since Dolph Camilli."
In 1948 Hodges played ninety-six games at first base, but he was the catcher in thirty-eight games, as well. With thirteen errors at first, his fielding percentage was .986, the only year he played regularly that he fielded under .990. In addition, he contributed eleven home runs and seventy runs batted in for the third-place Dodgers. He would not drive in fewer than 100 runs over the next seven seasons, nor would the Dodgers finish lower than second place over the next eight.
On December 26, 1948 Hodges married the former Joan Lombardi, a Brooklyn girl from the Bay Ridge section. The Hodges couple made a permanent home in Brooklyn, one of the few Dodgers to do so, and raised four children, Gil Jr., who would spend some time as a player in the New York Mets minor league system, Irene, Cynthia, and Barbara. (Joan Hodges still lives in that same house in Brooklyn.) This no doubt made Gil "one of them" in the eyes of the fans. Walter O'Malley, the Dodgers' owner, stated, "If I had sold or traded Hodges, the Brooklyn fans would hang me, burn me, and tear me to pieces." Lastly, the very busy Hodges used the GI Bill to earn his degree at Oakland City College in Indiana during the 1947 and 1948 off-seasons.
By 1949 the Brooklyn Dodgers were poised for the most productive period in the franchise's history. The fabled lineup was in place: Roy Campanella behind the plate, Hodges at first, Jackie Robinson at second, Pee Wee Reese at short, Billy Cox at third, Duke Snider in center, and Carl Furillo in right with a rotating cast in left. The team did not disappoint; Brooklyn won the National League pennant, edging the St. Louis Cardinals by one game. Hodges was now a key contributor. His first career grand slam came on May 14 off the Braves' Bill Voiselle. Hodges hit for the cycle on June 25 in a 17–10 victory at Forbes Field. Gil hit a single, a double, a homer, and then a triple before hitting his second homer of the game in the ninth. He was 5-for-6 with four RBIs for the day.
Hodges appeared in his first All-Star Game and went 1-for-3 with a run scored. For the season, he tied with Snider for the team lead in home runs with twenty-three, and his 115 RBIs were second on the team to Robinson. Brooklyn's pennant euphoria was short-lived, however, as the Dodgers lost the World Series to the New York Yankees in five games. Hodges drove in four of the team's fourteen runs in the Series.
The next two years, 1950 and 1951, brought consecutive second-place finishes. Hodges's power numbers continued to improve, as he averaged thirty-six home runs and 108 RBIs for the two seasons. He established his career high in runs scored in 1951 with 118, one of three seasons in which he topped 100. He also established a career high in strikeouts, ninety-nine, which led the league. (He finished in the NL top ten in strikeouts eleven times in his career.) 
In the 1951 All-Star Game, Hodges went 2-for-5, including a two-run homer. However, his biggest day came on August 31, 1950, when he became the fourth major leaguer to hit four home runs in a nine-inning game. He went 5-for-6 and had nine RBIs that night at Ebbets Field, hitting the home runs off four different Boston Braves pitchers. His seventeen total bases also tied a major-league record.
The Dodgers won pennants in 1952 and 1953, only to fall again each time to the Yankees in the Series. In 1952, Hodges hit thirty-two home runs and drove in 102, while in 1953 he had thirty-one home runs and 122 RBI, despite hitting just .181 through May 23. 
The slump with which he began the 1953 season actually had carried over from the 1952 World Series and cemented the legendary bond between Hodges and the Brooklyn fans. In the seven-game series, he went 0-for-21 with five walks. Instead of booing their first baseman, the Ebbets Field faithful embraced him, cheering him warmly, sometimes with standing ovations, before each at bat.
In his classic The Boys of Summer, Roger Kahn writes, "The fans of Brooklyn warmed to the first baseman as he suffered his slump. A movement to save him rose from cement sidewalks and the roots of trampled Flatbush grass. More than thirty people a day wrote to Hodges. Packages arrived with rosary beads, rabbits' feet, mezuzahs, scapulars."
In his book, The Game of Baseball, Hodges recalled that slump in his typical humble fashion: "The thing that most people hear about that one is that a priest [Father Herbert Redmond of St. Francis Roman Catholic Church] stood in a Brooklyn pulpit that Sunday and said, 'It's too hot for a sermon. Just go home and say a prayer for Gil Hodges.' Well, I know that I'll never forget that, but also I won't forget the hundreds of people who sent me letters, telegrams, and postcards during that World Series. There wasn't a single nasty message. Everybody tried to say something nice. It had a tremendous effect on my morale, if not my batting average. Remember that in 1952, the Dodgers had never won a World Series. A couple of base hits by me in the right spot might have changed all that."7 Undoubtedly, his experience of the slump helped him later in his managerial career, when he took over struggling expansion teams.
The 1954 season saw the Dodgers finish in second place and Hodges post career highs in batting average (.304), home runs (42), RBIs (130), and slugging (.579). It was his second consecutive year over the .300 mark. Hodges had nineteen sacrifice flies, yet another career high, which also led the major leagues by a wide margin. On the last day of the regular season, September 26, Hodges had a solo shot and provided the only run rookie Karl Spooner needed for a 1–0 Dodgers victory. The homer was the twenty-fifth Gil hit at Ebbets Field in 1954, establishing a new club record. His forty-two homers and 130 RBIs were both second in the National League in their respective categories. It was the closest he would come to winning a home run or an RBI title.
In 1955 the Brooklyn Dodgers won their first and only World Series. Hodges, now thirty-one years old, contributed twenty-seven homers, 102 RBIs and a .500 slugging percentage to the Dodgers' first-place finish. Brooklyn clinched the '55 pennant on September 8 with a 10–2 drubbing of Milwaukee, the earliest a team had clinched the pennant in the 80-year history of the National League. For the fifth time in nine years, they met the Yankees in the World Series. Gil hit .292 (7-for-24) with a homer, three walks and five RBIs. Hodges drove in the only two runs scored in the seventh and deciding game of the Series, and recorded the final putout on a throw from Reese.
Hodges would appear in two more World Series, 1956 and 1959. He continued to play as a regular over the span of those years, averaging twenty-six home runs and eighty-two runs batted in. Hodges homered once in each Series; in the 1956 seven-game series loss to the Yankees, he had a hand in twelve of the Dodgers' twenty-five runs, and he batted .391 in the 1959 Los Angeles Dodgers series win over the Chicago White Sox. In that Series, he won Game Four with a solo homer in the bottom of the eighth that snapped a 4–4 tie. In all, Hodges played in thirty-nine World Series games compiling a .267 average (35-for-131) with five homers, twenty-one RBIs, and fifteen runs scored.
Gil was active for parts of four more seasons, but knee and other injuries limited his playing time. Despite the Dodgers' move to Los Angeles, the Hodges family maintained their home in Brooklyn, and after the 1961 season, the newly formed New York Mets selected Gil in the first National League expansion draft. He hit the first home run in Mets history, on April 11, 1962. Overall, he appeared in fifty-four games for the woeful '62 Mets, hitting .252. 
Hodges began 1963 as an active player, but retired when the two-year-old Washington Senators asked him to be their manager. After clearing waivers, Gil was traded to Washington for outfielder Jimmy Piersall on May 23, ending his playing career. Fittingly, Hodges's last major-league hit was an RBI single on May 5, 1963 against the San Francisco Giants. Gil Hodges hit his 370th and final home run on July 6, 1962. Until April 19 of the next season, when Willie Mays hit career home run 371, Hodges had the most home runs by a right-handed batter in National League history.
Each season after Hodges's arrival, the expansion Senators improved on their record from the previous season, peaking with a 76-85 record in 1967. On December 4, 1964 Senators management engineered a seven-player trade with the Dodgers. The Senators received Hodges's former teammate, slugging outfielder Frank Howard, pitchers Phil Ortega and Pete Richert, first baseman Dick Nen, and third baseman Ken McMullen. 
These players were the core of the Senators franchise for the next several years and helped Hodges bring the Senators from tenth place to their surprising sixth-place finish in 1967. Although he had one year left on his contract, Hodges would not be around to guide the Senators in 1968. When Wes Westrum resigned as manager of the New York Mets in September 1967, the Mets sought out Hodges as his replacement.
Joan Hodges had never been more than an infrequent commuter to the nation's capital and Gil still had financial interests in bowling alleys in Brooklyn. Given Gil's popularity in the New York area, he was a natural fit for the Mets. While Senators general manager George Selkirk did not want to lose Hodges, he eventually relented, aided by a Mets payment of $100,000 and a player to be named (pitcher Bill Denehy was sent to the Senators on November 27). Hodges then signed a three-year, $150,000 contract to manage the Mets.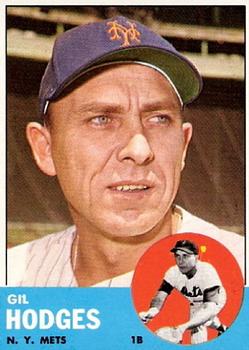 The Mets had never finished above .500, but they were just four games below that mark at the 1968 All-Star break. They could not maintain the pace, however, and lost 46 of the remaining 80 games. On September 24, 1968 the forty-four-year-old Hodges suffered a "mild" heart attack during a game in Atlanta. In addition to the stress, which he always kept bottled up, and his father's early death from an embolism, he also had developed a smoking habit on Okinawa, contributing factors for an attack so early in life. The '68 Mets did move up one position in the standings, to ninth place, a twelve-game improvement over 1967. There was little in their second-half performance that would predict the much greater improvements still to come.
Gil's first winning season as manager came with the 1969 Mets, a team that went 100-62, twenty-seven wins more than the previous year. They were led by rising star pitchers Tom Seaver, Jerry Koosman, and promising youngster Nolan Ryan, as well as left fielder Cleon Jones and center fielder Tommie Agee. The Mets beat the Atlanta Braves in three straight games in the NL Playoffs, and defeated the heavily favored Baltimore Orioles in five games in the World Series. Hodges was voted Manager of the Year for turning the lovable losers into World Champions. The Mets finished with identical 83-79 records in each of the next two seasons. For Hodges, there would be no more championships.
The spring of 1972 saw the first modern players strike. On April 2, Easter Sunday, Hodges played golf at the Palm Beach Lakes golf course in Florida with coaches Joe Pignatano, Rube Walker, and Eddie Yost. The first two were old Brooklyn Dodger pals, while Yost had been with Hodges since the Senators days. As they walked off the final hole of their twenty-seven-hole day toward their rooms at the Ramada Inn, Pignatano asked Hodges what time they were to meet for dinner. Hodges answered him, "7:30," and then he fell to the pavement. He was pronounced dead of a coronary at 5:45 p.m. in West Palm Beach. He was just 47 years old.
The Mets were scheduled to open the season in Pittsburgh on April 7, the day of the funeral, but the players agreed to forfeit the game to attend. The Pirates graciously canceled the game, which was not played anyway because of the lingering strike. Coach Yogi Berra took over the stunned Mets as Hodges's replacement and led the Mets back to the World Series in 1973.
Hodges's funeral Mass easily could have been held at St. Patrick's Cathedral in Manhattan, but that would have not been in keeping with his unassuming ways. During his funeral Mass, held at his Flatbush parish church, Our Lady Help of Christians, the Reverend Charles Curley said, "Gil was an ornament to his parish, and we are justly proud that in death he lies here in our little church." Repeating the story of Father Herbert Redmond's concern for Hodges's slump, Father Curley said, "This morning, in a far different setting, I repeat that suggestion of long ago: Let's all say a prayer for Gil Hodges."8 Gil is buried in Brooklyn's Holy Cross Cemetery. 
In the years since Hodges's death, much attention has been given to his absence from the Hall of Fame. Hodges was eligible for the Baseball Writers Association of America vote from 1969 until 1983. In each year, he received more votes than as many as ten men who were ultimately elected to the Hall.
Hodges led all major-league first basemen of the 1950s in the following categories: home runs (310), games (1,477), at bats (5,313), runs (890), hits (1,491), runs batted in (1,001), total bases (2,733), strikeouts (882), and extra-base hits (585). He made the All-Star team eight times, every year from 1949-55 and again in 1957, the most of any first baseman of the time. In addition, Hodges won Gold Gloves the first three years they were given out (1957-59) and was considered the finest defensive first baseman of the era. Also, he was second among all players in the 1950s in home runs and RBIs, third in total bases and eighth in runs.
The bridge that spans the East Fork of the White River in northern Pike County, Indiana, is now named the Gil Hodges Memorial Bridge. A space was left at the bottom of the stone monument to someday include the wording of Hodges's Cooperstown plaque.
Sources
Marino Amoruso, Gil Hodges: The Quiet Man, Eriksson, 1991
Leo Durocher, Nice Guys Finish Last, Pocket Books, 1975
Gil Hodges, The Game of Baseball, Crown, 1970
Paul Zimmerman and Dick Schaap, The Year the Mets Lost Last Place, Signet, 1969
New York Times, April 3-8, 1972
Joe D'Agostin, personal communication.
Rob Edelman, personal communication
Notes
2. The Quiet Man, p. 141.
3. Ibid.
4. New York Times, April 6, 1972.
5. New York Times, April 3, 1972.
6. Nice Guys Finish Last, p. 228.
7. The Game of Baseball, pp. 16-17.
8. New York Times, April 8, 1972.