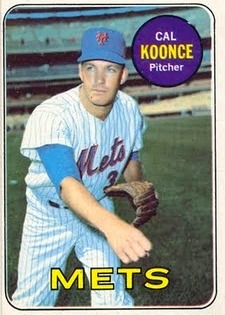 ---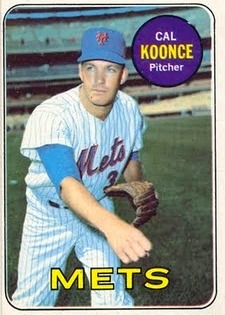 Cal Koonce was a valuable and reliable member of the Mets bullpen under Gil Hodges. A starter early in his career, he became a reliever who won six games and saved seven for the 1969 Mets. His alliterative name and easygoing manner made him a memorable member of the Miracle Mets; his skill as a coach made him a treasured citizen in his native North Carolina.
Koonce was born on November 18, 1940, in Fayetteville, North Carolina. He grew up in Hope Mills and was a star athlete in the area. He played baseball and basketball for Campbell College (then a two-year school but later a four-year university). His freshman year he had 19- and 17-strikeout games while compiling a 4-3 record. As a sophomore, Koonce pitched in 17 games, starting 14, with a 10-4 record. He was a junior college All-American at Campbell in 1961 and played with his brother Charles, a freshman. The elder Koonce signed with the Cubs that year.
For his first taste of professional baseball, the Cubs sent Cal Koonce across the country to Wenatchee, Washington. He pitched 22 times for the Wenatchee Chiefs of the Class B Northwest League, getting hit pretty hard to the tune of 6-10 with a 4.81 ERA. The next year he spent in Chicago.
For a franchise that had played its first professional game as a founding member of the National Association in 1871, the Cubs established a new low in 1962. The Cubs lost 100 games for the first time and their 42 ½ games out of first place were also a new standard. The Cubs were in the midst of being mismanaged—or more accurately, not managed at all—by the "College of Coaches." Owner Philip K. Wrigley's idea of letting a revolving door of coaches run the team instead of one set manager changed the way the professional game had been run since, well, the franchise played their first game some 91 years earlier. It was a management scheme ridiculed by all and never tried by another club, but the Cubs kept at it for five long seasons. The 103-loss Cubs were protected from the basement only by the 120-loss expansion Mets in 1962.
The 21-year-old Koonce was the most successful Cubs starter that rookie season, going 10-10 for a team that had one 20-game loser in Dick Ellsworth and two others (Glen Hobbie and Koonce's future Mets teammate Don Cardwell) who were each nine games under .500. Koonce had a 3.97 ERA while tossing 191 innings, though his 84-86 strikeout-to-walk ratio left something to be desired. He nearly had a no-hitter as well.
Koonce was 7-2 with a 4.12 ERA coming into a game at Wrigley Field against Cincinnati on July 13, 1962. He retired the first 10 Reds before allowing a clean single to center by Don Blasingame. The game was scoreless until the sixth inning when the Cubs' Ernie Banks reached on an infield hit and took second on a throwing error. He went to third on a groundout and scored on a Ron Santo sacrifice fly. It was the only run that Cincinnati's Bob Purkey—or any pitcher—would allow on the day.
After Blasingame's hit, Koonce allowed only a walk to Gordy Coleman and immediately took care of it by getting Vada Pinson to bounce into a double play. The Reds got a baserunner with two outs in the ninth when Santo mishandled a grounder by Wally Post. Blasingame, whose hit was all that stood between Koonce and a no-hit bid, came up with the tying run on base. He rapped a grounder to Banks at first to end the game and give Koonce his first career shutout.
Koonce lost his next decision before beating the Astros to improve to 9-3 with a 3.60 ERA. He lost his next six decisions before finally getting his 10th win on September 20 in Philadelphia. He was hit hard by the same Phillies team in his final start at Wrigley to even his record in Chicago's 102nd loss of the year.
The Cubs were better in 1963, but Koonce was not. He was sent down to Salt Lake City of the Pacific Coast League in June with his ERA hovering around 6.00. He went 5-3 with a 3.00 ERA in Triple-A before being recalled in August, and the beatings continued. Koonce finally got his first win as a Cub since May 5 in Milwaukee, beating the Braves on the road in his final start of the year. At County Stadium he was 2-0 with a 1.26 ERA in 1963; everywhere else that year he was 0-6 with a 5.40 ERA. The Cubs kept the 23-year-old righty in Salt Lake City for most of 1964. He won 11 and lost 15, logging 238 innings with a 3.48 ERA in 36 starts for the Bees.
Koonce's hard work in Utah paid off with a promotion to Chicago, where he went 3-0 with a 2.03 ERA to finish the season. He was a regular in Chicago's rotation in 1965, spending the whole season in the majors and going 7-9 with a 3.69 ERA in 173 innings.
The Cubs finally ditched the College of Coaches after the 1965 season and brought in legendary Leo "The Lip" Durocher to take over as manager. Koonce had the distinction of again having a .500 record (5-5) on a 100-loss Cubs team. Durocher was looking at what he had to work with and tried a lot of different players. Koonce started only five times and relieved in 40 games—not surprising given that future Hall of Famer Fergie Jenkins pitched 48 times in relief that year—but Koonce also spent several weeks in the minors after a poor start. He started eight games for Chicago's Triple-A affiliate in Tacoma and, after going 5-3 in eight starts there, he was back in Chicago. The Durocher regime took some getting used to and it wasn't something Koonce recalled fondly.
"With the Cubs, Leo would use the same reliever game after game until he ran out of gas," Koonce told Stanley Cohen in A Magic Summer. "If you were on a hot streak, you knew that you'd be the first one to be called every day until your streak ended. During one period, I warmed up in the bullpen 14 days in a row, and it takes something out of you. That was Leo's style of managing. He did the same thing in 1969, not only with his pitchers but with his infielders too."
After his rough start Koonce's ERA kept dropping until he ended the season with a poor relief outing against the pennant-winning Dodgers; he finished with a respectable 3.81 ERA. Only Jenkins exceeded Koonce's 45 appearances for Chicago.
Koonce again started poorly in 1967. Though he was able to overcome his bad start, Durocher had run out of patience. In a three-game span against San Francisco's powerful lineup in late July, Koonce threw two scoreless innings and picked up the win in 12 innings on Friday at Wrigley Field; he blew a lead on Saturday by allowing three hits without retiring a batter in a game the Cubs again won in their last at-bat; and he threw two scoreless innings the next afternoon in a game the Cubs lost. He did not appear again for a week, throwing a scoreless inning in a close loss in Cincinnati. It was his last game as a Cub. Koonce was sold to the Mets on August 2.
The Mets, in the midst of a season in which they went through a club-record 54 players, tried Koonce as a starter. It worked. After retiring the only batter he faced in his Mets debut against a Giants club he knew quite well, Koonce got the start six days later against Pittsburgh and went the distance for the win. He won his next start as well and threw a shutout on August 29 in St. Louis. He got a chance at redemption in his next start at Wrigley Field, but former teammate Joe Niekro stymied Koonce and the Mets. Former batterymate Randy Hundley knocked in two runs in Niekro's 5-0 shutout. Koonce lost again in his next start and then he headed back to the bullpen.
Things were changing in New York. Manager Wes Westrum knew he would be fired and resigned with a week left in the season. Coach Salty Parker took the helm. The Mets were a laughingstock for their first six seasons—the only time they hadn't finished 10th was during the second 103-loss season by the Cubs—and now they had both a new manager (Gil Hodges) and general manager (Johnny Murphy). They carefully evaluated who should stay and who was just passing through. They kept Koonce and he thrived under Hodges.
Other than a couple of starts late in the 1968 season, Koonce made 53 relief appearances to place second on the team to Ron Taylor, another reclamation project who paid dividends. If not for a horrible relief appearance in the last game of the year—a 10-3 loss to the Phillies after the Mets had been assured of not finishing in the basement—Koonce would have finished with an ERA under 2.00. As it was, his 2.42 ERA was still his career lowest for a full season. His ERA and 6-4 record topped the Mets bullpen.
Koonce later said one of the main differences between the Cubs and Mets was that New York had a coaching staff of former catchers: Rube Walker, Joe Pignatano, Yogi Berra, and Gil Hodges, who'd started his career as a catcher. What's more, on a young team like the Mets, Koonce—though just 28 coming into the 1969 season—was a respected veteran. With the conversion of Tug McGraw to reliever that year, the Mets had a bullpen that could come to the rescue of its young staff. With Taylor, McGraw, Koonce, and a few others, Hodges didn't have to worry about burning out the arms from overuse—as wound up happening that summer in Chicago.
"With the Mets it was different; we took turns," Koonce said of the disparity between the management style of the two NL East clubs. "If you were brought in one day, you knew you would have a day or two to get ready before you were called on again. That's why we were fresh at the end of the season."
His pitches also had the occasional movement indicative of a wet ball. Koonce had, after all, gone to the same college as Gaylord Perry. Koonce's secret was perspiration from his hand or wrist—aka "the sweatball." The difference is that he admitted it while still pitching.
"I threw a half-dozen every game," he said of his mound transgression. "A lot of pitchers did, but nobody would admit it because the spitball has been illegal since 1920. It was getting ridiculous, so I admitted it."
A journeyman pitcher needed every advantage just to begin to keep up with the Mets pitching staff in 1969. The deep starting staff included Tom Seaver, Jerry Koosman, Don Cardwell, and rookie Gary Gentry, plus as talented a swingman as anyone in team history: Nolan Ryan.
So it was little surprise that for the first time in his career, Koonce did not start a game. He again, however, started the season poorly, taking the loss on Opening Day against the brand-new Montreal Expos at Shea Stadium. Koonce did manage to pick up three saves in April, which counted in his statistics now that the save had become official (it had unofficially been counted for several years, with Koonce picking up 11 for the Mets in 1968). Yet Koonce was hit hard. He wound up allowing as many home runs in 1969 as he had in the previous two seasons combined.
Even as the previously moribund Mets rallied and shocked the world, Koonce's ERA never recovered from the early pounding. Koonce still had an ERA of 6.00 as the Mets went on a tear in June. Like most members of that '69 team, though, Koonce had his moments of glory.
He picked up three wins in a span of five appearances, beginning with a four-inning stint on July 13 at Shea against the Expos as the Mets earned a doubleheader sweep to match the twin bill taken that same day by the first-place Cubs. Three days later, Koonce threw five innings of shutout relief in a win at Wrigley Field, allowing the Mets to pull within four games of Chicago. And following a disastrous sweep by the Astros later that month, Koonce took over for Don Cardwell in the first inning two days later against Atlanta and threw 6 1/3 innings as the Mets went on to a 5-4 win over the NL West leaders.
In all, Koonce had nine appearances in which he threw three or more innings. He had one of the two wins by a Met against the Astros (New York was 2-10 against Houston in '69). Not all his outings were brilliant, though. Hodges brought him in to take one for the team on occasion, such as when he threw five innings and absorbed five runs and 10 hits in a game the Mets lost 10-6 at Dodger Stadium on September 1. He pitched only twice more that year, both games the Mets lost. He did not appear in the postseason, but the starters were so sharp in the World Series that the bullpen logged fewer than six innings in the five-game victory over the Orioles.
Koonce began the 1970 season in New York, a place he had come to like after initially being repelled by it. "I had always told my wife, Peggy, that if I ever got traded or sold, New York was the one place I did not want to live," he told Stanley Cohen in A Magic Summer. "Of course, when we visited New York we were always downtown. I never got to see the residential areas, but once we moved there and settled down, I fell in love with it. We lived in Roslyn Heights, out on Long Island, and out there it was just like it was back home."
He hadn't counted on being sent farther north. With Koonce having appeared in just 13 games in early June 1970, the Mets sold him to the Red Sox. He wound up seeing more action in Boston, even starting eight games and throwing what turned out to be his final career complete game. He went 3-4 with a 3.54 ERA for the Red Sox after going 0-2 as a Met with a 3.27 ERA in 1970.
The next year Koonce fell into the same pattern of infrequent use in Boston that he'd experienced with the Mets. The Red Sox released him in August, three months shy of his 31st birthday. He did not pitch in the major leagues again.
Koonce had worked as a stockbroker in the offseason during his career and had spoken about becoming a golf professional, but after leaving the majors, he soon found his way back to baseball. The father of four, living in the same area where he'd grown up and made a name for himself, went into coaching. He began as a coach and physical education teacher at Fayetteville Academy in 1974, and then moved on to South View High School in his hometown of Hope Mills from 1974 to 1979.
Koonce returned to his alma mater, Campbell University, and took over the baseball program. During his tenure as head coach from 1980 to 1986, the Fighting Camels won 20 or more games six times and achieved 30 wins in a season for the first time in school history. He retired in 1986 after being named the Big South Coach of the Year, the only Campbell coach so honored.
Koonce was inducted into the Campbell Sports Hall of Fame in 1987, the first Campbell baseball player inducted besides Gaylord Perry and older brother Jim Perry, the first brothers to each win Cy Young Awards. Koonce's younger brother, Charles, who played for Campbell when it was transitioning from a two-year to a four-year college in the mid-1960s—hitting .400 at both levels–was inducted into the school's Hall of Fame in 1992.
Cal Koonce was Campbell University's all-time winningest coach when he retired, compiling a record of 174-123. Chip Smith passed Koonce's mark for wins in 2002, but Koonce's .586 career winning percentage is still almost 100 points higher than that of any other baseball coach in the university's history. Koonce was succeeded as baseball coach at the school by Mike Caldwell, another successful former major league pitcher from North Carolina.
In 1987, Koonce became general manager of the Fayetteville Generals, the first minor league team in that city in more than three decades. The Generals, the Class A farm team of the Detroit Tigers, were a member of the South Atlantic League. (The club was later known as the Cape Fear Crocs before moving to New Jersey to become the Lakewood BlueClaws.)
"I was looking for an opportunity to get back into professional baseball," he said shortly after taking the job. "And I wanted to see how things looked from the other side, the administrative view. But I suspect that winning feels good, no matter what your role is."
Koonce stayed with the Generals for two years before returning to coaching, this time at Terry Sanford High School in Fayetteville from 1989 to 1991. He also served as a scout for the Texas Rangers in 1991 and 1992, but by then he was gravely ill. In addition, he served as a town commissioner in Hope Mills, North Carolina, from 1987 to 1992 before his illness forced him to resign.
Koonce had lymphoma, a form of cancer that attacks the lymph nodes and glands. He battled the disease for four years before dying at Baptist Hospital in Winston-Salem at the age of 52 on October 28, 1993.
Art Shamsky, a teammate of Koonce's on the 1969 Mets team, said, "I never heard him say a bad word about anybody. He was just a down-to-earth person. He had a quiet dignity about him. All the players respected him and looked up to him. People respected what he had to say."
Chris Koonce, Cal's son, said of his father, "Even though he played in some of the biggest cities in America, he never lost track of who he was and where he came from. His family always maintained a house in Hope Mills during his entire career."
Cal Koonce was the kind of person who took a middle-of-the-road approach to life. He never got too high or too low. He was the kind of coach who could always find a mistake to correct even in victory, yet always found a positive to take away from a loss. That may not sound very exciting in today's ESPN highlight world, but excitement does not always equal productivity.
He played in a time when player salaries probably averaged only about $20,000 to $40,000 per year, yet he and his wife helped put four children through college. Koonce was also very generous with his time in serving his community. He was elected to the Hope Mills Town Board and served many roles with the Administrative Board at Hope Mills United Methodist Church.
Koonce's multiple careers packed into a short life, combined with the number of young people he touched in his native state, resulted in one final honor. On August 12, 1997, coincidentally 30 years to the day from his first start—and win—with the Mets, the North Carolina General Assembly passed a resolution to honor the man and his family.
GENERAL ASSEMBLY OF NORTH CAROLINA
1997 SESSION
RATIFIED BILL
RESOLUTION 30
A JOINT RESOLUTION HONORING THE LIFE AND MEMORY OF CALVIN LEE KOONCE, JR.
Whereas, Calvin Lee Koonce, Jr. was born in Cumberland County, North Carolina on November 18, 1940, and was a native of the Town of Hope Mills; and
Whereas, Calvin Lee Koonce, Jr. graduated from Hope Mills High School in 1959 and attended Campbell College where he earned Junior College All-American Honors in 1961; and
Whereas, because of his outstanding baseball talent, Calvin Lee Koonce, Jr. was signed by the Chicago Cubs in 1961; and
Whereas, Calvin Lee Koonce, Jr. played the position of pitcher and won 10 games in his Rookie Season with the Cubs in 1962; and
Whereas, in 1967, Calvin Lee Koonce, Jr. joined the New York Mets and played on the 1969 Mets World Championship Team; and
Whereas, in 1971, his last year playing professional baseball, Calvin Lee Koonce, Jr. played for the Boston Red Sox; and
Whereas, after his professional career, Calvin Lee Koonce, Jr. returned to North Carolina where he coached baseball at Fayetteville Academy in 1974, South View High School from 1974 to 1979, Campbell University from 1979 to 1986, and Terry Sanford High School from 1989 to 1991; and
Whereas, Calvin Lee Koonce, Jr. served as general manager of the Fayetteville Generals from 1986 to 1988, and as a scout for the Texas Rangers from 1991 to 1992; and
Whereas, Calvin Lee Koonce, Jr. was inducted into the Campbell University Sports Hall of Fame in 1987; and
Whereas, Calvin Lee Koonce, Jr. was devoted to public service, having served as the Hope Mills Town Manager from 1992 to 1993, as an elected member of the Hope Mills Board of Commissioners, and as Mayor-Pro Tempore; and
Whereas, Calvin Lee Koonce, Jr. was an active member of the Hope Mills Methodist Church, where he served on the Administrative Board; and
Whereas, Calvin Lee Koonce, Jr. died on October 18, 1993; and
Whereas, Calvin Lee Koonce, Jr. is survived by his wife, Peggy Koonce; a son, Chris Koonce; three daughters, Kelly Taylor, Kim Owen, and Kerry Gowan; three grandchildren, Garrett Gowan, John Calvin Owen, and Lynnsey Taylor; his mother, Mary Koonce; a sister, Marilyn Koonce; and two brothers, Charles Koonce and Don Koonce;
Now, therefore, be it resolved by the House of Representatives, the Senate concurring:
Section 1. The General Assembly expresses its high regard for the life and service of Calvin Lee Koonce, Jr. and mourns the loss of this distinguished citizen.
Section 2. The Secretary of State shall transmit a certified copy of this resolution to the family of Calvin Lee Koonce, Jr.
Section 3. This resolution is effective upon ratification.
In the General Assembly read three times and ratified this the 12th day of August, 1997.
Marc Basnight
President Pro Tempore of the Senate
Harold J. Brubaker
Speaker of the House of Representatives
Sources
Cohen, Stanley. A Magic Summer: The 1969 Mets (New York, Skyhorse Publishing, 2009).
E-mail from Chris Koonce (sent to and generously shared by Craig Hardee), April 16, 2008.
Fayetteville (NC) Observer-Times, October 30, 1993.
Joint Resolution Honoring The Life And Memory Of Calvin Lee Koonce, Jr. General Assembly Of North Carolina, 1997 Session, Ratified Bill. Resolution 30. House Joint Resolution 1236. http://www.ncga.state.nc.us/sessions/1997/bills/house/html/h1236v2.html
New York Mets, Official 1969 Yearbook.
Zumsteg, Derek. The Cheater's Guide to Baseball. New York: Houghton Mifflin, 2007. (page 149).
Born
November 18, 1940 at Fayetteville, NC (USA)
Died
October 28, 1993 at Winston-Salem, NC (USA)
If you can help us improve this player's biography, contact us.
http://bioproj.sabr.org/bp_ftp/images4/KoonceCal.jpg
600
800
admin
/wp-content/uploads/2020/02/sabr_logo.png
admin
2012-01-04 20:40:37
2012-01-04 20:40:37
Cal Koonce