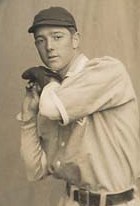 ---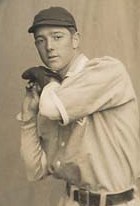 Carl Zamloch's life was filled with magical moments. Some occurred during his brief stint in the major leagues with Detroit in 1913; others came in his years as a college coach, and as a minor-league player, manager, and owner. Many, however, stemmed from his childhood as the son of a famous magician and from his own lifelong love of legerdemain. "I got a great bang out of baseball, but I guess magic was my forte all along," said Zamloch in a 1948 interview. "Only recently I fooled my friend, Blackstone the Great, with a card trick, and that made me feel better than if I'd struck out Babe Ruth with the bases loaded."1
Carl Eugene Zamloch was born on October 6, 1889 in Oakland, California. His father, Anton, was Austrian and apprenticed as a magician in Germany before emigrating and launching his own vaudeville act in California. Performing as "Zamloch the Great," by the end of the 19th century he was one of America's most famous magicians.2 Carl's mother, Elizabeth, was a longtime assistant in Anton's show.
Carl learned to perform magic tricks as a boy and also served as an assistant to his father.3 But baseball was the focus for Carl and his older brothers Claude and Archer (who both played in the minor leagues); they also had a sister, Nettie.
Zamloch's first professional baseball experience was in 1909-10 with San Leandro in the Transbay League.4 In 1911, the 6-foot-1, 176-pound Zamloch signed with Sacramento of the Pacific Coast League and pitched in several games before being sent to the San Francisco Seals. However, due to a sacroiliac condition, the Seals released him.5
In 1912, Zamloch signed with Missoula of the Union Association. Healthier than he'd been the previous year, the right-hander was one of two primary starting pitchers for his club along with his roommate, none other than "Bullet Joe" Bush, who would go on to record almost 200 major-league wins. However, Zamloch, not Bush, was Missoula's top pitcher, with 36 wins.
Zamloch's exploits attracted big-league attention. That June, Detroit Tigers scout Jim McGuire journeyed to Montana to watch him one-hit Salt Lake City.6 McGuire liked what he saw: Detroit purchased Zamloch's contract the next day for $2000, though Zamloch remained with Missoula for the duration of the campaign.7 Upon his return to California, Zamloch went back to school. "Beginning tomorrow, I am going to St. Ignatius college. I will take up a few studies and also play ball on their team. Of course, I will stay there only until time to go and have my cup of coffee in the Big Show."8
His cup of coffee began in March, 1913, when he arrived at the Tigers' spring training camp in Gulfport, Mississippi.9 Zamloch performed well and made the club, although his debut was delayed due to illness. He finally made his first appearance on May 7, 1913, with two hitless innings in relief.
After two more relief appearances, manager Hugh Jennings finally gave Zamloch his first major league start. It seemed destined to end badly. By that Sunday, May 18, 1913, the Tigers were in seventh place: their opponents, the Washington Senators, were in second. If that wasn't daunting enough, Zamloch's opposing pitcher was none other than the great Walter Johnson; and the Big Train was on a roll, having won eight consecutive games on the way to a 36-7 record in what would arguably be his finest season. Suffice to say that the record crowd of 24,455 that filed into Detroit's Navin Field that day was not there on account of Zamloch.
In a surprising performance, though, Zamloch held his own, throwing eight innings of six-hit ball and striking out five to Johnson's one. While Zamloch was on the losing end of a 2-1 score (the Senators scratched across two unearned runs with the help of two errors, including one by Ty Cobb), he opened many eyes in defeat.10 "He outpitched the world's greatest hurler, but bad baseball in the field and a break in luck gave Washington two runs, just enough to beat Zamloch. . .Zamloch, not Johnson, was the hero of the afternoon."11
Zamloch continued to pitch well, but with little run support. His next two starts were complete-game 3-2 losses. On June 16, he pitched two perfect innings in relief to earn the win against the New York Yankees: it would be his only major-league victory. Zamloch's arm started to give him trouble, and after four more relief appearances, he was sent to the minors.
Thought it wasn't apparent at the time, Zamloch's major-league career was over. He finished with a dismal 1-6 won-loss record. However, 1913 was the year that American League President Ban Johnson proposed a new statistic to evaluate pitchers based on the number of earned runs allowed per nine innings. Using this new metric, Zamloch's ERA of 2.44 suddenly had him looking like one of the best pitchers on the Tigers, instead of one of the worst.12
In 1914, although Zamloch insisted that his arm had improved, the Tigers assigned him to Denver in the Western League. He initially refused to report, saying he would retire; but ultimately changed his mind.13 (This would be a continuing pattern through the remainder of his baseball career; he retired and "unretired" several times.) He ended up throwing 167 innings for Denver, going 10-12 with a 3.99 ERA. While pitching for Denver, the enterprising Zamloch picked up an interesting side job: he was hired by the Rocky Mountain News as a cartoonist.14 Denver waived him early in 1915 when his arm problems made it impossible to pitch. However, Zamloch had always been a decent hitter, and he spent the rest of the season playing the outfield for Hayden (Arizona).
A new chapter in Zamloch's baseball life began in 1916, when he was hired as baseball coach at the University of California, Berkeley.15 He got off to a rough start; a few weeks into the season, he broke his ankle while demonstrating sliding technique.16 His first year was otherwise successful, though, as Cal won the Pacific Coast intercollegiate baseball championship. After the collegiate season ended, Zamloch signed with Spokane of the Northwest League as a first baseman—in 56 at-bats, he managed 26 hits, a .464 average.
Zamloch began 1917 with his hometown team, the Oakland Oaks of the Pacific Coast League.17 After a month, however, he was released and then re-signed by Spokane. Zamloch had a solid year going, hitting .282 and also pitching 60 innings with a 3.15 ERA, when he broke his leg while sliding into third base against Butte.18 Discouraged, Zamloch announced his retirement and took a sales job in Montana.19
With war raging in Europe, Zamloch attempted to enlist in the military, but was rejected due to his history of leg fractures. However, he landed a job as a "war-works secretary" at Camp Travis, Texas, under the auspices of the YMCA, so he moved to the Lone Star State. His duties included "making the fires in the morning, running the motion picture machine and selling candy . . . (as well as) sleight of hand entertainments with a little magic on the side."20
With the end of the war, and with his various injuries healed, Zamloch "unretired" from baseball again and signed with the San Francisco Seals of the Coast League. He was a true utility man, playing first, second, and third base as well as pitching occasionally. In one September game, he delighted fans and players alike by performing magic on the field. "Before he went in as a pinch-hitter, Carl Zamloch pulled one of his sleight of hand stunts by yanking a yard or more of hot dogs out of the shirt of Cy Falkenberg. Zamloch pretended that he was searching Cy for emory or sand paper and Cy rather resented being pawed over, but he had to laugh when Zamloch finished his trick."21
In late 1920/early 1921, Zamloch participated in a barnstorming baseball tour of Japan. While the tour turned into a fiasco—most of the participants, including Zamloch, returned home abruptly after the promoter failed to fulfill his financial guarantees—he was apparently intrigued by the possibilities of combining baseball with travel, as he subsequently organized baseball tours to Hawaii and Japan for his Cal Berkeley teams throughout the 1920's.22 23
In the spring of 1921, Zamloch made two (possibly related) announcements: his retirement as a player; and his engagement to Cal freshman Lois Everding (they would marry the following year). His baseball activities that year were limited to his annual coaching gig at Cal. But by 1922, Zamloch had again "unretired"; at the conclusion of the college season, he journeyed north to play for Calgary, where he hit .289 with four home runs. His season ended early when, in July, he was offered a scouting position with the Cincinnati Reds.24 Zamloch wore multiple baseball hats in 1923, as he continued as a college coach, a pro scout, and also served as a manager in the new San Joaquin Valley Baseball League.25 Late in the year, his coaching duties at Berkeley were expanded to include soccer.26
After sitting out the 1924 and 1925 seasons, Zamloch had one last fling as a minor-league regular in 1926, this time as a playing manager for Twin Falls in the Utah-Idaho League. 27 Despite his advanced age of 37 and the added demands of managing, Zamloch still won league MVP honors, based on both his hitting (a .391 average with 10 home runs) and pitching (six wins against two losses). Rather than a trophy, Zamloch's reward was a new $200 shotgun. 28
By 1927, Zamloch was convinced that college baseball in California needed a stronger organization in order to succeed. At that time, colleges played many games against semipro teams that generated little interest; Zamloch believed that focusing on intercollegiate competition would increase college baseball's popularity.29 Under his leadership, the new California Intercollegiate Baseball Association, consisting of four northern California schools (Cal, Stanford, St. Mary's, and Santa Clara) was formed prior to the 1927 season. Its membership would eventually grow to include UCLA and other California schools. The CIBA "formed the basic structure of conference play until superseded by the Pac-8, in 1967."30
Zamloch was also convinced that baseball needed to experiment with new ideas to keep fans interested. In 1928, he made headlines by proposing that hitters should have a choice whether to run to first or to third base. Zamloch's thought was that the new rule would add an element of unpredictability and strategy that would make the game more interesting.31 His proposal was put to the test on February 15, 1928, when his Cal Bears took on a semipro team in an exhibition. In the first inning, the Bears' leadoff hitter walked and chose to take third instead of first, meaning by rule that all subsequent hitters in the inning would also need to run toward third out of the batter's box. The next batter then knocked what should have been a home run, but mistakenly ran toward first and was called out "just as the sphere sailed over the fence."32 The game attracted considerable interest, with over 500 fans and several media representatives attending. Some observers noted approvingly that "reversible baseball" forced the players to use their wits in addition to their athletic talents.33 Others considered it ridiculous. "Maybe the next rule calls for skipping second base, taking a cup of tea or reading a book or something," noted Oakland Oaks manager Del Howard, who refused to play Cal in an exhibition game using Zamloch's proposed rule.34
The year 1929 was a momentous one for Zamloch. On the family front, the Zamlochs' first and only child, Patsy, was born. On the diamond, in what would turn out to be his final season as baseball coach at UC Berkeley, he went out with a flourish: the Bears took first in the CIBA with an 11-3 record in the conference (16-7 overall). Then on October 24, reports surfaced that Zamloch had purchased the Oakland Oaks of the Pacific Coast League along with two business partners, and that Zamloch would manage the Oaks in 1930.35
Zamloch had some unconventional ideas about how to improve his new Coast League crew. He hired the Cal track coach to work with his players on their speed (perhaps not the worst idea, given that his lineup would feature the notoriously slow-footed future Hall-of-Fame catcher Ernie Lombardi.) 36 He also incorporated soccer drills into their spring workouts. "Zam says it will increase the speed, and wind, sharpen the eyesight, and strengthen the legs."37
Nevertheless, the Oaks were a mediocre club, finishing in fifth place with a record of 97 wins versus 103 losses. 38 Zamloch shook up the roster in 1931, shipping out a host of players including Lombardi (sent to the Brooklyn Dodgers for players and $50,000 in cash) and star infielder Johnny Vergez (to the New York Giants) in an attempt to get younger and more athletic.39 Unfortunately, his strategy didn't pay off, as the 1931 club finished with a record of 86-101, good for a second consecutive fifth place in the eight-team league. After two seasons, Zamloch's main claim to fame was having singled in his lone pinch-hitting appearance each year; he took great delight in reminding people that he hit 1.000 in two consecutive Coast League campaigns.40
Perhaps even more worrisome than the Oaks' mediocre record was the downward attendance trajectory, from 250,000 in 1930 to 175,000 in 1931 as the Depression ate into ticket sales. During the 1932 preseason, Zamloch tried to promote the Oaks through a series of baseball talks on a local radio station.41 But no promotional effort could overcome the fact that both the Oaks and the economy were terrible. Attendance plummeted to about 64,000 as the Oaks limped to a seventh-place finish.
"In 1932 we went broke," Zamloch reminisced many years later. "When the umpire turned around to the grandstand, instead of 'Ladies and Gentlemen,' he would say, 'Dear Sir.' Times were really tough."42
In late November, 1932, majority owners DiVincenzi and Miller announced that Zamloch would not return as manager. 43 For his part, Zamloch stated that he had not intended to manage the Oaks beyond three years, and that he had no hard feelings regarding being relieved. "Life is too short to stand out on the coaching lines and take a beating because of a poor ball club," he stated.44
But shortly after Zamloch's firing his former partner Miller filed a lawsuit claiming that Zamloch had improperly pocketed an $8000 commission associated with the 1929 sale of the Oaks. 45 Zamloch asserted he had done nothing wrong, and filed a counter-complaint to recover almost $7,000 he claimed was still owed him for his work as manager.46
Zamloch had been touring and performing as a magician almost every off-season during his baseball career, but after his firing, his magic performances increased in both number and daring. One newspaper account from May, 1933, for example, noted that before an upcoming show at the Alameda Dads Club, Zamloch "will attempt to drive through the streets of Alameda in a borrowed automobile while blindfolded and with nothing more tangible than a 'psychic sense' to guide him."47
Zamloch survived this and other similar stunts, and continued to perform regularly during the mid-30's. Although he had distanced himself somewhat from baseball, his twin passions continued to overlap. He began scouting for the Cleveland Indians, and in 1934 spotted a promising outfielder named Mike McCormick. As noted in McCormick's SABR biography, "Zamloch was an accomplished magician who could swallow fire, eat glass, and perform a host of magic tricks. As the story goes, he would display his magic to prospects on the West Coast, thus getting their attention before shifting talk to their baseball futures. It must have been effective, for Zamloch signed McCormick for the Indians at the tender age of 17."48
Zamloch also performed locally, and one such performance had a life-changing effect on a student (and future major-leaguer) named Joe Abreu. As noted in an on-line biography, "Joe was a keen amateur magician, his interest having been piqued after former Detroit Tigers pitcher and professional magician Carl Zamloch (a.k.a. "The Great Zam") put on a magic show at his high school. Joe was hooked, and a few years later went to Zamloch to learn more skills as a magician."49
In 1934, Zamloch accepted a sales position with the Signal Oil Company. 50 His employers encouraged his magic pursuits. "He did his routine countless times at sales meetings, conventions, service club luncheons and kindred chicken a la king gatherings," noted one newspaper article. 51 Signal Oil also published his book entitled "17 Simple but Mystifying Tricks to Entertain Your Friends" and gave it away to customers. 52
Throughout the late 1930's and into the early 1940's, the Zamlochs lived in the East Bay suburb of Orinda. Lois was an outstanding golfer and served in leadership positions at her golf club and on the local school board. Carl continued to perform magic extensively and represent Signal Oil as a sales executive. Baseball never disappeared from his life entirely: he participated in old timers' games, reunions of his Coast League and Cal teams, and golf tournaments featuring many high-profile ballplayers with Bay Area ties, including his old teammate Ty Cobb (who lived in the Bay Area in retirement), Joe DiMaggio, and Lefty O'Doul. 53
In August 1949, tragedy struck. The Zamlochs' only child, Patsy, was killed in an automobile accident in Santa Barbara at age 20.54 After Patsy's death, Zamloch appeared to shy away from the spotlight that he had always attracted. His name rarely graced the newspapers that had covered his exploits for most of his adult life.
Zamloch did resurface in the press briefly in a 1960 Los Angeles Times article decrying the length of modern-day baseball games. "I can remember when an average game never went more than an hour and a half. Many of them were faster. I hear lots of fans complaining," Zamloch stated. "Even if the answer is to shorten the game to seven innings, baseball has to do something about it."55
Zamloch moved to Santa Barbara and continued to work for Signal Oil. In April 1963, a few months before he was to retire, he suffered a stroke. 56 He never recovered, and died on August 19, 1963 at age 73. His obituary, which appeared in newspapers around the country, paid homage to his accomplishments as both a baseball man and a magician. 57 Fittingly, he was laid to rest in the Bay Area, where he had worked so much of his magic on and off the diamond.
Acknowledgments
This biography was reviewed by Bill Nowlin and verified for accuracy by the BioProject fact-checking team.
Sources
In addition to the sources cited in the Notes, the author utilized Baseball-Reference.com and Retrosheet.org.
Notes
1 "Magic and Baseball Mark Zamloch's Career," Los Angeles Times, February 8, 1948: 16.
2 "Magician's Bees Replace Black Art," Oakland Tribune, April 3, 1927: 73.
3 "Magic and Baseball Mark Zamloch's Career," Los Angeles Times, February 8, 1948: 16, and "Scouting Western Sports," Reno Gazette-Journal, January 3, 1935: 7.
4 "Elmhurst Tigers Win From San Leandro Team," Oakland Tribune, December 14, 1909: 13.
5 "Magic and Baseball Mark Zamloch's Career," Los Angeles Times, February 8, 1948: 16.
6 "Zamloch Pitches as if Candidate for Tiger Job," Anaconda Standard, June 19, 1912: 4.
7 "Detroit Tigers Get Zamloch," Missoulian, June 21, 1912: 9.
8 "As It Looks," Missoulian, December 14, 1912: 9.
9 "Burly Tigers Lose Embonpoint Under Hughie's Tutelage," Detroit Free Press, March 1, 1913: 10.
10 "Walter Johnson Wins 9th Straight from Detroit," San Francisco Chronicle, May 19, 1913: 8.
11 "Notes from the Anvil Chorus," Missoulian, June 20, 2013: 6.
12 Pitching Averages Reveal Differences," Salt Lake Tribune, December 14, 1913: 42.
13 "Zamloch Changes His Mind and Will Hurl for Denver," Missoulian, April 20, 1914: 3.
14 "Our Own Carl Zam is Cartooning on Side," Missoulian, July 2, 1914: 8.
15 "Carl Zamloch will Coach U.C.," Oakland Tribune, February 10, 1916: 8.
16 "Carl Zamloch, Former Oak, Visits Family," San Francisco Chronicle, December 30, 1917: 5.
17 "Zamloch Should be Big Oak Aid," Oakland Tribune, February 17, 1917: 6.
18 "Zamloch Out For Rest of Season With Broken Leg in Slide," Oakland Tribune, July 14, 1917: 10.
19 "Zamloch Will Quit Diamond," Butte Miner, August 18, 1917: 11.
20 "Carl Zamloch Enjoys Y.M.C.A. Work," Missoulian, March 13, 1918: 6.
21 "Notes About Players," San Francisco Chronicle, September 25, 1919: 10.
22 "Ballplayers Relate Sad Story of Trip to East," Oakland Tribune, February 21, 1921: 26.
23 U.C. Ball Team is Off on Trip to the Islands," Oakland Tribune, June 21, 1923: 15.
24 "Carl Zamloch Lands Job With Cincinnati Reds," Oakland Tribune, July 5, 1922: 24. The article states that Zamloch would be a coach and possibly even a backup first baseman for the Reds, but subsequent contemporary press accounts refer to him as a scout for the Reds.
25 "Zamloch to Captain New Stockton Team," Modesto Evening News, February 3, 1923: 6.
26 "Zamloch Will Coach All Year at California," Oakland Tribune, September 6, 1923: 17
27 "Carl Zamloch Will Not Make Hawaiian Trip," Oakland Tribune, April 1, 1926: 25.
28 "Zamloch Named Best Utah-Idaho Player," San Francisco Examiner, September 2, 1926: 28.
29 "California Colleges Prepare for Eight Club Ball League," Oakland Tribune, October 5, 1926: 22.
30 www.Calbaseballfoundation.org/team/cal-baseball/, website accessed 8/25/2018.
31 "U.C. to Change Ball Rules," Oakland Tribune, January 4, 1928: 12.
32 "Zamloch Wins 'Goofy' Ball Contest," Oakland Tribune, February 16, 1928: 27.
33 "Zamloch Idea Adds Zest to Game," Oakland Tribune, February 21, 1928: 20.
34 "'Left-Handed' Baseball Hits Oakland Snag," San Mateo Times, February 27, 1928: 5.
35 "Oakland Club Sold for Half Million Today," Santa Cruz Sentinel, October 24, 1929: 1.
36 "Sports Jabs," Missoulian, January 30, 1930: 8.
37 "Zamloch Likes Soccer," Montana Standard, March 3, 1930: 6.
38 https://www.statscrew.com/minorbaseball/stats/t-oo13437/y-1930, website accessed August 29, 2018.
39 "Zamloch May Make Acorns Into 'Oaks,'" Santa Maria Times, February 23, 1931: 2.
40 "Coast League 'Slugger' Dub Against Amateurs," Lansing State Journal, February 25, 1932.
41 "Zamloch to Talk on Baseball Over KLX," Oakland Tribune, February 7, 1932: 13.
42 "Magic and Baseball Mark Zamloch's Career," Los Angeles Times, February 8, 1948: 16.
43 "Carl Zamloch Loses Berth as Oaks Boss," Los Angeles Times, November 30, 1932: 26.
44 "Zamloch Out," Honolulu Star-Bulletin, December 8, 1932: 16.
45 "Zamloch Claims Fee Legal as Partner Sues Ex-Oak Manager," Oakland Tribune, December 2, 1932: 24.
46 "Zamloch's Salary is Basis of Action," Oakland Tribune, December 24, 1933: 28.
47 "Dads Will See Zamloch Magic," Oakland Tribune, May 12, 1933: 13.
48 http://sabr.bioproject (Mike McCormick), accessed September 1, 2018.
49 www.washelli.com/joe-abreu, accessed September 1, 2018.
50 "From Midfield," Klamath News, August 12, 1941.
51 "Magic and Baseball Mark Zamloch's Career," Los Angeles Times, February 8, 1948: 16.
52 https://geniimagazine.com/wiki/index.php?title=Carl_Zamloch: Accessed September 2, 2018.
53 "Ball Tossers in Golf Play Friday," San Francisco Examiner, November 9, 1938: 30.
54 "Crash Kills Daughter of Carl Zamloch," Oakland Tribune, June 18, 1949: 1.
55 "Marathon Dodger Games Irk Fans," Los Angeles Times, June 10, 1960: 79.
56 "Doctor of Sliding Gives Hints on Base Stealing," San Francisco Examiner, May 4, 1963: 41.
57 See, for example, "Carl Zamloch, Ex-Oaks Pilot, Dies," Los Angeles Times, August 21, 1963: 39.
Born
October 6, 1889 at Oakland, CA (USA)
Died
August 19, 1963 at Santa Barbara, CA (USA)
If you can help us improve this player's biography, contact us.
https://sabr.org/sites/default/files/ZamlochCarl.jpg
600
800
admin
/wp-content/uploads/2020/02/sabr_logo.png
admin
2018-10-18 15:42:17
2021-05-11 16:41:17
Carl Zamloch