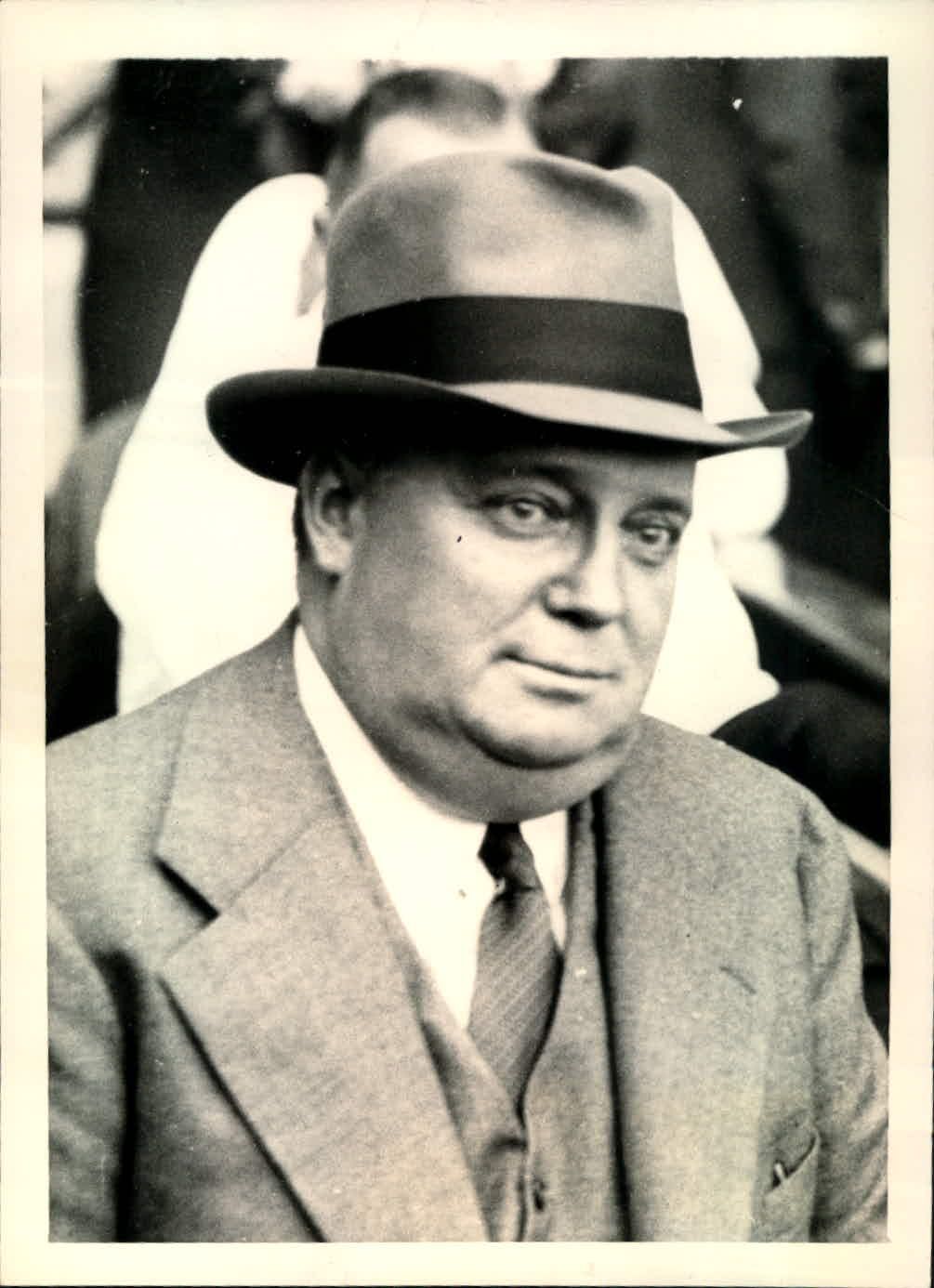 ---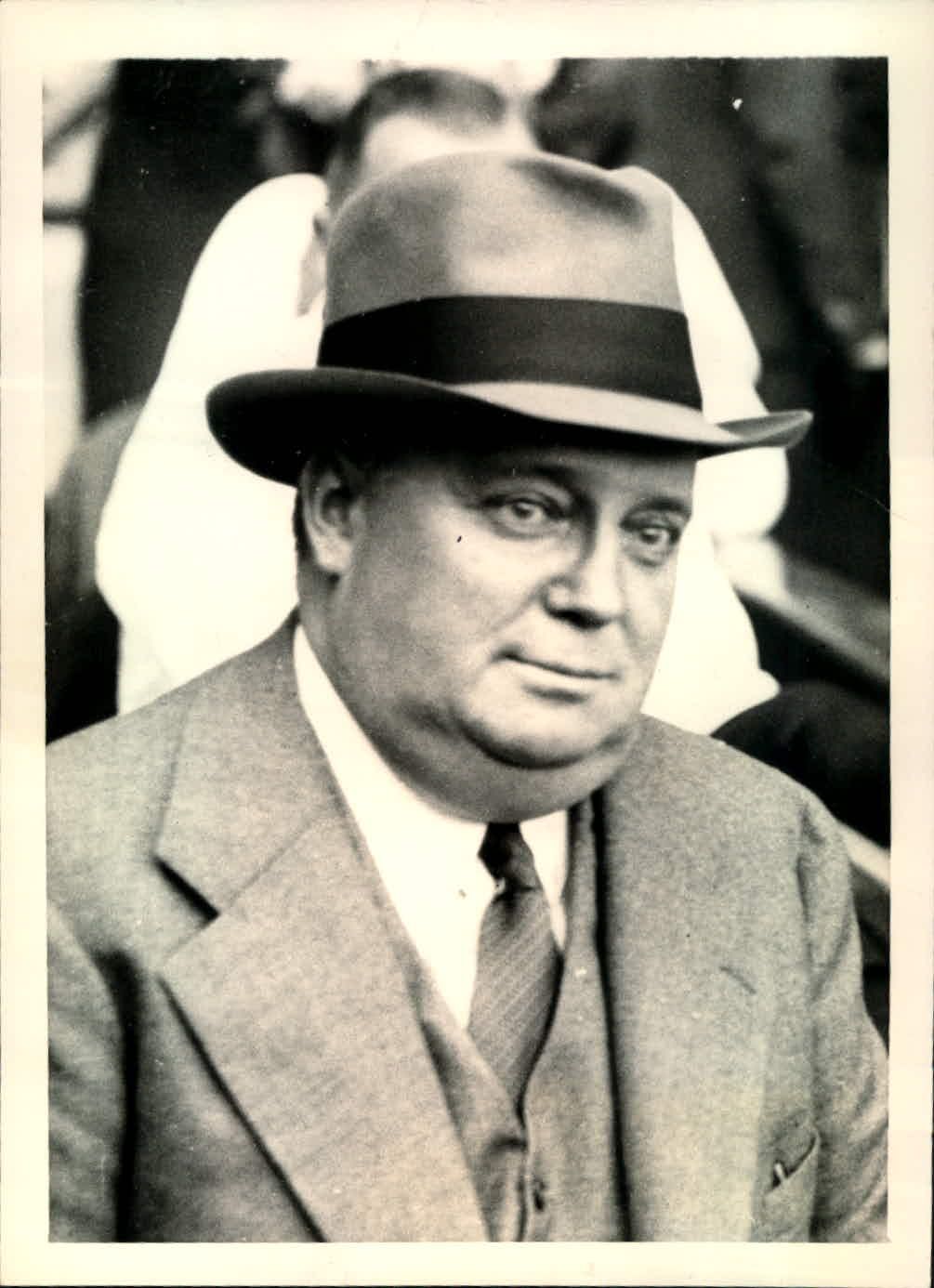 In the early 1920s, the New York Yankees began the assembly of a professional sports dynasty, with many pundits rating the 1927 Yanks the best team in major-league history. Yet during the first half of the decade, the New York Giants outdid their local rival. Piloted by John McGraw and with a lineup featuring future Hall of Famers Frankie Frisch, George "High Pockets" Kelly, Dave Bancroft, and Ross Youngs, the Giants captured four consecutive National League pennants (1921-1924) and two World Series crowns, both taken at the expense of the Yankees. Remarkably, these feats were accomplished despite a fractious and oftentimes dysfunctional front office. At the center of the turmoil was one of baseball's more improbable figures: club president Charles A. Stoneham.
Short, stout, and jowly, Good Time Charlie Stoneham embodied a Jazz Age stereotype — cutthroat businessman by day, boozy bon vivant by night. Even before he took over the Giants in January 1919, Stoneham was a familiar name to the readers of New York City tabloids. Beginning with the well-publicized suicide of a mistress in 1905,1 Stoneham's messy personal and business life was periodically in the news. Thereafter, the Giants principal owner had to contend with federal indictments, civil lawsuits, hostile fellow magnates, and troubles with booze, gambling, and yet more women. But during his 16-year tenure as club president, the Giants achieved more success than the club had had under any prior regime.
Charles Abraham Stoneham was a man of modest origins. Born in Jersey City on July 5, 1876, he was the older of two sons born to a Civil War veteran-turned-bookkeeper Bartholomew F. Stoneham (1845-1894) and his Irish immigrant wife, the former Mary Holwell (1844-c.1926). By the mid-1890s, Charlie was employed by a mining stock brokerage as a board boy. Adept with numbers and innately shrewd, he quickly advanced in the profession. By 1903, he was senior partner of his own Manhattan brokerage firm. And by 1908, he was being sued for fraud by clients.2 Undaunted by bothersome litigation, Stoneham expanded his stock trading operations, becoming active on the New York Curb Exchange, a frenetic, unregulated open-air marketplace for the purchase and sale of stocks that did not qualify for registration on respectable exchanges. Many curb exchange firms were actually bucket shops, establishments wherein the customer was sold what purported to be a derivative interest in a stock or commodity future, but no transfer or delivery actually accompanied the transaction. Rather, the order went into the "bucket," with the customer, in effect, betting against the broker on the stock's rise or fall.3 The potential for fraud here was enormous and many jurisdictions, including New York, made operation of a bucket shop (as opposed to a facially licit, if risky, curb-exchange brokerage) a criminal offense. Still, bucket shops flourished
For a compulsive gambler like Charlie Stoneham — he was a regular at racetracks, casinos, and other gaming haunts — stock speculation/bucketeering converted his pleasure in endeavors of chance into a livelihood, and he prospered spectacularly. In time, Charles A. Stoneham & Company would expand operations to Boston, Providence, Chicago, Detroit, and elsewhere, in addition to maintaining the home office in New York City's financial district. By the advent of World War I, Stoneham was rich, so well-off that he could reportedly afford to lose $70,000 to Arnold Rothstein's Partridge Club playing roulette one evening — over the telephone!4 But gambling was hardly Stoneham's only vice. He was also a heavy drinker and fond of the opposite sex. With second wife Hannah safely stashed in their Jersey City home,5 Stoneham nightly prowled the Manhattan demimonde, usually with drink in hand and often with a chorus-girl mistress on his arm.
As rumor that the New York Giants were for sale became public during the winter of 1918-1919, candy manufacturer George Loft and Broadway showman George M. Cohan were identified as the most likely buyers. Surprise therefore greeted club boss Harry Hempstead's January announcement that a majority interest in the franchise had been sold to a syndicate headed by Charles A. Stoneham, a stranger to Giants fans who did not follow newspaper gossip or read the financial pages. Joining the Stoneham syndicate as much-junior partners were Giants manager John McGraw and Manhattan magistrate Frank McQuade, both of whom shared Irish-Catholic ancestry, connection to the Tammany Hall political machine, and a love of baseball, horse racing, and Midtown night life with Charlie Stoneham.6 At the ensuing meeting of the Giants corporate board, Stoneham, holder of 1,166 syndicate shares, was appointed club president. McGraw and McQuade, holders of 70 shares each (purchased from Stoneham for $50,000), assumed the posts of vice president and treasurer, respectively.7
Like former owner John T. Brush, Stoneham had total faith in manager McGraw, leaving roster decisions and game strategy entirely to Little Napoleon. Stoneham was also liberal with his checkbook, bankrolling the improvements sought by McGraw. Otherwise, Stoneham withdrew, avoiding locker-room contact with Giants personnel and observing game action from a window in his distant Polo Grounds office. From there, Stoneham enjoyed the play of four consecutive NL pennant winners and the resurgence of the faithful at the ballpark turnstiles. Between 1920 and 1924, the Giants averaged better than 900,000 fans per season for home games, swelling the club treasury. Only the Yankees, Polo Grounds tenants through 1922, drew better.
Through this great run of club success, Stoneham tried to avoid the limelight. But he seemed unable to escape press and public attention. The January 1922 financial collapse of E.D. Dier & Company, a brokerage firm in which Stoneham was a silent principal, generated a bevy of lawsuits against him.8 Then, trouble erupted in club management ranks, culminating in a rumored fist fight between Stoneham and McGraw, the latter often given to fisticuffs when intoxicated.9 By October, Stoneham was believed to be entertaining a buyout offer from erstwhile Giants president Harry Hempstead and one-time New York Highlanders front man Joseph Gordon.10 Believing that they had a first option on Stoneham's stock in the Giants, McGraw and McQuade raged at such reports and threatened legal action. Evasive nondenials by Stoneham only inflamed the situation, prompting the club president to retreat to Havana until the furor abated.11 In the end, Stoneham held on to his Giants stock, permitting an uneasy truce to descend upon the franchise's front office.
A problem far graver than difficulty with his baseball junior partners soon confronted Stoneham: the implosion of E.M. Fuller & Company, a notorious Manhattan bucket shop. Summoned to testify before bankruptcy commissioners, Stoneham was unable to provide a plausible explanation for the $147,000 that he had passed to Manhattan Sheriff (and Tammany power broker) Thomas F. Foley via Fuller accounts. Stoneham's claim that the money was a personal loan to Foley subsequently formed the gravamen of a perjury indictment obtained by federal prosecutors.12
Stoneham's denial of the charge and his resolution to go to trial placed baseball's governing hierarchy in a bind. Although fellow club owners were clamoring for Stoneham's ouster as Giants president, National League President John M. Heydler felt powerless to act. "I have neither the inclination nor the right to discuss Mr. Stoneham's affairs outside of baseball," Heydler insisted. "As [NL] president, I have only to do with Mr. Stoneham as a club owner and league member," adding, on that account, that he had found Stoneham to be "a good sportsman, fair and straight in all his league dealings … and reasonable in his official dealings with my office."13 The silence of Commissioner Kenesaw Mountain Landis bespoke a similar disinclination to institute action against Stoneham, at least for the time being.14
The troubles facing Stoneham expanded exponentially when a superseding federal indictment was unsealed in January 1924. Deeper investigation into Stoneham's involvement in the Fuller operation had yielded fraud, theft, and related criminal charges against him. Stoneham now faced a lengthy prison sentence if convicted. Worse yet for Organized Baseball, the new indictment also charged others associated with the New York Giants: brother Horace A Stoneham and reputed brother-in-law Ross F. Robertson,15 both members of the Giants' corporate board, and Stoneham attorney Leo F. Bondy, legal counsel to the Giants. After a trial punctuated by acrimonious wrangling between the trial judge and prosecutors, and post-verdict allegations of jury tampering, Stoneham and the others were acquitted.16 Stoneham's legal problems, however, were far from over. Civil judgments obtained against him by defrauded investors plagued him, while ceaseless attorney's fees taxed the Stoneham bank account.17 Although the Giants continued to draw well at the gate,18 Stoneham needed money and sought to enhance the revenue derived from his leasehold on the Polo Grounds by renting the ballpark to boxing promoter Tex Rickard, a summer opera company, professional soccer teams, and college football, with mixed financial returns. Whatever his money troubles, Stoneham no longer gave thought to selling the Giants, now intended as a legacy for son Horace, then getting his feet wet in club management.19 But the pressure on the Stoneham treasury meant that manager McGraw would no longer have unfettered access to the club owner's checkbook.
No sooner had Stoneham finally put his brokerage-related headaches behind him than he was confronted with an ugly internal fracas in the Giants ownership syndicate. The Stoneham-McGraw-McQuade triumvirate had long been a troubled one, and replacement of McQuade as club treasurer during a May 1928 National Exhibition Company meeting precipitated a very public falling out. Shortly thereafter, McQuade filed suit to regain his corporate office, alleging, among other things, that Stoneham had used NEC funds to finance personal ventures. Stoneham admitted making use of the money, but maintained that he had long ago repaid the corporate treasury, with interest. Stoneham then countersued, accusing McQuade of padding the Polo Grounds free-pass list with a multitude of McQuade cronies, and of threatening Stoneham with physical harm when Stoneham complained. The McQuade-Stoneham suit dragged on for years before a $42,827 judgment obtained at trial by McQuade was vacated by New York's highest appellate court, and his lawsuit dismissed.20
While the intramanagement lawsuit played out, the 30-year tenure of manager John McGraw came to an end. Frustrated by his recent inability to win a pennant and perhaps suffering the early effects of the stomach cancer that would claim his life, McGraw resigned midway through the 1932 season. His successor, star first baseman Bill Terry, quickly succeeded where McGraw had not, leading the Giants to the 1933 NL crown. The Giants then assumed the mantle of baseball champions for the first time in more than a decade, defeating the Washington Senators in a five-game World Series.
The reign of club owner Charles A. Stoneham was also approaching its end, hastened by the onset of Bright's disease (kidney failure). As Stoneham's health declined, son Horace took on a more substantial role in the Giants front office. In late December of 1935, Charles journeyed to Hot Springs, Arkansas, but its medicinal waters did not restore his wellbeing. Lapsing into a three-day coma, Stoneham died there on January 6, 1936. He was 59. Following a hasty and very private funeral, the deceased was laid to rest in Holy Name Cemetery in Jersey City. Three days later, the Stoneham will was filed for probate by executor Leo Bondy. According to its terms, the estate would be divided equally among wife Hannah and the two Stoneham children, Mary and Horace.21
Some three months later, the shroud placed over the Stoneham funeral became understandable. Charles Stoneham had had another "wife" and family ensconced in Westchester County. In April 1936, a former showgirl named Margaret Leonard filed a court petition seeking support and maintenance for herself and children Russell Stoneham, age 16, and Jane Stoneham, 12. Whether the long-suffering Hannah Stoneham or her son, Horace, were previously aware of Charles's second family is unknown, but neither ever publicly acknowledged it.22 The existence of the second family, however, was no secret to executor Bondy or Charles's brother Horace A. Stoneham. Both men served as trustees of a fund that Charles had set up for the benefit of children Russell and Jane.23 Fortunately for baseball, the new Mrs. Stoneham laid no claim upon New York Giants stock, and stewardship of the club passed to son Horace.
In terms of moral character, Charles A. Stoneham — shady stock speculator, ethically challenged businessman, criminal court defendant, serial philanderer, and quasi-bigamist — was easily the worst person ever associated with Giants ownership. But in purely baseball terms — five NL pennants and three World Series titles in a 16-season span — the Charles Stoneham years were the most successful in New York Giants history.
This biography is adapted from an essay on the organizational history of the New York Giants published in the Spring 2017 issue of "Outside the Lines," the newsletter of the SABR Business of Baseball Research Committee.
Acknowledgments
This biography was reviewed by Len Levin and fact-checked by Alan Cohen.
Notes
Born
July 5, 1876 at Jersey City, NJ (US)
Died
January 6, 1936 at Hot Springs, AR (US)
If you can help us improve this player's biography, contact us.
https://sabr.org/sites/default/files/StonehamCharles.jpeg
600
800
admin
/wp-content/uploads/2020/02/sabr_logo.png
admin
2017-08-25 01:28:51
2020-04-09 14:40:32
Charles A. Stoneham