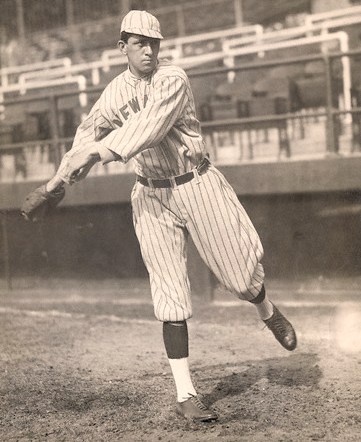 ---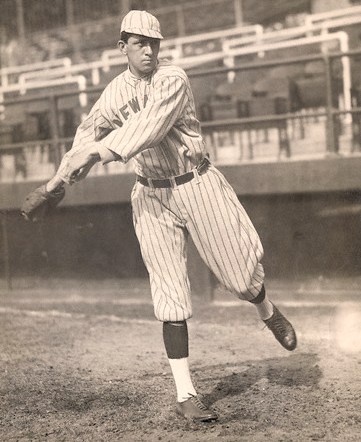 Left-handed pitcher Charlie Whitehouse had a career in baseball that was like many marginal players in the early twentieth century. He had enough talent to attract offers from professional scouts, but was probably only given a crack at the major leagues due to the fact that he was a lefty and because of the formation of the Federal League. He had some success in the minors, but if he received a better offer from an independent team somewhere, he had no qualms about jumping his contract. By his late twenties he had burned enough bridges in professional baseball that he took a regular job and earned extra money playing semi-pro ball.
Charles Evis Whitehouse was born January 25, 1894, in Mattoon, Illinois, a small town in the east-central part of the state roughly halfway between the state capital of Springfield and Terre Haute, Indiana. His parents were Henry Samuel and Mary Ann Whitehouse, both natives of Kentucky. At the time of the 1900 census his father supported the family working as an engine oiler, apparently with the railroad. Charles had two older brothers, Earl and Lee, an older sister Minnie, and two younger sisters, Gladys and Abby. By 1910 the family moved to Indianapolis where his father was employed as a locomotive engineer and his two older brothers worked as brakemen with the railroad. Charles, now 15, had dropped out of school and worked as a laborer in the railroad's roundhouse.
The first newspaper accounts of the six-foot, 152-pound Whitehouse pitching appeared in May 1914 when he was a member of the Indianapolis Specials, apparently a semi-pro team. A summary of a May 13 game against the colored Indianapolis ABCs noted that Whitehouse "pitched a rattling good game and should be in better company."1 Details of his signing could not be found, but he joined the Indianapolis Hoosiers of the Federal League in late August of that year and made his major league debut on the 29th. He made six relief appearances and two starts, both complete game wins, beating the Brooklyn Tip Tops, 7-5, and the Kansas City Packers, 6-2. Overall, in eight games, Whitehouse had a record of 2-0 and a 4.85 ERA.
After the season Bill "Whoa" Phillips, Whitehouse's manager in Indianapolis, was quoted, "He [Whitehouse] is the most promising southpaw I have seen for a long time."2 When Phillips took the manager's job with the Newark Pepper of the Federal League the next season, Whitehouse followed along and began the 1915 season with that club. Used mostly in relief over the first two months of the season, he had three starts, one of them a 5-3 complete game win over the Tip Tops. Whitehouse pitched in eleven games for Newark, with a 2-2 record and 4.31 ERA in 39 2/3 innings before being released in June.
After his release Whitehouse pitched independent ball for the Indianapolis Taste Tells as well as a team in Columbus, Indiana. He began the 1916 season with the Dayton Veterans of the Class B Central League, going 13-10 with a 2.01 ERA in 27 games. He was back with Dayton in 1916 but was suspended in June, and released in mid-July with a 4-8 record. "Lefty's twirling has not won prolonged howls of glee from the Dayton populace." said one report. 3
He joined the U. S. Air Service in December 1917 as a private in the 872nd Repair Squadron, but spent the war pitching for an aviation school team headquartered in St. Paul, Minnesota. Whitehouse caught the attention of Joe Cantillon, manager of the Minneapolis Millers. He was discharged in January and began the 1919 season with Minneapolis. In June he got another big-league opportunity when he was called up to the Washington Senators for a trial, with shortstop Ike Davis being sent back to Minneapolis. Senators owner Clark Griffith said, "Cantillon tells me that Whitehouse is a promising lefthander and so I've decided to look him over…you can never tell, especially about lefthanders."4
As soon as he hopped off the train, he was thrown into action and pitched two scoreless innings in relief against the Tigers on June 15. He got his first start for the Senators four days later against the White Sox. He allowed eight hits and five runs, four of them earned, in 4 2/3 innings, and took the loss. Charlie made four more relief appearances for Washington before being sent back to Minneapolis early in July. According to Griffith, Whitehouse was "…a long way from being of major league caliber."5 He pitched a while longer for the Millers but hooked up with an independent team in Hibbing, on Minnesota's northern iron range, in September.
He started the 1920 season again with the Millers but in May was sold to the Indianapolis Indians. The Sporting News reported, "[Whitehouse] is proving himself one of the most effective hurlers in the league. After a bad start…he has regained control of the ball and have won five games for the team."6 It was reported in October that due to his good work with the Indians he would get another major league trial, this time with the New York Giants, but this never materialized. With the Millers and Indians combined, he had a record of 15-10 in 37 games. He must have returned to Hibbing at some point because the 1920 U. S. Census has him living in that city.
Whitehouse started the 1921 season back with Indianapolis but only lasted a few games before being released to Omaha in mid-May. He refused to report and instead went back to Hibbing. Later that season, he was lured out to a semi-pro team in Devils Lake, North Dakota. When the team disbanded in late July and it was learned Whitehouse was available, the Rockford, Illinois, club of the Illinois-Iowa-Indiana League tried to acquire him. It's not known if Whitehouse ever knew about the offer because the telegram from Rockford management didn't get to Devils Lake until after he left town.
Whitehouse's record in baseball-reference.com lists him as a relief pitcher and shows him appearing in one game for Newark of the International League in 1922, his final season in Organized Baseball. However, he also pitched briefly in the Western League that season. Box scores were found indicating Whitehouse pitched in three games for Oklahoma City on May 27, 30, and June 4, and three more for Denver on June 12, 18, and 24.7 He found little success in the Western League, being pounded for six runs in 1/3 of an inning against Wichita on May 27, surrendering 14 runs on 16 hits against Tulsa on June 12, and allowing five runs in just one inning against Sioux City on June 24.
Several pitchers with the last name Whitehouse played in organized and semi-pro baseball in the 1920s, but none of them could be positively identified as being Charlie. He may have hooked on with Wheeling, West Virginia, in the Class C Middle Atlantic League late in 1921 as a report from early August said that Whitehouse "…is said to have been imported from Washington."8 A pitcher named Whitehouse was in a line score for Baltimore of the American Association during a spring training game in 1926 but this was probably Frank Whitehouse, also a lefty, who pitched briefly for Grand Rapids, Michigan, in the Class B Central League later that year. 9
Most likely Charlie returned to his home in Indianapolis where he continued to pitch semi-pro ball for a few years and eventually went back to work for the railroad. As of the 1930 census, he was employed as a brakeman; according to the Indianapolis City Directory he had been promoted to the position of switchman by 1942. He may have fallen upon hard times later in life as it was reported that "Charles Whitehouse, one time White Sox baseball pitcher" had been fined $5 and sentenced to thirty days in jail due to an argument with a waitress over slowness in filling his hamburger order, and that he was unemployed at the time.10 He died July 19, 1960, in Indianapolis and was buried at Crown Hill Cemetery. Charlie was survived by his wife Hilda (Jahnsen.) The couple had no children.
Acknowledgments
This biography was reviewed by Chris Rainey and fact-checked by David Kritzler.
Sources
Playing statistics: Baseball-reference.com
Genealogical information, including military service, from Ancestry.com
Notes
1 Richmond (IN) Palladium and Sun Telegram, May 14, 1914, 7
2 "Big Leaguers Secured For Title Combat", Kokomo (IN) Daily Tribune, October 9, 1914, 8
3 Evansville (IN) Courier and Press, July 13, 1917, 7
4 "Whitehouse coming As Ike Davis Takes A Hike", Washington (DC) Times, June 12, 1919
5 "Whitehouse Is Gone", Washington (DC) Times, July 8, 1919
6 The Sporting News, July 15, 1920, 3
7 Denver Post, Denver Rocky Mountain News, and Tulsa World
8 "Wheeling Received Awful Drubbing", Hazelton (IN) White River News, August 4, 1921
9 Escanaba (MI) Daily Press, March 7, 1926
10 "80 Days For Hamburger", Logansport (IN) Free Press, March 10, 1938, 7
Born
January 25, 1894 at Mattoon, IL (USA)
Died
July 19, 1960 at Indianapolis, IN (USA)
If you can help us improve this player's biography, contact us.
https://sabr.org/sites/default/files/WhitehouseCharlie-corrected.jpg
600
800
admin
/wp-content/uploads/2020/02/sabr_logo.png
admin
2019-07-05 10:55:25
2020-04-09 14:37:33
Charlie Whitehouse