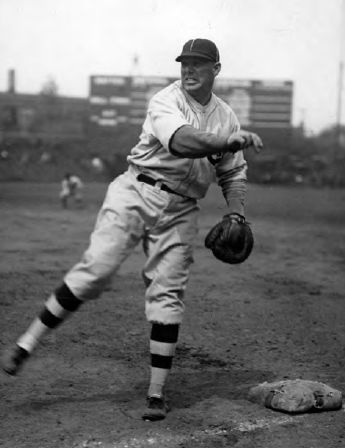 ---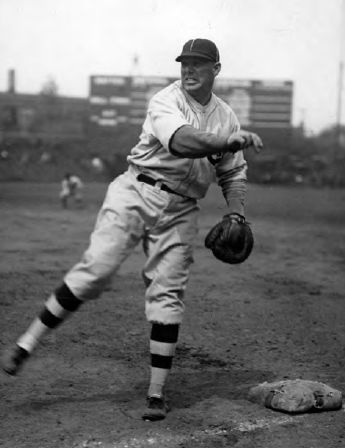 Two and a half miles southeast of the United States Capitol, situated along the Anacostia River, lies the historic Congressional Cemetery.  Founded in 1807 by Congress as the first national burial ground, the 35-acre historic site is the final resting place or memorial for more than 65,000 people, including senators, Cabinet members, a Supreme Court justice, scores of representatives, and even a vice president, not to mention perhaps the most celebrated personality interred there, former FBI Director J. Edgar Hoover.
But not all who rest at the historic site were politicians; also included are many 19th-century Washington families who had nothing to do with the federal government, but were nonetheless important to the growth and development of the nation's capital. Of those, 83 bore the last name Tolson.1
Four miles west of the cemetery, situated prominently on the Anacostia's southwest waterfront, stands Nationals Park, the home field of the Washington Nationals.  Looking south across the river from the stadium, one can view Anacostia, a neighborhood in the Southeast quadrant of the city. As with many of the Tolsons buried at the Congressional Cemetery, Anacostia was the birthplace of the former major leaguer Charles Julius Tolson, known during his playing days as Chick. It was a place that throughout his lifetime, Tolson never really left.
Nearly all the members of Tolson's family tree are buried in the Congressional Cemetery, including his parents and grandparents. One of the most prominent was his paternal grandfather, Julius, from whom Tolson took his middle name. At the turn of the 20th century in Anacostia, Julius was a lumber merchant. His was a family business, with three sons employed as salesmen and a daughter as the company's bookkeeper. One of the sons was Charles Watkins Tolson, who, together with his wife, Annie, gave birth to Charles Julius, the future major leaguer.
Exactly when that birth took place is open for conjecture. In most contemporary baseball references, Chick Tolson's birth date is given as May 3, 1895. However, census information contradicts that date. In the 1900 census young Charles was recorded as one year old; in 1910, as 11; and in 1920, as 21. That would place his birth some time in 1898 or '99, not in 1895, as commonly accepted. Conversely, by 1930 the young man had apparently lost four years, as his age was then recorded as around 27, which would have made his birth year sometime around 1903. Somewhere along the way Tolson seems to have altered his age. Yet given the earliest documents and also the fact that when he died in 1965 his obituary listed his age as 66, it's most likely that Tolson was born no more than a year or two prior to 1900. The best guess that can be gathered from genealogical research is November 6, 1898. That's the date Tolson listed on his draft registration, as well as the one that appeared in the Social Security Death Index. Therefore, it's the one we've accepted as true.
Much as with his true age, Tolson's childhood is also largely a mystery. During his career the ballplayer seems to have gotten little attention from the press, as searches for interviews or biographical sketches proved mostly fruitless. In the 1940 census, though, it was noted that Charles's highest completed school grade was the eighth, most likely around 1915.
During the ballplayer's youth, the Tolsons seem to have been a rather close-knit family. In 1900 Julius and his wife, Alice, lived with eight of their children, including a married daughter, at 322 Lincoln Street in Anacostia, while Chick lived close by with his parents and older sister, Myrtle, at 533 Jefferson Street. Charles Watkins Tolson most likely worked for his father during Chick's childhood, but in 1907 things probably changed. For that year, Julius claimed bankruptcy. It was the first of multiple tragic events experienced by the young Tolson.
The next two events were significantly more devastating. In February 1912 Chick's mother, Annie Vermillion Tolson, died. Chick was 12 or 13 years old. Then, three years later the Washington Post reported that "Charles W. Tolson [Chick's father], 41, 2108 Nichols Ave., Anacostia, was found dead in his bed yesterday morning by his brother, W.W. Tolson." Charles, the paper continued, "was a sufferer from heart trouble, from which he died."2 Thus, when Chick was around 16 years old, he and his siblings were orphaned.
His grandfather took them in. In 1920 Chick, his younger brother, Chester, and his sister Mary (older sister Myrtle had married and was living elsewhere with her husband), resided with their grandparents at 1739 W Street, in Northwest Washington. By all appearances it was Chick's last stop; he was still there in 1940, and from then until his death, it appears to be the only address he ever reported.  Born and raised along the banks of the Anacostia River, despite his far-flung baseball career, Tolson never wandered far from his roots.  
If Tolson's formative years are difficult to piece together, tracing the roots of his baseball career is equally as murky. Nothing has been found regarding his earliest development in the game. In 1922, however, according to author Peter Stewart in his book Early Professional Baseball in Hampton Roads: A History, 1884-1928, "Charles Tolson tried out for first base" with the Norfolk Tars of the Class D Virginia League. How that tryout came to pass is unclear, but there is no record that Tolson either made the team that season or, if he did, that he played; a fragment in his Hall of Fame file seems to suggest that he was released by Norfolk in the spring of 1922. By the next season, Tolson had signed with the Salisbury (Maryland) Indians of the Class D Eastern Shore League, and there he produced a performance that started him on a path to the major leagues: In just 57 games with the Indians, Tolson batted .355 with 27 home runs and a .789 slugging average. That impressive power display apparently brought him to the attention of the Danville (Virginia) Tobacconists, in the Class C Piedmont League, for Tolson's HOF file also suggests that he was sent there in the summer of 1923. Again, there's no record of Tolson seeing action with Danville, but in 1924 the big slugger finally spent his first full season in the minor leagues, this time with the Charlotte Hornets, in the Class B South Atlantic League. There, he delivered a performance that elevated him to the doorstep of the major leagues.
It's not difficult to envision Tolson as a player. At a reported 6 feet tall and 185 to 190 pounds, the right-handed hitter was a large man for his era. With baseball's evolution to a more lively offense beginning in 1920, he also came along at just the right time to utilize his size in developing as a power hitter.  Indeed, this vision of the big man crushing the ball is reinforced by one of his more fanciful nicknames: In addition to the moniker Chick, which was then commonly adopted by players named Charles (Chick Hafey, Chick Stahl, Chick Galloway), Tolson was also tagged with the nickname Slug.
If Tolson had developed any skeptics during his eye-popping half-season totals at Salisbury in 1923, his next two seasons proved that he was in fact a heavy hitter. Playing each year at successively higher classifications, he not only bolstered his potential as a home-run hitter, but also proved his skills as an all-around batsman. Beginning with Charlotte, where he supplemented 22 home runs and a .594 slugging average by batting .341, in 1925 Tolson advanced to the Nashville Volunteers of the Class A Southern Association. (Tolson's HOF file states he was drafted by Birmingham in November 1924, but there's no evidence he ever played for that club.) Playing at the now-legendary Sulphur Dell ballpark, he produced another 19 home runs and raised his batting and slugging marks to .361 and .605, respectively, while also totaling 15 triples, giving him 31 in two seasons. Meanwhile, Tolson proved an equally adept first baseman, as over those two seasons he amassed fielding averages of .985 and .989. Somewhere along the line, he drew the attention of major-league scouts.
While the course of events is unclear, at the beginning of July 1925, Tolson was sold to the Cleveland Indians. It would prove to be a very brief tenure. At the time, manager Tris Speaker's club was mired in the lower half of the American League with a record of 30-41. Regular first baseman George Burns was enjoying a solid season to that point, a .325 average on July 2, but whether he was hurt or just needed a day off, on July 3, with the White Sox in town at Cleveland's Dunn Field, Speaker inserted his newly arrived first baseman into the starting lineup. Batting fifth behind Speaker and Joe Sewell, that afternoon Tolson made his major-league debut, playing a flawless first base while collecting a single and a walk in five plate appearances against future Hall of Fame right-hander Ted Lyons. The next day, with the same lineup again versus Chicago, Tolson started both ends of an Independence Day doubleheader and recorded a combined 2-for-8, including a single in the second game against another future Hall of Famer, Red Faber. In all, over the three games Tolson produced three singles in 12 at-bats and also handled 34 defensive chances without a miscue. It appeared a solid if unspectacular debut.
Then, inexplicably, Tolson went home.
It was his decision. (In Tolson's Hall of Fame file, the transaction states "released back to Nashville at request after three days trial.") Interviewed four years later, Tolson recalled that day. Curiously, he credited the reason for his leaving to the wrong opponent. A newspaper story in October 1929 after Tolson's lone World Series appearance (the article is riddled with mistakes) related that "Tolson … made a previous stand in the big leagues, but it was of one day's duration. He was a little bit homesick [but] could have weathered that had it not been for Tyrus Raymond Cobb. Tolson reported to the Indians during the season of 1926 [actually 1925] and broke into the lineup. … [W]hile the Tribe was playing Detroit. The big fellow, fresh from a starring role with New Orleans of the Southern League, got off to a fine start when he singled his first trip to the plate.
"Later in the game, Cobb, in beating out one of his infield hits, spiked the giant Tolson on the foot. Tolson stuck in there, despite … Cobb and his mates … [who] tried hard to make him step away from the bag when taking throws.
"In the eighth inning, with the Indians two runs behind and two men on, Tolson came up and walloped a long fly to center field, so long that at first it looked as though it would go for a home run. But Cobb, speeding toward and under the ball, caught it just as it was about to bang into the fence.
"After the game, Tolson announced that he did not want to play big league ball and that he was going back to New Orleans. 'If you have to hit 'em farther than that one Cobb caught of mine in this league,' Tolson said, 'It ain't the league for me.'
"And he went home, too."3
Thus was ended Tolson's first major-league foray.
His second one came the next season. Returning to Nashville, he completed the 1925 season. At some point in the offseason Tolson signed for 1926 with the Chicago Cubs. It was understood that his playing time would be limited. With incumbent Charlie Grimm firmly ensconced at first base, manager Joe McCarthy planned to find at-bats for Tolson primarily as a pinch-hitter and as Grimm's backup. That's exactly how Tolson's season unfolded. Seeing action in just 57 games, just 13 of them in the field, the big slugger got 89 plate appearances and batted.313. He was 14-for-40 in 44 games as a pinch-hitter. After pinch-hitting in 14 of his first 15 appearances, on June 20 Tolson made his first start, in the second game of a doubleheader during a five-game series at Cincinnati. That series proved the highlight of his limited season.
Future Hall of Famer Eppa Rixey was the primary victim of Tolson's offensive outburst. On June 21 Tolson started at first base against the southpaw Rixey. In a game Cincinnati won, 6-5, in 16 innings, Tolson produced three hits in seven at-bats, including a double and two RBIs, off Rixey and three relievers. Two days later he delivered an even bigger blow. With the game tied at 3-3, one on and two outs in the top of the tenth inning, Rixey relieved Cincinnati starter Dolf Luque. Joe McCarthy sent Tolson to the plate as a pinch-hitter, and Tolson drilled a two-run homer that gave the Cubs a 5-3 victory. It was the first of Tolson's four major-league home runs.
Tolson's second came the next season and was even more dramatic … to a degree. He had returned to the Cubs for another stint on the bench. With Grimm once again manning first, Chick's playing opportunities were limited, and he saw even less action than he had the previous year, appearing in just 39 games, only eight in the field, for a total of 54 at-bats. On May 1 against the Pittsburgh Pirates at Wrigley Field, he pinch-hit against Pittsburgh reliever Percy Jones with the bases loaded in the seventh inning and the Cubs trailing, 5-2, Press accounts the next day described the end result dramatically:
"Astonishingly bad pitching in the ninth by [reliever] Charlie Root … handed the ball game to the Pirates, 7-6 … [and] kept Charles Julius Tolson of Washington, D.C. … from being a hero." With the Cubs leading, 6-5, Root had entered the game in the top of the eighth inning. As the Cubs pitcher began to work the ninth, however, "Tolson must have been swearing softly at Root from the Cubs dug-out as he witnessed the ball game he apparently won flit away. Tolson had hit a tremendous homer into the center field bleachers with the bases full in the seventh to put the Cubs that run in front." In the ninth after the first two batters made outs, "Root walked three consecutive batters to load the bases, then gave up a single to Paul Waner" which scored what turned out to be the eventual tying and winning runs.4 For the deflated Tolson, it had been his second career home run and only grand slam. With it, he became the first Cub in history whose first two major-league home runs came as a pinch-hitter. If only Root could have performed as well that day.
The 1928 season brought Tolson a change of scenery. It also finally gave him the opportunity to once again play every day. He spent the entire season with the Los Angeles Angels of the Pacific Coast League. As if to make up for lost time, he was brilliant at the plate, batting.351 with 28 home runs and a .609 slugging mark. That performance prompted a return to the Cubs; after the season the Cubs reacquired him from the Angels for $7,500."5 However, when the 1929 season opened, Tolson was once again in Los Angeles, for in February he had been returned to Los Angeles in a deal for pitcher Bob Osborn.6 That season Tolson's production virtually mirrored 1928: a .359 batting average, .602 slugging average, and 28 home runs. Despite two years of relative activity on the Cubs bench, the slugger had proved he could still produce. 
As it was, Tolson wasn't quite finished with the Cubs. Sparked by Rogers Hornsby, newly acquired from the Boston Braves, the Cubs raced to a first-place lead over the Pirates that by August 20 reached 9½ games. That day, though, first baseman Grimm fractured his arm during a game against the Giants, and doctors predicted that he might be lost for the season. McCarthy recalled Tolson, and over the remainder of the season Chick batted .257/.325/.330 in  a career-high 109 at-bats. Grimm recovered in time for the Cubs' World Series appearance against the Philadelphia Athletics, but Tolson made the postseason roster as a bench player. His lone appearance in the Series came in Game One when, pinch-hitting for pitcher Guy Bush in the bottom of the ninth with Chicago runners on first and third, Tolson struck out to end the Cubs' 3-1 loss. That whiff was the 13th strikeout recorded by Philadelphia's Howard Ehmke, who set a Series single-game record (since broken) for strikeouts.7
The 1930 season was Tolson's last in the major league. After making the club in the spring, he managed just 20 at-bats in 13 games before he was sent at the end of August to the Minneapolis Millers of the American Association in a deal that brought future Hall of Fame first baseman George "High Pockets" Kelly to the Cubs. Tolson saw action in 28 games in 1930, then played one final game with the Millers in 1931. In April 1932 newspaper stories reported "the unconditional release of Charles Tolson"8 from Minneapolis and his subsequent signing by the Atlanta Crackers, of the Class A Southern Association, but there's no record that Tolson ever played for that club. With that, his career in Organized Baseball came to an end. He was 33 years old.
In 144 major-league games Tolson batted .284 with a .350 on-base percentage and a .393 slugging average. He hit 4 home runs and had 45 RBIs. In 2,360 minor-league at-bats over parts of seven seasons, the slugger averaged an impressive .351 and slugged .621, with 132 round-trippers.
Finding a trace of Tolson's life after baseball is as difficult as tracing the rest of his life. At the time of the 1940 census he was living with his grandmother, now 85 (Julius had died in the 1930s) in her house at 1739 W Street, N,W., in Washington. Sometime between 1935 and 1940 he married Elizabeth, a buyer for a department store, who had been born in Germany. At the time, Tolson listed no occupation. There's no record that the two had children. In 1944 Washington Post columnist Shirley Povich reported that Tolson was "employed as a guard by the British Purchasing Commission," a World War II agency that acquired airplanes and other war materials from the US.9 The commission occupied the entire ninth floor of the Willard Hotel.
Charles Julius Tolson died at the D.C. Village, a retirement home, on April 16, 1965, from a stroke. Going by Census information, he was 66 years old. Unlike his kin, Tolson rests at the Harmony Cemetery in Landover, Maryland, a ten-mile ride from his Anacostia home.
Sources
Washington Post
Joplin (Missouri) Globe
Decatur (Georgia) Review
Blytheville (Arkansas) Courier News
Salt Lake Tribune
Oakland Tribune
Charleston (West Virginia) Gazette
San Antonio Light
congressionalcemetery.org/welcome-historic-congressional-cemetery
baseball-reference.com
retrosheet.org
Chick Tolson Hall of Fame player file, Cooperstown, New York
The author extends his sincerest appreciation to SABR member Bill Mortell for his diligent genealogical research.
Notes
1 One of the more famous Tolsons interred at the Congressional Cemetery is Clyde Tolson, longtime right-hand man to FBI director J. Edgar Hoover. There is nothing to indicate that Clyde and Chick Tolson were related.
2 Washington Post, October 18, 1915.
3 Unidentified clipping in Tolson's Hall of Fame player file.
4 Decatur (Georgia) Review, May 2, 1927.
5 Associated Press via Blytheville (Arkansas) Courier News, November 16, 1928.
6 Associated Press via Oakland Tribune, February 21, 1929.
7 sportsillustrated.cnn.com/baseball/mlb/2001/worldseries/news/2001/10/28/worldseries_strikeouts_ap/
8 Associated Press via San Antonio Light, April 27, 1932.
9 Ibid.
Born
November 6, 1898 at Washington, DC (USA)
Died
April 16, 1965 at Washington, DC (USA)
If you can help us improve this player's biography, contact us.
http://sabr.org/sites/default/files/ChickTolson.JPG
600
800
admin
/wp-content/uploads/2020/02/sabr_logo.png
admin
2012-01-04 20:44:49
2020-10-18 22:37:06
Chick Tolson