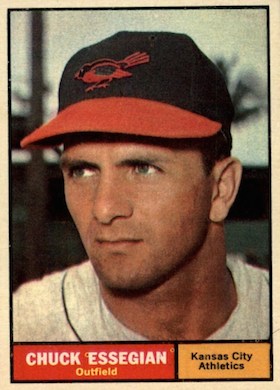 ---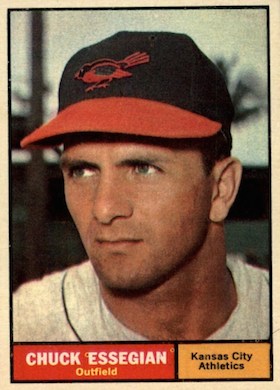 The career of a professional baseball player is wrought with many travels. This is true during the season, but it is even more so as a player ascends through the ranks of the minor leagues on his way to (he hopes) the big leagues. But the journey does not stop there, as demotions, promotions, and trades can add many stickers to the old suitcase.
Such was the case with Chuck Essegian in 1959. The former college football star began the season with the St. Louis Cardinals. After a handful of games, Essegian was sent to Rochester of the International League. His stay in the Flour City was temporary, as he was trade to the Los Angeles Dodgers on June 15.
But the Dodgers dispatched Essegian to their top farm team, Spokane of the Triple-A Pacific Coast League. Injuries to Carl Furillo and Duke Snider made it necessary for Essegian to be recalled in early August. In limited duty, Essegian had only 46 at-bats with the Dodgers, and batted .304. His real value to Walter Alston's team was that of a pinch-hitter. Essegian batted .308 in that role as the Dodgers ended the season with an 86-68 record, tied with Milwaukee (86-68-1) for first place atop the standings of the National League. The Dodgers and Braves faced off in a best-of-three playoff series. LA won the first two games, each by a one-run margin, to claim the pennant.
The Dodgers faced the Chicago White Sox in the World Series. The Go-Go Sox were built on speed and defense as they made their first appearance in the fall classic in 40 years. The White Sox treated their home crowd at Comiskey Park to a laugher in Game One, bombing the Dodgers 11-0. Game Two was a bit tighter. The White Sox held a 2-1 advantage as the action shifted to the seventh inning. With two outs, Essegian stepped into the batter's box, pinch-hitting for pitcher Johnny Podres. Essegian smacked Bob Shaw's 3-and-1 offering halfway up the upper stands in left-center field. The jolt tied the score, 2-2. "We were a run behind, there were two out, and it was getting late," Alston said. "I wanted somebody who could hit the ball out of the park. I like the way Essegian swings a bat. He doesn't hit very often but I thought he might hit one out."1 When Shaw walked Jim Gilliam, Charley Neal followed with his second homer of the afternoon. The Dodgers took a 4-2 lead. Larry Sherry came on to finish the job, and the Dodgers won, 4-3, to even the series at a game apiece. "Charley Neal hit a high slider and a high fastball," Shaw said. "Chuck Essegian hit a high slider, too."2 Essegian was the seventh player in World Series history to hit a pinch-hit home run.
Los Angeles held a 3-2 advantage in the Series as the action shifted back to Chicago for Game Six. The Dodgers held a comfortable lead of 8-3 heading into the ninth inning. Alston again sent Essegian up to pinch-hit, this time for Snider. Essegian sent Ray Moore's first pitch into the left-field stands. The homer ended the scoring, as the Dodgers won 9-3 and were crowned world champions. "We knew him well," Chicago manager Al Lopez said of Essegian. "He hit three home runs against us in spring training. We still have to learn how to pitch to him because he's hit a home run in just about every game he played against us."3
Essegian entered the record books for the most pinch-hit home runs in a World Series. The record was equaled in 1975 by Boston's Bernie Carbo.
Charles Abraham Essegian Jr. was born on August 9, 1931, in Boston, was one of five children born to Mr. and Mrs. Charles Abraham Essegian Sr. When Chuck was 5 years old the family moved to the West Coast. Charles Sr. worked as a mail carrier while his children settled into their new surroundings. Chuck Jr. enrolled at Fairfax High School in Los Angeles. He was an All-City selection in both baseball and football at Fairfax.
After graduation, Essegian chose Stanford University from the many college offers he received. He continued his athletic success for the Cardinal: In football he was a three-year starter at linebacker, and was named All Pacific Coast Conference twice. The Cardinal won the league in 1951 and faced Illinois in the 1952 Rose Bowl. After taking a 7-6 lead at halftime, the Illini crushed the Cardinal, 40-7. "It's a funny thing," said Essegian. "I think the records will show that the Pacific Conference holds an edge over the Big Ten in regular-season completion. We always did well against them. But that Rose Bowl is different. They push us around something terrible."
Essegian was the second major leaguer to play in a Rose Bowl Game as well as a World Series. The first was Jackie Jensen, who starred for the University of California in the 1949 Rose Bowl and was a role player for the New York Yankees in 1950. He pinch-hit in Game Three against Philadelphia.
Essegian graduated from Stanford with a degree in biology. He chose to pursue a career in professional baseball over football as he believed baseball would be more lucrative. He signed with Sacramento of the Pacific Coast League in 1953. Essegian, who set an intercollegiate record with 13 home runs during his senior year at Stanford, showed a propensity to hit the long ball at the minor-league level as well. He totaled 31 homers in 1954, 27 in 1955, and 28 in 1956. He played for multiple teams each season, mostly on the West Coast. He signed as a free agent with Philadelphia in 1957, and batted .355 with 20 home runs in 80 games for Schenectady of the Eastern League.
After years of toiling in the bush leagues, Essegian finally reached the majors when he made the Phillies roster in 1958. He was the starting left fielder in the Phillies' opener at Cincinnati on April 15, 1958. He responded well, smacking two doubles in four at-bats, driving in a run and scoring twice in Philadelphia's 5-4 win. "I felt a little nervous out there today, but mostly in the field," said Essegian. "I didn't even think about it when I was batting."4
In spite of a promising beginning, Essegian was optioned to Triple-A Miami of the International League so that he could get regular playing time. On December 3, 1958, Essegian was dealt to St. Louis for infielder Ruben Amaro. Solly Hemus, who was a teammate of Essegian's in Philadelphia, was named as a player-manager for the Cardinals for the 1959 season. After 40 plate appearances, Essegian was dealt to the Dodgers in June, and the year certainly ended on a high note with the Dodgers' World Series triumph. It appeared that Essegian had a home in LA. The 1960 season began as the previous one ended for Essegian. The Dodgers opened the season on April 12 at home against the Cubs. The score was tied, 2-2, when Essegian pinch-hit for Don Drysdale in the bottom of the 11th inning. Essegian ended the drama with a homer to left-center to give the Dodgers a 3-2 win. "I've always liked his bat," said Alston. "I knew that Don Drysdale was tired, and I didn't want him to go any further, no matter what. The game wasn't worth risking injury.
"So when we came up for the last of the 11th with the score tied, 2 to 2, and Drysdale scheduled to be the third batter, I told Sandy Amoros he would hit if we had a man in scoring position, and I told Chuck it would be him if there was none on."5
For the first time in his career, Essegian spent the entire season with the big-league club. Still, he did not see much playing time in 1960. Of his 79 at-bats, 37 were as a pinch-hitter. But he was unable to duplicate past success and batted .216 as a pinch-hitter off Alston's bench.
The Dodgers sold Essegian to Baltimore on February 1, 1961. But after only appearing in one game for the Orioles, Essegian was on the move again. He was traded along with Jerry Walker to Kansas City for Dick Williams and Dick Hall on April 12. Three weeks later, Essegian was sold to Cleveland.
Essegian found stability in Cleveland. He started in all three outfield positions and was not looked on as just a pinch-hitter. He hit 12 home runs and drove in 35 runs while batting .289. Truly, he was out to prove that he was more than a pinch-hitter. It did not take long to make his presence felt. On June 11, in a doubleheader against Kansas City, he entered the first game as a pinch-runner for Jim Piersall. Essegian promptly hit two home runs, drove in five runs and scored twice to lead the Tribe to a 7-3 win. In the nightcap, Essegian doubled home the winning run off Bud Daley in the bottom of the ninth inning to provide the winning margin in the 4-3 win, and a sweep.
Mel McGaha was named the Indians manager in 1962, and he named Essegian as his starting left fielder. Chuck responded with 21 home runs, tied for second best on the team. "Everybody feels he should be a hitter," Essegian said. "That's part of the battle – your attitude. When I go up there, I'm just swinging a bat. I'm not choosy."6
But on February 27, 1963, the Indians dealt Essegian to Kansas City for pitcher Jerry Walker. The Indians were looking to add pitching depth while the A's were hoping that Essegian could add some power to their lineup. KC manager Eddie Lopat gave Essegian the starting left-field assignment. But after a half-season of hitting only five home runs, Essegian was back to his familiar position as a bench player.
The 1963 season was Essegian's last in the major leagues. He finished with a career batting average of .255, 47 home runs and 150 RBIs. In 141 at-bats as a pinch-hitter, Essegian batted .248. He played one more year of professional baseball, with Kintetsu of the Japan Pacific League in 1964.
Essegian returned to school, graduating from the Beverly Hills Law School in 1974. He settled in Southern California with his wife, Gail, and their three children, Chuck, Tracy, and Linda. He started as a prosecutor in Pasadena, and then went into private practice. He retired in 1987.
As of 2016 Essegian still lived on the West Coast. "For one reason or another, I never played much in baseball," he told an interviewer in 2006. "It just didn't work out the way I hoped it would. I think those home runs probably hurt my career. You know, you kind of get labeled as a certain kind of player. If you're a pinch-hitter, you're a pinch-hitter because you're not good enough to play every day. … It's a hard tag to live down."7
Indeed he may have a point. Baseball-reference.com lists two positions for Essegian: left fielder and pinch-hitter.
Last revised: August 25, 2016
Notes
Born
August 9, 1931 at Boston, MA (USA)
If you can help us improve this player's biography, contact us.
http://sabr.org/sites/default/files/EssegianChuck.jpeg
600
800
admin
/wp-content/uploads/2020/02/sabr_logo.png
admin
2016-08-25 17:42:03
2016-08-25 17:42:03
Chuck Essegian