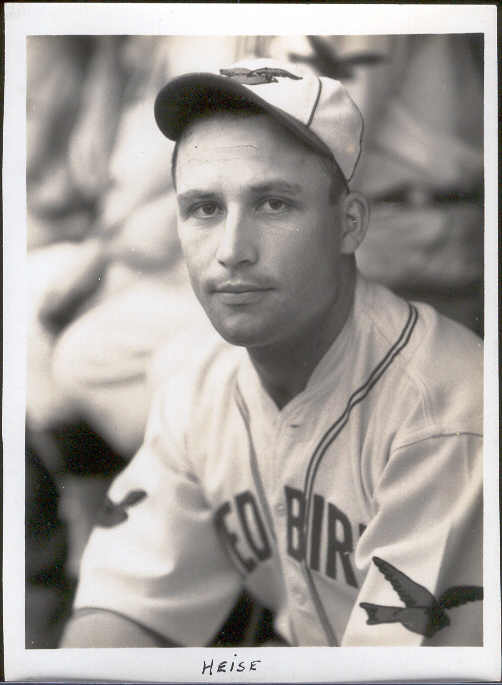 ---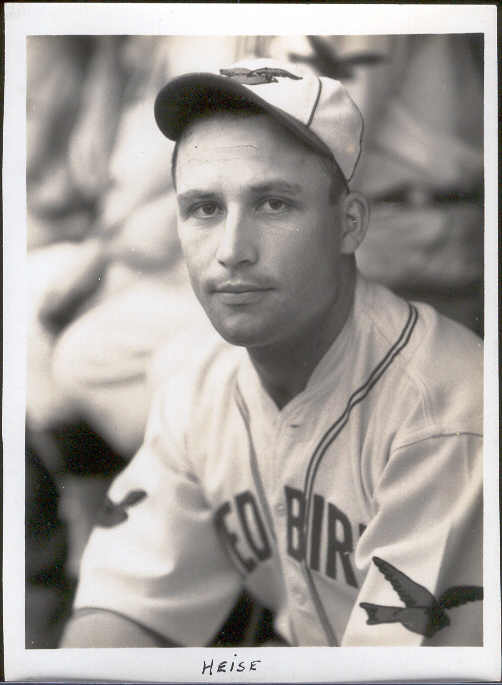 Clarence "Lefty" Heise had an extremely brief major-league career. He opened the 1934 season with the Cardinals but was released to their Columbus farm team on May 1 when major-league rosters had to be cut to 25 players. He pitched in just one major-league game, and he was the only man who played in a game for St. Louis in '34 who did not have a plate appearance. Heise developed a sore arm after returning to the minors and never won a professional game after the 1934 season.
But while Heise has a scant major-league record, he had been a 20-game winner in the minors and led the American Association in winning percentage in 1933 as a member of one of the greatest teams in that league's history. Just 5-feet-10 and described at various times in newspaper accounts as "stocky" or "rotund" (although based on photos that seems to be an exaggeration), he was a hard thrower who twice led his league in strikeouts. And he is the only member of the Gas House Gang who had a son who played in the major leagues.
Clarence Edward Heise (rhymes with "rice") was born on August 7, 1907, in Topeka, Kansas, the only child of Henry F. and Pearl Black Heise. Henry was the Kansas-born son of German immigrants and worked as a railroad machinist.1 It's not known when the Heise family moved to Springfield, Missouri, but they were there by the time of the 1920 US census, and Clarence graduated from Springfield High School in 1925.2 He was a standout high-school pitcher who reportedly struck out 24 batters in a game.3 By the 1930 census, Henry and Pearl Heise lived in Sedalia, Missouri; it's not known when they moved, but in the summer of 1925 Clarence was pitching for the Missouri Pacific (Railroad) Boosters team of Sedalia, and his mound appearances were advertised to help promote attendance.4
Clarence signed his first professional contract, with the Cardinals' Danville, Illinois, farm club, in the summer of 1927 for the 1928 season.5 He later said he made a mistake signing with a team that had such an extensive farm system with so many players under control. "I could have signed with the Giants," Heise said in a 1985 interview. "In 1928 they didn't have a farm system; they had no minor-league teams. I'd have gone to the majors with the Giants, no question about it."6
Heise sent a letter home from spring training in Danville on April 11, 1928, telling his parents he had pitched two innings that day at the request of Cardinals general manager Branch Rickey, who wanted to see him in action. Heise held his opponent scoreless, and afterward Rickey shook his hand.7
In 1928 Heise had a 6-5 record in 15 games with Laurel (Mississippi) of the Class D Cotton States League and a 3-4 mark in 13 games with Topeka of the Class C Western Association. He began spring training in 1929 with the Cardinals so team officials could get a closer look at him.8 At the request of the Cardinals, he went to St. Louis on his way to spring training so that he and another minor-league pitcher, Harold Brown, could drive team owner Sam Breadon's car to Florida.9
Heise was one of three Cardinals rookies who combined to shut out the Philadelphia Athletics in the team's first exhibition game, on March 7.10 He was assigned to their Class B farm team at Danville on April 10,11  but before the season started he was sent to the Cardinals' Class C farm club at Scottdale, Pennsylvania.
It was a memorable year for the young left-hander. On the field he led the Middle Atlantic League in strikeouts, fanning 154 batters in 184 innings. Off the field, he met and fell in love with a young woman who worked at a local shop, Hazel Reese, and they were married before year's end.12 Scottdale was Heise's home for the next 40 years.
Aside from the strikeouts, Heise's 1929 pitching record was undistinguished (a 7-13 record with a 4.59 ERA), so the Cardinals sent him back for another season at Scottdale in 1930. While his ERA was about the same (4.67), Heise improved his record to 16-12 and was second in the league in strikeouts with 174. Only three pitchers in the league won more games.
The Cardinals' Texas League farm club at Houston purchased Heise at the end of the 1930 season, and he went to spring training with the Buffaloes in 1931. But before the season started he was assigned to Danville, where he finished second in the Class B Illinois-Indiana-Iowa (Three-I) League with 167 strikeouts in 176 innings. Again Heise's ERA was unimpressive (4.50), but he managed a 10-10 record for a last-place team that finished 28 games under .500.
Just before the Three-I League season ended, the Cardinals promoted Heise to the highest level of the minor leagues (then known as Class AA, or Double-A), with Columbus of the American Association. The Red Birds' schedule extended through September (the Three-I season ended on Labor Day) and Heise made four appearances for them during that final month, starting three games and winning two: a 14-3 decision over Toledo in his Columbus debut, and a 4-1 win at Louisville in a game called after six innings because of darkness as the second game of a doubleheader on September 22. Heise went the distance in both games and also contributed with the bat, hitting a double in the win over Toledo and a triple in the game at Louisville.
On April 2, 1932, Columbus traded Heise to the Cardinals' other Double-A farm club, Rochester of the International League,13 and he started the season with the Red Wings, but it did not go well. In six appearances he walked 13 batters in 13 innings, striking out only four. On May 10 Heise was returned to Class B, this time with Elmira of the New York-Pennsylvania League.14 There he had his best season to date. Pitching for another last-place team (despite the presence of 19-year-old future Hall of Famer Johnny Mize in the outfield), Heise posted a 20-8 record, led the league with 187 strikeouts, and finished second in ERA among pitchers who worked at least 140 innings with a 3.08 mark. He was chosen as the league's top left-handed pitcher.
Heise got his 20th win with a little help from his manager. He told the story to an Elmira newspaper reporter in 1967: "I was getting my last start in the first game of a Saturday doubleheader against Scranton. [Actually, box scores in The Sporting News show the games in question were on Thursday, September 8.] I didn't last long [knocked out in the second inning]. … I was in the clubhouse relaxing when [Jack] Bentley came in and asked me if I'd like to start the second game. He knew it would be my last chance for 20 victories — and he was going to the wire with me. I grabbed at the chance and felt even stronger than when I started the first game."15 Elmira won the second game, 5-2, and Heise had reached his milestone.
(Heise appears to have misremembered, unless the interviewer filled in the name of his manager; Jack Bentley had started the season as Elmira's skipper but was replaced by Clay Hopper, who started the season in Mobile before being out of a job when the Southeastern League folded in May.)
Heise suffered a broken nose in a game on July 12 when he was hit by an errant throw to the plate by center fielder Buster Mills, also a member of the 1934 Cardinals. Heise had struck out 12 Hazleton batters in 7⅓ innings but had to come out of the game after the injury. He missed one turn in the rotation before returning to action and needed surgery at the end of the season to repair the damage.16
His performance at Elmira earned Heise another shot at Double-A, this time with Columbus after Rochester traded him back to the Red Birds on January 5, 1933.17 And this time he was ready to shine at that level.
The 1933 Columbus Red Birds were selected as the 43rd best minor-league team of all time, and fifth best ever in the American Association, by minor-league historians Bill Weiss and Marshall Wright in 2001.18 The Red Birds won 101 games, the most of any Columbus team ever, and finished 15½ games ahead of second-place Minneapolis in the regular season, then defeated Minneapolis in the league championship series and knocked off American Association playoff champion Buffalo in the Junior World Series.
Catcher Bill DeLancey, outfielder Jack Rothrock, and second baseman Burgess Whitehead all went on to play important roles for the 1934 Cardinals after starring in Columbus in 1933. But the key to the Red Birds' success was a pitching staff that allowed the fewest runs in the league. Paul Dean, the 20-year-old younger brother of Cardinals star Dizzy, led the American Association in wins (22), strikeouts, and ERA. Bill Lee, a 23-year-old right-hander, was right behind Dean in wins with 21, his second straight 20-win season at Columbus.
Heise finished with a 17-5 record for the best winning percentage in the league (.773) and ranked fifth in the league in strikeouts. He was also the starting and winning pitcher in Game Four of the Junior World Series. And he played a crucial role in relief in the Red Birds' clinching win over Minneapolis in the American Association playoff. In the bottom of the ninth inning he was called on to face Millers slugger Joe Hauser, a left-handed hitter, with runners on second and third in a tie game. Hauser had set a professional record (since surpassed) with 69 homers during the regular season and had already homered off Dean in that game. Hauser was especially dangerous at Minneapolis's Nicollet Park, which measured just 279 feet down the right-field line; he had hit 47 of his regular-season homers in his home park.19 Heise struck out Hauser, then was removed; Columbus scored three runs in the top of the tenth to win the game and take the series.
Perhaps the most memorable game of Heise's career came on August 27, 1933, at Minneapolis, and it was even more notable for his bat than his arm. He delivered a home run, two doubles, and a single, driving in five runs, and pitched a complete game. Heise was cruising along with a 17-1 lead when he let up and allowed the Millers to score four runs in the bottom of the eighth; the final score was 17-5. A left-handed hitter, Heise was far from an automatic out at the plate, with five career home runs and a lifetime minor-league batting average estimated at .242. (A handful of at-bats for teams with which he played just a few games are missing from his record.)
On September 5, as the American Association's regular season was winding down, the Cardinals traded Lee to the Chicago Cubs for delivery in 1934. Cardinals general manager Branch Rickey made the deal with Cubs president Bill Veeck, Sr., whose son Bill Jr. wrote about the transaction in his 1965 book with Ed Linn, The Hustler's Handbook. The younger Veeck discussed the trade as part of a point he was trying to make that he thought Rickey would often give trading partners a choice of players but would set up the offer in a way that the other team would be inclined to take the player he actually wanted to part with, allowing Rickey to retain the player he preferred to keep.
"You take risks when you play that game, of course," Veeck wrote. "I know that Branch got caught early in the game when he offered my daddy the choice between Big Bill Lee, a right-hander, and Clarence Heise, a lefty. The Cubs were solid in right-handers … and they had only one lefty, Larry French."20 (Actually, every Cubs game in 1933 was started by a right-handed pitcher, and French didn't join the team until 1935.)
While he didn't say so explicitly, Veeck implied that Rickey believed the Cubs would be inclined to take the lefty instead of the righty, allowing Rickey to keep Lee. Instead, Veeck Sr. selected Lee, and the trade may well have cost the Cardinals a second straight pennant in 1935, as they finished four games behind the Cubs and Lee posted a 20-6 record.
Hindsight shows that the elder Veeck made the correct choice, as Lee went on to win 169 games in a 14-year major-league career and was runner-up in the Most Valuable Player voting in 1938. But Veeck Jr.'s contention that Rickey outsmarted himself by giving the Cubs a choice between Lee and Heise may be overstating the case. Even though Lee was right-handed, Rickey couldn't have been shocked that he was the pitcher the Cubs chose. Not only was Lee two years younger than Heise, he had moved through the Cardinal farm system faster and more successfully. He had twice won 20 games at the Double-A level (Heise had not done so once), and in 1931 he had won 22 games at Scottdale, where Heise had won 16 the year before.
Most likely Rickey was happy to part with either player, as one of the goals of the Cardinals' extensive farm system was to provide surplus for sale or trade, and Rickey benefited directly by receiving a percentage of any cash the Cardinals received. As Bill Dooly of the Philadelphia Record put it in the winter after the trade: "The reply to why the Cardinals let [Lee] go, if he was any good, seems to run to the effect that the Cards had more pitchers than they needed, but not more cash."21
Rickey also sold the top pitcher at his other top farm club, Fritz Ostermueller of Rochester, who led the International League in ERA in 1933 and had a 16-7 record before having his appendix removed. But Rickey didn't part with all his top prospects. He reportedly turned down "something like $50,000 cash" from the Boston Red Sox for Paul Dean,22 and an item in The Sporting News of September 14, 1933, said Heise was "not offered for sale."23 However, in 1985 Heise told an interviewer that Rickey had turned down an offer of $25,000 for him from the Tigers in the fall of 1933.24 (He told a 1967 interviewer Cleveland had also made an offer.25)
At any rate, on September 7 the Cardinals purchased Heise and Jack Rothrock from Columbus, with the players to join St. Louis for spring training in 1934.26
The Cardinals had plenty of pitchers in training camp, and Heise appears to have been a long shot to make the team; in fact, a note in The Sporting News in January said Heise was expected to return to Columbus.27 Cardinals player-manager Frankie Frisch, conducting his first spring training after being appointed manager during the 1933 season, didn't give Heise much of a look. But his only start was impressive enough; on March 24 at Lakeland, Florida, facing a Tigers team that had most of its regulars in the lineup, Heise pitched four shutout innings, allowing just two singles and striking out four.
Heise said that after the game, to his surprise, he was asked by Columbus manager Ray Blades whether he wanted to return to Columbus in 1934 or go to Rochester. "The Tiger game was the last game Frisch put me in that spring," Heise recalled in 1985.28
That wasn't quite true, but it was close. On March 30 he pitched a scoreless ninth inning in relief against the Yankees and got credit for a win when the Cardinals scored in the bottom of the inning. And he did make one relief appearance in the Cardinals' four-game exhibition series against their crosstown rivals, the American League's Browns, in St. Louis just before the regular season began.
Although he had seen little action in spring training, Heise started the regular season with the Cardinals, and on April 22 at Sportsman's Park he got into what would turn out to be the only game of his major-league career, in the fifth game of the season. After the Cubs had knocked around both Dean brothers and Jim Winford (who had been a Columbus teammate of Heise), Frisch brought Heise in to pitch in the eighth inning with St. Louis trailing 12-2. In the eighth inning, Cubs second baseman Billy Herman singled, advanced to second on a groundout, and then scored after Heise threw two wild pitches. Catcher Gabby Hartnett pulled a two-run homer to left field in the ninth inning; both runs were unearned after Billy Jurges had reached base on an error.29
Heise later recalled that Rickey called him into his office after the game. "He told me to go to Columbus. I said I wouldn't. He told me I'd be suspended. Leo Durocher, then the Cardinal shortstop, told me to go home and wait. He said they'd never suspend me, not after the offers teams had made for me. But I was foolish. I didn't listen to Durocher. I had a wife and a 3-year-old son, so I went back to Rickey. He said he'd known for several years that I had major-league talent, but Columbus was drawing way better than the Cardinals. 'Columbus is keeping us out of the red,' he told me. 'I need you there.'"30
Whether Heise's meeting with Rickey came right after his April 22 appearance or sometime shortly thereafter, he stayed with the Cardinals until May 1, when under major-league rules rosters had to be reduced to 25 players. On cutdown day he was released on option to Columbus along with fellow pitcher Bob Klinger, who had not appeared in a game with St. Louis.31
At Columbus Heise was part of another championship team, as the Red Birds again won the American Association playoff and Junior World Series. But Heise was not as effective as he had been the previous season, going 9-7 with a 4.78 ERA; for the first time since his first professional season he was not among the league leaders in strikeouts. By the end of the year his arm had gone bad and he did not start any of the Red Birds' postseason games, although he was the winning pitcher in relief in Game Two of the Junior World Series in Toronto when Columbus rallied with six runs in the ninth inning for a 7-4 victory.
That would be Heise's last win as a professional pitcher. His daughter Judy said her father told her he had "an infection in his tonsils that went into his shoulder."32 Assigned to Rochester in 1935, he had a sore arm all spring33 and visited a surgeon in Miami who "found that several nerves were crossed in the left-hander's pitching arm."34 In May the Cardinals sent him to Dallas of the Class A Texas League, where he pitched in one game, on May 23, and lasted just two innings.35 Heise was returned to Rochester the next day, as Dallas manager Alex Gaston "explained he had seen Heise when he was at his best and that he was only a shadow of his former self."36
Heise got back on the mound for Rochester on June 13 but would pitch in just three more games that season.37 In 1936 he was in spring training with Knoxville of the Class A Southern Association but was returned to Rochester and then dropped to the Class B Piedmont League and appeared in just three games for Asheville.
In 1937 Heise went to spring training at his own expense in an attempt to catch on with the Cleveland Indians' organization38 and was assigned to their New Orleans farm club in the Southern Association.39 He was released by the Pelicans on May 8,40 later going to Chattanooga of the Southern Association and Charlotte of the Piedmont League before retiring as a player.41
After his baseball career ended, Heise went back to Scottdale and sold life insurance for Prudential, which he did for 30 years, retiring in April 1968.42 He stayed involved with baseball, as an American Legion coach and as a player in local leagues.
Clarence and Hazel Heise had three children: Jim, born in 1930; Judy, born in 1937; and Carole, born in 1941.43 Jim Heise followed in his father's footsteps as a major-league pitcher after a stellar career at West Virginia University that resulted in his being selected for the WVU Hall of Fame in 2011. A right-handed pitcher, Jim Heise was a three-time all-Southern Conference selection (1953, 1955, and 1956) and signed with the Washington Senators after graduating. He pitched in eight games for the Senators in 1957. After his playing career he worked as a high-school science teacher, baseball coach, and school administrator for 32 years and died in 2011.
Hazel Heise died in July 1969,44 and the following year Clarence married a woman who had also recently lost a spouse, Eunice Chaffee Hall. They moved to Apopka, Florida, outside Orlando, in 1970. Jim and Carole already lived in the area, and Judy moved there as well when her father did. Clarence Heise worked as an usher at Orlando's Tinker Field during the Minnesota Twins' spring training and for the Orlando Twins of the Southern League from 1971 through 1990. After that the Twins stopped holding spring training in Orlando and Heise retired from ushering.
"My biggest problem is that I'm up in the stands now and when I look at the players on the field I get to fidgeting," Heise said in a 1990 interview. "This is screwy, but I feel I could go out there and pitch batting practice. I know I can't, but I sure want to."45 He was 82 years old.
Heise had never missed a day of work as an insurance agent46 and missed only three days of work as an usher.47 "He always stayed in shape and was still doing his own yard work when he was in his late 80s," his daughter Carole remembered. "We all tried to convince him to get someone to do it for him because it is so darn hot down here in the summer, but he was a little stubborn about keeping himself in shape and being independent."48 He never smoked or drank, according to his daughter Judy.49
Clarence Heise died at the age of 91 on May 30, 1999, at the Manor Care Nursing and Rehab Center in Winter Park, Florida, and was buried at Highland Memory Gardens in Apopka.50 His second wife, Eunice, had preceded him in death in 1996.
"He really was a good ballplayer in his day and he sure loved playing," Carole Heise Clelland said. "I just remember him as a great dad with a great belly laugh, and everyone loved him."51 
Notes
Thanks to Clarence Heise's daughter Carole Clelland for sharing copies of items about her father in a family scrapbook; Bill Francis of the National Baseball Hall of Fame Library for sharing Heise's file there; and SABR member Stew Thornley for sharing copies of articles in the Minneapolis Journal and Minneapolis Tribune as well as information about the 1933 American Association playoff. Minor-league statistics are taken from the appropriate Spalding's or Reach annual baseball guides, or, in the case of his 1932 Rochester statistics, from the Hall of Fame file.
1 1920 US census accessed via Ancestry.com.
2 Email message from Carole Heise Clelland, July 26, 2013.
3 "Heise Stars For Elmira," undated 1932 clipping in the Heise family scrapbook from an unidentified source.
4 The Heise family scrapbook includes some of the advertising placards, including the phrases, "See 'Lefty' Heise, the Boy Pitcher, in Action" and "See Lefty Heise, 17-Year-Old Booster Pitcher in Action." No other players were mentioned by name.
5 The Heise scrapbook has a letter from Harry Johnson, president of the Cedar Rapids, Iowa, club of the Mississippi Valley League, dated August 30, 1927, in which Johnson writes, "glad to know that you have signed a contract for next year with Danville." He goes on to tell Heise that if Danville has too many pitchers and releases him, "we will be glad to bring you back here." It's not clear what relationship Heise had with the Cedar Rapids club prior to that.
6 Philip Singerman, "This Baseball Season, These Three Men Share Life In The Minor Leagues, But Their Sights Are Set Higher," Orlando Sentinel, August 11, 1985.
7 Letter from Clarence Heise to Henry and Pearl Heise, April 11, 1928, in the Heise family scrapbook.
8 The Heise scrapbook has a letter on Danville team letterhead (signature unreadable) dated January 16. 1929, saying, "Arrangements have been made for you to train with the Cardinals at Avon Park, Florida. This will give you an excellent opportunity to receive higher class training and get into condition early." The letter accompanied his 1929 contract with Danville at a salary of $250 per month, but the letter added that he would be cut to $200 per month if he had to be sent to a team in a lower classification.
9 The Heise scrapbook has letters from Cardinals secretary Clarence Lloyd. A letter dated January 29, 1929, includes: "Do you know how to drive an automobile and, if so, would you be interested in helping to drive Mr. Breadon's new Ford from St. Louis to Avon Park? Mr. Breadon plans to arrive in Avon Park on or about February 27th and would like to have this car there on his arrival. We would allow you your railroad fare and berth from here [St. Louis] to Avon Park but your expenses in driving would not amount to that much thus enabling you to make a little spending money enroute." A follow-up letter on February 9 included a check for $9.78 to cover Heise's transportation from Sedalia to St. Louis.
10 Associated Press, "Macks Need Practice," Canton Repository, March 8, 1929.
11 United Press, "Training Camp Notes," Sandusky Star-Journal, April 10, 1929.
12 Telephone interview with Judy Heise Keller, June 28, 2013.
13 Associated Press, "Red Birds Get Pair Of Rochester Pitchers," Lima (Ohio) Sunday News, April 3, 1932.
14 "Heise Sold To Elmira," Rochester (New York) Journal, May 10, 1932.
15 Al Mallette, "Lefty Heise Has Fond Memories of Elmira Playing Days," undated clipping from an unknown source in the Heise family scrapbook; Mallette was sports editor of the Elmira Star-Gazette, and from the text of the article it clearly seems to have been published in January 1967.
16 Ibid.;  The Sporting News, July 21, 1932.
17 "Columbus Club Gets Cullop and Teachout," Cleveland Plain Dealer, January 6, 1933.
18 milb.com/milb/history/top100.jsp?idx=43.
19 Halsey Hall, "Millers Enter Association Play-Off With High Respect for Birds' Staff," The Sporting News, September 14, 1933.
20 Bill Veeck with Ed Linn, The Hustler's Handbook (New York: G.P. Putnam's Sons, 1965), 127. The story is also told in Rob Neyer's Big Book of Baseball Blunders (New York: Fireside, 2006), 82-83.
21 Bill Dooly, "Cubs Have 'Everything' on Paper," The Sporting News, February 1, 1934.
22 Dick Farrington, "Cards Snub $50,000 and Keep Paul Dean," The Sporting News, September 7, 1933.
23 J.G. Taylor Spink, "Three And One," The Sporting News, September 14, 1933.
24 Philip Singerman, "This Baseball Season."
25 Al Mallette, "Lefty Heise"; see note 15.
26 "Birds Go Up," Zanesville (Ohio) Signal, September 7, 1933.
27 Irven Scheibeck, "Columbus Club Seeks Help From Cleveland," The Sporting News, January 18, 1934.
28 Philip Singerman, "This Baseball Season."
29 Irving Vaughan, "Cubs Beat Cards, 15-2; One Hit Off Warneke," Chicago Tribune, April 23, 1934.
30 Philip Singerman, "This Baseball Season."
31 Associated Press, "Cards Cut Squad to 25 Players," Moberly (Missouri) Monitor-Index, May 1, 1934.
32 Telephone interview with Judy Heise Keller, June 28, 2013.
33 From a newspaper clipping in a scrapbook that is part of the collection at the Monroe County (New York) Library, available online at libraryweb.org/~digitized/scrapbooks/Red_Wings/vol_2_07_29_1934.pdf.
34 John Burns, "Sports," Rochester (New York) Evening Journal, April 3, 1935.
35 "Indians make Few Hits Count To Beat Herd Again, 6-1," Dallas Morning News, May 24, 1935.
36 "Steers Dispose Of Four Players, Reducing Roster," Dallas Morning News, May 25, 1935.
37 "Red Wings Moaning Over Condition of Pitching Staff," Rochester (New York) Evening Journal, June 15, 1935.
38 "O'Neill To Cut Hurling Staff," Sandusky (Ohio) Star-Journal, March 31, 1937.
39 Val J. Flanagan, "Drake's Return as Pelican Puts Mound Staff in Order," The Sporting News, April 22, 1937.
40 New Orleans Times-Picayune, May 9, 1937, sect. 4, 7
41 The number of games Heise played for each team is not known, but it was not enough to be listed in the 1938 Spalding's Official Baseball Guide, which required a minimum of ten games for both leagues to have full statistics listed. Heise did pitch in at least two games for New Orleans, starting a game on April 25 (Wm. McG. Keefe., "Pelicans Drop Both Ends of Doubleheader to Little Rock Travelers," New Orleans Times-Picayune, April 26, 1937) and pitching in relief on May 4 ("Four Pitchers, One Outfielder Fail to Stop Crackers, Pels Lose, 11-4," New Orleans Times-Picayune, May 5, 1937).
42 "George Hunt Retires As Insurance Agent," Uniontown Morning Herald, April 8, 1968.
43 Email message from Carole Heise Clelland, July 26, 2013.
44 Email message from Carole Heise Clelland, July 26, 2013.
45 Jim Caple, "Twins Have Fond Memories of Orlando's Tinker Field," St. Paul Pioneer Press, April 1, 1990.
46 Philip Singerman, "This Baseball Season."
47 Jim Caple, "Twins Have Fond Memories."
48 Email message from Carole Heise Clelland, August 2, 2013.
49 Telephone interview with Judy Heise Keller, June 28, 2013.
50 Death certificate on file at the Baseball Hall of Fame.
51 Email message from Carole Heise Clelland, August 2, 2013.
Born
August 7, 1907 at Topeka, KS (USA)
Died
May 30, 1999 at Winter Park, FL (USA)
If you can help us improve this player's biography, contact us.
http://www.kevinsavagecards.com/ItemImages/000031/94_29017a_lg.jpeg
600
800
admin
/wp-content/uploads/2020/02/sabr_logo.png
admin
2012-01-04 20:03:56
2020-10-16 07:39:16
Clarence Heise