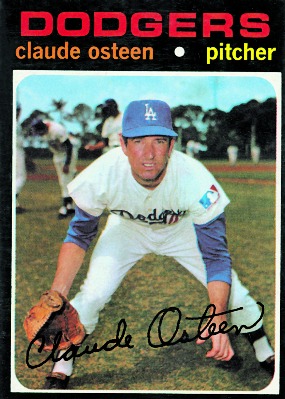 ---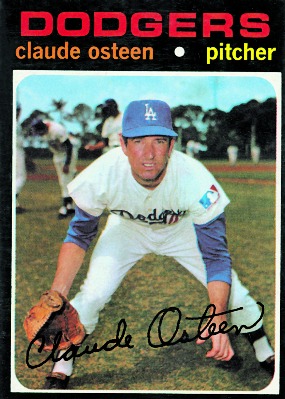 Down two games to none to the Minnesota Twins in the 1965 World Series, the Los Angeles Dodgers found themselves in a precarious situation after Don Drysdale lost Game One, 8-2, and Sandy Koufax, who refused to pitch the opening game because it fell on Yom Kippur, lost Game Two, 5-1. Left-hander Claude Osteen, scheduled to pitch Game Three, recounted the tension on the Dodgers' charter flight back to Los Angles: "(My teammates) had confidence in me. I was sitting with my wife on the airplane. Players went up and down the aisle and tapped me on the shoulder and said, 'You'll get 'em.' By the time I got off the plane I was a nervous wreck."[1] After giving up a leadoff double to Zolio Versalles (later chosen the American League's MVP for 1965), Osteen settled down, gave up just four more hits, and pitched a shutout, winning 4-0. More than just a victory, Osteen's gem changed the momentum of the Series which the Dodgers won in seven games with Koufax winning 2-0 in Game Seven on two days' rest.
Claude Wilson Osteen, a high-school pitching phenom who made his major-league debut at the age of 17 and went on to win 196 games, was born on August 9, 1939, to Claude and Pauline Osteen in the rural community of Caney Springs, Tennessee. Osteen grew up with baseball: His father was a pitcher for an amateur team, and as the owner of a country store sponsored a local youth team on which seven of Claude's cousins played. Watching his father pitch, Claude developed a curve that helped his county squad, the Woodman Choppers, win a championship and the right to play in a tournament in North Carolina. Owing to the tough economic times, his family moved to Cincinnati during his freshman year of high school in 1954. Young Claude moved back to Tennessee, citing difficulties living in an urban area. Then, desiring to play baseball in a serious way with attentive coaching and proper facilities, he returned to Cincinnati in 1955 and enrolled in Reading High School in a northern suburb of the city. There he amassed one of the best varsity pitching careers in Ohio history: a 23-1 career record, including 16-0 as a senior with a 0.13 ERA and 221 strikeouts in 103 2/3 innings for the 1957 state championship team.[2]
In light of his excellent season, Osteen signed a contract with the Cincinnati Reds in 1957 right after high school, rejecting offers from at least ten other clubs, and joined the Reds immediately.[3] The 5-foot-11, 160-pound Osteen recalled that his high-school coach, Don Mohr, was a scout for the Dodgers and wanted him to sign with Los Angeles; however, the Dodgers would not guarantee a major-league roster spot, but the Reds did. Upon signing, Osteen commented, "I have the confidence that I can win in the majors right now and I want the chance to prove it."[4]
Throughout his long career as a player and pitching coach, Osteen approached pitching with attention to detail. An astute observer of pitchers, mechanics, and deliveries, he gave credit to Coach Mohr for helping him develop a positive attitude and the ability to listen. In an interview with the author in 2011 he said, "I had a desire to pick people's brains about pitching. . . .  I idolized Whitey Ford, how smart he was, and how good his delivery was. The same for Warren Spahn. These were the guys I thought I could pattern my game after."
Reflecting on his major-league debut, on July 6, 1957, when he pitched two-thirds of an inning against the St. Louis Cardinals, giving up two hits and a run, but not factoring in the decision,[5] Osteen said, "I was scared to death." He recalled the advice he received from teammates Hershell Freeman and Smokey Burgess, who took him under their wing, and even Stan Musial of the Cardinals. After another one-inning relief appearance the following day, Osteen was optioned to the Nashville Volunteers of the Southern Association, where he appeared in seven games (two as a starter) over the next month before being recalled by the Reds in September.[6]
Osteen spent all of 1958 and 1959 (save for a September call-up and two relief appearances with the Reds) in the minors, where he developed as a pitcher. Playing for the Wenatchee Chiefs, Osteen cruised, compiling a 14-4 record and a 3.04 ERA in 151 innings, and was labeled "the hottest pitching prospect in Class B Northwest League."[7] (He credited Chiefs coach Bert Haas for coaching and patience.) Late in the season Osteen was promoted to the Triple-A Seattle Rainiers, where he pitched a shutout in his debut[8] and posted a 5-4 record in 70 innings with a 3.08 ERA. For a poor and light-hitting Seattle team in 1959, Osteen pitched well despite his 8-13 record; he posted an excellent 2.98 ERA, and got a September call-up to the Reds.
Because all three of his options had been used, Osteen was carried by the Reds for the entire 1960 season, but was the forgotten man in the bullpen, appearing in only 20 games and pitching just 48 1/3 innings with an ERA of 5.03. He also got his first major-league decision, a loss in a spot start at San Francisco in which he gave up seven runs in 1 2/3 innings. Reds manager Fred Hutchinson had managed Osteen the year before in Seattle and knew the potential of the 20-year-old hurler. ("Everybody loved Hutch," Osteen said. "He was a players' manager and they respected him.") After the season, Osteen signed to play winter ball with the Mayaguez Indians of the Puerto Rican League, hoping to bolster his chances to be a starter the following season. Facing quality talent, including many major leaguers, he posted a 6-5 record.[9] He started the 1961 season on the Reds roster, made one early relief appearance, and then was optioned to the Indianapolis Indians of the American Association. His demotion effectively ended his career in Cincinnati; he became eligible for the postseason draft, so the Reds traded him to the Washington Senators in mid-September hoping to capitalize on Osteen's good year at Triple-A Indianapolis (15-11 with a 3.53 ERA).
Osteen called the trade to the Senators "probably one of the biggest breaks in my career because I got to go there as a starting pitcher with little pressure." Indeed, he started three games at the end of the season and posted his first career victory in the first one, going 7 1/3 innings at Minnesota and giving up three earned runs. Reflecting on his first win, Osteen said, "I was kind of embarrassed . . . because it seemed like it had taken forever for me to get it." More than four years after signing his initial contract, he now felt as if he would have a chance to prove himself.
The Senators, a product of American League expansion in 1961, were the worst team in the American League from 1962 through 1964, losing 101, 106, and 100 games. But Osteen developed as a legitimate starter and gradually became a coveted one. After losing five consecutive starts to begin the 1962 season, Osteen settled down and pitched .500 ball the rest of the season, ultimately finishing 8-13 with a respectable 3.65 ERA. At the end of the season Senators pitching coach Rollie Hemsley rated Osteen as the number-one pitcher on the staff.[10] After working as a Senators ticket salesman during the offseason,[11] Osteen saw his 1963 season started miserably: He lost his first four decisions and his starting job, and didn't get his first victory of the season until mid-June. In hindsight he said he had not yet really developed as a pitcher. "I didn't have any good reasons for throwing this pitch or that pitch. I didn't understand that part of pitching," he said. He relied on his talent, not on an understanding of the art of pitching. Osteen called the game in which he got his first victory of 1963, a 1-0 shutout of the New York Yankees, as perhaps the most pivotal game of his pitching career. Facing the reigning World Series champions, he was understandably nervous in a tight game. He credited his catcher, Hobie Landrith, with helping him to mature as a pitcher and gain confidence. "Suddenly I realized I'm putting the baseball exactly where he wants it," Osteen recalled. "Not just one pitch but all of the pitches." He held the Yankees to six hits.[12] Osteen said he felt liberated and had a new-found trust in himself and his catcher, "I walked away from that game and I knew what pitching was all about: movement, making pitches, putting the ball in the right location, and taking advantage of the hitters' weaknesses." Indeed, movement and location become the hallmark of Osteen's career. But despite flashes of excellence (such as a five-hit shutout in Boston), Osteen finished the season at 9-14 with a 3.35 ERA in 212 innings.
After a strong spring, Osteen lost his first two starts of the 1964 season before winning his first game, a 10-inning complete-game shutout over the Kansas City Athletics. Washington manager Gil Hodges said, "Osteen is ready to arrive as one of the game's top pitchers and if we give him adequate defense and a little batting, he could win at least 15 games for us."[13] Osteen pitched consistently throughout the season and finished with a 15-13 record, ranking third in the league with 13 complete games and fifth in innings pitched with 257.[14] Citing the need for hitting, the Senators traded the hitherto "untouchable" Osteen to the Dodgers in a blockbuster deal for slugger Frank Howard, Ken McMullen, and Pete Richert, among others, on December 4, 1964. Though the Senators were widely criticized by the D.C. press and Nats' fans, the trade served them well.[15] Howard developed into a star and home-hitting sensation; McMullen was a dependable starter at third base for the next five years; and Richert was their top starter in 1965 and 1966.
Osteen's career is defined by his nine productive seasons in Los Angeles, where he established himself as the staff ace. Of his trade to the Dodgers, he said, "I was on cloud nine," but then had misgivings: "I'm joining a great pitching staff and I started thinking whether I was good enough to be part of them." The 25-year-old lefty arrived in Vero Beach, Florida, for spring training in 1965 and promptly earned the nickname Gomer from new teammate Dick Tracewski for his supposed resemblance to Jim Nabors, who played the television figure.[16] However, Osteen was anything but goofy or aloof; manager Walter Alston remarked, "That Osteen is a serious fellow and a real pitcher."[17] Osteen immediately noticed a different attitude: Talk was of winning a pennant and World Series, while "Dodgertown was a big family."[18] The 1965 season was magical for the Dodgers; four games behind the Giants on September 20, they took over first place on the 28th when Osteen pitched 7 1/3 innings of pressure-packed, one-run baseball. The Dodgers finally won in 12 innings. The light-hitting Dodgers (just a .245 team batting average and a league-low 78 home runs) relied on excellent pitching and got it from Koufax (26 wins), Drysdale (23 wins), and Osteen (15 wins) and a league-leading team ERA of 2.81. A World Series championship over the Twins gave the Dodgers their third title in seven years.
Entering the 1966 season, Osteen and the Dodgers had high expectations. Osteen rolled off three consecutive complete-game victories to start the season and had won 11 by the All-Star break. The Dodgers pitching staff again led the team through a grueling pennant race. Koufax, Drysdale, Osteen, and rookie Don Sutton all started at least 35 games and the team led the league again in almost all important team pitching categories, including ERA at 2.62. Nonetheless, the Dodgers tired during the season, including Osteen, who won just six games in the second half of the season. The Dodgers met the young and up-and-coming Orioles in the World Series and were swept, scoring two runs in Game One and being shut out in the next three. Osteen made his third and final stellar World Series start in Game Three, giving up just a home run to Paul Blair in seven innings of three-hit ball and taking the 1-0 loss. Despite his 1-2 career record in the World Series, Osteen gave up just 12 hits in 21 innings with a microscopic 0.86 ERA. The Dodgers were shut out in his last two starts.
In his history of the Dodgers, Steve Delsohn refers to the 1967-1969 seasons as the "lean years," and lean they were.[19] Koufax retired after 1966; gone too were mainstays like Maury Wills, Jim Gilliam, and Tommy Davis; and the offense wilted with a league-worst batting average of .236 in 1967. Osteen was one of the few bright spots. After a quick start (four wins in his first six starts), he was "playing his best ball of his career," The Sporting News said.[20] He was now the ace of the staff and finished with 17 wins on a seventh-place (out of ten) team that went 73-89. (The 89 losses were the most for the Dodgers since 91 in 1944.) Osteen earned the first of three All-Star selections. (The other two were in 1970 and 1973.) In 1968 the Dodgers fared hardly better, losing 86 games and finishing seventh again with a team batting average of .230, dismal even in what became known as the Year of the Pitcher. The Dodgers were shut out in his first two starts. After they scored three runs in his third start, The Sporting News published an article labeled, "Dodgers Score At Last for Run-Starved Osteen,"[21] a headline that serves as a leitmotif of Osteen's career: His teams were shut out 47 times when he was on the mound. On the need to pitch well, Osteen commented, "These games sure make you a better pitcher. I know it is up to me to pitch a shutout."[22] In fact, Osteen pitched 40 shutouts, 44th on the all-time list. Despite a respectable ERA of 3.08, he faltered to 12 wins in 1968 and led the league in losses with 18.
Upon learning that the Rules Committee had decided to lower the pitching mound from 15 to 10 inches and restore the pre-1963 strike zone in order to stimulate offensive production, Osteen, unlike many other pitchers, was looking forward to the changes and thought his game would improve: "I think pitchers will go in more for control instead of raring back and throwing."[23] Throughout his career, Osteen's success depended on his control; he allowed exactly 9.0 hits per nine innings, but gave up few home runs and walks; thus the changes suited his game well. The result was arguably his best season: In 1969 he won 20 games for the first time, posted a 2.66 ERA in 321 innings, and was second in the league with seven shutouts.
The Dodgers finished second in the National League West for four consecutive years, 1970-1973. Osteen, now in his 30s, pitched about 250 innings each year and won 16, 14, 20, and 16 games respectively. He was the winning pitcher in the 1970 All-Star Game, hurling the final three scoreless innings and getting the victory when Pete Rose bowled over American League catcher Ray Fosse and scoring the winning run in the 12th inning.[24] The Dodger pitching staffs were the backbone of the team's success in 1970-1973 with strong years from Osteen, Al Downing, Tommy John, Andy Messersmith, and Don Sutton. Excellent young players were sprinkled into the lineup from the Dodgers' Triple-A team in Spokane – Bill Buckner, Ron Cey, Joe Ferguson, Steve Garvey, Charlie Hough, Davey Lopes, Doug Rau, and Bill Russell among them – and all played a big role in the Dodgers' success throughout the next decade. Throughout the years of the Dodgers youth movement, trade rumors swirled around Osteen despite his consistency. When the Angels turned down a deal including Osteen and Buckner for Andy Messersmith after the 1971 season, Osteen remarked, "I'm not sure which is more insulting, being offered in a trade or having it turned down."[25] In 1972 Alston instituted one of the first five-man pitcher rotations in baseball history, and Osteen answered with his second 20-win season.[26] He also evened his career record at 147-147. After he lost his last five starts to end the 1973 season, Osteen was again on the trading block, and in December he was traded to the Houston Astros for slugging outfielder Jim Wynn. As a ten-year veteran, he agreed to the trade, and his great run in Los Angeles ended. Over his nine years there he averaged 37 starts, 266 innings, and 16 wins per year as one of the most dependable, durable, and consistent pitchers in the National League.
Osteen arrived on a young Astros team, but one with a good pitching staff that included Larry Dierker, Don Wilson, and Dave Roberts. By mid-July he had won nine games and was on track to win his usual 15 to 17 games. With the Astros out of contention, something changed in August. "I felt something was in the works. I hadn't pitched in 17 days, and any time that happens, you know something is up," he said.[27] He was traded to the St. Louis Cardinals, then battling the Pittsburgh Pirates for the National League East crown. Osteen remembered: "I was thrust into a pennant race. That was an exciting time even though I was a reliever." He saw only sporadic action, pitching just 22 2/3 innings in eight games. The Cardinals lost the crown on the last day of the season.
After a weak spring training in 1975, Osteen was released by the Cardinals and signed as a free agent with the Chicago White Sox. He was excited to be playing for manager Chuck Tanner and pitching coach was Johnny Sain. Johnny "constantly had new ideas about pitching," and got a trio of mid-30s starters (Osteen, Jim Kaat, and Wilbur Wood) to win 43 of the team's 75 victories. But Osteen won only seven of those games, while losing 16. He detected substantial changes in his pitching: "I was starting to notice that my control was not as good as I wanted it to be. I lost the feel of the baseball a bit. I guess all those innings you pitch over the years, you develop capillary damage in the nerve endings on the fingertips. I had a lot of trouble in cold weather when the outer tips of my fingers would get so cold and prevent me feeling the seams of the ball and that led to a lack of movement of the ball, lack of control, and lack of confidence." Five days before the 1976 season began, he was released by the White Sox. In 18 seasons he had won 196 games and lost 195. Asked whether he considered coming back in attempt to get to 200 victories, he said that four more wins wouldn't make him a better pitcher or change what he had accomplished. He was ready to make his next career move.
Over a 14-year period, from 1962 to 1975, Osteen suffered no serious arm injury and averaged 34 starts and 242 innings per year. On his longevity, he commented, "I had a delivery which didn't put pressure on any key points of my shoulder, elbow, or arm." His success was a product of hard work and a cerebral approach to pitching: "We threw a lot. We threw between starts. That was sacred. You pitch on Monday, rest on Tuesday, and Wednesday is the bullpen session. And you don't just go down there to throw. You actually work on things and that is where you learn how your pitches break and how much movement you got." This approach provided him the basis for a career as a minor-league and major-league coach and pitching coach for decades, including stints with the Cardinals, Phillies, Rangers, and Dodgers. Even after retirement, he remained close to the game as a scout and consultant for the Arizona Diamondbacks.
After being released by the White Sox, Osteen began his career as a coach when he accepted a position with the Phillies' Double-A club in Reading (Eastern League).[28] Anticipating that he would be the pitching coach for the Phillies Triple-A affiliate the following season, Osteen was surprised to be offered the job of pitching coach for the St. Louis Cardinals during the offseason.[29] He coached there for four seasons (1977-1980) before taking a position with the Phillies in 1982. During Osteen's seven-year stint in Philadelphia, three Phillies pitchers won the Cy Young Award under his tutelage: Steve Carlton in 1982, John Denny in 1983 (whom he also coached in St. Louis), and reliever Steve Bedrosian in 1987. After being replaced by the Phillies, he accepted a position as pitching coach for the Dodgers' Single-A affiliate in San Antonio for the 1989 season,[30] and later served as the pitching coach for Triple-A Albuquerque for three more seasons, then as pitching coach of the Texas Rangers for two seasons, 1993-1994. After a two-year stint as the Dodgers' pitching coach in 1999 and 2000, Osteen retired only to be lured back in the game by the Arizona Diamondbacks to serve as a scout and consultant and to work with young pitchers on their Double-A team in El Paso. He retired in 2009. On his philosophy as a pitching coach, Osteen remarked, "I thought of myself as a psychologist and tried to get the most out of each pitcher. From a delivery standpoint, I looked for flaws. . . . I tried to make the delivery as perfect as I could mechanically so he (the pitcher) has a chance to not hurt his arm and to take the pressure points off the key parts of the delivery."
As a four-tool pitcher (slider, sinking fastball, curve, and changeup),[31] Osteen was a deliberate and poised pitcher, and he said he noticed substantial differences in the way modern pitchers throw. "The game has changed a lot. It is all about power and how fast you throw the ball. I don't think the guys today have the control we had, especially when you are behind in the count. … "The way scouts scout today, it is a possibility that guys like Tom Glavine, Randy Jones, myself, Tommy John might not have gotten signed today because (the scouts) are looking for 92-93-mile-an-hour pitches." That's a troubling thought as baseball would have been robbed of excellent pitchers. A thinking man's pitcher with an eye for detail, Claude Osteen should be remembered for his consistency, dependability, and professionalism.
In 2011 Osteen lived with his wife, Jackie, in Arlington, Texas. He had five children from his first marriage, David, Brian, Erick, Gavin, and Jennifer. He remained close to the game and occasionally offered pitching clinics with his sons David and Gavin, who both reached Triple-A ball.
September 15, 2011
Photo Credit
The Topps Company
---
Born
August 9, 1939 at Caney Springs, TN (USA)
If you can help us improve this player's biography, contact us.
http://bioproj.sabr.org/bp_ftp/images5/OsteenClaude.jpg
600
800
admin
/wp-content/uploads/2020/02/sabr_logo.png
admin
2012-01-04 20:09:54
2021-10-05 15:39:04
Claude Osteen