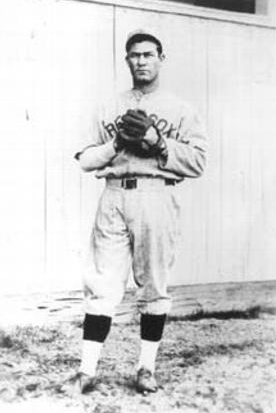 ---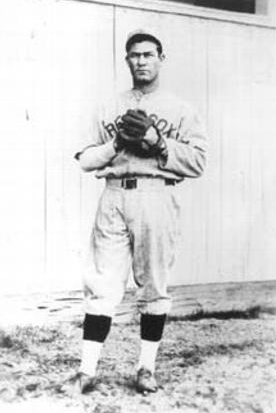 Bringing Cliff Garrison on board was an experiment which didn't work out all that well. The 1928 Red Sox weren't in too much of a position to be highly selective, though. They'd finished in eighth place — last place — for five of the prior six years, and were seventh the one year they weren't last, back in 1924. The 1927 team finished 51-103 and had only two pitchers with double-digit wins (Slim Harriss was 14-21 and Hal Wiltse was 10-18). No other pitcher won more than six. There was no guarantee they were going to get any better in 1928 (and they didn't, much, still finishing in last place.) A warm body who could throw the ball might be an improvement over what they had.
As it happens, they added Ed Morris who was 19-15, but new pitcher Red Ruffing was 10-25 and Jack Russell was 11-14. Between them, Harriss and Wiltse were 8-13.
Cliff Garrison was a right-hander, six feet tall, and 180 pounds. He was still just 21 years old, having been born on August 13, 1906 in Belmont, Oklahoma and grown up in nearby Meeker. His father Daniel (a farm laborer who'd moved to Oklahoma from Arkansas) and his mother Viola (a Missouri native) had five children: Howard, Clifford, Harold, Della, and Daniel Jr. They'd moved to Tempe, Arizona but were still farming by 1920.
Cliff came to the Red Sox with a high school diploma but without benefit of any minor league experience, and after a brief stop in Portland, Maine following this stay with the Red Sox, he never played professionally again. The sum total of his pro ball career was 16 innings spread over six games between his debut on April 16 and his final game on July 2.
He'd originally signed with the Yankees; however, the winter after he'd graduated from Tempe High School. He'd made his mark in high school with the bat as a catcher and an outfielder, but had started pitching for Tempe and had recorded four shutouts during the 1925 season. The Yankees signed him on February 27, 1926, and planned to send the 19-year-old to Corsicana (Texas League) to develop as a pitcher.1 He does not appear in Corsicana team statistics for either 1926 or 1927, but he put up an 11-8 season for the 1927 Edinburg Bobcats in the Texas Valley League, "one of the leading hurlers" in the circuit.2
Sportswriter Gary Traynham of the Woodland (California) Daily Democrat interviewed Garrison, who remembered those early days: "It took seven days to go from Tempe to Brownsville (Texas). Sometimes we'd travel all night and maybe get to the next town in time to play the game. Maybe not."3
There was a Garrison who had appeared briefly for Elmira in 1926, but it doesn't appear to have been Cliff. How he had made the transition from the Yankees organization to the Red Sox is unknown.
April 16 was the sixth game of the 1928 Red Sox season. The Sox were already three games out of first place, with a 1-3 record and a scoreless tie game. Their only win had been Opening Day. They never saw first place again. The 16th saw the New York Yankees arrive at Fenway Park for their first visit. Danny MacFayden started for Boston, but gave up six runs in the first three innings. Merle Settlemire gave up another in the four innings which followed. Garrison was asked to close out the game, and he did, allowing just two hits and no runs at all. Years later, he still held onto a tale to tell about the revenge he wreaked on Babe Ruth that day.
"I had only one year in the bushes," he said, setting up the story. "I didn't know anything. I was smart enough to win in the bushes because there were dumb ones down there, too." Thrown into a major-league game, though, he was petrified. "I had never seen that many people in my life. They could have cut my throat and I wouldn't have bled a drop."4 Ruth ripped a double into right field, but then rashly tried to score all the way from second base on Gehrig's deep fly ball to right. The New York Times account tells the story: "He rounded third at full speed and was on his way to the plate well ahead of the ball, which had been hurled to third by the unsuspecting Boston fielders." Garrison was backing up the play at third base and took the throw. "Then suddenly Mr. Ruth grew weary. Or perhaps a pebble bobbed up in his path. Whatever the cause, he suddenly went down in a heap fifteen feet from the plate and failed to make it on hands and knees, much to the delight of the spectators."5 Garrison ran him down and tagged him out.
Eight days later, manager Bill Carrigan called on him again. After 4 1/3 innings, the Sox had already gone through two pitchers (who were responsible for giving up nine runs to the Athletics) and Garrison was asked to put out the fire. No runs were charged to him in closing out the fifth, but he gave up a two-run home run to Joe Hauser in the sixth. He escaped the seventh without seeing another run score. He pitched twice in May, allowing two earned runs in six innings.
The one time he pitched in June, it was a disaster – he was tagged for six runs (five earned) in 3 1/3 innings, but the game was already a lost cause; nine runs had already scored before him. The Senators won, 16-7. The one game he pitched in July was his last. It was on the second, at Philadelphia's Shibe Park. Settlemire had given up four runs through six; Garrison gave up five more, including a three-run homer in the seventh, in the final two innings. With a 9-2 lead, the Athletics didn't need to bat in the bottom of the ninth.
The Red Sox released Garrison on July 11, and a New York Times note said that he'd reported to the Portland Mariners (New England League).6 He appears to have been 2-1 for Portland – or for the Brockton Shoemakers (oddly, he is listed for both teams, with the same record), and then disappears from the record books.
Garrison himself had only batted three times, and struck out two of the three. He left major-league baseball with a .000 batting average, and with an earned run average of 7.88. Not only had he never gotten himself a hit, he'd also never struck anyone out – though he did walk six batters. In eight fielding chances, he never made an error.
By the end of 1928, he was on the roster of the Pittsfield Hillies, and joined them for spring training in 1929, where manager Collins planned to try to work him out as catcher, reverting back to the position he's started at back in high school. Assigned once more to Portland, he was homesick and decided to go back home to Los Angeles, where his family had relocated. "They thought we were still fighting the Indians," he explained, making a reference that remains a bit obscure.7
In 1929, he played for a while for the Mesa Jewels of the Arizona State League, but was released on July 5. Garrison appeared in 11 games for Mesa. We was 2-2 on the mound, and 4-for-13 (.307) at the plate.8
Garrison played a lot of semipro baseball in the Woodland, California, area. The city had constructed Clark Field and had enticed the Seattle Indians from the Pacific Coast League there for spring training. "Woodland…I'd never heard of it, [but] I was starving to death. Any kind of baseball contract sounded good to me."9 He didn't join Seattle, but Woodland Oaks manager Doc Reese offered him a position for $25 a game, pretty big money at the time. The team played in a league outside of organized baseball and, Traynham writes, "On the strength of [Garrison's] right arm, the Oaks became the power of the Sacramento Valley League in the 1930s. He never had a losing season." The money was "more than he could have made in the minors and he didn't have to put up with the travel."10
In 1930, he moved to Yolo County, California and lived there the remainder of his life, becoming a deputy sheriff for the county on arrival, and then as Woodland, California, chief of police from 1939 to 1943.11
Garrison was good with the bat, too, as his .330 average and his 14-6 record led the Oaks to the league championship in 1931.
The family lived in Esparto and farmed in the area for 60 years. Cliff Garrison died at the Hillhaven Woodland Health Care Center in Woodland on August 25, 1994, preceded in death by all his siblings. He was survived by his wife Norma Nurse. They couple had three children – Gloria, Clifford Junior, and Doug. On the player questionnaire he sent to the Hall of Fame in 1979, Garrison listed "determination" as the characteristic that had meant the most in his baseball career.
Sources
In addition to the sources noted in this biography, the author also accessed Garrison's player file from the National Baseball Hall of Fame, Retrosheet.org, and Baseball-Reference.com. Thanks to Chris Woodman for additional information.
Notes
Full Name
Clifford William Garrison
Born
August 13, 1906 at Belmont, OK (USA)
Died
August 25, 1994 at Woodland, CA (USA)
If you can help us improve this player's biography, contact us.
http://sabr.org/sites/default/files/GarrisonCliff.png
600
800
admin
/wp-content/uploads/2020/02/sabr_logo.png
admin
2012-01-04 20:43:10
2012-01-04 20:43:10
Cliff Garrison