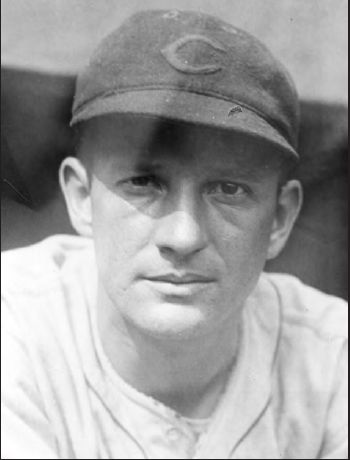 ---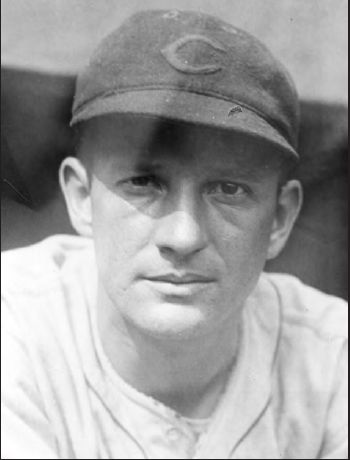 Cliff Heathcote spent 14 of the 40 years of his life in the major leagues, and is largely remembered as half of one of the more memorable trades in baseball history; He was swapped for Max Flack between games of a 1922 doubleheader between the Cubs and the St. Louis Cardinals. That sliver of  memory is an inadequate legacy for the talented defender, who was an important supporting piece in Chicago's 1929 pennant chase, batting .313 in 82 games and committing only two errors in the outfield.
Clifton Earl Heathcote was born in Pennsylvania on January 24, 1898, to woolen mill owner Spurgeon Heathcote and his wife, Annie (Kraft) Heathcote.  Raised in the Glen Rock area, near York, Cliff attended the York Collegiate Institute, where proved better at basketball than at baseball.  He entered Pennsylvania State University in 1917, but did not play baseball there, even though the school had a team.   He accumulated two years of college credits while there,1 but when the opportunity to give baseball a try presented itself, Cliff couldn't resist.
Heathcote signed with the St. Louis Cardinals in 1918, after impressing at a tryout camp, and was assigned to the Houston Buffaloes in the Class B Texas League.  After 20 games, and only a month before the league suspended operations because of World War I, the young outfielder was called up to the big club, and made his major-league debut on June 4, 1918.  The Cardinals were then at the very beginning of building an organization that would produce the great Gas House Gang teams of the 1930s, although predictions of their subsequent rise would have been ridiculed when the team signed Heathcote. That 1918 season had been shortened because of the government's work-or-fight order requiring men to join the armed forces or take defense jobs, and the Cardinals finished the campaign securely in last place.  The following year Branch Rickey replaced Jack Hendricks as manager, and the team climbed to seventh place. The new manager began scouring the region for prospects, finding future stars like Jim Bottomley and supporting-cast members like outfielders Ray Blades and Heinie Mueller. Led on the field by Rogers Hornsby and piloted by the shrewd Rickey, the Cardinals tied for fifth place in 1920 and ascended to third place in 1921. It was a quiet nascence for what would prove to be a coming dynasty.
Just over a week after his promotion, Heathcote enjoyed what would prove to be the finest offensive day of his career on June 13, 1918, in front of 3,500 spectators at Philadelphia's Baker Bowl. During a 19-inning tilt that ended in an 8-8 tie, he led off and ended up hitting for the cycle, a home run, triple, double, and a single in nine at-bats. The opportunity for Heathcote's feat should never have arisen, but for the fact that the Phillies blew a six-run lead and let the Cardinals tie the game, 8-8, in the seventh. Despite Hornsby's four errors that afternoon, the two teams played 12 scoreless innings before the game was finally called at 9 P.M.  The 20-year-old Heathcote batted a respectable .259 in 88 games with the Cardinals that season, although that was slightly offset by the 16 errors he committed playing in left field and center field. 
It was his fielding, in fact, that earned Heathcote the sobriquet Rubberhead, after he lost a fly ball in the sun and it bounced off his head.2 Despite that bit of notoriety, though, Heathcote became a regular in the St. Louis outfield for the next two seasons, batting .282 and stealing a total of 48 bases to accompany his demonstrably improved fielding. In 1921 his average slid below .250, and remained there during the first part of the 1922 season, and the dropoff led to one of the more notable trades in baseball history.
It happened at a Decoration Day (now called Memorial Day) doubleheader on May 30, 1922. The Cardinals sought to continue their climb. Rickey decided he needed a top-of-the-order hitter more than he did a young outfielder, and traded Heathcote for Cubs outfielder Max Flack.
Flack was almost a decade older than Heathcote, but was a competent baserunner and had stolen 37 bases in two different seasons.  The entire Cardinals squad had stolen only 94 bases in 1921, and Flack represented an instant improvement. After the trade, in the second game of the doubleheader, Flack indeed led off for the Cardinals, but Heathcote went 2-for-4 at the plate in his new uniform, and helped the Cubs to a 3-1 win for a sweep.  Later that season, on August 25, Heathcote proved the wisdom of the Chicago management when he set a modern National League record by reaching base seven times in a nine-inning game, in a wild 26-23 Cubs victory over the Phillies. Heathcote went 5-for-5 at the plate, walked twice, and scored five runs in contributing to a final tally that remains the highest score for a major-league game in the modern era.  In 76 games with his new team, Heathcote hit .280 and scored 37 runs, and went a long way toward establishing a slot on the team for the next season.
He started in the Cubs' outfield in 1923 and 1924, recording a .309 batting average during the latter season, and by 1925 the slim player also came to be regarded as something of a females' fan favorite in Chicago. Heathcote's offseason job, overseeing a dairy route in Pennsylvania, was somewhat less than glamorous.3  Before the 1925 season began, Cliff married a York native, Olga Beard. Sadly, both she and their baby son died during childbirth that year.  He never remarried.
In 1926 Heathcote posted career highs of 10 home runs, 98 runs scored, 141 hits, and 33 doubles. He stole 18 bases. All this he accomplished while competing to hold a spot in an outfield that also included Riggs Stephenson and Hack Wilson. The Cubs, managed by Joe McCarthy, finished in fourth place in the National League. The next two seasons Heathcote platooned with Earl Webb in right field,4 as center field and left field were semi-permanently occupied by Wilson and Stephenson. Heathcote fit in well with the team regardless of where he played,5 and he teamed with Kiki Cuyler and Charlie Grimm to perform as a musical trio on occasions.  Not only would Heathcote serenade teammates accompanied by his ukulele,6 often unbidden, during train rides, but the combo occasionally performed at various Chicago clubs, generally whenever they were offered the opportunity.7
In 1929 Heathcote had his sole opportunity to play in the World Series. Despite batting .313 during the season, the outfielder was on the bench for Game One of the Series, the first ever played at Wrigley Field, against the Philadelphia Athletics and 35-year-old pitcher Howard Ehmke with more than 50,000 spectators. The Athletics' pitcher was a side-arm specialist and with more than 50,000 spectators in one of the more notable games in World Series history, he struck out a World Series-record (later broken) 13 Cubs batters. With one out in the bottom of the seventh, Heathcote pinch-hit for catcher Zack Taylor with Cuyler on third and Stephenson on second and the Cubs trailing 1-0. He flied out to short left field for the second out and Chicago failed to score.  Philadelphia held on for a 3-1 win and Heathcote's World Series batting career was over.
In 1930 Heathcote's batting average dipped to .260, and he became even less relevant to the team. Before the 1932 season the Cubs put the outfielder on waivers and Cincinnati claimed him. As a reserve outfielder on the worst team in the league (43 games out of first place and 22 out of the first division), he batted .258 in 90 games. After only three at-bats in eight games in 1932, the Reds released Heathcote.  On June 25 the Phillies picked him up to serve as a backup to first baseman Don Hurst, but he played in only seven games at first, and in only 30 games overall. On September 24 in the first game of a doubleheader, Heathcote pinch-hitter in his final professional baseball game. The following April the Phillies released him. With no other suitors, he retired from baseball and returned to the dairy business in Pennsylvania. 
On January 19, 1939, less than seven years after leaving baseball, Heathcote died of a pulmonary embolism in his hometown of York.8 He is buried in the Mount Carmel Cemetery in nearby Littlestown, Pennsylvania.
Heathcote's major-league career spanned 15 seasons and 1,415 games, in which he amassed 1,222 hits and batted.275. He scored 643 runs and drove in 448. On balance, Heathcote was a gifted ballplayer but never a star, and was half of one of the oddest trades in baseball. He was a cog in the 1929 Cubs' juggernaut, and while only rarely did he personally determine the outcome of a game, he left his faint but indelible mark on one of the great seasons in Chicago baseball.
Notes
1 Roberts Ehrgott,  Mr. Wrigley's Ball Club: Chicago and the Cubs During the Jazz Age (Lincoln: University of Nebraska Press, 2013), 111.
2 Ehrgott, 103.
3 Ehrgott, 104.
4 Ehrgott, 98.
5 "Carlson, Heathcote Win First Tribune Awards," Chicago Daily Tribune, August 10, 1927, 21.
6 Irving Vaughan, "Cubs Spin Yarns, Eat, and Sing as Train Goes West," Chicago Daily Tribune, February 26, 1927, 21.
7 Ehrgott, 189.
8 Heathcote's file at the National Baseball Hall of Fame, Cooperstown, New York.
Born
January 24, 1898 at Glen Rock, PA (USA)
Died
January 18, 1939 at York, PA (USA)
If you can help us improve this player's biography, contact us.
http://sabr.org/sites/default/files/CliffHeathcote.JPG
600
800
admin
/wp-content/uploads/2020/02/sabr_logo.png
admin
2012-01-04 20:24:58
2020-10-14 16:42:52
Cliff Heathcote