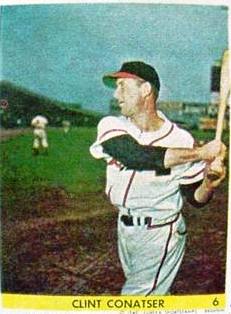 ---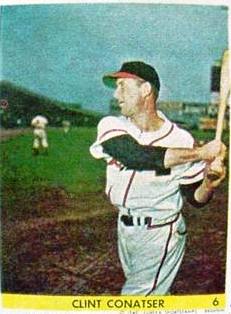 A few more feet was all Clint Conatser needed. His hard shot to center with the bases loaded and the Braves trailing 4-1 in the eighth inning of Game Six of the 1948 World Series was caught by Cleveland's Thurman Tucker against the outfield fence; had the ball hit or cleared the wall just above Tucker's glove, there is a good chance the Braves might have rallied to capture the game and set up a winner-take-all finale at the ballpark the next afternoon. Ace Johnny Sain, who had allowed just nine hits and two runs over 17 stellar series innings, was already set to start the seventh game for Boston.
Conatser, however, didn't get those extra feet. His pinch-hit smash off Indians hurler Gene Bearden wound up as a helpful but inglorious sacrifice fly that scored Tommy Holmes from third and cut the score to 4-2. Phil Masi followed with a pinch-double to bring Boston one run closer, but Bearden stopped the rally there. After he shut down the Braves in the ninth as well, the victory and the championship went to Cleveland. Bearden (who also pitched a shutout in Game Three) was the hero, and Conatser merely a footnote in the box score – long forgotten to history.
The easygoing Californian has always pondered what could have been. "[Cleveland manager Lou] Boudreau had taken Larry Doby out and put Thurman Tucker in center field," said Conatser. "If you look at the reports, it says I hit a long fly. Well, I hit a SHOT, on 3-and-2, that Tucker made a hell of a play on in left-center. Tucker hit the fence – it was just a great play. Doby played everybody shallow and never would have made the catch. Boudreau said that was the determining play of the World Series right there. If that ball goes in, we win, and come back with Sain the next day."
Incredibly, as he recalled in another interview, Conatser didn't even see where the ball went after leaving his bat. He's heard the radio reports that "it was a well-hit ball, a line shot that was really kissed hard. But I didn't see it because I had my head down. A ballplayer should never look at the ball until he rounds first base, at which time you can see the play in front of you." As frustrating as it may be to speculate on the possibilities, however, the veteran who played just 143 big-league games has always maintained a sense of humor about the whole thing. "I always say, if it had been Musial batting, the ball would have gone in. But with rinky-dinks like me, somebody always makes the play."
Being close to glory was nothing new to Clinton Astor Conatser. Growing up in Los Angeles, where he was born on July 24, 1921, he lived within shouting distance of a local legend who made it all the way to Boston's other team – the Red Sox – and the Hall of Fame: Bobby Doerr. "He lived on 85th street, I lived on 84th, and I could walk over to his house maybe 300-400 feet away," recalled Conatser. "I went to school with his sister and his brother Hal, who was a heck of a ballplayer. His sister played football and softball, and Hal caught in the Pacific Coast League and was an outstanding ballplayer. He just didn't hit enough to make it to the big leagues."
Conatser's dad and Doerr's father were fishing buddies, but Bobby was more an idol to Clint than a friend. "Bobby was my hero as a kid; that's why I started out as a second baseman," said Conatser. "He was never recognized for being as great as he was until after he was through, but what a credit he was to the game. If he had played in New York, they would never have heard of Flash Gordon. Joe Gordon was a good ballplayer, but Bobby Doerr was a great ballplayer. He made everything look easy, just quietly going along."
As strong a player as Doerr was, however, Conatser says he wasn't even the best in the neighborhood. "On our American Legion team we had [George] Catfish Metkovich, who played first and the outfield for the Red Sox and other teams; Dick Conger, who pitched for the Tigers, Pirates and Phillies; and Merrill Combs, a third baseman for the Red Sox. We were representing John C. Fremont High School, where Doerr and George McDonald had gone before us. McDonald was the big star, and hit great in the Pacific Coast League, but he never made it in the majors."
Fremont's opposition in those days was equally impressive. Rival George Washington High School had a Legion team that included Eddie Malone, who later caught for the White Sox; Louis Stringer, a future second baseman for the Cubs and Red Sox; Jerry Priddy, a second baseman for years in the American League; and Bryan Stephens, a Coast League star. Conatser says a catcher named Al Montgomery might well have been the best of them all, but he was killed in World War II while stationed in the Philippines. "The last of the bunch to come out of Fremont High was Gene Mauch, who came up with the Dodgers and later played with the Braves." [Mauch, also a Red Sox, would eventually achieve greater fame as a longtime big-league manager.]
It was a terrific environment for a young athlete to grow up in. Although his father had been a semipro ballplayer for the L.A. Creamers, it was with and against his peers that right-handed Conatser honed his skills. "We all played over at the Manchester Playground – all year round, nothing but baseball. We had no coaches or organized teams until we got to Legion ball, but we had a playground director named Bill DeVernet who would make out lists of 'teams' like the Cardinals, Braves, and Yankees. Then we'd just go out and play. We watched the older pro players when they came back home and practiced. Kids are pretty good mimics." Among the guys they imitated were Cardinals catcher Mickey Owen, later Reds third baseman Steve Mesner, and Red Sox star Doerr.
A 1948 article would later confirm that 73 players who graced the four diamonds at Manchester Playground had gone on to play professionally over the previous 20 years – including 28 in the majors – so it goes without saying that scouts came around regularly. After the "big-shot" representatives for clubs like the Yankees and Tigers had made their signings, "all of us little guys were left running around," Conatser recalled. "There was a guy named Johnny Angel who scouted for Cleveland and signed guys that nobody else wanted. One of them was Bob Lemon, one of them was Cliff Mapes, and one of them was myself. Lemon got $500 to sign, Mapes got $200, but I only got $100 – plus $75 a month salary. Angel just signed guys who he saw had potential, and was probably the most successful scout back then for judging talent."
Conatser, fast with a strong arm, was 16 when Angel started scouting him and 17 when he signed. He quit high school and in 1939 reported to spring training in Springfield, Ohio, of the Middle Atlantic League – Class C ball. "I walk out on the field the first day," he remembered, "and here's who they've got on the roster: Jim Hegan catching, Jack Conway at shortstop, Bob Lemon at shortstop where he had played the year before, Billy Southworth Jr. in center field, and a guy named Andy Skurski in right field. Here's the pitching: Red Embree, Pete Sutter, Allie Reynolds, and a guy named Ray Bessom – who could throw harder than Feller. I can remember standing at home plate watching him throw, and thinking, 'Jeez, if Feller throws harder than this guy, I'm in trouble.' I'd stand there and the ball would just go whoosh right past me. I thought, 'What am I doing here?'"
It was a formidable roster indeed; Lemon (a future Hall of Famer) would star in the majors, as would Hegan and Reynolds. Conway and Embree were also future big-leaguers, and with such talent to choose from, 17-year-old Conatser, a 5-foot-11 outfielder and second baseman, was sent down to Class D Fargo-Moorhead in the Northern League when the season started. Before the year was out he would play for Class D Logan (in the Mountain State League) and Johnstown (in the Pennsylvania State Association) as well, and all told he hit .261 with nine homers and 57 RBIs in 107 games. The next spring he was rewarded for this solid debut with a $10 raise to $85 per month and a spot with Class C Flint in the Michigan State League. By this point he had been converted to a full-time outfielder.
"I believe the hardest transition is going from high school to professional ball," Conatser said of those days. "Instead of playing 10 or 12 games a year, you're playing every day. You have to play sick, and you're just a kid. You're staying in fleabag motels, getting $2 for meal money, and eating in grease joints. You play doubleheaders on holidays in one town, keep your uniform on, and go on to the next town. If you have a long trip, you try to sleep – and those were old, old buses that shook an awful lot. I remember in the Northern League, we went from Fargo to Wausau, an all-night trip, and we slept sitting up. It was tough, but when you're a kid it's fun. You're playing ball."
After hitting .327 for Flint with excellent power (10 homers and 44 RBIs in 54 games), Conatser was sent back to Fargo-Moorhead midway through 1940 and fell off to .236 the remainder of the year. This kept him at the Class C level in '41, predominantly at Charleston of the Middle Atlantic League, where in addition to the outfield he also saw time at shortstop and third base but hit .248 with just three homers. Although he remembers some scouts from other big-league clubs showing interest, Clint decided to put himself on the voluntary retired list and enlist in the Coast Guard after Pearl Harbor. He would eventually serve his country from 1942-45, including a stint in the South Pacific.
"After the war, it would have cost Cleveland $150 to pick up my option, but they figured I had retired and didn't bother," explained Conatser. "So I became a free agent while I was still over in the Philippines. I started getting letters from teams in South Carolina, Georgia, everywhere. I was keeping myself in shape by pumping iron. I was probably one of the first ballplayers to be really into weightlifting. I came out of the service weighing 185; when I went in, I had weighed 165. I was pretty strong."
Deciding to give pro baseball one more shot, Clint went home to Los Angeles and tapped the skills of Bobby Doerr – by then one of the American League's top stars with the Red Sox. "I started working out with Bobby, and he was telling me, 'Boy, you can really hit,'" Conatser remembered. "And I really could. I was whacking it pretty good. Bobby told this Tigers scout named Dan Crowley about me, but the scout who had signed me for Cleveland seven years before – Johnny Angel – was all upset because now all of a sudden I was gaining people's interest. I had a better than average arm, better than average speed, and better than average power."
Scout Dan Crowley, at Doerr's recommendation, signed Conatser to the Tigers for a $3,000 bonus. No doubt rejuvenated, Clint went out and hit .280 for Dallas of the Texas League in 1946 with 30 doubles, 13 homers, 70 RBIs and 20 steals. He recalled also performing well with Detroit in big-league training camp the next spring, but manager Steve O'Neill still sent him down to Buffalo of the International League. "I had three options left in the minor leagues before they had to decide whether to keep me or leave me open for the draft. That's how they saved money when they had extra ballplayers. So they optioned me to Buffalo, then on to Seattle [of the highly competitive Pacific Coast League]."
Clint had a strong year in 1947 split almost equally between the two coasts, batting .287 with 14 homers in 120 games (.279 with Buffalo, .298 with Seattle). He figured he had earned another invite to Tigers training camp, but now out of options, he was left on the Buffalo roster – and was promptly plucked up by the Boston Braves organization in November of '47. This time he was determined to stick on a big-league club come spring, and prepared accordingly.
"I had a good spring in 1948, because after I heard I had been signed, I spent a month and a half getting in shape. When I got there, brother was I ready. I stood out. The first day of spring training, I was out there hitting, and the other guys were just worried about losing weight. I was a rookie, and I wasn't supposed to make the team. Danny Litwhiler was kind of a fixture there, but [manager] Billy Southworth liked me. That's the way Billy did things – he had judgments on what was good for the team, and he went with them. I think Billy had a special touch. Of course, the players didn't like him, because you could never make any money platooning. They didn't pay you unless they played you."
With an overflow of outfielders in camp, Conatser was a long-shot to make the club. In addition to Southworth, however, he had another big backer: old pal Bobby Doerr. In a March 30, 1948 article appearing in the Christian Science Monitor under the headline "Rookie Clint Conatser May Make Grade in NL," the Red Sox All-Star second baseman recounted winters spent tossing the ball around in LA with his friend and neighbor. "He has good wrists and gets around pretty good in the outfield," Doerr told the Monitor's Ed Rumill. "He has a good arm, too. I'd sure like to see him make it. He's a nice fellow."
In addition to his strong showing in exhibition play – which included a home run to help defeat the Red Sox – Conatser was involved in an incident of a near-calamitous nature as the Braves were barnstorming north through Virginia. During warm-ups before an April 12 game with the Richmond Colts, he hit a "savage line drive" that struck teammate Warren Spahn in his left (pitching) shoulder. Spahn quickly recovered, however, and Conatser made the club.
The Braves traded off Litwhiler to the Reds on May 11, but this didn't make Conatser a regular starter. Although Tommy Holmes was a fixture in right, Southworth kept his other four outfielders shuttling in and out of the lineup based on the opposing pitcher. Only Holmes played more than 110 games, with Conatser, Jeff Heath, Mike McCormick, and Jim Russell all getting into 75 or more. Right-handed Clint hit primarily against lefties; so insistent was Southworth in his righty-lefty swaps that he had Conatser regularly switching with his left-handed roommate, Heath, even though one could make a good case that Heath – who hit .319 with 20 home runs and 76 RBIs in just 364 at-bats – deserved to be in the lineup every day as the team's best power threat.
Conatser hit .277 with just three homers and 23 RBIs himself in his first big-league season, but he made several key contributions to the Braves' pennant-winning campaign. He went into the starting lineup for a stretch when Jim Russell got hurt, and hit all three of his home runs in a one-month span as Boston battled for the top spot in the National League. His first homer, one of three hits Clint had vs. the Pirates on July 27, helped pace the club to a 5-1 win before 29,031 at Braves Field. On Aug. 17 he had a single, triple, and homer as Boston beat the Giants at the Polo Grounds, and five days later he delivered his biggest long ball of all – a two-run, eighth inning blast off Erv Palica into the left-field stands at Ebbets Field that provided the winning runs in a 4-3 win that moved the Braves two games in front of the second-place Brooklyn Dodgers.
"The Dodgers were making their move that night – they stole eight bases on us – but I hit that one off Palica, and that took the wind out of their sails," recalled Conatser, looking at a wire service photo of him crossing the plate after the shot. "We were only ahead by a game at the time, but after that we widened the gap."
Clint haunted the Dodgers with more than homers in August. The day before his clutch shot off Palica, he had collected a key fifth-inning RBI double as the Braves won 2-1 to gain a split of a doubleheader at Ebbets Field and stay one game ahead of the Bums. And in a 4-3 win at Braves Field a week before that, he had kept a three-run, ninth inning rally against Brooklyn alive with a bunt hit down the third-base line, then finished it by scoring the winning run on a sacrifice fly. Once the Cardinals moved into second place, Conatser helped beat them as well – going 4-for-9 with a pair of doubles in back-to-back road wins on August 24 and 25.
Such performances earned Clint respect from teammates on the veteran-laden club, and likely spared him some of the usual rookie hazing. "The veterans were very good to me. I was 27, not like an 18-year-old rookie. They had some fun with me, but nothing malicious. I remember Bob Elliott helping me with my hitting, and I appreciated it. Tommy Holmes, Phil Masi, Jeff Heath – they were all good guys. They all really tried to make me feel at home and tried to help me. There was no jealousy or anything among ballplayers, not even the old timers."
And although many Braves players reportedly grumbled about Southworth's platooning, Conatser – who benefited from the system as much as anyone – had nothing but praise for his manager. "I'll tell you, Southworth had a lot of respect from the ballplayers. I think there was some talk that he grabbed all the headlines, but I think the papers did that. The sportswriters worshipped him, and called him the 'Little General.' He was outstanding as a manager, and he did outstanding things.
"Tommy Holmes had told me what I could expect from Southworth when I joined the club. He said, 'Clint, you're going to see something this year that you've never seen before. This man is uncanny. He'll pull things that are against all logic, and they'll work for him.' And he did. He'd get up on top of that batting cage, and he'd look for something in a guy's timing or whatever. Then he'd make a move. Tommy was right. Once he pulled Bobby Sturgeon off the bench when there were three or four other guys on the bench doing a better job, and Sturgeon hit a triple down the line."
Conatser had strong memories of his teammates as well, but was not shy to tell it as he saw it. "They talk about Spahn and Sain and two days of rain. I always get a kick out of that, because Spahnie won 15 games that year – one of the few times he didn't win 20. It was one of his worst years, but he did lose some tough games. It seemed like every game I played in was a one-run game, or something like 3-1, and Spahnie was in a lot of those games coming up on the short end.
 "Spahnie was a good hitter, too. He started as a first baseman, and he could hit it out of the ballpark. Sain was not a power hitter, but Spahn could jerk it out of there. He hit one out in Philadelphia – beat the hell out of it – using my bat. Back then, so many players played so many positions before they found where they belonged. Generally, as a kid, the pitcher is the best athlete. He pitches, and maybe plays shortstop. They lose their focus on hitting later on, because pitching takes a special focus where you need to blank every thing else out. But both Spahn and Sain could hit. Sain would just wait all day for a curve ball, and poke it to right field. [For the record, Sain hit .245 lifetime, Spahn .194 with 35 homers.]
"All our pitchers came through. We don't win it without Nellie Potter and that screwball. All the managers then were into platooning no matter what — and you don't put a left-handed hitter up against a right-handed screwball pitcher. He'd strike them out or get them to hit the ground ball, and he'd do it time after time after time. I got to thinking – this is stupid! Why not hit a right-hander against a screwball pitcher? They just wouldn't do it. But he did a hell of a job for us, even though nobody gave him much credit."
Conatser's biggest admiration, however, was reserved for his roommate. "Jeff Heath was quite a guy. On those hot nights when we couldn't get to sleep, we'd stay up until three or four in the morning, just talking. He'd tell me about how they had blamed him for all that stuff in Cleveland – some of the things they pulled on him. [When Heath was with the Indians in 1940, he and other star players were blamed for costing manager Ossie Vitt his job by complaining about him to ownership, and were lambasted as the "Crybaby Indians" in the newspapers.] We would have won the World Series against the Indians if he didn't break his ankle at the end of the year. I think he would have set a record for everything in that Series, he wanted to beat Cleveland so much."
Clint helped Heath get through some of the early pain from his late September injury by sneaking over two bottles of pennant-clinching champagne to his roommate's Brooklyn hospital bed. Heath's absence left Conatser as the natural man to take over in center field fulltime for the World Series, but the Braves instead received special permission from the National League to bring up veteran left-handed batter Marv Rickert – who that year had 27 homers and 117 RBIs for minor league Milwaukee and had also played in the majors. Rickert went in to left field, Mike McCormick moved to center, and Conatser stayed on the bench. "After he got hurt, Jeff said it was up to me," Conatser recalled, "and I would have loved to play more in the Series. But then the Braves brought Rickert up, and I only played in two games – hitting against [Gene] Bearden when he started and relieved." [Rickert, meanwhile, would go 4-for-19 with a home run.]
The results of Conatser's limited series appearances were mixed. Playing center in place of Rickert during the third game, he went 0-for-3 against Bearden in the fellow rookie's 2-0 shutout victory for the Indians at Cleveland's Municipal Stadium. Clint didn't get in again until the fateful eighth inning of the sixth and final game back at Braves Field, when he hit his near-grand slam/sac fly. "We thought we were going to win the Series; we felt we had a better ballclub," he reflected. "There were just a few dumb plays here and there. My kids gave me a videotape of about 30 minutes of Series highlights, and you can see watching it the mistakes we made. Sisti popped that ball up and they got a double play out of it, Torgie [Earl Torgeson] made a few bad plays. It just wasn't typical of us; we didn't play that way all year."
There was some consolation to go with the postseason setback – a record loser's share of about $4,600 thanks to the crowds of 80,000-plus in Cleveland. "I took my money and paid cash for a house in Gardenia [California], which cost me $6,500," said Conatser. "My mother raised me that you didn't charge anything and you don't owe anybody, so I bought a little house. Trouble was, we didn't get the money until December, so I came back and went right to work at Santa Anita racetrack as an usher and ticket-taker with Bob Dillinger [of the St. Louis Browns]." An amusing Associated Press photo ran nationwide on February 13, 1949 that showed the pair in their "other" caps and uniforms and played up the fact Dillinger had sent back his latest Browns contract unsigned. The caption read: Bob Dillinger, bespectacled third baseman of the St. Louis Browns, is shown discussing his baseball salary problems with Clint Conatser, Boston Braves outfielder, at Santa Anita Park, where both are clubhouse attendants.
With Heath's availability for the 1949 season up in the air, Conatser was expected to compete for a starting job in spring training. But on March 27, facing rookie Frank Fanovich of the Reds in an exhibition game, Clint was hit in the back of the head and taken from the field on a stretcher. "We didn't have helmets, and I was in the hospital for three days," he recalled. "I came out the fourth day, and Southworth put me right back in – like a guy falling off a horse."
Conatser recovered quickly to make the club, and was a starter in left field for many of the season's early games. The Braves started slow, but took over first in May and were still in the top spot when they headed to Philadelphia at month's end. Boston won two of three, and Clint was on fire – going 8-for-10 including three doubles, two home runs, and eight RBIs. Despite this output, part of a 14-day stretch on the road in which Clint hit .486 (18-for-37), Southworth amazingly had him platooning again with Russell when the team returned home June 1. Clint fell cold at the plate, and his average, once comfortably above .300, dropped well below this mark during the next month.
Ironically, it was the return of his old roommate that signaled the end of Clint Conatser's big league career. On July 8 newspapers reported that Heath would be ready to resume playing within two weeks after a 10-month recovery from his broken ankle; his return to the roster would give the Braves one too many outfielders, and shortly after the All-Star break, on July 15, Clint was sent to minor league Milwaukee. He was hitting .263 with three home runs at the time, and his last hit in the majors had not even counted – a homer slugged over the left-field wall at Fenway Park in a mid-season exhibition game with the Red Sox on July 11 to benefit charity.
His departure from the Braves was unceremonious. "I was the only player who had any options left, so they optioned me out," Conatser recalled. "I was 28 years old at the time, and I just said to myself, 'Hey, you gave it your best shot. Just get out of it.' So I quit [after the season]." The player recalled by Boston to replace him on the roster was none other than Heath, who after an unsuccessful comeback would be gone from the majors himself by year's end.
Clint figured he was done with baseball, but it wasn't quite done with him. "That fall, the Dodgers bought me in the Sam Jethroe trade, because I had hit well against Brooklyn. Supposedly the Braves gave them $100,000 and me for Jethroe. [Newspaper accounts don't mention Conatser as part of the deal, but it did occur around the same time.] The Dodgers had tried to get me the year before, but Boston had traded them Mike McCormick instead. I was working on a ranch down in Texas, and [Dodgers GM] Branch Rickey came down there and asked me to play again. So I came out here and played with Hollywood a couple of years."
Back in the Pacific Coast League after a three-year hiatus, Conatser could not duplicate his 1947 PCL success at Seattle. He hit .231 with Hollywood in both 1950 and '51, appearing in fewer than 100 games both seasons and peaking at nine home runs for manager Fred Haney (who would later distinguish himself as pilot of the 1957 World Champion Braves). It was during this period that Stars management tried to boost sagging attendance by having its players wear shorts, a novelty that made for intriguing photo ops but also plenty of cut-up legs. In 1952, then with the Portland Beavers, Clint was doing much better (a .268 average playing every day) when he surprised the team by quitting abruptly on July 6. He was still just 30 years old.
"There was just no financial incentive. I gave it my best shot, but eventually I figured I just had to go make some money," said Conatser. "It's wonderful to be a ballplayer, but you've got to make a living. My father made me learn a trade when I was 14 – sheet metal. I took shop 14 hours a day for two years. I didn't learn much, but it was all I knew how to do. He had an air conditioning business, so I got into it too. The years I played in Hollywood really opened the doors for me. That was in '52, when all the building out here [in Los Angeles] was just getting started. I was very, very lucky. I met people that ended up getting me business all over the country. I think people believe that ballplayers are basically honest, and I think that carries over after you retire. You learn to speak to people, and it helps you become a successful salesman."
The only time Conatser's name popped up in the sports pages after this was when he would join other former ballplayers living on the West Coast at fishing derbies and golf tournaments (he was among the best of the old-timers at both pursuits). His air conditioning business prospered, and he later spent more than 30 years buying and breeding race horses – often partnering with another old Brave, Joe Adcock, who raised Clint's mares on his Louisiana farm. As the decades passed, Conatser's alma mater, Fremont High, continued turning out big leaguers like Bob Watson, George Hendrick, and Chet Lemon.
By the 1990s photos of horses shared space with old baseball pictures on the walls of Clint's comfortable condo, located just off Route 5, 30 minutes from Anaheim Stadium. He stayed ruggedly handsome into his 80s, and came back to Boston a few times for Braves reunions. By the summer of 2007 he was one of the last living players from the 1948 NL champions, and when his daughters gave him a copy of the '48 World Series on videocassette, he enjoyed playing back his Game Six at-bat in slow motion and adding his own commentary with a sly grin.
"If that ball had just been an inch or two more inside, I'd of put it out!"
Note
This biography originally appeared in the book Spahn, Sain, and Teddy Ballgame: Boston's (almost) Perfect Baseball Summer of 1948, edited by Bill Nowlin and published by Rounder Books in 2008.
Sources
Author interviews with Clint Conatser, 1991 and 2004.
Mort Bloomberg interview with Clint Conatser, 2007.
"Manchester 'Alma Mater' of Many Stars," by John De La Vega, Los Angeles Times, Feb. 19, 1948.
"Rookie Clint Conatser May Make Grade in NL," by Ed Rumill, Christian Science Monitor, March 30, 1948.
Other assorted Boston Globe, Chicago Tribune, Christian Science Monitor, Hartford Courant, Los Angeles Times, New York Times, Associated Press, and United Press International articles, 1946-1984.
"Looking Back at a Few Diamond Memories," by Mort Bloomberg, Boston Braves Historical Association Newsletter, summer 2007.
Retrosheet.org
Baseball-reference.com
Born
July 24, 1921 at Los Angeles, CA (USA)
Died
August 23, 2019 at Laguna Hills, CA (USA)
If you can help us improve this player's biography, contact us.
http://bioproj.sabr.org/bp_ftp/images3/ConatserClint.jpg
600
800
admin
/wp-content/uploads/2020/02/sabr_logo.png
admin
2012-01-04 20:49:34
2022-04-04 13:52:10
Clint Conatser