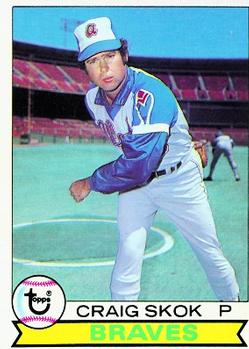 ---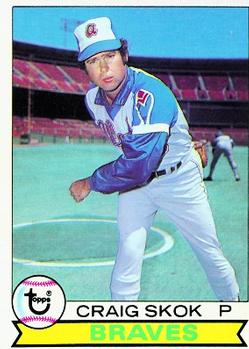 Left-handed reliever Craig Skok pitched for three major-league ballclubs — the Red Sox, the Rangers, and the Braves — during the 1970s, throwing 150 innings in 107 games.
He might have had some baseball in his blood. Craig's father Joe was mistakenly reported at one point as having been a player in the Red Sox system, but not one who pushed his son inordinately. Though he'd first given Craig a baseball at age 2, Joe Skok was later quoted as saying, "Let Craig's natural talents develop on their own without any pushing from me."1
In a September 2018 interview, however, Craig Skok said, "He wasn't in the Red Sox system. He played baseball, but it was more semipro than pro. He played various positions. He was a pitcher as well, but he also played the infield and some other positions. He was a really good athlete, but never tried to play pro." He did help with Craig's development, though. "He helped quite a bit. When he was playing his semipro games, I would go out to the ballpark with them and shag fly balls. He helped me with pitching. His primary philosophy was control. It doesn't do you any good if you can throw a ball through a brick wall if you can't throw it over home plate."2
Craig Richard Skok was born in Dobbs Ferry, New York, on September 1, 1947. His parents Joseph and Florence moved around a bit. His mother worked from time to time in grocery stores and the like. "My dad was a printer," Skok said in the 2018 interview. "He did that all his life. He was more of a type caster." Joe Skok worked for a number of newspapers, among them the New York Times. Work took him and the family both to Schenectady and Fort Lauderdale. While in Fort Lauderdale, Joe Skok started a business of his own. "He did vacuum cleaner repair and sales. Very successful. He would make trips up to the Chicago area. He would pick up used canisters from some company up there and bring them back to Fort Lauderdale and refurbish them. Most of them were Electrolux." Craig had a brother, Bob, about five years younger. As of 2018, Bob Skok lives outside of San Francisco and works as a consultant in the medical industry.
Craig attended the Herman L. Bradt Elementary School in Schenectady, New York, and played Little League, Babe Ruth, Pony League, and American Legion baseball in the area, and began high school at Mohonasen High School, but the family moved to Florida and he graduated from Fort Lauderdale High School in 1965. He pitched for the varsity baseball team there, and earned himself a partial baseball scholarship to Broward Junior College. Skok was quick to give credit to a couple of mentors: "I do have a couple of people who were instrumental in helping me along. I did have a junior college coach at Fort Lauderdale by the name of Leroy Wheat. He was an old pitcher in the Kansas City organization and he was very helpful to me. After I left junior college, I continued to correspond with him and his wife, both. And, of course, my dad."3
His pitching at Broward got him a full baseball scholarship to Florida State — though he was drafted twice in the first half of 1967. Both times, he declined to sign. Skok was initially selected by the Boston Red Sox in the third round of the January 1967 draft. The Red Sox asked scout George Digby to try to sign him, but there wasn't much money on offer and he elected to stay in school. Then the Minnesota Twins selected him in that year's secondary draft, in June. He was taken in the 10th round. Once again, he declined — on the advice of his parents, who wanted him to finish his college education.Skok's pitching helped Florida State finish second in the 1968 NCAA District Three tournament, winning the opening game in relief. During the season, he had thrown a one-hit shutout against Penn State.
Skok graduated from Florida State with a B.S. in Education in February 1970. His classes finished in June 1969, but he had student teaching that he had to complete in order to receive his degree. He returned home and played semipro baseball for Kral's A.C. in Schenectady. He threw a seven-inning no-hitter, striking out 19 batters, and was named MVP in Schenectady's Twilight League. He drove to Pittsfield each weekend to throw batting practice to Boston's minor-league team there. It was in effect a tryout. In late August 1969, Skok signed his first pro contract with the Boston Red Sox. Scout Tony Ravish and scouting director Neil Mahoney are credited with the signing.
In February 1970, he says, "As soon as I was done with my student teaching, I left for spring training."
Skok then put in three years as a starting pitcher in the minor leagues, each year advancing to a higher level. He began in 1970 with the Greenville (South Carolina) Red Sox in the Single-A Western Carolinas League. He was 14-4 with a 2.53 ERA for Greenville, striking out 134 and walking 43. Leading the league in winning percentage, he was second in ERA and was named the league's Most Valuable Pitcher. He wasn't one to blow opposing batters away with his fastball, said Neil Mahoney in July 1970. The curve was his pitch. "Skok is more of a nibbler, but he knows how to pitch."4
Skok threw left, but batted from the right side, He stood an even 6 feet tall and was listed at 190 pounds.
In December 1970, he married Sandra Cummings three days before Christmas. In 1971, Skok played for the Pawtucket Red Sox in the Double-A Eastern League. In 25 starts, he was 9-9 with a 2.61 ERA and eight complete games, one more than he'd had with Greenville. He was named to the league All-Star team, as he was again in 1972 with the Triple-A (International League) Louisville Colonels. There he was 15-7 (3.02), leading the league in wins and named the league's All-Star left-hander, despite having left the team for three weeks in August for Army National Guard service. Peter Gammons wrote that Skok had "once again made doubters of scouts and believers of hitters as he rode his 'mediocre fastball' to the league's best record."5After the 1972 season, in which the Red Sox had fallen short of winning the Eastern Division title by just a half-game, the team released Gary Peters and Ray Culp and added Skok, Mario Guerrero, and Rick Burleson to the major-league roster.
It was a break he wondered if he would ever get. "Everywhere I've gone, they've told me I could not go any higher."6 He was glad for the opportunity to join the team for spring training. Skok might have been called up at one point during the 1972 campaign, but the Red Sox wanted a reliever and summoned Don Newhauser. For 1973, they decided to groom Skok as a relief pitcher. He made the team out of spring training, but only after overcoming some preconceptions. "I was under the impression the kid wasn't very fast," said manager Eddie Kasko after seeing Skok throw four shutout innings of one-hit ball against the Twins. "He's a lot sneakier — quicker — than I thought. Apparently he can get the ball where he wants. And he knows how to pitch."7 Sportswriter Fred Ciampa said the rap on the rookie had been that he couldn't "throw hard enough to get 'em out in the big time."8 On the eve of the season opener, with the Red Sox having tried but failed to trade Bill Lee and Sonny Siebert, they optioned Skok to Pawtucket, which had become Boston's Triple-A club. He was 2-0 in the early going there, and was brought up to Boston on April 27 after Rogelio Moret was put on the disabled list. On May 4, he made his major-league debut. He came on in relief of Marty Pattin in the bottom of the fourth in Minnesota. Pattin had just allowed three runs and left the bases loaded with nobody out. Skok retired the first batter on a sacrifice fly. After another fly ball, a single drove in a second inherited runner before the third out. He pitched another 2 1/3 innings and was charged with four earned runs.
June 3 was his next outing. He pitched 2 2/3 innings against visiting Oakland and gave up four more runs, but only three were earned, so his young career ERA was shaved slightly from 10.80 to 10.50. In each of his next four appearances, his ERA dropped. His best appearance was on July 29, when he faced and retired seven Cleveland Indians, striking out five of the seven.
The dropping ERA pattern was interrupted by another four-earned-run game on August 12, though he had been optioned to Pawtucket and called back up again in the interim. By the end of the season, Skok had appeared in 11 games and given up one or more runs in eight of them, with an ERA of 6.28 over 28 2/3 innings. His record in Triple A was much better, 2.41 with a 7-4 record. But he wasn't brought back to the big leagues in either 1974 or 1975.
In 1974, in part due to elbow tenderness, Skok had a disappointing spring training, though he kicked off the season with Pawtucket by throwing a two-hit shutout against Tidewater on April 20. He had only himself to blame for the poor spring, he said after that win. "Part of my trouble was knowing I didn't have a good shot to make the Boston club. Tonight I had the right mental attitude. I was going to go out, not only to win, but to convince myself I can still pitch well."9
He knew he hadn't had that much of a chance to make the Red Sox, he said, after the Red Sox had added Rick Wise, Reggie Cleveland, Diego Segui, and "instead of giving any of the young pitchers a chance, they bought Juan Marichal."10
He spent the full year working for Pawtucket again, and was 7-6 with a good 3.05 earned run average. That winter he pitched in Venezuela to get more experience. He was frustrated and asked the Red Sox to trade him somewhere he could have a better shot. He said there was no way he was going to accept another assignment to Pawtucket.11 In all, he spent three winters pitching in Venezuela and also spent a winter or two in the Dominican Republic.
In 1975, his contract was sold to the Evansville Triplets, a Triple-A team in the Detroit Tigers system. On May 7, he pitched a 3-0 shutout and thus earned a free McDonald's burger and fries for 931 fans, as a promotion paid off for those who came to the game.12 The sale was a temporary one; actually, an agreement had been made that Skok was "on loan to Evansville."13 Skok himself explained, "I requested an assignment out of the Red Sox organization." He'd had his car stolen twice in Pawtucket, he said, but that wasn't the real reason. "I felt I might get stale by going there again." 14
For Evansville, Skok was 7-3 (3.75), but he cut his season short. Personal problems prompted him to return home to Easley, South Carolina, on June 26. On July 2 or 3, he announced his retirement.15 (The Triplets nonetheless went on to win the 1975 Junior World Series.)
He apparently hadn't permanently retired, though. In December, he was the player to be named later in a November trade with the Texas Rangers, one of three players the Red Sox sent to Texas for Ferguson Jenkins.
With the Rangers, Skok returned to the major leagues — but only briefly. He was the last player cut by the Rangers in spring training; he spent most of the year in Triple A again, pitching in the Pacific Coast League for Sacramento. He started in 13 of his 25 appearances, relieving in the others, and had a good won/loss record of 8-3 but a poor ERA of 6.18. When Steve Barr went on the DL, Skok pitched for the Rangers from August 12 to the end of the 1976 season, though only accumulating five innings over his nine outings. He was 0-1 with a 12.60 ERA. On December 15, he was released by the Rangers.
Skok decided to sit out the 1977 season.16 That year, he taught school and coached football.
On February 7, 1978, Skok signed as a free agent with the Atlanta Braves. His days as a starter were over. The last man cut in spring training, he began the year working for the Richmond Braves (2-1, 3.33) in 11 games, but spent most of the year in Atlanta where he relieved in 43 games with a 3-2 record and 4.35 ERA for the sixth-place Braves.
After the season, Skok returned to Venezuela and had a very successful winter, giving up only two runs in 55 innings of work.17 In 1979, Skok spent the first four months of the season with Atlanta (1-3. 3.98), but was optioned to Richmond on July 31, and closed out the year there, winning three games and losing none (his ERA was 4.24). He'd been the top lefty out of the bullpen for Bobby Cox for most of 1978 and 1979, and was angered by his demotion to Richmond.
Skok went to work, though, in 1980 and put in quite a good year, 6-3 for Richmond with an ERA of 2.93. After the season, he told a reporter, he was going to return to Easley "to live like a normal human being."18 That winter he played Venezuelan baseball yet again. In March 1981, however, he was released by the Braves. "They didn't have plans for me," he explained. "I had a family. I had a teaching degree so I went and got a job teaching school for a while. High school. Outside of Greenville, South Carolina. I taught several subjects, actually. I taught Health. I taught Science. I actually taught Drivers Education as well. And I coached football and tennis."
In 1981, Skok divorced. Two years later, "I married again to my current wife, Pat. Thirty-five years now. It's been very good. My wife has a daughter and I had a daughter and a step-daughter, so we helped raise three girls."
After teaching for several years, Skok changed professions. "I'm still working," he said in 2018. "I'm a sales engineer for JST Corporation, which is a Japanese manufacturer of electronic connectors. I've been working for them for 14 years. We sell the kind of connectors that would go on the end of a wire and plug into a circuit board or another connector.
"Before that, I worked for 15 years for a manufacturer's representative in the electronic industry. A number of different types of electronic components. I do travel some, but only day trips. I've got customers that are three or four hours away and I'll go and spend part of a day there and then come home."When he is working, baseball will come up in conversations at times. "I really do not advertise to my customers that I played major-league baseball. I don't mention it. If I'm talking to somebody who likes sports and we start talking about baseball, I might mention it, but I very rarely tell people that." When it does come up, he allows, "I think it helps a little bit."
Last revised: October 10, 2018
Acknowledgments
This biography was reviewed by Norman Macht and fact-checked by Kevin Larkin.
Sources
In addition to the sources noted in this biography, the author also accessed Skok's player file and player questionnaire from the National Baseball Hall of Fame, the Encyclopedia of Minor League Baseball, Retrosheet.org, and Baseball-Reference.com. Thanks to Rod Nelson of SABR's Scouts Committee.
Notes
1 George A. Cuttita III, "Bosox' Skok Would Like to Start," Albany Times-Union, August 5, 1973. This article reported Joe Skok as having reached as far as Triple A with the Red Sox organization.
2 Author interview with Craig Skok on September 4, 2018.
3 Ibid. All direct quotations from Skok which are not otherwise attributed come from this interview.
4 Jack Clary, "Curious About Those Pitchers To Be? Well, Sox Are Training Them, Slowly," Boston Herald, July 4, 1970: 11. On the curve, see Henry McKenna, "Jim Lonborg on His Way Back," Boston Herald, May 2, 1971: 67.
5 Peter Gammons, "Evans Gets Nod as Best International League Prospect," Boston Globe, September 10, 1972: 88.
6 Ray Fitzgerald, "Who's This Skok? Well, Just for Starters, He's A Winner," Boston Globe, February 9, 1973: 25.
7 Fred Ciampa, "Rookie Skok Fools Sox," Boston Herald, March 24, 1973: 21.
8 Ibid.
9 "International League," The Sporting News, May 11, 1974: 32.
10 Peter Gammons, "Bosox Southpaw Skok Wearies Of Wait for Big League Chance," The Sporting News, March 22, 1975: 31.
11 Ibid.
12 "Skok Serves Meal," The Sporting News, May 31, 1975: 32.
13 "A. A. Atoms," The Sporting News, June 21, 1975: 34.
14 Pete Swanson, "Will Bosox Eventually Trade Skok?" Evansville Courier and Press, May 18, 1975: 53.
15 "Triplets Lose Craig Skok," The Sporting News, July 19, 1976: 45.
16 Wayne Minshew, "Ace Reliever Devine to Get Starter Test," The Sporting News, March 25, 1978: 50.
17 "Bobby Cox is Encouraged," New Orleans Times-Picayune, February 26, 1979: 28.
18 Tom Haudricourt, "Proven Players' Slumps Hurt R-Braves' Chances," Richmond Times Dispatch, September 9, 1980: 29.
Born
September 1, 1947 at Dobbs Ferry, NY (USA)
If you can help us improve this player's biography, contact us.
https://sabr.org/sites/default/files/SkokCraig.jpg
600
800
admin
/wp-content/uploads/2020/02/sabr_logo.png
admin
2018-10-10 12:16:38
2020-04-09 14:38:40
Craig Skok