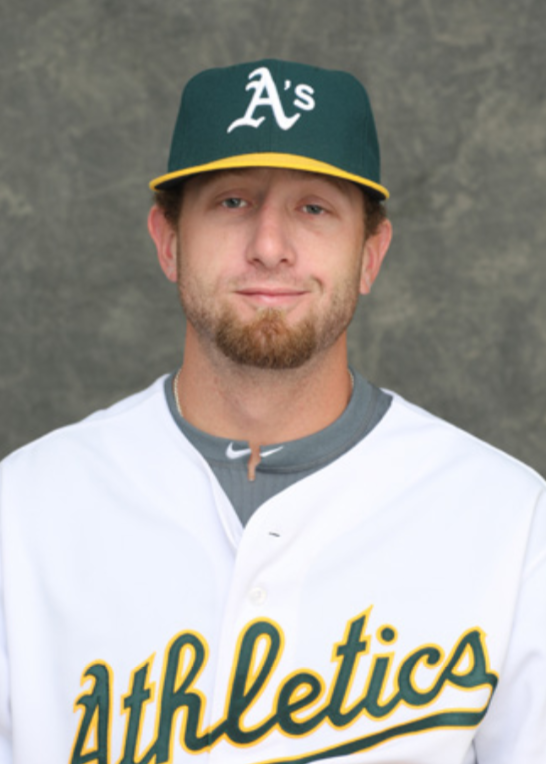 ---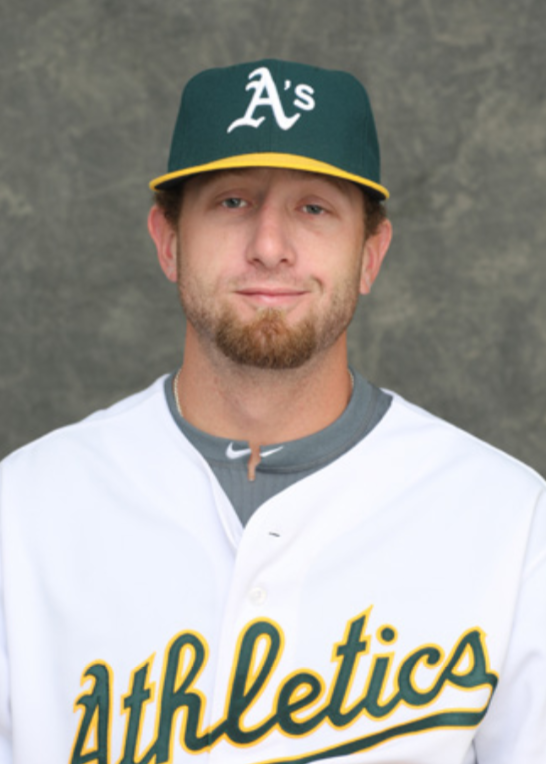 Fans might think it's a no-brainer to pick Dallas Braden's most cherished moment of his injury-shortened pro career, but the southpaw actually ranks his May 9, 2010, perfect game for the Oakland A's "a distant second."1
The memory that truly brings out the goose bumps is Braden's May 11, 2005, start for his hometown Stockton Ports, the Athletics' California-based A-ball affiliate. Braden had struck out 10 by the ninth inning, and only the "beer batter" (a cherished minor-league tradition) stood in the way of a five-hit, complete-game victory. Banner Island Ballpark maintained beer sales up through the ninth inning, and Braden rewarded the 1,800 or so fans who endured with an 11th and final strikeout that cut the price of their final pours.2
"To do that in my hometown wearing the name of my hometown across my chest, with friends and family in the stands, and waiting for that last strike hearing them chant, 'Let's go Dallas, clap, clap, clap-clap-clap,' I'm getting goose bumps right now thinking about it," he said.
Braden was promoted to Double-A three days later, but he never lost his appreciation for his gritty hometown and blue-collar upbringing.
Dallas Lee Braden was born on August 13, 1983, in Phoenix, Arizona. His mother, Jodie Atwood, wondered why her son wasn't eating for the first two days of his life when doctors discovered he was born without a uvula, a small piece of tissue in the back of the throat. Atwood took her infant son west to Stockton, her mother's city of residence, so the boy could undergo emergency mouth surgery.
Atwood put down roots in Stockton, and the single mother and son sometimes resided with Braden's grandmother, Peggy Lindsey, who managed a motel, and sometimes lived in their own apartments.
"It's been us three, my entire life," Braden said. "It had to be us three, because we didn't have the money."
Baseball hooked Braden by age 4 when he first slipped on a glove given to him by a neighbor. As Braden's arm showed promise and velocity beyond his years, Atwood moved to a different Stockton neighborhood so her son could join the Hoover Tyler Little League. "And sacrifices like that began very early on," he said.
Atwood by this time had started her own home-cleaning business, and she'd often hold her son out of school so he could help her clean an extra house or two. She'd always explain her reasoning for such decisions.
"Every step of the way, it was with my future in mind," Braden said. "And being able to look back and reflect on that, it honestly feels like she didn't take a breath without thinking that I might be able to catch some of the air that she let out."
As Braden reached working age, his mother agreed that he could forgo taking on a job if he continued working hard on the diamond.
Braden excelled as a baseball player at Stockton's Amos Alonzo Stagg High School, although his poor grades and truancy twice got him booted off the team.3 He was a senior en route to a 9-1 record when his mother awoke one morning complaining of a headache. He attended class and baseball practice that day, but she wasn't there to pick him up. A friend's mother took him to the hospital, where devastating news awaited.
"They must have missed something in the blood work and the cancer has gone to her brain and this is now terminal, inoperable tumors," he learned. "Like, 'We didn't see this. We're sorry.'"
Atwood underwent chemotherapy treatments, but they did little good. She died on May 20, 2001, just a few months after her diagnosis, with peace that her son was about to fulfill her dream by completing high school. The loss of the woman Braden called his best friend was devastating.
"You talk about the rock or a guiding light in every sense of the word, in every possible embodiment, that was her," Braden said.
Two weeks after his mother's death, the Atlanta Braves selected Braden in the 46th round of the 2001 amateur draft. But at 5-feet-9 and 140 pounds "soaking wet in a cotton uniform," he didn't think he was ready for the pros.
"I needed to grow up physically," he said. "I needed to grow up mentally."
Braden turned to Grandma Peggy, who was always there to provide support and guidance. The pair drove north to American River College in Sacramento to ask if the school was holding tryouts. When head coach Kevin Higgins told them the roster was pretty much set, Lindsey piped in that her grandson had been drafted by the Atlanta Braves and was a left-handed pitcher. "That's when he perks up," Braden recalled.
Braden spent two seasons with the Beavers, winning 12 games and earning an honorable mention for all-conference pitcher in 2003.4 He transferred to Texas Tech, where he grew as a ballplayer and a man under head coach Larry Hays, a "tremendous leader, tremendous father figure."
Moving from the streets of Stockton to the Bible Belt was quite a culture shock for Braden, who had always played with a "me against the world" chip on his shoulder. He said that in Stockton he learned to avoid looking at others, and he now had to find a way to accept people for who they were.
"I learned to be able to sort of turn that into a character if I had to or out of necessity," he said. "Meaning, I can tap into this, but I don't have to live this rigid anymore."
The Oakland Athletics selected Braden — now 6-foot-1, 185 pounds — in the 24th round of the 2004 amateur draft. He signed and reported to Vancouver, posting a 2-0 record in a relief role for the Canadians before heading east to start for the Kane County Cougars. The lefty was throwing an 88-92 mph fastball at the time with a straight change and a screwball.
"The screwball was the moneymaker for me," he said. "I was able to get some swings and misses on that pitch."
Braden began the 2005 season in Stockton, compiling a 6-0 record for his hometown Ports and occasionally fanning the "beer batter" before his promotion to Double-A Midland. He posted a 9-5 record for the RockHounds, but lingering arm troubles forced him to undergo shoulder surgery during the 2005-2006 offseason. Braden began the 2006 season on a rehab assignment before returning to Stockton for three starts (2-0) and Midland for one. The 2007 season was poised to be Braden's breakout season after he posted a sub-1.00 ERA during winter ball.
"I go through spring training, and they're telling me, 'You're going to be our guy in Triple-A and when the phone rings you're the first one on the plane,'" Braden said.
But the plan went awry just days before the Athletics broke camp. The Washington Nationals released Braden's friend Colby Lewis, and the A's signed the right-hander and gave him Braden's promised spot in Triple A. A dejected Braden headed back to Midland, but two starts later he got the bump to Sacramento. When Oakland's Rich Harden landed on the 15-day disabled list with a strained left hamstring, the A's called up Braden to start an April 24, 2007, road game at Camden Yards in Baltimore.
The 23-year-old rookie "couldn't feel anything" but tossed six innings of three-hit ball to lead the A's to a 4-2 win over the Baltimore Orioles. It was Braden's only win of the season, as he finished with a 1-8 record and a 6.72 ERA.
Braden spent the first half of the 2008 season bouncing between Oakland and Sacramento, serving in a relief role while with the parent club. He worked his way into the rotation for the second half of the 2008 season and pitched well enough to keep the job into 2009. By this time he was strictly fastball-straight change, although he occasionally mixed in a modified screwball that found its movement through finger pressure rather than arm stress.
"At no point was I going to overpower you with anything, but I will stare you down with the meanest 85 you ever felt," Braden said. "And I had to pitch that way."
Braden was throwing some of his best stuff at the start of the 2010 season when a walk-by incident landed him in the New York tabloids.
The A's were hosting the Yankees on April 22, 2010, when Robinson Cano popped a flare up the third-base line that was ruled foul. Baserunner Alex Rodriguez, who had rounded second and was nearing third, strolled across the pitcher's mound as he headed back to first. The unprecedented trespass prompted Braden to howl, "Get off my $@*&#% mound!" and A-Rod's shrug like it was no big deal further infuriated Braden.
"Right over the rubber," Braden said. "That is like me coming to get a ball from the umpire after a foul ball and then digging in to your batter's box."
Braden continued jawing at Rodriguez after squeezing his glove to complete Cano's 3-6-1 inning-ending double play. The fired-up pitcher chucked the ball into the dugout, kicked a stack of Gatorade cups, and slammed down his glove.
Seventeen days later, Braden landed on front pages for a more admirable accomplishment — he threw the 19th perfect game in major-league history. It was Mother's Day, a somber yet significant holiday for a man who lost his mom to melanoma when he was 17. Grandma Peggy was in the crowd at Oakland that afternoon, and after she and Braden shared a touching on-field moment celebrating the perfecto, she quipped, "Stick it, A-Rod," in earshot of reporters.5
The quote landed on the cover of the New York Daily News, and Braden was invited to deliver David Letterman's Top 10 list of "thoughts that went through Dallas Braden's mind while he threw his perfect game."
"No. 3: Even I've never heard of me," the pitcher deadpanned.6
Braden was warming up in the bullpen for his final start of the 2010 season when he felt his shoulder pop. He made it into the fifth frame before catcher Kurt Suzuki walked to the mound and asked, "What the hell is wrong with you? What do you got?"
"And I said, 'Nothing, that's the problem,'" Braden said. "And he goes, 'Well, let's throw the changeup.'"
Braden spotted enough well-placed changeups to finish out the inning and secure a win, but the shoulder problems persisted into the spring of 2011. Neither stretching nor anti-inflammatories provided much relief, and Braden made just three starts that season. When he walked off the Oakland mound in the fifth inning of his start on April 16, 2011, against Detroit, he knew he had thrown his last career pitch.
It was hard for Braden to sit in the training room and "look these guys in the eye, cash a paycheck and actually put this uniform like I deserve to," he said. "I didn't know how to fake it."
Braden endured two additional surgeries before declaring his arm "a shredded mess" and retiring in January 2014.7 He joined ESPN as a Baseball Tonight studio analyst for the 2014 season and married actress Megan Barrick that November. They took up residence in the Los Angeles area.
In 2015 Braden added in-game analyst to his ESPN résumé as the network signed him to a multi-year extension.
Phil Orlins, ESPN's MLB senior coordinating producer, said Braden "oozes passion and enthusiasm," bringing "energy, knowledge, and a blue-collar personality that connects with our viewers."8
That authenticity continued to endear him to the community of Stockton, where the Ports retired his number 50 jersey in 2015. Braden said he was ecstatic that his short career continued to let him make a living hanging around ballparks.
"I'm still afforded an opportunity to be around some of the best athletes in the world, to be around some of the most beautiful cathedrals man will ever make, to see the big green fields that are baseball diamonds," Braden said. "I'm so thankful the game has given me the opportunity to still be around it."
Last revised: February 8, 2018
This biography appears in SABR's "No-Hitters" (2017), edited by Bill Nowlin.
Notes
1 Author interview with Dallas Braden, January 5, 2016. All quotations in this biography are taken from this interview unless otherwise noted.
2 Jagdip Dhillon, "Braden enthralls hometown crowd with shutout," Recordnet.com, recordnet.com/article/20050512/A_SPORTS/305129920, accessed January 26, 2016.
3 Susan Slusser, "Braden throws 19th perfect game," SF Gate, sfgate.com/sports/article/Braden-throws-19th-perfect-game-3264978.php, accessed January 26, 2016.
4 Thanks to Doug Jumelet, Head Baseball Coach at American River College.
5 Carl Steward, "Steward: 'Grandma Peggy' gets the final word on A's pitcher Dallas Braden, and on A-Rod," Inside Bay Area, insidebayarea.com/ci_15052220, accessed January 25, 2016.
6 CBS, "Dallas Braden's Top 10 on Letterman," Youtube.com, youtu.be/Hx1sxa2dwws, accessed January 26, 2016.
7 Susan Slusser, "Ex-A's pitcher Dallas Braden says he is hanging it up," SF Gate,blog.sfgate.com/athletics/2014/01/14/ex-as-pitcher-dallas-braden-says-he-is-hanging-it-up/.
8 Ben Cafardo, "ESPN reaches multi-year extension with MLB analyst Dallas Braden," ESPN Front Row, espnfrontrow.com/2015/03/espn-reaches-multi-year-extension-mlb-analyst-dallas-braden/, accessed January 26, 2016.
Born
August 13, 1983 at Phoenix, AZ (USA)
If you can help us improve this player's biography, contact us.
https://sabr.org/sites/default/files/BradenDallas.png
600
800
admin
/wp-content/uploads/2020/02/sabr_logo.png
admin
2012-01-04 20:38:57
2012-01-04 20:38:57
Dallas Braden