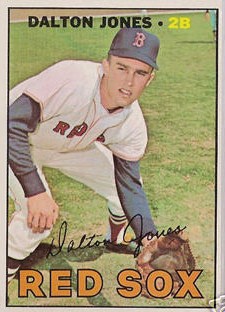 ---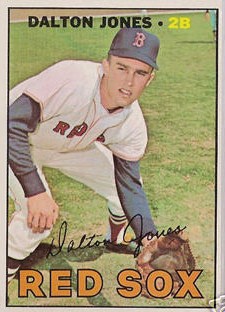 In groups of twos and threes at first and then, little by little, in larger groups, the fans rose and cheered for their hometown team. It spread throughout Fenway Park until virtually every one of the 35,000 fans had joined in the spontaneous standing ovation. The top of the ninth inning on October 12, 1967, was about to start. The score was 7-2; the St. Louis Cardinals were leading the Boston Red Sox in the seventh game of the World Series. The way Bob Gibson was pitching, there was little doubt about the final outcome, but the fans wanted to say "Thank You" to their Red Sox, who had brought so much joy and excitement in the wild ride that was the summer of 1967. Dalton Jones, who was getting ready to play third base, remembered it well nearly 40 years later. "Talk about bringing a tear to your eye," Jones reminisced.1 One could still hear the emotion in his voice four decades removed. Mississippi native Dalton Jones, still two months shy of his 24th birthday, had played on baseball's biggest stage, yes, played and thrived.
Twenty-four summers before, Mrs. Louise Jones was concerned. Although they were living in Baton Rouge and had access to good medical care, Clinton and Louise Jones did not trust the big city doctors.2 The former Louise Purl had, in fact, lost a baby during her first pregnancy while in the care of Baton Rouge doctors. Not about to let that happen again, the Joneses moved back to their hometown in southern Mississippi to be in the care of a familiar, trusted doctor. James Dalton Jones was born on December 10, 1943, in McComb, Mississippi. Dalton, as he was to be known, was named for his father's brother, James Dalton, an Army Air Corps flier who had been killed in action in North Africa a year earlier.3 Dalton was the first child in the Jones family. A brother, Melvin, arrived three years later.
While growing up in Baton Rouge, baseball was an integral part of young Dalton's life. Dalton's father loved baseball. Clinton H. Jones was then an assistant chemist for the Esso (now Exxon) Oil Company.4 In addition to his official duties at work, he resurrected the company baseball team and help lead the team to a semipro championship. Previously, Clinton had been a star in the Class-D Evangeline League. Clint, as he was known, played first base and was the batting champion in 1934 for the Opelousas (Louisiana) Indians.5 Clint Jones led that league in runs scored and hits in 1934 as well. He moved up to the Class-A Des Moines Demons in 1935 and would likely have gone on to higher-level minor league teams, perhaps beyond, had not an arm injury ended his baseball career.6 In addition to Clinton's experience in the minors, Dalton's great-uncle, Leroy "Cowboy" Jones, played in the Texas League. Family vacations often centered on baseball. The Jones family would travel to St. Louis to see the Cardinals play; they traveled to Kansas City and even to Cleveland to see the Red Sox play on the road. Consequently, as a youngster, Dalton became a Stan Musial fan and a Ted Williams fan. The Jones family was present in Cleveland when Ted Williams tied and then passed Mel Ott for third place on the major-league career home run list.
In addition, Clinton Jones coached Dalton from Little League up through American Legion ball. Dalton also benefited from countless one-on-one sessions with his father, who always had time to hit fungoes or throw batting practice. When scouts started flocking around the 14-year-old Jones, it was his father who kept everything in the "right perspective".7 From an early age, Dalton wanted only to be a major-league baseball player.
Dalton was a star shortstop for his high school team in Baton Rouge, the Istrouma Indians. In 1961, Jones led Istrouma to the Louisiana state championship game (future major-league star Rusty Staub led the opposing team, Jesuit High School of New Orleans). After graduation, Red Sox scout George Digby signed the 6-foot-1, 180-pound, left-hand hitting shortstop for a $60,000 bonus, a considerable amount in 1961 but about half what some top prospects received. Still, Jones felt a responsibility to perform up to the high expectations of the Red Sox.
Jones immediately reported to the Alpine (Texas) Cowboys of the Class-D Sophomore League, managed by former Red Sox pitching great Mel Parnell. In his first professional game, Jones hit two triples off the 425-foot fence at Tingley Field in Albuquerque. The second triple came with two out in the ninth inning. The hit started a three-run rally as the Cowboys beat the Dukes, 4-3.8 After this promising debut, Jones went into a prolonged slump, the first time Jones had experienced mediocrity (or worse) in baseball. He was feeling the pressure, most of it self-inflicted. He seriously considered quitting baseball, thinking he could not make it at the professional level. However, after some soul searching, prayer, and not a few calls home, Jones decided to persevere. He went on to hit .322 in 77 games, including 18 doubles, 8 triples, 6 home runs, 48 RBIs, and 58 runs scored.
The next year, 1962, Jones was promoted to York (Pennsylvania) of the Double-A Eastern League. The teenager had a good year for the White Roses, hitting .309 in 127 games. The young shortstop led the league in triples with 13. He scored 77 runs and knocked in 52.
In 1963, after a very good spring training in which he nearly made the Red Sox opening day roster, Jones was promoted to the Seattle Rainiers of the Triple-A Pacific Coast League. Jones, switched to second base with the emergence of Rico Petrocelli (who would be Jones' roommate in the major leagues), had a decent year. His average dropped to .255 but he scored 78 runs while clubbing 7 home runs and 11 triples.
Spring training in 1964 was a very good one for the 20-year-old Jones, but he expected to be in the minors that year. As spring training marched on, however, Jones was still with the big club. One day, late in the spring season, pitching coach Bob Turley found Jones working out in center field. As he walked by, the former Yankee pitching star joked to Jones, "I heard you're going to be rooming with me this season."9 That was how Dalton Jones learned he was heading north with the Boston Red Sox.
Jones made his major-league debut on April 17, 1964, the home opener at Fenway Park. He contributed his first major-league hit, an RBI triple. It came in the third inning off White Sox hurler Joel Horlen. The Red Sox went on to beat the White Sox, 4-1, in a game that also featured another Red Sox rookie, Massachusetts native Tony Conigliaro, who hit the first pitch he saw at Fenway Park for a home run. The next day, also at Fenway, Jones hit his first major-league home run, a solo shot in the ninth inning off White Sox left-hander Don Mossi. After the game, Boston manager Johnny Pesky called Clinton Jones to celebrate Dalton's home run. Red Sox announcer Curt Gowdy gave Jones and Tony Conigliaro videotapes of the games in which each hit his first home run.10 In those days before VCRs and before universal TV coverage, that was a rare gift.
1964 proved to be an acceptable debut year for Dalton Jones. He was hitting over .300 late in May but then saw his average drop to as low as .218 in early August before settling at .230 for the year. Jones scored 37 runs and batted in 39 in 118 games for the eighth-place Red Sox. The highlight of his season came on May 19 at Fenway Park against the Los Angeles Angels. The Sox were losing 3-0 in the bottom of the ninth. Jones, who had not played in the game to this point, kept walking in front of manager Johnny Pesky to get noticed. Pesky relented and told Jones he would bat for Red Sox pitcher Bob Heffner.11
Heffner was due up seventh in the inning. After two quick outs, it looked as though Jones would not hit. Dick Stuart walked, however, and then went to third on Tony Conigliaro's double. A hit batsman and another walk produced a run and left the bases loaded for pinch-hitter Dalton Jones. As Jones told the Boston Globe's Ray Fitzgerald three years later, "Pesky sends me up to pinch-hit and I'm scared out of my mind."12 Jones whistled a double past Angels pitcher Don Lee on a 3-2 count. The hit cleared the bases giving the Red Sox the walk-off victory, 4-3. It was Jones' most meaningful hit yet as a Red Sox pinch-hitter and it helped propel him into a role for which he would achieve some fame, at least among Red Sox fans.
While Jones had some success at the plate, he had some trouble in the field, committing an error in each of his first three games, and was beginning to be labeled, perhaps unfairly, as a defensive liability, a label that was to stick with him throughout his career. He played 85 games at second in 1964, sharing time with Chuck Schilling and Felix Mantilla. Second base was still a new position for Jones, and in 1964 he committed 16 errors for a .959 fielding percentage.
The next two years, 1965 and 1966, were lackluster seasons for the Red Sox. Tom Yawkey's so-called "country club" may have been pleasant for the players, but it didn't do much for the winning percentage or the gate receipts. The Red Sox finished ninth in a 10-team league both years. Jones had a slightly better year in 1965 than in 1964. In '65, Jones was still batting over .300 in late August before finishing at .270. He also had his career high-water marks in hits (99) and total bases (137).
Highlights for the season include a five-hit day against the Senators in Washington on July 9 and an RBI triple off Luis Tiant, providing the only run Dave Morehead would need when he pitched his no-hitter against the Cleveland Indians on September 16 at nearly empty Fenway Park. Nine days later, in another historic moment, Jones batted (he reached on an error) against the 59-year-old Satchel Paige in Kansas City.
Jones improved offensively despite tearing a hamstring muscle and despite moving to his third infield position in four years. He suffered his injury rounding first at Fenway while legging a double against Luis Tiant in early May. Jones would play with his leg wrapped the rest of his career.13 When Frank Malzone hurt his foot early in the season, manager Billy Herman put Jones at third base. Jones played so well at the position that he earned the starting spot against right-handed pitching after Malzone returned.14 Jones played 81 games at third base and made 17 errors in 243 chances.
In 1966, Jones lost his starting job to rookie Joe Foy, and his offensive production dropped off. He batted only .234 in 252 at-bats, more than 100 fewer than in either of his previous two major league seasons. It was a struggle all year. Jones' average never reached .240; he was batting.200 on the Fourth of July. Jones played in 70 games at second base and just three at third base. He committed 10 errors in 260 chances, improving his second-base fielding percentage from two seasons previous. Jones' batting highlight for the year came on July 6 in the first game of a doubleheader at Yankee Stadium. With the score tied, 3-3, Jones batted for the pitcher in the ninth inning and hit a one-out, two-run home run to make the score 5-3, which held up when the Yankees were retired in the bottom of the frame.
The Red Sox in the spring, summer, and fall of 1967 have been much chronicled. While most of the accolades deservedly go to Yaz, Lonborg, Tony C., Boomer, Rico, and a few others, fans remember Dalton Jones' clutch hitting, especially pinch-hitting late in the 1967 campaign. In terms of raw offensive output, it was his least productive major-league season so far. He played in only 89 games and had 159 at-bats. While he hit .289, he had only 65 total bases. Jones was a man without a position in 1967 and was relegated almost entirely to pinch-hitting. Rookie Mike Andrews was the starter at second, while Foy held down the hot corner. Freshman manager Dick Williams gave Jones a start when he could. For example, when Foy was in Williams' doghouse for being overweight late in April, Jones had five consecutive starts (April 21-25). Jones responded. He hit .368 during that stretch, scoring at least one run in each game as the Sox won four of the five games.
On May 24, in a rare start, Jones hit a solo home run off Denny McLain at Tiger Stadium. It was enough for Jim Lonborg, who blanked the Tigers, 1-0. Between June 8 and September 4, however, Jones started only one game. In addition to being forced out of the starting lineup for baseball reasons, there was also Uncle Sam to contend with. In 1967, the war in Vietnam was raging. The Red Sox and other teams were keen to keep their players out of the military draft. They made sure all of their eligible players were assigned to Reserve units. Lonborg, Jones, and other players did two-week stints during the season. Even though his playing time was limited, Jones made the most of his spot starts and pinch-hitting opportunities. He was especially productive late in the season as one of the closest pennant races in American League history unfolded.
Jones' average had dipped to .220 by August 17. Starting with a pinch hit on August 19, Jones went 24 for 59 (a .407 clip) the rest of the season, with one home run, 14 RBIs, and six runs scored. On August 20, he came off the bench and had two key hits to help the Sox erase an 8-0 deficit against California as the Sox went on to win 9-8. On August 22, he broke a scoreless tie with a pinch-hit, two-run triple in the seventh inning off Phil Ortega of the Washington Senators. The Sox won, 2-1, which put them in second place, just a percentage point behind the White Sox. On September 18, the Red Sox played the Tigers in Detroit. Going into the game, the Sox were trailing the first-place Tigers by one game. Jones got the start at third because he hit well in Tiger Stadium and had hit a home run off McLain, the Tiger starter, earlier in the year. The move to start Jones paid off. He had four hits in five at-bats with two RBIs, including a 10th-inning home run off Mike Marshall. Jones speared Bill Freehan's line drive for the final out in the bottom of the 10th, giving the Red Sox a 6-5 victory and a share of first place. "This had to be the best game of baseball I've ever played in the big leagues," Jones told the Boston Globe's Clif Keane.15 On September 24, Jones got the start at third again. This time he went 4-for-6 with a double and triple and five RBIs as the Sox beat the Baltimore Orioles, 11-7.
When the Red Sox had to beat the Twins on the final two games of the 1967 season to ensure at least a playoff game for the American League pennant, Jones had a key role to play. In the penultimate game, with the Twins leading 1-0, Jones had a pinch-hit single in the bottom of the fifth inning, moving Reggie Smith to third. Jerry Adair knocked in Smith; Carl Yastrzemski drove in Jones for the go-ahead run. The Sox never trailed after that and won, 6-4, giving them a share of first place with the Twins. On October 1, the last game of the regular season, Jones got the start at third and batted in the second spot in the order. He had two hits in four at-bats, including a single to keep the rally going in the five-run sixth inning. Jones scored one of the five Red Sox runs as they beat the Twins 5-3. The win and the Tigers' loss later that afternoon gave the Red Sox their first pennant in 21 years.
Given that Jones had so few starts in the regular season, it seems somewhat surprising he started four of the seven World Series games. Dick Williams wanted the left-handed hitting Jones in the lineup against St. Louis right-handers Bob Gibson, Dick Hughes, and Nelson Briles. With that vote of confidence, Jones responded. He hit .389 for the Series, second only to Yastrzemski among Red Sox hitters. Jones had a key pinch hit in Game Six, with the Red Sox facing elimination, down three games to two. Jones did not start even though the right-handed Hughes was the starting pitcher for the Red Birds. (Jones unsuccessfully lobbied Dick Williams for the chance to start. At the time, he was the leading Red Sox hitter at .353. "I told him that I thought I deserved to play, I thought I had done the job".)16 With one out in the bottom of the seventh inning, with the score tied, 4-4, Jones was sent up to hit for John Wyatt. Facing former teammate Jack Lamabe, he singled to right field. The next batter, Joe Foy, plated Jones with a double to left for the go-ahead run. The Red Sox went on to score four in the inning, won the game, and forced a Game Seven the next day. Jones pinch-hit in the eighth inning of the deciding game, with the Red Sox down, 7-1, and drew a walk. He stayed in the game to play third in the top of the ninth. It was the last time Jones appeared in a postseason game.
Dalton Jones thought, after the way he played third base in the World Series, he would compete with Joe Foy for the starting job in 1968.17 Jones did start the first six games of the season at third base. He was batting only .071, however, when Joe Foy got the starting nod against White Sox lefty Gary Peters on April 18. Foy played well and became the regular third baseman the rest of the season. Williams gave Jones a chance to be an everyday player, but it meant learning a new infield position. By midseason, first baseman George Scott was struggling at the plate (as were many players in the "Year of the Pitcher.") Jones started at first against Oakland on July 1 and played first base in 55 of the final 88 Red Sox games in 1968. He acquitted himself very well, handling 478 chances with only two errors.
While his fielding was improving, Jones' batting average was going in the other direction. He had decided he was going to hit more home runs and tried to pull everything.18 Pitchers started pitching him outside. In the past, Jones would have taken the pitch the other way, to left field. Now he was hitting ground balls to second. Jones had 354 at-bats in 1968, nearly 200 more than in 1967, but his average plummeted to .234. One bright spot was his specialty, pinch-hitting; he had 11 pinch hits and a .407 average. Jones struck out 53 times though, a career high.
As the offensive struggles continued, Jones put more and more pressure on himself.19 The only person who could pull Jones out of his batting funk, Clinton Jones, was dying of leukemia 1,500 miles away. Clinton Jones succumbed to the disease the next year. Jones had more time at first in 1969, playing very well there, but his batting average dropped to .220. While he cut back on the strikeouts, he was not providing the offensive power major-league teams expect from a corner infielder. The two-year experiment at first base was over and it was time for a change. On December 13, 1969, the Red Sox traded Jones to the Detroit Tigers for utility infielder Tom Matchick. Overall, Jones hit .243 with the Red Sox with 26 home runs and 186 RBIs. He hit well in pressure situations, compiling a .271 average as a pinch-hitter. He remains the Red Sox all-time pinch-hit leader with 55.
At first, Jones was happy about the trade.20 He was ready for a change. Jones had always hit well in Tiger Stadium. When the 1970 season started, however, it was clear the Tigers' plans did not include Jones. The Tigers already had a left-handed pinch-hitting specialist, Gates Brown. Jones was used sparingly as a utility infielder, appearing in only 62 games in the field, 89 overall. One "highlight" of the season came on July 9 against his former team. Jones came in as a pinch-hitter in the bottom of the seventh inning. With the score tied, 3-3, and the bases loaded, Jones hit what should have been the first grand slam of his career. Inexplicably, Don Wert decided to tag up at first and Jones passed him while rounding first. Jones was called out and given credit for a single. He did get three RBIs, however, and the Tigers went on to beat the Red Sox, 7-3. Jones hit .220 for the second straight year but he led all Tigers with 11 pinch-hits and a .379 average as a pinch-hitter.
In 1971, Jones' playing time was reduced even further. He played only 32 games in the field, including, for the first time, the outfield. Jones was batting .375 when Al Kaline was slowed by a pulled hamstring. Jones hit .500 with a home run in three starts in right field. After maintaining a .300 average into mid-June, Jones finished the year at .254. Due to limited playing time however, he had career lows in most offensive categories, including runs, hits, RBIs, doubles, and total bases. He was the team pinch-hit leader again, though, with 13 pinch hits and a .289 average.
After going hitless in his first seven games of 1972 (seven at-bats), Jones was traded by the Tigers to the Texas Rangers for pitcher Norm McRae. It was a reunion of sorts for Jones, getting to play for manager Ted Williams. It was a difficult year for Jones. He was used sparingly again, getting only 151 at-bats for the last place Rangers. He hit a career low .159 for "one of the worst teams in baseball history."21 Although only 28 years old, Jones was running out of chances. In fact, his last chance had come and gone. On January 25, 1973, Dalton Jones was released by the Rangers.
Jones, who had married a Cambridge, Massachusetts, native and former Miss John Hancock, Joanne Korezniowski, moved his wife and two boys, Brian and Darrin, back to Baton Rouge.22 Jones could not find a job outside baseball. He contacted Mel Didier, director of scouting and player development for the Montreal Expos, and begged his way back into baseball.23 Jones was given a minor-league contract for the 1973 season. He reported to the Expos' Triple-A affiliate in Hampton, Virginia, the Peninsula Whips. Jones, by his own admission, was not very good. He appeared in 59 games and batted just .208 with seven doubles and two home runs. His stint in the Expos organization was over. Jones finished his nine-year, major-league career with a .235 batting average, 41 home runs, and 237 RBIs. He batted .262 in his career as a pinch-hitter. When he retired, his 81 pinch hits placed him second all-time among American League pinch-hitters.
After baseball, Dalton Jones has had several careers, including banking, mutual fund and investment sales, and finish carpentry. He worked for several years for his father's former employer, Exxon, as an electronic instrument technician. In the late 1980s, Jones and his new wife, Barbara, moved to Plymouth, Massachusetts, where Jones started a financial services company.
In 1989, he was an infielder and coach for the Winter Haven team in the Senior League, managed by former Red Sox pitcher Bill Lee. His teammates included Ferguson Jenkins, Gary Allenson, and Bernie Carbo. Jones also played in several softball games organized by the enterprising Lee.
Barbara Jones, who has a Ph.D. in education, took a job in the Charlotte, North Carolina school system. After living in Charlotte for a few years, Dalton and Barbara moved to Liberty, Mississippi, not far from McComb, where Dalton was born.
A version of this biography appeared in "'75: The Red Sox Team That Saved Baseball" (Rounder Books, 2005; SABR, 2015), edited by Bill Nowlin and Cecilia Tan, and in "1972 Texas Rangers: The Team that Couldn't Hit" (SABR, 2019), edited by Steve West and Bill Nowlin.
Sources
In addition to the sources cited in the notes, the author also consulted:
Coleman, Ken and Valenti, Dan. The Impossible Dream Remembered (Lexington, Massachusetts: The Stephen Greene Press, 1987), and the websites: www.baseball-reference.com, www.baseballlibrary.com, www.baseball-almanac.com, www.nicholls.edu/baseball, www.retrosheet.org, and www.sabr.org.
Notes
Born
December 10, 1943 at McComb, MS (USA)
If you can help us improve this player's biography, contact us.
http://bioproj.sabr.org/bp_ftp/images2/JonesDalton.jpg
600
800
admin
/wp-content/uploads/2020/02/sabr_logo.png
admin
2012-01-04 20:38:57
2012-01-04 20:38:57
Dalton Jones