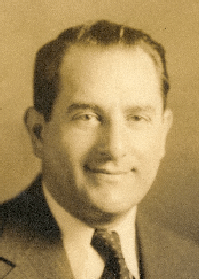 ---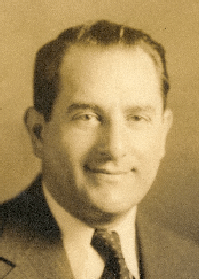 Dan Daniel thought he had the best job on the newspaper. Several newspapers, actually, in a career that spanned 58 years from Christy Mathewson to Jim Bouton. Daniel was a baseball writer.
While covering the Yankees, and sometimes the Giants and Dodgers, every day for New York papers, he estimated he contributed 5,000 words a week to The Sporting News for three decades, more than any other writer. That platform gave him a wide audience, because most people in the game read Baseball's Bible. Daniel also wrote many magazine articles and reported on boxing and football as well as baseball. He co-founded boxing's bible, The Ring magazine, with his mentor Nat Fleischer in 1922. He wrote two biographies of Babe Ruth.
Daniel was born in Springfield, Massachusetts, on June 6, 1890, but his family soon moved to New York. His birth name was Daniel Markowitz (the Jewish Sports Hall of Fame spells it "Margowitz"). When he started his sportswriting career, while a student at Columbia and the City College of New York, his editors didn't want him to use his Jewish-sounding name, so his first byline was "By Daniel." Later he hesitantly approached his father and said he planned to change his name legally to Daniel M. Daniel. His father told him it was no big deal because "Markowitz isn't your real name, either." An immigration clerk had mangled the family name when Dan's forebears immigrated through Ellis Island. [1]
His first newspaper was the New York Herald in 1909, where he worked for $20 a week. When the paper's part-time writer covering the Dodgers' spring training demanded a raise to $5 a day, the sports editor refused to pay such an outlandish sum and sent the college boy to take over. Daniel's parents were disappointed; they wanted him to join the long line of doctors in the family. Daniel tried medical school, but "I couldn't stand the cadavers."[2]
At the beginning of his career he wrote his stories longhand before switching to a typewriter. Moving on to the Press and then the Telegram, he began writing a weekly column called "Ask Daniel," fielding questions from readers. He answered them, sportswriter Red Smith said, "in terms that left all doubt dead and partly decomposed."[3] Once Daniel wrote, "No, for the 4,678th time, nobody has ever hit a fair ball out of Yankee Stadium."[4]
In 1925 the Baseball Writers Association gave him an award for the best story of the year. It was his account of the deciding game of the World Series when Washington's 37-year-old Walter Johnson, probably the most beloved man in the game, lost to the Pirates. "The rain kept pouring down the visor of his cap," Daniel said. "He looked like he was crying his head off."
Daniel was a tall, stooped, heavy-set man with a long, jowly face, a gravel voice, and a forbidding manner. He habitually wore a three-piece suit long after vests went out of style and presented a dignified—or pompous—demeanor. His New York rival Dick Young wrote, "He acted gruff, but he was a pussycat."[5]
Daniel frustrated his rivals with his frequent scoops. Often, when a reporter trumpeted a new story, other writers would scoff, "Daniel had it last week." Some of those scoops came about because he was a participant rather than a reporter. In 1930, with the Great Depression beginning to strangle the nation, Babe Ruth was holding out for $85,000 during spring training. "Without the Babe there wasn't an awful lot to write about," Daniel said. As he told it, he pointed out to Ruth that unemployed men were selling apples on street corners. Ruth claimed that was news to him: "Why don't people tell me these things?" Daniel persuaded Ruth to sign for $80,000. He wrote the story and his editor congratulated him on beating the competition again. But the next morning, the Babe had changed his mind. Daniel exploded. Watching his scoop go up in the smoke of one of Ruth's cigars, he told the star, "You're going to sign before twelve o'clock." The writer hauled the Babe to see owner Jacob Ruppert and the deal was done. On another occasion he claimed to have brokered a deal between Ruppert and the Yankees' pitching ace Red Ruffing. But when a rival scooped Daniel, he would write dismissively, "It came as no surprise to this reporter. …"[6]
He boasted, "I was one of the fastest writers who ever covered baseball. If it didn't go fast, it was no good. I quit." But he was a pedestrian writer, no match for lyrical competitors such as Grantland Rice, Frank Graham, and Red Smith. The subjects of Daniel's stories didn't just say things; they "exuberated" and "vehemed." When Daniel began pontificating in the press box, Graham would tell him, "Oh, Dan, stop veheming."[7] For a time Daniel wrote a column in The Sporting News under the byline "Snorter Casey," adopting the semiliterate vernacular made popular by Ring Lardner.
Before Joe DiMaggio played a regular-season game for the Yankees, Daniel anointed him "the successor to Babe Ruth." In DiMaggio's first year, Daniel prepared a profile of the new savior and the World-Telegram advertised it in advance. But while Daniel was writing his piece, another paper offered the rookie $3,000—nearly half his salary—for his life story. Daniel told him the World-Telegram could not pay him any money. DiMaggio replied, "You got here first, and you are entitled to the story."[8] Daniel became one of the Yankee Clipper's biggest boosters.
Controversy surrounds some of Daniel's decisions as official scorer during DiMaggio's 56-game hitting streak in 1941. Daniel said he scored 21 of the games. On July 1 DiMaggio went hitless in his first two times at bat against Boston. On his third try he topped a grounder to Red Sox third baseman Jim Tabor. DiMaggio slipped and fell to his knees as he broke from the batter's box, but Tabor threw the ball away. Daniel scored it a hit, then growled, "Damn you, DiMaggio. Hit 'em clean." The scorer's call didn't matter; DiMaggio rapped a clean single later in the game, his 43rd straight, and tied Willie Keeler's ancient record in the second game of that day's doubleheader. DiMaggio said later, "That was one of the few times I got a break from the scorer on a questionable play. Instead of giving me the benefit of the doubt—not that I was asking for it—they usually made sure it was a clean hit." Daniel credited DiMaggio with hits in two games on balls that White Sox shortstop Luke Appling couldn't handle; some other writers thought both calls were questionable. The next spring Daniel told DiMaggio, "There was just as much pressure on me and the scorers around the league not to cheapen the streak." Daniel later insisted, "I never favored him one iota and made him get his hits as I saw them."[9]
Daniel was never shy about offering advice to teams and players. After the American League won the 1946 All-Star Game, 12-0, he wrote, "The events that transpired yesterday in Fenway Park make it clear that the National League is in imminent danger of becoming a minor league unless immediate steps are taken." But when the Cardinals won that fall's World Series, he wrote, "The autumn classic demonstrated once again that the National League has a distinct margin of superiority over the junior circuit." Another writer gibed, "In July you stick it to the National League and in October you kick the Americans around. What is this?"
"I've warned them both," Daniel replied. "Now they're on their own."[10]
"The baseball writer of my heyday had something to tell," he told Jerome Holtzman in No Cheering in the Press Box. "He had opinions. He was a critic as well as a historian. Now you go into the clubhouse after a game and you find baseball writers wandering around, at times even putting words into the mouths of some of the boys."
Daniel was an unapologetic disciple of what was later labeled the "gee-whiz" school of sportswriting. "Nobody was ever afraid of me," he said. "…I wasn't going around derogating people. …. I wasn't looking to run baseball down. I was eager to run baseball up." He claimed close friendships with Yankee managers Miller Huggins and Joe McCarthy, who was notoriously tough on reporters. He admired McCarthy's attention to detail, but he was not friendly with John McGraw, whom he called "arrogant." He said, "McGraw overdid strategy." As for Casey Stengel, "We thought he was a stopgap. We thought he was in there to tell jokes and while away a season or two until the club could get tightened up and reorganized." Stengel won the first of his 10 pennants in his first season and went on to win a record five consecutive World Series. "I got along beautifully with Casey, and I had no complaints."
Traveling with the New York clubs for 40 years, "There were times when I got tired of writing, but I enjoyed the fun of baseball and everything about it until that damn night ball came in. That ruined the whole business," he told Holtzman. "After the (afternoon) game you came back to your hotel, had your dinner, went up to your room and batted out your game story. (Daniel wrote for afternoon papers, so he had no evening deadline.) Then you went down to the lobby, and who was in the lobby? The manager, the coaches, and a few players." But Daniel seldom drank with them; he said he had seen too many sportswriters drown their careers in a bottle. "In those days baseball writing was the number-one assignment on any paper," he recalled. "Now it's number one hundred. This thing of night baseball, this dashing down to the clubhouse after the game to interview the manager and dashing back to the press box."
As he grew older Daniel sometimes fell asleep during games. One writer warned another not to wake him: "He's busy interviewing John McGraw." David Halberstam commented, "He was, in his own mind, if not in the minds of his colleagues, the official oracle of the sport."[11] In The Sporting News he was a reliable mouthpiece for the owners, a resolute defender of the status quo. For most of his career the teams paid writers' travel expenses, a conflict of interest that was not stamped out until the 1960s.
In 1959, his 50th year as a newspaperman, Daniel's colleagues in the New York chapter of the Baseball Writers Association of America honored him with the Bill Slocum Award "for long and meritorious service to baseball." He had served as the chapter chairman for five years and had been national chairman of the baseball, football, and boxing writers associations. He also served as a member of baseball's rules committee and the Hall of Fame's Veterans Committee.
In 1966 Daniel's newspaper, the Scripps-Howard chain's World-Telegram and Sun, merged into a new publication, the World Journal Tribune. When that paper folded the next year, the 77-year-old Daniel's newspaper career ended. He called it "the murder of New York journalism." The city had 15 English-language dailies when his career began; only three were left. (Daniel's work lives on in the A. Bartlett Giamatti Research Center at the National Baseball Hall of Fame, which preserves many of his newspaper stories in individual players' files.) Although he no longer wrote for The Sporting News, he sent the paper an indignant letter when the first Macmillan Baseball Encyclopedia was published in 1969, altering the statistics of many old-time stars on the basis of new research. Daniel fulminated (as he might have put it), "This business of digging 'new' major league records by means of a computer stinks."[12]
He continued writing for The Ring and still went to his office at the magazine when he was in his 80s. And he continued writing about baseball, contributing stories to the Little League World Series program. In 1972 baseball's Hall of Fame honored him with the J.G. Taylor Spink Award "for meritorious contributions to baseball writing." Although Spink Award winners are often called Hall of Famers, they are not members of the Hall; like broadcasters, the writers are honored in the "Scribes and Mikemen" exhibit in the museum.
Daniel died in his sleep of cancer in Pompano Beach, Florida, on July 1, 1981, at the age of 91. His daughters Roberta Yates and Naomi Stein survived. A newspaperman to the end, he wrote his own obituary to be published "on the event of my death, which is scheduled in the next 15 years, it may be of interest … that I am the only baseball writer who has achieved every distinction that it is possible for a baseball writer to attain."[13]
---
Born
June 6, 1890 at Springfield, MA (US)
Died
July 1, 1981 at Pompano Beach, FL (US)
If you can help us improve this player's biography, contact us.
http://bioproj.sabr.org/bp_ftp/images4/DanielDan.gif
600
800
admin
/wp-content/uploads/2020/02/sabr_logo.png
admin
2012-01-08 21:23:23
2012-01-08 21:23:23
Dan Daniel