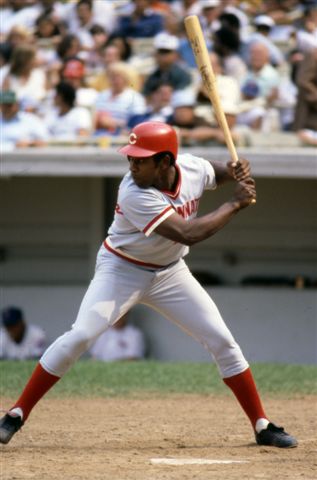 ---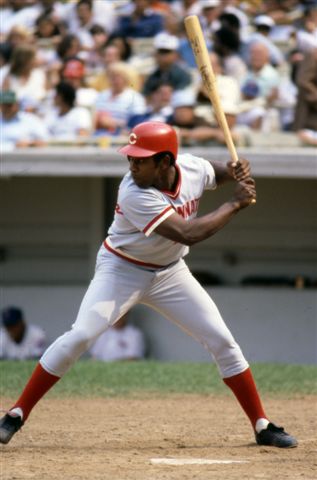 An integral role player on the Big Red Machine's World Series-winning teams in 1975 and 1976, Dan Driessen developed into a dependable, consistent, clutch-hitting first baseman over his 15-year major-league career. One of the best fielding first-sackers of his era, Driessen was the first designated hitter in the history of the National League when he starred for the Reds in the 1976 World Series against the New York Yankees.
Born on July 29, 1951, in Hilton Head Island, South Carolina, long before it established its reputation as a destination for wealthy tourists, Daniel Driessen was one of eight children raised by his mother in a poor, rural, and segregated area. "We had to struggle," Driessen told a sportswriter in 1978. "My father died when I was 5 years old."1 Working odd jobs to help support his mother and siblings from a young age and with little money or opportunity for entertainment, Dan developed a passion for baseball, which could be played almost year-round in the warm and humid climate. "I really learned from playing the game with my brothers," Driessen said.2 Though many of the segregated and impoverished schools of the area could not afford to field sports teams, the region had a long and strong tradition of semipro teams for African-Americans. By the age of 14 Dan began to play for the Hilton Head Island Blue Jays, for whom he faced seasoned competition for the next four years on the weekends while attending Michael C. High School.
Having distinguishing himself as a hard-nosed catcher for the Blue Jays, Driessen attracted the attention of Harold J. Young, the manager of the Boll Weevils, a black semipro team in Hardeeville, South Carolina. Young persuaded the 17-year-old Driessen to join his team in 1969 and personally drove him back and forth from Hardeeville to Hilton Head Island, a two-hour round-trip on country roads. Because the games attracted no professional baseball scouts, Young decided to take matters in his own hands. He was so impressed with Dan and his older brother, Bill, who was a star pitcher, that he wrote a letter to every major-league team about the two prospects.
In the summer of 1969 the Atlanta Braves invited the left-hand hitting Driessen to a tryout camp in Greenwood, South Carolina, conducted by Bill Lucas, the Braves' general manager. "There must have been 300 people there" recalled Driessen. "[Lucas] kept getting me back to take swings."3 The Braves signed three players and Driessen was the last one cut. Dejected, he returned home only to find a letter from the Cincinnati Reds telling him to report to Savannah, Georgia, to work out with the team's Double-A affiliate, the Asheville Tourists. Asheville manager Alex Cosmidis was impressed and sent for a Reds representative and scout. "Bill Jamison came and signed me," Driessen said, "and since this was late July or early August, they told me not to worry about that year and come to spring training [in 1970]."4 Completely overlooked by scouts, the undrafted Driessen signed with the Reds as an amateur free agent on August 29, 1969. "All they gave me was a Reds yearbook and a plane ticket [to spring training]," Driessen said about the day he signed.5
After participating in the Reds' spring training in 1970, Driessen was assigned to the Class A Tampa Tarpons, where the 18-year old struggled. Provided formal coaching for the first time, Driessen was worn down by playing baseball almost every day in the Florida State League. Platooning at first base, he batted just .223 with no home runs and just three extra-base hits in 242 at-bats.6 The Reds brass was not concerned by Driessen's slow start. "The one thing you don't want to do is give up too quickly on a prospect," said team president/general manager Bob Howsam. "We don't release anyone until we're absolutely certain. We give him at least two years."7
Driessen honed his hitting skills the Florida Instructional League in 1970. "[He's] the finest young hitter I've ever seen come into a major-league camp," said minor-league manager Russ Nixon, whom Griffey credited for helping him develop as a confident and discriminating hitter.8
Returning to Tampa in 1971, Driessen teamed with 21-year-old Ken Griffey to form the most potent one-two punch in the Florida State League. Starting at first base, Driessen finished with a .327 batting average, second in the league among qualifiers, while teammate Griffey batted .342 in 88 games. The duo battered pitchers again in 1972 while playing for Trois-Rivieres (Quebec) of the Double-A Eastern League. Leading the team to a division crown, Driessen was named all-league first baseman and flirted with the batting title the entire season, ultimately finishing third with a .322 mark (and Griffey fourth at .318). "He reminds me of Tony Oliva," said his manager, Jim Snyder.9 The Reds began touting Driessen as their number-one prospect and manager Sparky Anderson was convinced that he would be a great major leaguer. "I like the kid's swing," Anderson said."10
After spring training with the Reds in 1973, Driessen was assigned to the Indianapolis Indians in the Triple-A American Association. On a team overflowing with major-league talent, including Griffey, George Foster, Ray Knight, and Joel Youngblood, Driessen distinguished himself by his sheer athleticism. Convinced that he could play almost anywhere, the Reds had experimented with Driessen (who threw right-handed) at third base in 1972 and decided to move him permanently to third base at Indianapolis in 1973. With the consistently productive Tony Pérez occupying first base on the parent club, the Reds eyed Driessen as the eventual replacement for 32-year-old Denis Menke at third base. Against Triple-A pitching in 1973, Driessen had a torrid start, batting .409 in 181 at-bats, but commented, "I can't get adjusted [at third base]."11
With the reigning National League pennant-winners mired in third place in the NL West in early June and suffering from abnormally quiet bats, the Reds called up Driessen. "I thought I would have a few days to get my feet on the ground, but [Sparky Anderson] told me I would be in the lineup the next day," he said.12 On June 9, 1973, Driessen made his major-league debut, playing third base against Fergie Jenkins and the Cubs in Chicago. At bat with the bases full, and two outs, in the first inning, Driessen struck out.13 "I had idolized [Jenkins] and now I batted against him," Driessen said about his childhood hero. "He threw me pitches I could hit, but I was so nervous, I didn't do a thing."14 To make matters worse, Driessen made an error on the first ball hit to him when he flubbed a groundball hit by Randy Hundley. After grounding out and lining into a double play in his next two at-bats, Driessen walked, scored a run, and later smashed a double during the Reds' seven-run ninth."I like his stance," said Cubs manager Whitey Lockman. "He looks mechanically sound as a hitter."15
Nicknamed the Cobra for his quick, uncoiling batting style, the rookie helped wake up the Reds' dormant bats and spark the Big Red Machine to another NL West crown with a 99-63 record. Batting .almost .400 after his first ten games, he was moved to third in the batting order. Anderson conceded that third base was not Driessen's best position, but he wanted his hot bat in the game. "I didn't play Driessen at all at third base during spring training because I never thought he could handle it," Anderson said. "I'm convinced now that he can be an accomplished third baseman."16 Nonetheless, he often replaced Driessen in late innings of games and moved him to first base to spell Tony Pérez. "We had heard for three years that Dan Driessen could hit," said Johnny Bench; consequently, it was not a surprise when the Cobra quickly adjusted to major-league pitching, finished with a .301 batting average (his career high), and tied for third in the National League Rookie of the Year voting despite playing only two-thirds of a season.17
Aiming for a third appearance in the World Series in four years, the streaking Reds were a heavy favorite in the NLCS over the New York Mets, winners of 17 fewer games. After splitting the first four games, the teams were tied, 2-2, in the bottom of the fifth inning of the deciding Game Five at Shea Stadium when Driessen committed a mental mistake that, in the eyes of many Reds fans accustomed to fundamentally sound play, made him a scapegoat for the unexpected loss. With the Mets' Wayne Garrett on second base with a leadoff double, Felix Millan, in an attempt to sacrifice, bunted hard back to the pitcher, Jack Billingham, who had an easy throw to third. However, Driessen, apparently thinking that Garrett could be forced out, stepped on the base instead of tagging him. Garrett slid in safely and the misplay started a series-winning four-run rally.
After working on his fielding technique in the Florida Instructional League with coach Ron Plaza, Driessen began the 1974 season with high expectations. "He's going to be one of the best hitters around if he keeps his feet on the ground," Anderson said.18 On a second-place team, the 22-year-old Driessen hit consistently all season and finished with a .281 average and increased his slugging percentage from his rookie year. Disconcerting to Reds brass, however, was his erratic play at third base, forcing Sparky to replace him in late innings with light-hitting Darrel Chaney or Ray Knight. In 122 games at third base (just 36 full games), Driessen committed 24 errors, and his .915 fielding percentage was the lowest for all major-league third basemen.
Meanwhile, there were few problems with Driessen's hitting. A prototypical line-drive and spray hitter, he hit to all fields, which made him difficult to defend against. "We don't know where he's going to hit the ball," said Reds coach Alex Grammas in 1973. Grammas expected Driessen to develop a more pronounced home-run stroke after he hit just four round-trippers in his rookie year. It took a while, but by 1977 Driessen had developed somewhat of a home-run punch and was in double figures for seven of the next eight seasons, the only exception being 1981, when a players strike wiped 54 regular season games off the schedule. Driessen said he developed his quick, smooth, rhythmic swing from years of chopping wood for his family's wood-burning stove.
Though his career is most readily associated with the Big Red Machine's championship seasons of 1975 and 1976, Driessen lost his starting position at third base and was used primarily as a spot starter at first base and the outfield or as a pinch hitter in those seasons. He broke his wrist in the Florida Instructional League before the 1975 season when he collided with Gary Carter at first base. He missed the first week of the season.19 When he came back, Anderson had opted to start the light-hitting John Vukovich at third base, but when that experiment failed, he moved Pete Rose from left field to third base and inserted Driessen in Rose's spot. However, Driessen, with sparse experience in the outfield, had problems tracking fly balls and was replaced by slugger George Foster in mid-May.20
Despite his reduction in playing time (he had fewer at-bats in 1975 and 1976 combined than in 1974), Driessen never complained or served as a distraction. "I really appreciate it," Anderson commented about his attitude, "because it's hard for a guy to do, especially who can hit."21 Though teammates called him Sleepy for his laid-back demeanor, Driessen wanted to play more regularly and voiced his displeasure with pinch-hitting ("I'm no pinch hitter. It's boring."22).
Batting .281 in 210 at-bats in 1975 as an important and versatile role player on one of the best teams in National League history, Driessen had his moments, including a walk-off three-run home run in the 11th-inning against the Padres on June 27; however, the season was frustrating for him. He saw no action in the NLCS against the Pirates and had only two unsuccessful pinch-hit appearances against the Red Sox in the World Series.
In light of Driessen's league-leading .331 batting average with Bayamon in the Puerto Rican winter league in the offseason, Anderson was determined to play him more in 1976; however, his slow start (he was batting just .211 in mid-June) coupled with Rose and Pérez's stellar play at third and first limited his playing time. Without consistent opportunities to start and establish his hitting rhythm, Driessen's batting average dipped to .247, but he knocked in 44 runs with just 54 hits for the pennant winners.
Driessen's moment to showcase his talents came on the national stage when he became the first designated hitter in the National League, in the 1976 World Series against the New York Yankees. After going 0-for-4 in Game One, Driessen got two hits and scored a run in Game Two. Game Three may be his career highlight: He cranked two doubles and a home run, knocked in one run and scored twice in the Reds' 6-2 trouncing of the Yankees. Were it not for Johnny Bench's record-setting performance (8-for-15), Driessen might have been named the MVP of the Series by hitting .357 (5-for-14) and scoring 4 times.
(Though the DH was instituted to start the 1973 season in the American League, it was still a relatively novel concept, at least for the National League and its fans. When asked how he spent his time on the bench on a cold game night in New York, Driessen said he watched the game in the clubhouse, drank coffee, or sat dressed in uniform in the sauna in order to stay warm.23)
In December 1976 the Reds shipped the 34-year old Pérez to the Montreal Expos, opening first base for Driessen. "Danny's performance in the World Series should have bolstered his confidence. … Batting .375 in winter league ball [in the offseason] should make him even more confident," said Reds hitting coach Ted Kluszewski."24 Replacing a fan favorite, hobbled by a leg injury, and off to a slow start in 1977, Driessen expected some boos in the transition. After going 9-for-16 in late April (earning him NL Player of the Week honors), Driessen enjoyed the best year of his career, hitting an even .300 with 17 home runs, a career-high 91 RBIs, and 31 stolen bases, the most for a major-league first baseman in 50 years.25
Defensively, Driessen quashed any concerns that he would be a liability in the field. "He got a bad rap while playing third base," said Kluszewski, commenting on Driessen's transition to first base. "He psyched himself out. His success will depend on how quickly he becomes comfortable in the field."26 Driessen developed into one of the league's best (and most underrated) defensive first basemen and led the league in fielding percentage three times (1978, 1982, and 1983).
Primed for their third consecutive NL West crown in 1977, the Reds were undone by poor pitching and finished second behind the Dodgers. A small-market team with limited resources, the Big Red Machine of the 1970s was being gradually dismantled by the advent of high-spending free agency, trades, and aging players; nonetheless, they competed for the division crown and sported winning records in every year from 1977 to 1981. As for Driessen, his 1977 breakout season proved to be an exception and he batted over .250 just once in the next four seasons.
Driessen became disgruntled with the Reds in 1981 when he felt he was being slighted in favor of aging icon Johnny Bench, who could no longer catch regularly. Batting just .197, Driessen was hit on the wrist by Bob Shirley of the Cardinals on May 2 and did not bat for over two weeks, while Bench played first. Upon his return, Driessen went 0-for-11 and was again replaced by Bench. Feeling insulted, Driessen lashed out at manager John McNamara (Sparky Anderson had been fired after the 1978 season) and general manager Dick Wagner. "I'm not a hothead, but it came to the point where I said the hell with all this," Driessen said. "I don't want to be a part of it. I didn't say anything wrong. I wanted to be traded."27 Then Bench broke his ankle just a few days after that outburst. Driessen resumed his duties at first base, but struggled at the plate, hitting just .236. "He looks lost up there," said an anonymous Reds player, "like he's lost his confidence."28
With trade rumors clouding Driessen's future in Cincinnati, 1982 was a shock for the Reds who had the major leagues' best record in the strike-shortened season in 1981 but were not eligible for the postseason because of the split-season playoff format. "The whole (1982) season has been like a bad dream," Driessen said after the weak-hitting Reds had lost a franchise-record 101 games. "I thought we'd at least play .500 ball."29 Driessen led the team with 17 home runs and 57 runs batted in.
Bothered by a sore left knee in 1983 that required offseason surgery, Driessen batted .277, his best since 1977, but the Reds finished in last place for the second year in a row. A meaningless game for the Reds versus the Braves, but certainly meaningful for Driessen, occurred on September 13 when he fielded a grounder and stepped on first base to end the 7th inning. The ball had been hit by his nephew, Atlanta's rookie Gerald Perry, who would have a 13-year major league career – mainly as a first baseman.
With constant rumors about his imminent trade, Driessen realized his days were numbered with the only franchise he knew. In his last four years in baseball (1984-87), Driessen commenced an odyssey during which he played for four major-league and two minor-league teams. Playing for new Reds manager Vern Rapp, Driessen began the 1984 season by hitting over .300 through early June despite the offseason surgery. Struggling in fifth place, the Reds traded Driessen to the Montreal Expos on July 26 for pitchers Andy McGaffigan and Jim Jefferson. "We didn't get [Driessen] to sit on the bench," said Expos manager Bill Virdon. "We hope he'll do something to our offense."30 Though his batting average dropped from .280 to .269 for the season, Driessen was a more effective hitter for the Expos and belted nine home runs in 169 at-bats and knocked in 32 on just 43 hits, while playing first base with his typical grace.
Unable to duplicate his hitting successes for the Expos in 1985, Driessen had hit just six home runs and drove in 25 runs by the end of July, and the Expos shipped him to the San Francisco Giants for pitcher Bill Laskey and utilityman Scot Thompson at the trading deadline. While the weak-hitting Giants were on the way to a franchise-record 100 losses, the 33-year-old Driessen took over first-base duties; however, his .232 batting average was one point lower than the team's NL-worst .233. Giants general manager and president Al Rosen, the architect of the Giants' turnaround over the next few seasons, began shopping Driessen in the offseason, but his $700,000-plus contract was an albatross. In spring training of 1986 Driessen fell victim to a top prospect when 22-year-old rookie Will Clark earned the starting nod at first base. Finding no takers for Driessen and his contract, the Giants released him on May 1.
Driessen's final year and a half reflected his passion for the game and willingness to suppress his ego for team success. After his release from the Giants he agreed to a minor-league contract with the Houston Astros' Pacific Coast League affiliate, the Tucson Toros, with no guarantee that he would be called to the parent club. As the Toros' oldest player, Driessen batted .295 in 70 games, but with little power (5 home runs and 35 RBIs); however, he proved to be a valuable acquisition. When the Astros' top slugger, Glenn Davis, was injured on August 31 in the middle of a pennant race, the team called up Driessen. Playing first base and pinch-hitting, Driessen helped the team clinch the National League West crown by going 7-for-24 in 17 games. He was ineligible for the playoffs because he was not on the team's active roster by August 31.
The Astros released Driessen after the season but invited him to 1987 spring training as a nonroster player. When they did not tender him a contract, Driessen thought his career might be over. He went home to Cincinnati and worked out while his agent contacted teams. In June he signed a minor-league contract with Louisville, the Cardinals' Triple-A affiliate. He stayed at home as much as possible and drove to and from Louisville. "It's about 100 miles," Driessen said. "I'd make it in close to an hour and a half."31 An accomplished major leaguer with more than 1,700 games under his belt, Driessen still thought he could play. "I'd made a commitment to play," he said. "I would at least finish out the season."32
The Cardinals called Driessen up at the end of August to provide some veteran leadership in the midst of a tight divisional race. In a scene of déjà vu, Driessen got his chance when Jack Clark, now the Cardinals' first baseman and top slugger, injured his ankle and missed the last three weeks of the season. After Driessen hit a big first inning two-run home run off Rick Sutcliffe at Wrigley Field on September 26, Lee Thomas, the Cardinals' director of player development, remarked, "He can still hit."33 In storybook fashion, Driessen's two-run double on October 1 against the Expos helped clinch the NL East championship for the Cardinals. "I thought I could still play," said Driessen, who knocked in 11 runs with his 14 hits during his month with the team. "I thought I'd be cheating myself if I didn't."34
In his first postseason since 1979, Driessen started against the Giants' right-hand pitchers in the NLCS. "It's nice to redeem yourself," he said after he cranked two doubles and scored the tie-breaking run in Game One.35 Capping off his major-league career in a dramatic seven-game World Series against the Minnesota Twins, Driessen played against right-handers, manned first base for the first time in his World Series career. He went 3-for-13 with two doubles, an RBI, and three runs scored.
Driessen was out of baseball entirely in 1988 after being released by the Cardinals. In 1989 his urge to continue playing led him to the Mexican League, where he played for the Yucatan Leones of the Mexican League, and then to the Fort Myers Sun Sox in the short-lived Senior Professional Baseball Association for the 1989-90 and 1990-91 seasons.
Driessen played first base in 1,379 of his 1,732 major-league games. He finished his 15-year career with a .267 batting average and one of the top career fielding percentages (.995) for first basemen. Often overlooked, Driessen may not have fulfilled predictions that he'd be a superstar, but he was a consistent and dependable hitter throughout his career. "I wasn't real bigheaded about making the front page of the news," he said when he was elected to the Reds Hall of Fame in 2011. "I was just trying to win a game."36
After retiring from baseball Driessen moved with his wife, Bonnie (they were married in 1976) and their three daughters to his home town of Hilton Head Island, where he still resided in 2012. He started an excavating and trucking company. Driessen helped coach a local high-school team where he no doubt served as tangible proof that a youngster can emerge from obscurity and follow his dreams. "Playing baseball is something that I …. always wanted to do," he said of his never-ending passion for the game. "People would ask me when I was small what I wanted to do when I grow up, and I'd tell them a 'a major-league ballplayer.' "37
Last revised: May 1, 2014
This biography is included in the book "The Great Eight: The 1975 Cincinnati Reds" (University of Nebraska Press, 2014), edited by Mark Armour. For more information, or to purchase the book from University of Nebraska Press, click here.
Notes
Born
July 29, 1951 at Hilton Head Island, SC (USA)
If you can help us improve this player's biography, contact us.
http://sabr.org/sites/default/files/images/DriessenDan-2667-97_Bat_NBLPilling.jpg
600
800
admin
/wp-content/uploads/2020/02/sabr_logo.png
admin
2012-01-04 20:41:30
2012-01-04 20:41:30
Dan Driessen