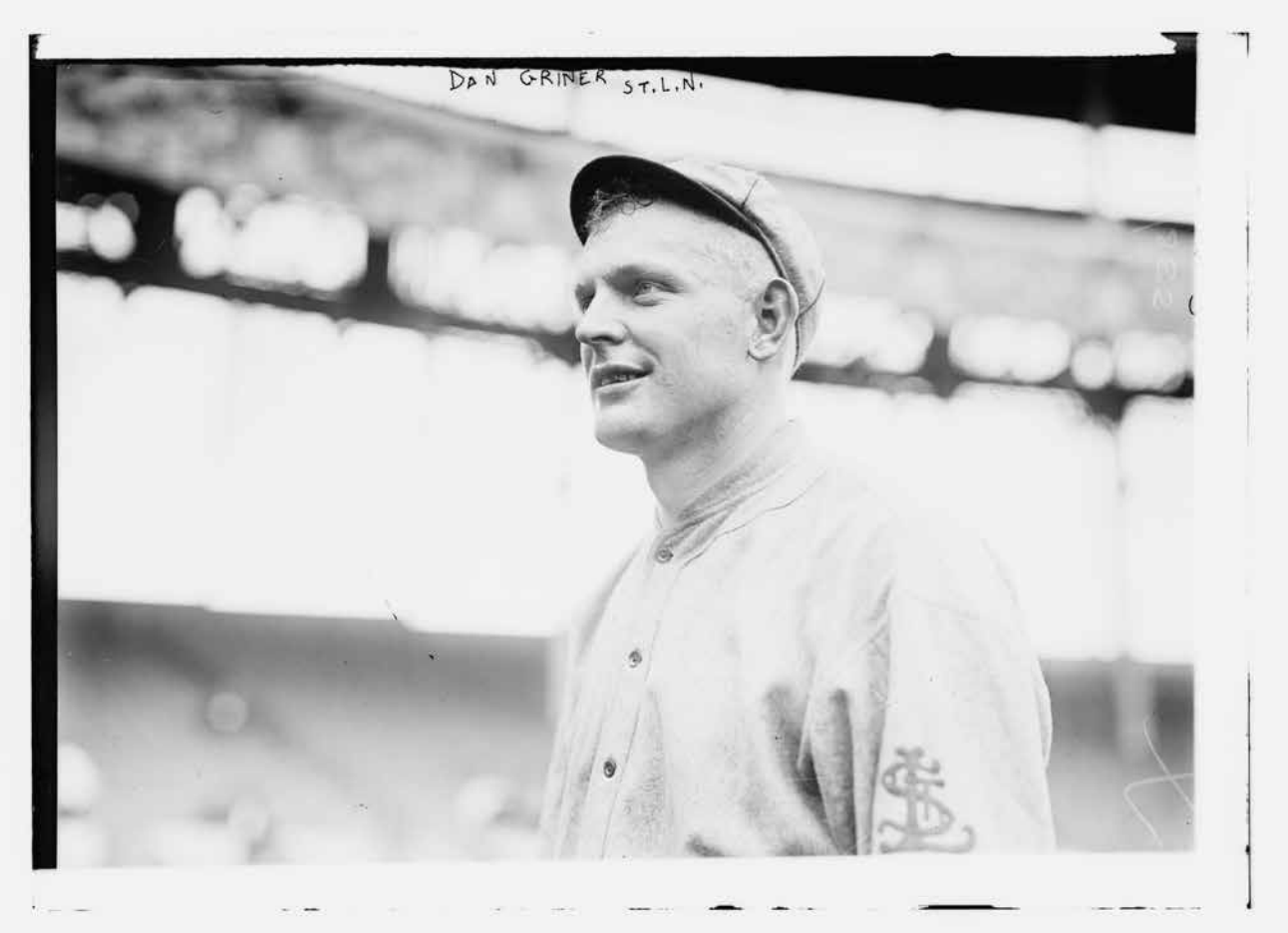 ---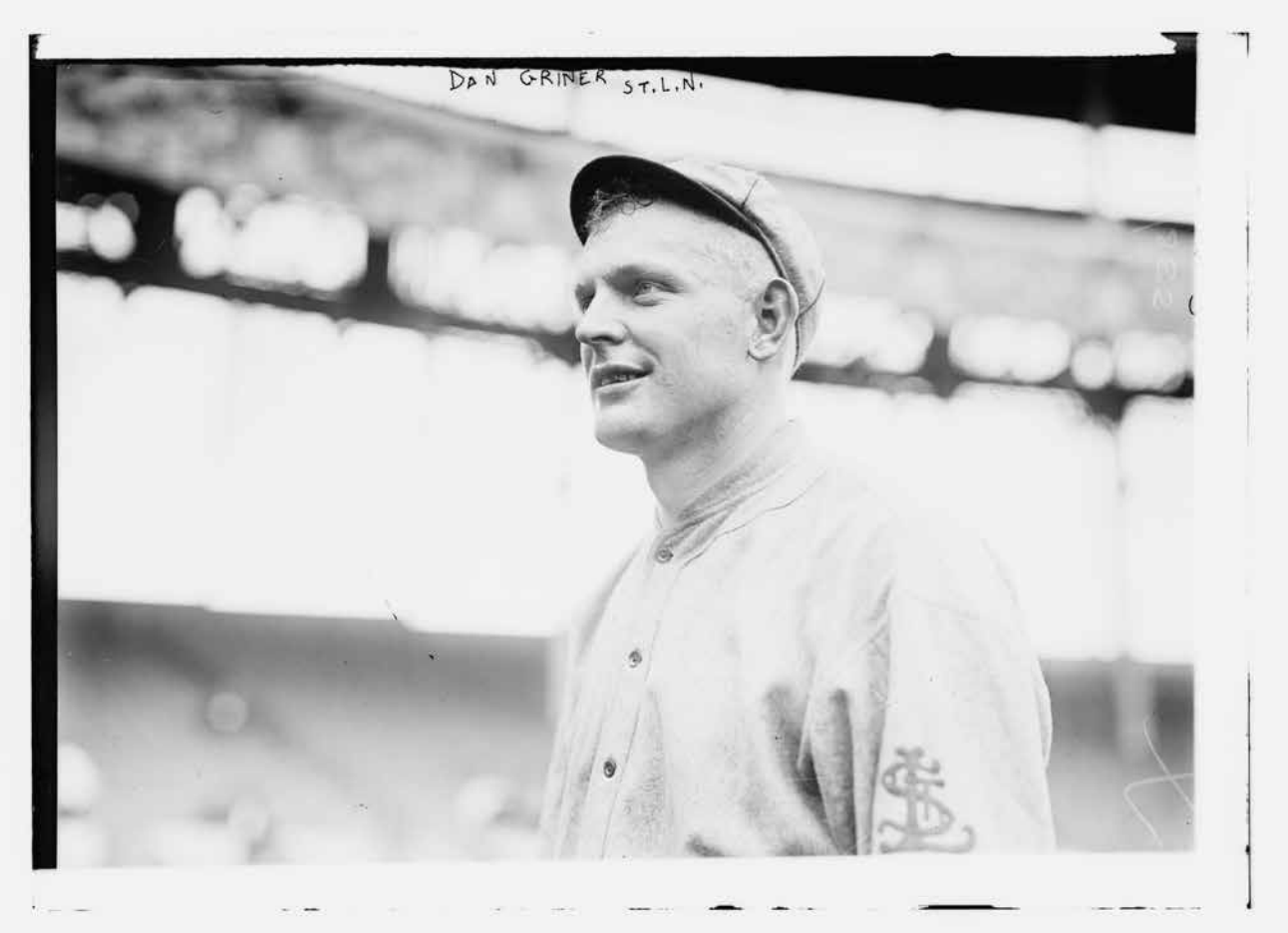 In his first full season in the majors, Dan Griner lost a big-league-most 22 games with the moribund St. Louis Cardinals in 1913. But few probably gave him a hard time for that dubious feat because "Big Dan," a chiseled 200-pound former football player, didn't take kindly to insults. He KO'd three teammates the following season and was a permanent fixture in skipper Miller Huggins' doghouse until the Cardinals discarded him in early 1916. With the St. Paul Saints in American Association the next two seasons, Big Dan became Cinder Dan as Griner transformed himself into one of the most notorious emery-ball pitchers in Organized Baseball. After brief return to the big leagues with the Brooklyn Robins in 1918, Griner jumped to a shipbuilders league to avoid the draft, and then spent his final six seasons in the minors.
Donald Dexter Griner was born on March 7, 1888, on the family farm in a rural, sparsely populated area, then simply known as Civil District 15, located in western Hickman County, in middle Tennessee. He was the first child of William and Margaret (Lawson) Griner, native Tennesseans of German and English stock, who, according to various US Census reports, had two younger children (Park and Mary), but also suffered the loss of three others in childbirth or soon thereafter. The elder Griner was a veteran of the Civil War, and served in the 9th Tennessee Cavalry Battalion in the Confederate Army.
Little is known about Dan's youth, but one aspect is sure. He was a big, rugged kid who liked the outdoors and had a predilection for sports. By at least 1908, Griner was playing baseball on local amateur and semipro teams in nearby Centerville, the county seat, located about 60 miles southwest of Nashville. By that time he was also a student at the Mooney School in Murfreesboro, 75 miles east of Centerville. W.D. Mooney founded the college-preparatory academy in 1901 with a special emphasis on educating the children of poor former Confederate veterans. The influential pedagogue was also instrumental in the organization and development of high-school athletics in the state in an era when there were very few public high schools, save for those in larger cities like Nashville, Memphis, or Chattanooga.
Griner was something of a wunderkind, whose name regularly graced the pages of local newspapers for his athletic prowess. He was a standout pitcher and was a member of Mooney's track and field state championship team in 1911, specializing in the 12-pound hammer throw, shotput, and discus.1 His best sport might have been football. The Tennessean described the 6-foot-1, 200-pounder as one of the best prep players and tackles in the country, and seemed confident that he would attend Vanderbilt University, then a national gridiron powerhouse.2
Financial obligations forced Mooney to transfer the boarding school to Harriman, in the rolling hills of far Eastern Tennessee, by late 1910, and Griner's accomplishments continued to grow. He spent the summers in Centerville pitching in semipro leagues, but his big break may have come in 1912 when Mooney played a series of exhibition baseball games against the University of Tennessee, Knoxville.
By the late spring of 1912, Griner had signed a professional contract with the Cleveland (Tennessee) Counts in the six-team Class-D Appalachian League, which had been founded the previous year. The 24-year-old Griner overpowered the opposition, wining nine of his first 10 decisions and attracting the attention of big-league scouts. According to Sporting Life, M.R. "Bill" Armour, scout for the St. Louis Cardinals, outbid the Boston Braves, and signed Griner on June 15, with delivery to the team the following spring.3 Six weeks later, the Redbirds paid an additional premium for Griner's immediate delivery to the club.
A perennial also-ran, the Cardinals were coming off a surprising winning season in 1911 (75-74), their first in 10 years, but had been floundering for most of 1912, and desperately needed pitching. Griner debuted on August 17 in the first game of a doubleheader against Boston at Robison Field on the north side of the Gateway City. In relief of the team's best hurler, Slim Sallee, Griner hurled three shutout innings, yielding just one hit and fanning two. His performance, and especially appearance, had a marked effect on the St. Louis Post-Dispatch, which described him as a "massive, broad-shouldered product of the Tennessee hills" and noted humorously that the recently arrived southpaw had to borrow a discarded uniform and cap that barely fit him.4 "Big Dan," as he became to be known, finished his abbreviated rookie campaign with a 3-4 slate, and logged 54 innings.

Sporting Life hailed Griner as a future star and praised his "assortment of foolers, confidence and change of pace."5 Consequently, the newspapers also considered the Cardinals to be one of the league's dark horses in 1913. Feisty second baseman Miller Huggins replaced Roger Bresnahan as player-manager, and tabbed Griner to start the season opener. Griner used his "mystifying" underhanded curve to fan a career-best nine in a complete-game victory over the Chicago Cubs, 5-3, at Wrigley Field.6 With a "bewildering cross-fire" delivery, Griner completed nine of his first 12 starts, winning five of 11 decisions.7 Sportswriter W.J. O'Connor of the Post-Dispatch gushed that "It's time that somebody should print a life-sized picture of Daniel Griner … under a bold black caption: The find of 1913."8 Griner showed "flashes of cleverness," opined sportswriter William A. Phelon, but hit a brick wall after tossing his first of 11 career shutouts, an 11-hitter against Chicago on June 24 and tallying the game's sole run after his triple. That victory improved his record to 7-9 (3.44 ERA), but thereafter Griner lost 13 of 16 decisions while yielding almost as many runs (84, 75 earned) as innings pitched (88⅓).9
The Cardinals (51-99) had the worst record in baseball in a miserable season in what had been a mostly forgettable existence since their admission to the NL in 1892. Griner (10-22) led the majors in losses and most hits per nine innings (11.2), while posting the second highest ERA in baseball (5.08 in 225 innings), exceeded only by teammate Pol Perritt's (6-14) 5.25. To top it off, Sporting Life claimed Griner's "chief fault" was his "super-extensive wind-up" which made it easy for runners to steal bases.10
Undeterred by 22 losses, Griner held out in 1914. He had joined the Baseball Players Fraternity, an early attempt to organize professional ballplayers, the previous campaign, and was exploring his options, which were suddenly more enticing with the rival Federal League set to inaugurate play in 1914.11 He was actively courted by several FL teams, most notably the Pittsburgh Rebels. Schuyler Britton, Cardinals president, recognized the threat the upstart circuit posed to his club and other players, like Sallee and Dots Miller, and inked Griner to a contact in mid-March.
Despite an abbreviated spring training, Griner looked sharp in the Redbirds' season opener, tossing a complete-game five-hitter to beat the Pittsburgh Pirates, 2-1, at Robison Field in St. Louis. Soon thereafter, Griner proved to be one of Huggins' biggest headaches. On April 23 he and teammate Lee Magee got into a fight; Griner was suspended and missed the Redbirds' two-week Eastern road swing. In Huggins' doghouse, Griner pitched primarily in long relief in May, but made additional headlines for his pugilistic tendencies. He decked another teammate, catcher Ivey Wingo, and then scored his third knockout when he landed a combination on Ted Catcher's face, sending the backup flychaser to the hospital for stitches on May 27.12 Sporting Life labeled Griner sarcastically the "great white hope," then an immediately recognizable epithet that boxing promoters used to describe Caucasian challengers to Jack Johnson, the first African-American heavyweight champion.13
Griner antagonized opponents, as well. He often pitched with what the Post-Dispatch described as "exasperating deliberation," walking around the mound and conferring with his catcher instead of rearing back and rifling the ball to the catcher as was customary.14 Griner developed a reputation as one of the slowest workers in baseball, with nine-inning games lasting well over two hours in an era when the overwhelming majority were concluded in less than two hours.
Griner also had his fair share of bad luck in 1914. From July 27 to August 7 he tossed four consecutive complete games, yet lost each in walk-off fashion despite pitching the best ball in his career. He yielded just two unearned runs (eight earned) in 33 innings for a 0.55 ERA, while the Cardinals tallied just one run. "Pitcher Griner Ought to Sue Huggins Cardinals for Non-Support," ran a humorous headline in the Post-Dispatch.15 In a hard-to-fathom decision, Huggins shuttled his snake-bitten right-hander back to the bullpen. After Griner suffered yet another tough-luck loss on September 25 to the New York Giants, 3-1, St. Louis sportswriter, L.C. Davis, known for his penchant for poetry, penned a short ditty, "Dan Griner lost another game, for which he wasn't much to blame. A passed ball scored the winning run, and Daniel lost it, three to one. It looks like the jinx is riding Dan, and marked him for an also ran. Against the fates he cannot buck, as [teammate] Hub Perdue hogged all the luck."16
Griner thumbed his nose at Dame Fortune in his final start of the year, a three-hit shutout of the Cubs. He concluded the campaign with a 9-13 record (2.51 ERA in 179 innings) as the Cardinals' NL-best team ERA (2.38) helped secure the team's best finish (third place) thus far in its 23 years in the NL.
Huggins and his problem-child Griner were at loggerheads before spring training even opened in 1915. Griner had married Grace Martin, originally from Chambersburg, Pennsylvania, the previous December in Hot Springs, Arkansas. Instead of reporting to Hot Wells, Texas, with his teammates, Griner remained in the resort city and worked out on his own, and possibly also with the Boston Red Sox, who also trained there. By May, Huggins had had enough of the increasingly unpopular Griner. "It is a well known fact that Griner and several of his teammates do not get along," noted one insider.17 The Cardinals apparently had agreed in principle to a trade with Cincinnati, shipping Griner to the Reds in exchange for their headache, pitcher Phil Douglas, who had been suspended because of his drinking problem.18 Griner put the kibosh on that plan when he spun a two-hitter against the Philadelphia Phillies on May 19, facing the minimum 27 batters for just his second win of the season, both by shutout. Huggins rued his decision. Griner (5-11, 2.81 ERA in 150⅓ innings), once again in the role of swingman for most of the season, came down with arm problems and pitched only twice in the final seven weeks of the season, as the Cardinals (72-81) fell back into their customary position in the second division.
"I intend to take Griner South for another trial," said Huggins as the Cardinals prepared for spring training in the Texas heat in 1916. "Some persons think he has no winning attitude. I will not rush him. If his arm doesn't come around … I intend to ship him to the minors."19 Hug kept his word. When active rosters were reduced to 23 players on May 15, Griner became the headache of Mike Kelley, skipper of the St. Paul Saints in the Double-A American Association.
Griner proved to be an effective yet unspectacular pitcher over the next two seasons with the Saints, posting a combined 32-25 record and logging in excess of 500 innings. He also emerged as one of the most notorious emery-ball pitchers in the league. One report described him and former big leaguer Cy Falkenburg, now with the Indianapolis Indians, as the circuit's "most prominent exponents of pitching camouflage."20 Griner had been accused, during his stint with the Cardinals, of throwing occasionally a spitball, legal at the time, as were other freak pitches, like the mud ball, shine ball, and emery ball. The American Association, renowned as a veritable proving grounds for such dastardly pitches, enabled Griner to forge his craft. "[Griner] smeared rosin on one side and shined it on the other," said former big leaguer Joe Tinker, who managed the Columbus (Ohio) Senators in the AA in 1917 and 1918. "[The pitch] could curve around a corner. I found the old emery board in Griner's glove, and made him throw his glove out, but he pasted the emery on his belt or some other place where I couldn't find it, and the delivery was just as crazy."21
The Brooklyn Robins, coming off a dismal seventh-place finish but just one season removed from their first pennant, took a chance on Griner by acquiring him in a waiver transaction from the Cardinals around December 1, 1917. Skipper Wilbert Robinson's club had just lost two of its primary starters, Leon Cadore (13-13) and Sherry Smith (12-12), to Uncle Sam and the military as part of America's increased involvement in World War I, and sorely needed pitching. After several relief appearances, Griner made his first start on May 6, holding the Philadelphia Phillies hitless for 8⅔ innings at Ebbets Field. Gavvy Cravath, en route to pacing the NL in home runs for the fifth time in six years, broke up the no-hitter with a line-drive single. Griner settled for a one-hitter, but unlike his only other one (against the Boston Braves on July 30, 1914, at the South End Grounds in Boston), he won. It also proved to be his last victory in the big leagues, as he lost his next five starts. Soon thereafter, Griner jumped ship, literally.
Shipyard leagues, as SABR member Jim Leeke explained in The National Pastime, flourished during the years of World War I.22 Concentrated on the East Coast, these leagues became attractive to some major leaguers after General Enoch Crowder, provost marshal of the US Army, announced a "work or fight" decree in early June 1918. However, the decision to work but continue to play baseball on the weekend, was not without consequences. "Any big-league player who sought a shipyard job in 1918 heard abuse from many fans and sportswriters," wrote Leeke.23 Some players, most notably Shoeless Joe Jackson, sought employment at a shipyard and played on a company team to avoid the draft. So, too, did Griner, who went AWOL from the Dodgers after his last appearance, on June 8, and took a job at a munitions plant and pitched for Standard Shipbuilding of Staten Island. Griner led his club to the league title, and then lost to Jackson's team, Harlan & Hollingsworth, champion of the Delaware River League, in the finals of the Atlantic Coast Shipyard championship. Few were sorry to see Griner go when the Superbas announced his reinstatement and transfer back to the St. Paul Saints for the 1919 season. "He gave the Shipyard League a bad smell," opined C. Stewart Wart. "Griner's removal from our midst bodes well for a cleaner slate."24 Spitballs, emery balls, and the like were illegal in the circuit, but that did not stop Griner from relying on them, even after he had been suspended on several occasions.
During Griner's absence, the American Association had made headlines at its winter meetings in January 1918 by becoming the first professional baseball league to ban doctored pitches, in a concerted effort to increase scoring. "We put an end to all freak deliveries," said league President Thomas J. Hickey triumphantly.25 Pitchers were apparently unfazed by the potential fines, and became more ingenious in their subterfuge. So successful were they in hiding foreign substances and objects that, according to one report, not one pitcher had been fined in the first two years of the ban.26 Into this mix returned Griner, known as "Cinder Dan" to some for his use of coarse embers to scuff or shine a ball.
In his most successful season in Organized Baseball, Griner (21-14, 3.14 ERA in 321 innings) teamed with Dick Niehaus (23-13, 2.67, 307) to lead the Saints (94-60) in 1919 to the first of four American Association championships in six seasons. Griner reached the apex of his career in the Little World Series, which pitted the Saints against the Vernon Tigers, champion of the Pacific Coast League. Griner tossed three complete-game victories, and did not yield an earned run (two unearned) in 27 innings, but the Saints lost the series in nine games with all contests played at Maier Park, the Tigers' home field a few miles south of Los Angeles. Throughout the season, Griner plotted with teammates to conceal his nefarious tools of the trade; at other times, he openly flouted the rules. "[Griner] kept a handful of cinders back of the knoll," read one report, "and at intervals applied them to the ball" in full view of the umpire.27 Griner's batterymate, Marty Berghammer, revealed years later how he and Griner worked in tandem. "When Dan got a new ball," said Berghammer, "he would always throw it to me. I had a piece of emery sewed inside of my glove, and it was a very simple matter to give the pill a twist and roughen [it up]."28
Griner did not parlay his success into another shot in the big leagues. After the 1919 season, the majors banned the spitball and its unholy brethren, with a provision that each team could name two pitchers who would be permitted to continue throwing them. The 32-year-old hurler remained with the Saints in 1920, going 16-13, as skipper Kelley's squad (115-49) captured another American Association flag. St. Paul lost the Little World Series to manager Jack Dunn's Baltimore Orioles (110-43), who had secured their second of seven consecutive International League titles.
Released by St. Paul early in the 1921 season, Griner worked his way down the minors like so many other players of the era. After a season with the St. Joseph (Missouri) Saints in the Class-A Western League, he pitched briefly for the Cleveland Manufacturers in the Class-D Appalachian League, and then served as pitcher-manager for the Fulton (Kentucky) Railroaders in the Class-D Kentucky-Illinois-Tennessee (KITTY) League in 1922-23.
At the age of 35, Griner concluded his 13-year professional baseball career. In parts of six big-league seasons, he posted a 28-55 record and 3.49 ERA in 673⅔ innings. He batted .237 on 52 hits.
Griner drifted away from baseball in retirement. According to his player's questionnaire from the Baseball Hall of Fame, he attended Florida Southern College, and subsequently worked as a medicine salesman. On June 4, 1950, Griner died of an apparent heart attack at the age of 62 in Bishopville, South Carolina. He was survived by his second wife, Lucille (Parrott) Griner, originally from South Carolina, whom he had married in 1935. Griner was buried in the Bethlehem Methodist cemetery in Bishopville.
This biography is included in "20-Game Losers" (SABR, 2017), edited by Bill Nowlin and Emmet R. Nowlin.
Sources
In addition to the sources cited in the Notes, the author also accessed Griner's player file and player questionnaire from the National Baseball Hall of Fame, the Encyclopedia of Minor League Baseball, Retrosheet.org, Baseball-Reference.com, the SABR Minor Leagues Database, accessed online at Baseball-Reference.com, and The Sporting News archive via Paper of Record.
Notes
1 "Mooney Wins Track Meet With Only Four Men," Tennessean (Nashville, Tennessee), May 14, 1911: 17.
2 Tennessean, November 29, 1911: 10.
3 Sporting Life, June 22, 1912: 3.
4 "Pitcher Griner, in Hand-Me-Down Suit, Performs Like a John," St. Louis Post-Dispatch, August 8, 1912: 4, 1.
5 Sporting Life, April 26, 1913: 9.
6 Ibid.
7 W.J. O'Connor, "Griner Pitches a Good Game and Cards Beat Cubs," St. Louis Post-Dispatch, April 13, 1913: 4, 1.
8 W.J. O'Connor, "Griner Looks Like a Find," St. Louis Post-Dispatch, June 5, 1913: 16.
9 William A. Phelon, "The Great 1913 Campaign and How It Looks To a Non-Combatant," Baseball Magazine, August, 1913: 24.
10 Sporting Life, August 2, 1913: 10.
11 "What Players Ask For. Long List of Demands," San Francisco Call, October 29, 1913: 1. See also "Baseball Players Fraternity," Baseball Magazine, October 1914: 89-92.
12 W.J. O'Connor, "Griner Lands on Catcher; Ted Lands on Hospital List," St. Louis Post-Dispatch, May 28, 1914: 22.
13 Sporting Life, March 20, 1915: 17.
14 "Cardinals Blank Dodgers; Huggins Outfit Now in Third," St. Louis Post-Dispatch, June 14, 1914: 4, 1.
15 "Pitcher Dan Griner Out to Sue Huggins' Cardinals for Non-Support," St. Louis Post-Dispatch, August 4, 1914: 14.
16 L.C. Davis, "Sport Salad," St. Louis Post-Dispatch, September 26, 1914: 8.
17 "One Good Game Blocks Trade of Dan Griner," Pittsburgh Press, May 22, 1915: 15.
18 Ibid.
19 W.J. O'Connor, "Huggins to Keep Only 2 Catchers for 1916 Season," St. Louis Post-Dispatch, February 4, 1916: 16.
20 "Banishment of the Trick Ball Stuff Is Pleasing," Pittsburgh Post-Gazette, January 6, 1918: 25.
21 " 'Shine Ball' No Mystery; Just the Emery Made Over," Brooklyn Daily Eagle, September 30, 1917: 38.
22 Jim Leeke, "The Delaware River Shipbuilders League, 1918," The National Pastime (Phoenix, Arizona: SABR, 2013). https://sabr.org/research/delaware-river-shipbuilding-league-1918.
23 Ibid.
24 C. Stewart Wart, "After the Whistle Has Blown," The Morse Dry Dock Dial (New York), March 1917: 17.
25 "Banishment of the Trick Ball is Pleasing."
26 "Pitcher Griner Violates Antispitball Order and Escapes Ump's Reprimand," Lead (South Dakota) Daily Call, September 24, 1919: 6.
27 Ibid.
28 Manning Vaughan, "Putting 'Em on the Pan," Milwaukee Journal, December 5, 1929: 111, 5.
Born
March 7, 1888 at Centerville, TN (USA)
Died
June 4, 1950 at Bishopville, SC (USA)
If you can help us improve this player's biography, contact us.
https://sabr.org/sites/default/files/Screen%20Shot%202018-10-04%20at%202.13.32%20PM.png
600
800
admin
/wp-content/uploads/2020/02/sabr_logo.png
admin
2012-01-04 20:47:18
2012-01-04 20:47:18
Dan Griner