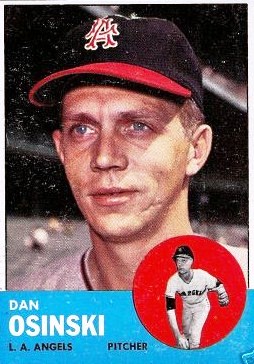 ---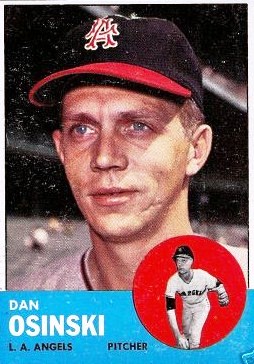 He was known among his colleagues and sports scribes as "The Silencer," a name he acquired from a Pacific Coast League sports writer in 1962 while playing for Portland. The nickname followed him through his professional baseball career. Dan Osinski, who would later pitch for the Boston Red Sox, was an original "fireman," as the term was coined during the early 1960s when the relief specialist role was becoming fashionable in professional baseball. The timing couldn't have been better for Osinski, and may have extended his career.
Daniel Osinski was born on November 17, 1933, in Chicago. In his major league playing days, he was listed as 6 feet 1½ inches tall, and weighing 195 pounds. In his first two high school years, in Wauconda, Illinois, Osinski played basketball, baseball, and one year of football. His family moved to Barrington, Illinois, where he starred in the same three sports at Barrington High School in his junior and senior years, 1950-51. He threw two consecutive no-hitters in his senior year, and remembers that there were baseball scouts everywhere watching his games. Interviewed at his Sun City, Arizona, home, Osinski recalled his early days. "Baseball wasn't my main sport," he recalled. "When I was in high school it was basketball and football."1
After a brief flirtation with the U.S. Naval Academy, whom the media accused of favoring athletes by clearing Osinski for admission after first failing his physical, Osinski wanted no part of the media or the controversy deciding instead to play pro baseball. "I went to St. Louis and worked out with the St Louis Browns, and the Cleveland Indians were [also] down there at the time. They ended up signing me when I was down there," he recalled in an interview.
Wally Laskowski, an Indians scout, signed Osinski to a major league contract in 1951. Osinski was 17 years old. He signed for $4,000, the most he could get and not be considered a "bonus baby," required to spend a year with the big-league team.
In 1952 Cleveland assigned Dan to Fort Smith, Arkansas, of the Western Association (Class C). He recalls pitching to John Blanchard of the Yankees organization: "I can remember throwing him a fastball and he hit that thing up the light tower in right-center field. I never had a ball hit that hard off me ever."
Osinski had an 11-16 won-loss record with Fort Smith, with a 3.58 ERA. He struck out 155 batters, but led the league with 171 bases on balls. He gave up 188 hits in 221 innings.
In 1953 Osinski pitched for Sherbrooke, Quebec, of the Provincial League (Class C), an experience he described as being "a little wild there." He had a good won-loss record of 18-7 with a 2.80 ERA, giving up only 149 hits over 196 innings pitched. He struck out 135 batters — a team record — but issued 138 walks.
Dan described with amusement a unique pitching experience at Sherbrooke. "I was out to Lake Magog, a little place I remember going swimming out there one time, and I never got sunburned so bad. And then I had to come back and pitch the next day. I had sunburn all over and I just covered myself up with this Noxzema, and I had a wool sweatshirt on, and I went out there. I was loose, don't get me wrong, I got very loose. I walked 17 batters and I still had a shutout going in the eighth inning. … I won the ballgame 5-1."
From Sherbrooke, Osinski went to Keokuk, Iowa of the Class B Three-I League in 1954. "My roommate there was Roger Maris," said Osinski. "Roger and I were roommates at Keokuk, Reading and Tulsa."
Osinski laments over his season at Keokuk, where he won 13 games and lost 10. He made a great start the first half of the season, and was the starting pitcher in the All-Star game. But he became inexplicably tired, weak, and ineffective during and after the All-Star break. Though he pitched in his normal rotation, he struggled the balance of that year. He was later diagnosed with infectious mononucleosis, which plagued him for a long time.
For 1955, he and Maris were assigned to Tulsa of the Double-A Texas League. One day, a day before he was to start, Osinski was running a fever and not feeling well. As he warmed up for a relief stint, the team doctor paid him a visit. "Boy, he came out and got me. He wouldn't let me in there because I had too high a fever. That's when I really found out I had the mononucleosis. That's from the year before. I had it all that time, I couldn't shake it. I didn't find out about it until I was on the road trip. I wasn't sure what happened, you know, what it was. They sent me to Reading, Pennsylvania. … I got into Reading into the hotel, and then I just passed out. The maid found me in my room."
Osinski spent the better part of two months in and out of a hospital recovering and saw little action while in Reading. He was then sent to Spartanburg of the Tri-State League (Class B), where he made his first start for the Peaches on July 9, 1955, allowing only five hits and two earned runs. "My weight was down, too at that time, probably, if I was 175 pounds I was heavy. I was getting over [the mono]. I was still kind of shaky with it."
From Spartanburg, Osinski was sent to Fayetteville of the Carolina League (Class B) in 1956, still recovering from the mononucleosis, and struggling to pitch in spite of his medical condition. He posted a 10-11 won-loss record that year with a 3.75 ERA.
In 1957 Osinski was drafted into the Army and served for two years. (He failed his first physical because he still had mononucleosis, but passed a second physical.) At the same time he was having his doubts about continuing in baseball. "At that time I was just thinking about hanging it up. I just wasn't moving at all going from Double A to A, to B again, and then to B again which was not considered as strong a league as the Three-I League. You think, oh, you're done." Meanwhile, he wound up at Fort Campbell, Kentucky, where he received a "special assignment" — playing baseball — for the 187th Battle Group.
Osinski returned to baseball in 1959 as a free agent. "I never knew what my status was," he recalls. "Nobody knew that I was in the service. If you see all my records, they show 'out of baseball.' … I didn't tell anybody. I just thought I was done anyhow, so when I got out I went to see somebody at the White Sox, and they ended up [asking me to] come on to spring training. We went to spring training in the minor leagues at Hollywood, Florida, and I made the ball club for the Class-C team there."
Osinski went to the White Sox' Duluth-Superior club of the Northern League (Class C), where he made a conscious effort to craft himself into a relief specialist which he felt would serve him well getting to the big leagues. "When I got there I decided, well, the best way for me to do it is to become a relief pitcher and forget about the starting."
Osinski made a league-leading 53 appearances, all in relief, at Duluth-Superior in 1959. He was among the leaders with a 2.41 ERA, an 8-9 won-loss record, and 129 strikeouts. "Duluth was just a stop to see if I could play again," he says.
From Duluth, in 1960 Osinski traveled to Charleston, South Carolina, in the South Atlantic League (Class A), where he played briefly, posting a 2.31 ERA. Before the season ended, he was sent to Lincoln, Nebraska, of the Three-I League, and posted a 9-2 won-loss record with an impressive 2.89 ERA. He pitched in 61 games between the two clubs, mostly in relief roles. In 1961 Osinski returned to Charleston and pitched a full season there. Once again he led his league for most appearances with 56 that year, with an 8-6 won-loss record and a solid 2.50 ERA. Osinski was taking on the "workhorse" label and being noticed by major league clubs.
The Kansas City Athletics acquired Osinski's contract from the White Sox and invited him to spring training for 1962. Osinski made a strong showing, and went north with the club. He made his major league debut on April 11, 1962 against the Minnesota Twins in a losing ball-game, 8-0. Dan had a somewhat inauspicious start pitching one inning, yielding three runs on two base-hits and a walk, including a two-run homer by Earl Battey. He pitched in four games allowing nine runs on eight hits, eight walks, and four strikeouts in 4 2/3 innings. On May 4, Osinski was shipped to the Athletics' Albuquerque, New Mexico, affiliate in the Texas League, where he posted a 3.00 ERA with a 3-1 won-loss record.
The Athletics' manager, Hank Bauer, was engaged in a youth movement and gave up on many of his older players, among those being Osinski who was rated promising, but wild. He was sold outright to the Portland, Oregon, club of the Pacific Coast League (Triple A). Osinski was a workhorse from the outset. He arrived in Portland on May 29, pitched that night, and relieved twice the next day. Sports writers labeled him "rubber-arm" for his endurance. By June 17 he had made 16 relief appearances in 20 days, posting a 1.06 ERA in that stretch.
Osinski made the PCL All-Star team which played an exhibition game against the Los Angeles Angels in Portland on July 11, 1962. "I made the All-Star team. I wasn't there more than 22 days, or something like that, and made the All-Star team. Not very long. Les [Peden, All-Star manager] says come on out, get a little gift or something while you're there, get in uniform and just go out and get dressed, go back and just [make an appearance]. My brother came in town, we had a couple of beers, played golf that day and I went to the ballpark," Osinski recalls.
"I said, well, I'll sit out in the bullpen. Collum's pitching and he's got the bases loaded, or something like that, and Les calls up the bullpen and he says, 'Dan, can you get somebody out?'" Osinski said with a chuckle. "And that was my big break, really. I said, 'Yes I'm loose. I had a couple of beers, is that all right?' I went in there, I don't know who they [Los Angeles Angels batters] were, but I struck out the side and got out of the inning without giving up a run." He went on to pitch another inning against the Angels. "I think I just about struck out everybody I faced. That was the whole turning point [for me]," said Osinski, who won the game in relief. [Osinski actually struck out four in 1 2/3 innings, and two of the final three batters.]
Fred Haney, the Angels' general manager, attended that All-Star game and liked what he saw. Haney acquired Osinski's contract from Kansas City for $35,000 and a player to be named (Ted Bowsfield was later named).
Osinski joined the Los Angeles team on July 24, 1962, making an immediate impact, and established himself as a reliable major league reliever. He was called upon immediately, facing the O's in both games of a doubleheader and getting a save in the second game. One month later he pitched in a New York Yankees series and distinguished himself by appearing in all three games, shutting down the Yanks for five innings in the final game and winning it in the 13th. He had five wins and two losses through August and appeared in 18 games over a five-week span. He finished the season appearing in 37 games, between Kansas City and Los Angeles, with a 6-4 won-loss record and a combined 3.97 ERA.
Osinski gives a lot of credit to Angels pitching coach Marv Grissom, who molded several Angels throwers into quality moundsmen. "Marv was the first real pitching coach I ever had in the big leagues. I really liked him because you got them out any way you could. If you had to knock someone down, you knocked them down. They got me to be what they called the 'hatchet man.' If someone knocked one of our players down, I knocked two or three of theirs down. They played me in games sometimes just to do that. And that was from Marv. [It was the] same way he was. You'd be wild enough to be effective."
He played for the Angels in both 1963 and 1964, posting 8-8 and 3-3 won-loss records, with 3.28 and 3.48 ERAs, respectively. He recalls an injury in 1963 on April 13, his first appearance of the season – when he was hit by a line drive off the bat of J.C. Martin of the White Sox and broke a finger on his pitching hand, as being his downfall with the Angels. "That's [when I] ended up not being effective for the Angels, really."
The Angels traded Osinski to the Milwaukee Braves of the National League on November 29, 1964. One of Osinski's lasting, and not very fond memories of his experience that 1965 season with the Braves and manager Bobby Bragan was an event that could have jeopardized his baseball career. Describing Bragan's actions, he said: "He got me in a little trouble. How would I say it, he wanted to always prove a point [about] something. I remember [on] that day, Ken Silvestri was our bullpen coach. He was a catcher, [and] Bragan calls up [the bullpen]. We're playing the Giants, I believe it was, and Shaw was pitching for the Giants and throwing nothing but spitters. I remember [Bragan] calling the bullpen and asking if anybody down there threw a spitter, and I got elected."
Osinski says Bragan handed him the ball upon his arrival from the bullpen and ordered him to throw spitters. "'Dan, I want you to throw every pitch a spitter and make it obvious. So I said okay, and that's what I did. And I threw, I think it was, 81 straight spitters [an exaggeration, perhaps, since he faced nine batters in two innings]. I only got called on it, I think, twice and they said 'just wipe it off.' "
The following day Howard Cosell, who was covering the game for a TV network that day, asked Bragan before the game if Osinski would demonstrate the spitter. Osinski was reluctant, realizing the threat to him that that kind of exposure would bring, but Bragan prevailed and Osinski was featured on national television.
"From that day on I never got another strike [called that year] in the big leagues. If they didn't swing at the ball they were walked. I still ended up pitching in 61 ball games that year." There is clearly some hyperbole here, in that Osinski did not pitch more than two innings against the Giants that year; and, no one appears in 61 ballgames without a single strike being called by an umpire, but his point remains.
Remarkably, Osinski still posted a 2.82 ERA that year with Milwaukee. He and Billy O'Dell surpassed the club modern record of 60 pitching appearances. O'Dell pitched in 62 games and Osinski in 61.
On December 15, 1965, Osinski was traded to the Red Sox along with pitcher Bob Sadowski for Arnold Earley, Lee Thomas, and a player to be named (it turned out to be Jay Ritchie). The Red Sox intended for Osinski to be a short relief pitcher backing up their ace reliever, Dick Radatz. Manager Billy Herman was high on Osinski.
Sizing up the Red Sox's chances in spring training, future Hall of Famer Ted Williams made the comment that their strong suit in 1966 would be pitching. Analyzing the pitching corps, Williams spoke about the new kid, Dan Osinski: "I'd hate to hit against that guy. What a motion he's got. He's got to help this club."2
In 1966 the Red Sox finished ninth — next to last — in the American League, 26 games out of first place. Osinski appeared in 44 games with a 4-3 won-loss record and a 3.61 ERA. Since he had only a one-year contract in '66, he had to once again earn a place on the roster in 1967, which he did.
1967 was a memorable year for the Red Sox and for Dan Osinski. Osinski not only secured a job again with the Red Sox, but he became a five-year man and qualified for a major league pension, played on a league champion, and played in a World Series. An article in the Boston Herald Traveler described Osinski this way: "Osinski is not a sentimentalist. Rather, he's a pro's pro. Though he has only five years in the major leagues, he has the qualities –maturity, judgment and a dogged competitiveness — that often are never found in men with twice his longevity."3
The Red Sox won the pennant — their first since 1946 — in the final season-ending series against Minnesota. They went on to play the St. Louis Cardinals in the World Series but lost in seven games. Osinski pitched in two games. In Game Three Osinski came in to pitch in the eighth inning and gave up two hits and one run. In Game Seven he relieved Dave Morehead, who had walked the bases full in the ninth inning. He pitched to one batter, Orlando Cepeda, who fouled out. He remembers the seventh game vividly. "Lonborg couldn't break a pane of glass in the bullpen when he was warming up," said Osinski, "We all knew that, and [Dick Williams] still started him. You know he could have pitched the bullpen an inning apiece, or something. It just gave Gibson too big a lead against us that we couldn't come back from."
Osinski finished the 1967 regular season with a 3-1 won-loss record and a 2.54 ERA. In spite of a pretty good year, the Red Sox released him on April 3, 1968. He said he never learned of this from management, but found out from a Boston sports writer. He was picked up as a free agent by the Chicago White Sox on April 29, and was sent to Hawaii of the Pacific Coast League.
Osinski once again became the workhorse, pitching often and winning games. In one stretch in May, he worked more than 25 innings of scoreless ball. By mid-July he had a 5-0 won-loss record and a 1.44 ERA, and was named to the first team PCL All-Star squad. For the season, he appeared in 51 games with an 8-2 won-loss record and a 2.39 ERA.
The White Sox invited Osinski to their 1969 spring camp. He didn't have a major league contract at the time, so he had to earn his way onto the roster. Osinski earned a roster spot with the White Sox and played the entire 1969 season with them, posting a 5-5 won-loss record with 51 appearances, and a 3.56 ERA.
At the end of the '69 season the White Sox assigned Osinski to their Tucson affiliate. He was then sold to the Houston Astros and invited to their spring camp as a nonroster player. He made the Astros club and pitched in three games, but was ineffective. He was optioned to Oklahoma City of the American Association (Triple A) on April 22, 1970, and made 45 appearances with a 6-8 won-loss record and 2.42 ERA.
On November 30, 1970, the San Diego Padres made Osinski their first selection in the Triple A draft at the baseball winter meetings, and planned to assign him to their new Hawaii franchise. But he decided to end his baseball career and stick with his off-season job at a bank full time. "In the off-season I was usually selling tickets for the White Sox or working for the bank, and my boss at the bank [it was thought] had a heart attack," he says. "I was one of the few guys that knew all the accounts and was able to wine and dine its customers. If they needed money, I could go out and get the money for them, and I ended up staying at the bank."
Dan worked in a sales capacity for a used car dealership in Sun City, Arizona, where he lived with wife Peggy. They had one son. Osinski died on September 13, 2013.
A version of this biography originally appeared in "The 1967 Impossible Dream Red Sox: Pandemonium on the Field" (Rounder Books, 2007), edited by Bill Nowlin and Dan Desrochers.
Sources
The author also relied upon:
Thorn, John and Peter Palmer, with Michael Gershman. Total Baseball (4th edition), The Official Encyclopedia of Major League Baseball (New York: Viking Press/Penguin Group, 1995).
Neft, David S. and Richard M.Cohen. The World Series (New York: St. Martin's Press, 1990).
Notes
1 Author interviews with Dan Osinski on March 3 and 12, 2006. Unless otherwise indicated, all quotations from him come from these interviews.
2 Will McDonough. "Pitching to Be Sox Strong Point – Williams," Boston Globe, March 4, 1966: 22.
3 Unsigned Editorial; "Danny O. Won't Forget This Year," Boston Herald Traveler, October 4, 1967: 51.
Born
November 17, 1933 at Chicago, IL (US)
Died
September 13, 2013 at Sun City, AZ (US)
If you can help us improve this player's biography, contact us.
http://bioproj.sabr.org/bp_ftp/images2/OsinskiDan.jpg
600
800
admin
/wp-content/uploads/2020/02/sabr_logo.png
admin
2012-01-04 19:49:47
2012-01-04 19:49:47
Dan Osinski