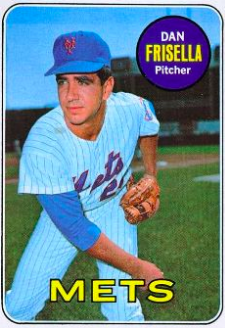 ---
Danny Frisella's 11-year career in professional baseball is often overshadowed by his unusual death, but the right-handed pitcher spent at least part of 10 different seasons in the majors. The big,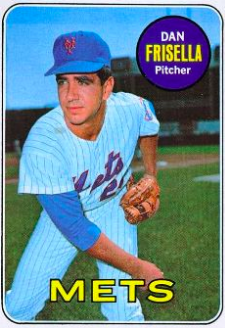 beefy hurler with the nickname of "Bear" saw his greatest success in his stint as the top right-handed reliever with the Mets from 1970 to 1972.
Daniel Vincent Frisella was born on March 4, 1946. He grew up in San Francisco as the son of an Italian-American firefighter and an Irish-American mother. He was a star baseball player at Serra High School in San Mateo before pursuing a college education, first at the College of San Mateo in his freshman year, and then at Washington State University in his sophomore and junior years. In both of his years at Washington State, he led his college team to a division title and was named to the All-Conference team.
Frisella was first drafted in 1965 by the Braves, but the young pitcher opted to continue his education for another year instead of signing with Milwaukee. In the summer of 1965, the right-hander played baseball in Fairbanks, Alaska, for the Goldpanners, along with another pitcher who would not sign with the Braves after being drafted: Tom Seaver. The two future Mets right-handers helped lead the Goldpanners to the state championship. In 1966, after his junior year in college, Frisella was again drafted by a major-league team. This time the team was the Mets, and Frisella quickly signed and started his professional career with Auburn in the New York-Penn League.
Though he threw right-handed, Frisella batted left. He stood an even 6 feet tall and is listed at 185 pounds.Frisella spent the following three seasons shuttling between the majors, the minors, and the Air National Guard. He was not a particularly hard thrower, but his excellent curveball allowed Frisella to quickly sail through the lower minors. While he reached Triple-A Jacksonville after just 24 starts in Class A, and debuted in the majors in Los Angeles on July 27, 1967—just his second year as a pro—Frisella's stuff proved to be inadequate for a major-league starter. He was never able to establish himself in that role as a major leaguer. His 11 starts as a Met in 1967 were more than he made the rest of his career combined (he made six starts in 1968 and one each in '70 and '74). The interruptions to his seasons that came about as part of his military training probably didn't help matters, but he was far from the only major leaguer dealing with that obstacle, and of course it was nothing compared with being drafted to serve in Vietnam.
Frisella's wife, the onetime Pamela Marshall, played an important role not only in his personal life but in his athletic career. She was quite athletic herself. Before their marriage she had spent a year as an offensive end and safety in a women's professional football league. In her, Danny Frisella had not only a life partner but a motivator and an active participant in his training.
After spending significant periods of time in the majors in 1967 and 1968, Frisella pitched only 4 2/3 major-league innings during the Mets' miraculous 1969 season, making three appearances during a July call-up. But the pitcher's career took a positive turn in the winter of 1969 when Diego Segui taught him the forkball in Venezuela. The forkball proved to be the out pitch Frisella needed, and in 1970 Frisella came up to the majors to stay. Serving as Tug McGraw's right-handed counterpart in the Mets bullpen, Frisella enjoyed the best season of his career in 1971. The season began on a positive note for Frisella, as he picked up a win on April 10 when the Mets edged the Reds 3-2 in 11 innings. On April 27, Frisella picked up his first save of the year by pitching the ninth inning of a 2-1 victory over the Cardinals. On May 21, after Nolan Ryan put a 6-2 Mets lead over the Braves in jeopardy in the top of the ninth inning by plunking Eddie Williams and Ralph Garr and walking Hank Aaron, Frisella came into the bases-loaded situation and induced Orlando Cepeda to ground out to end the game. This stint earned the right-hander his club-leading fifth save.
Frisella continued to pitch spectacularly through the first half of the season. At the All-Star break, Frisella had thrown 47 innings with a 1.72 ERA, having allowed only 10 runs on 38 hits, 12 bases on balls, and 3 home runs while striking out 51 batters. Frisella's second half wasn't nearly as strong as a result of soreness in his shoulder that started in July, but he did pitch effectively in September and ended the 1971 season with 42 games finished and 12 saves while posting a 1.99 ERA with 92 strikeouts in 90 2/3 innings. In 1972, Frisella picked up nine saves, but as a result of further arm problems his overall numbers were down and he was dealt to the Atlanta Braves along on the offseason with roommate Gary Gentry for Felix Millan and George Stone in what turned out to be a great trade for the Mets. It did not work out so well for Frisella.
After two poor seasons in the Braves bullpen—his 4.67 ERA over 78 games proved to be the highest he would have for any of the five major league clubs he pitched for—Frisella was traded to the Padres for Cito Gaston. He bounced back in his one season in San Diego with a 3.13 ERA in a career-high 97 2/3 innings (1-6 record notwithstanding), but Frisella was traded again just before Opening Day in 1976 to the St. Louis Cardinals. He spent just two months there before he was moved to the Milwaukee Brewers. Despite the multiple stops, 1976 was another successful season for Frisella as he closed for the Brewers and picked up 10 saves, his most since leaving the Mets.
Unfortunately, 1976 was to be Danny Frisella's last season. On New Year's Day, 1977, Frisella was killed in a tragic accident. He and a friend were riding at a relatively slow speed in a dune buggy less than 100 feet from the Frisella's Phoenix home when the pitcher, reacting to the vehicle tipping in the sand, pulled the hand brake and tried to jump off. In his attempt to escape the vehicle, however, his foot got stuck and his head was crushed by the rollbar. Frisella left behind his wife, Pamela, and two sons, Jason and Daniel, the latter of whom had yet to be born when his father died, along with a jewelry business the couple had started to prepare them for life after baseball.
Sources
The National Baseball Hall of Fame Library Player Archive
Allen, Maury, "Danny Frisella: A Kid With A Lot of Guts," New York Post, January 4, 1977
Draper, Dick, "For Pam Frisella, Memories of Danny Linger," San Mateo County Times, no date
Lang, Jack "Ex-Alaska Goldpanners Seaver, Frisella Hit Pay Dirt With Mets," Long Island Press, no date
Lang, Jack, "McGraw and Frisella—Supreme Game-Savers," Long Island Press, July 1, 1972.
Russo, Neal, "Danny Has Early Success Thanks to Pam's Fat Hand," St. Louis Post-Dispatch, May 9, 1976
"The Adventures of Dan and Pam," New York Sunday News, July 25, 1971
"Dan Frisella Making Hay With New Fork Ball," New York Post, May 16, 1970
"Danny Frisella Dead in Car Mishap At 30," New York Times, January 4, 1977
Born
March 4, 1946 at San Francisco, CA (USA)
Died
January 1, 1977 at Phoenix, AZ (USA)
If you can help us improve this player's biography, contact us.
https://sabr.org/sites/default/files/Screen%20Shot%202019-03-27%20at%2011.37.33%20AM.png
600
800
admin
/wp-content/uploads/2020/02/sabr_logo.png
admin
2012-01-04 20:40:22
2012-01-04 20:40:22
Danny Frisella