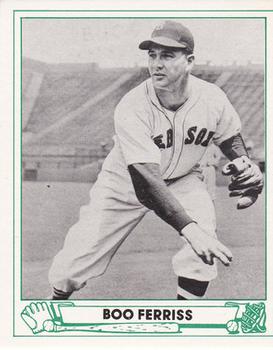 ---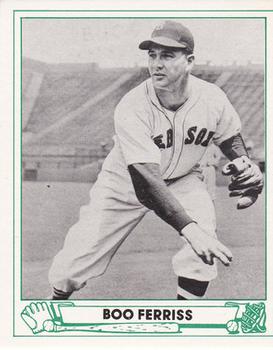 You won't find David Ferriss in the Cleveland, Mississippi, telephone directory — but if you were to look up Boo Ferriss, you'd find him. "A lot of people down here hardly know my real name," he says. The nickname came when he was a baby and tried to say the word "brother" and it came out "boo." He was born David Meadow Ferriss, though, on December 5, 1921, at Shaw, Mississippi. He batted lefthanded, but threw righthanded; he probably could have thrown ambidextrously, but never had the chance. He broke into baseball with one of the best starts any pitcher ever had and played on the great Red Sox teams of the late 1940s before suffering arm problems that cut his career short.

Boo grew up in with a love of baseball he inherited from his father, William Douglas Ferriss, who had played semipro ball and then managed several semipro teams and also worked as an umpire. He was a farmer, raising cotton, and worked as a cotton buyer as well. Boo's mother also worked as postmaster in the town of Shaw for some 30 years. Shaw is about 10 miles south of Ferriss's home today.

There were three children in the family — a brother seven years older and a sister five years younger. Will D., the brother, favored football and played in both high school and college. Growing up, Boo played on an open lot right by the side of the house where children in the area played. "In the summertime, of course, there wasn't any organized Little League or anything in those days. We just chose up and we'd play all day and knock off for lunch, and come back in this open field."

There was no junior high school in town; Shaw High School started in the seventh grade, so Boo was playing high school baseball in the seventh grade — against some kids who were quite a few years older. "I was always out there throwing the ball around with them and everything. I really wasn't on the team, but one day the coach got short-handed and he called me out of the stands to play second base. In the eighth grade, I became the regular second baseman.

"One game there, as I started playing some, a runner came into me at second base and I guess dumped me and I fell on my right wrist and broke it. I was always throwing the ball around, outside the house and against the steps and everything with my right hand, so that summer I had my right hand in a cast and I started throwing lefthanded, just to keep active. I loved to get out in the yard and throw a ball — a tennis ball — outside the house and the steps, so I developed some talent throwing lefthanded also." Batting was different, though. "I never batted right in my life. I don't know how I started that. It just came natural to me."

At coach Jim Flack's suggestion, he began pitching a couple of years later and worked from the mound the last 2 1/2 years of high school, playing second base when not pitching. Shaw played round robin style in a county baseball league of around 10 schools. Football and basketball were more popular school sports in Mississippi at the time, but Ferriss fortunately came from an area that preferred baseball. Shaw won the county championship his last couple of years, in his junior year winning the Delta championship in an area that covered about a dozen counties. There were no state playoffs at the time.

By his senior year, he'd begun to attract attention of both college scouts and some major league scouts, in particular from the Indians, the Giants, and the Yankees. "The pro scouts told me they would sign me — it was open stock back then. There wasn't any such thing as the draft. I could have gone pro, but my dad said, 'You're going to college. You're not ready for pro ball.' I knew I wasn't. Mississippi State offered me a full scholarship for baseball. It was the first one they had ever had [offered one] for baseball. The coach there, Dudy Noble, was highly regarded in college baseball circles and had had several major leaguers to go out of there, namely Buddy Myer with Washington, Hugh Critz, Giants and Cincinnati, Willie Mitchell, I think with Cleveland, and a good number of other folks. That was Depression years, so my daddy was thankful for that full scholarship. I had offers from Ole Miss, Alabama, Tulane, and Mississippi College, but I went to Mississippi State on that full scholarship and was very thankful for it."

Freshmen weren't allowed to play varsity ball, but he played on the freshman team, then varsity ball in 1941 and 1942. For the most part, he played first base when he wasn't pitching — and he had to carry two gloves because of an idiosyncrasy that confused some of the other teams: he played first base lefthanded, then pitched righthanded. "I guess I was saving my right arm," he says. Ferriss did pitch a little lefthanded in semipro days, but never in professional baseball.

It was after finishing his sophomore year that the Red Sox offered him a nice deal, sending him to Brattleboro, Vermont, to play Northern League baseball, what was called a "college league." It was an eight-team league and he recalls playing against Sam Mele (Burlington) and Chuck Connors (Bennington). That was the summer of 1941. He hadn't signed a professional contract, but the Red Sox were scouting him, knew he had some potential, and their support gave them a bit of a foot in the door. Scout Neil Mahoney made the arrangement.

Brattleboro's manager was Bill Barrett, a former major league outfielder and by then a Red Sox scout. "We had players from Holy Cross and Georgetown and Seton Hall. Harvard, all around. Oklahoma. It was a great experience and I got to see my first major league game. I saw Lefty Grove win his 300th game. Bill Barrett took us in the clubhouse, got to meet Ted Williams, Bobby Doerr, Dom DiMaggio — later my teammates — Jimmie Foxx, Lefty Grove, and all those great names. That was my first major league game. Then after the season was over in early September, the Red Sox wanted me to come down and pitch batting practice for them and stay with them. I stayed with them a week and pitched batting practice in Fenway, and Joe Cronin took me to Yankee Stadium. Ted took me down, walked me down to Times Square and all. That was such a great experience for a small-town boy from Mississippi. September of '41."

So Ferriss was with the Red Sox for a week as he saw Ted Williams in some of the last days of his .406 season, though he'd had to return to college before Ted's dramatic final weekend in Philadelphia. Boo completed his junior year and then signed with the Red Sox in early June of 1942 for a bonus of $3,000, a good amount at the time. "And my dad had them put in the contract that whenever I spent 30 days with the big club, I'd get a bonus of $6,000. So a few years later, I was fortunate to pick up that bonus after being there 30 days." The Sox sent him to their Class B Piedmont League team in Greensboro, North Carolina. As a pitcher for manager Heinie Manush, he was 7-7 with a 2.22 ERA, striking out 98 while walking 53. Manush had him play outfield in several games, too.

Greensboro won the pennant and Ferriss won the MVP award in the playoffs. A couple of months after returning to college, he was drafted. He joined the Army Air Corps as a physical training instructor. Basic training was in Miami and then he was sent to Randolph Field, Texas, where he stayed for the duration, a little more than two years. There were a lot of Army air bases around San Antonio and there was an eight-team league so he got to play a lot of baseball in the area. One of his teammates was later Boston batterymate Matt Batts. The San Antonio Aviation Cadet team from Kelly Field was the big rival; that team featured Enos Slaughter, Howie Pollet, and Del Wilber. "Randolph was kind of considered the 'West Point of the Air.' The main thing there, I got to play for a former major leaguer, Bibb Falk. He was one of the finest baseball men I ever crossed paths with in my entire career." Falk was head coach at the University of Texas, 42 years old, but volunteered to join the service and took Ferriss under his wing. So in 1943 and 1944, Ferriss played for the Randolph team.

He left the service earlier than expected because his asthma kicked up. It's something he'd suffered most of his life. A couple of times in high school, he'd had to lay off from a game or two. In January of 1945, Corporal Ferriss developed a severe case at Randolph Field and it put him in the hospital for some six weeks before he was finally discharged in late February. Back in Shaw, under the care of his hometown doctor, he got better and the Red Sox asked him if he would be able to try spring training with Louisville. He gave it a shot and it worked out well. Cincinnati manager Bill McKechnie saw him pitch a couple of exhibition games and called up Joe Cronin, saying, "There's a kid down here in Louisville and if you don't like him, I'll purchase him for Cincinnati." A lot of baseball's best players were still in the service, so Cronin took notice. Ferriss was scheduled to pitch the second game of Louisville's season, against Toledo. "About 2:30 I was in my room and there was a knock on the door and it was Nemo Leibold, the manager for Louisville. He came in and said, 'Hey, kid, get your bags packed.' I thought he was sending me down. He told me, 'You catch a 5:30 train to Washington. You're joining the Red Sox.' That was a great moment, for sure. I was on that 5:30 train."

Cronin had just broken his leg, and Del Baker was running the Red Sox. "I had to pinch myself every day to realize where I was, because a month ago I had been in a hospital bed in Randolph Field, Texas, and here I was in the major leagues." The third game of the team's visit to Philadelphia was a Sunday. Ferriss went to church and came to the park a little late, and found the warmup ball in his locker. Thinking there'd been a mistake, he took the ball over to Baker and was told, "Kid, you're in today." Facing Bobo Newsom. Bob Garbark was catching, and Ferriss couldn't find the plate. He walked the first two men on eight pitches. After two more balls — now 10 in a row — Baker came out but Garbark spoke up: "Del, this kid is throwing good. That ball is moving, it's live, and he's just missing. Stay with him." The next pitch was a ball, too, as Ferriss remembers it, but Bobby Estalella reached for it — and popped it up. Next up was Frankie Hayes, and Ferriss walked him on four pitches. It had now been 15 pitches and he knew that not one of them had been a strike. The bases were loaded for Dick Siebert. Finally, he got one over, got the count up to 3-2 and then Siebert hit a ball right back toward the mound — hard. "It bounced out in front of me but bounced over my head. I couldn't catch it and it was headed right over the bag to center field. I thought it was a base hit and I figured I would be back on that train to Mississippi or somewhere. Anyhow, Skeeter Newsome … good-fielding shortstop, been around … he was shading Siebert a little over toward second. He went over and got the ball, the grounder, and stepped on second and threw to first for a great double play to end the inning."

What happened in the second inning? "The next inning, I came out and I walked the first two men again. Oh, that crowd was really hollering. Baker come out again after I walked Hayes in that first inning and, once again, Bob Garbark said, 'Stay with him, Del. Stay with him. He's just missing a little bit.' I'm thankful for Garbark for staying with me. I got the next guys out. Long story short, I went on to pitch a 2-0 shutout over Bobo." Despite the rockiest of starts, Ferriss had thrown a five-hit shutout in his major league debut. And he collected three hits at the plate to boot, his first three times up. "The second time, after the hit, Bobo was hollering at me! 'Who are you? I never heard of you. Where'd you come from?' The third time he came over almost all the way to first base and cussed me out. Oh man, scared me to death. Cussed me out and told me next time up, if I came up again, I was going to hit the dirt. But Dick Siebert told me, 'Oh, kid, that's old Bobo. Don't pay any attention to him. You're doing all right.' That was my introduction to major league baseball."

His second outing was just as impressive. Before a packed house at Fenway Park, he shut out the Yankees, 5-0, on seven hits. He'd pitched two complete games in the major leagues and still not surrendered a run. After four scoreless innings of his next game, making it 22 1/3 consecutive scoreless innings at the start of a career, he finally gave up a run, about halfway into a game in Detroit. He won it, though, 8-2, and he kept on winning — eight straight, beating every team in the league the first time around. Four of them were shutouts.

He finished 1945 with a 21-10 record and a 2.96 earned run average, pitching for a seventh-place ball club. The difference between the '45 team and the 1946 one was like night and day, and Ferriss improved to 25-6 (his .806 winning percentage led the league), with a 3.25 ERA. Both years, he threw 26 complete games. The Sox made the World Series and Ferriss got the start in Game Three. Another shutout, 4-0, a six-hitter. He couldn't turn the trick in Game Seven, though. The Cardinals scored once in the second and twice in the fifth, and Joe Dobson came on in relief. The Red Sox tied it up, but lost it on Slaughter's mad dash in the eighth.

In mid-season 1947, Ferriss suffered a serious shoulder injury. While he battled through a couple more seasons, he was never again the same pitcher. It happened July 14 during a night game in Cleveland. Ferriss went all out, breaking off a curveball and something snapped in his shoulder. Bobby Doerr hit a solo home run in the top of the ninth to win the game, but Ferriss was damaged. He kept pitching. "Pitched pretty well," he allows. "But I didn't have as good a fastball, by any means. I had to do a little more finesse work. I finished up, I believe, 12-11."

Ferriss never had a losing record, but it was all downhill from there. He only made nine starts in 1948. "They did everything they possibly could to help me with my shoulder, but it just took away my power in '48, I was kind of a spot starter and reliever. Had some good moments. I got the save on the last day of the season when we won and the Indians lost to win the pennant. Fenway was going wild; the scoreboard showed the Indians losing to Detroit. I came in the seventh inning against the Yankees with the bases loaded and one out. I pitched the rest of that game. That was about as much pressure as you could have."

In 1949, he appeared in only four games, all in relief. His arm was "completely dead. I just couldn't throw. They worked on it and worked on it, did everything they knew, the medics did and everything." He'd pretty much gotten past the asthma except for one attack in August 1945. He stayed with the ballclub throughout the 1949 season, and through spring training in 1950. He threw the ninth inning of the 1950 opener; the Yankees were already ahead, 13-10. Ferriss gave up two runs on two hits — and didn't pitch again in major league ball. Joe Dobson had tried to get him to pitch left-handed, but he never did. He was sent to Birmingham. The team thought the warmer weather could help. It was the first time Ferriss had been back to the minors since Greensboro. Playing for manager Pinky Higgins, he still couldn't throw hard and had to rely on finesse. He wasn't a power pitcher any more. Southern Association batting wasn't as strong as major league batting, and Ferriss won 10 and lost seven, with a 3.66 ERA.

The next year, Higgins was promoted to Double A Louisville and Ferriss went to Louisville and pitched there in 1951 and 1952, winning seven games both years but seeing his ERA climb to 5.25 and 4.71. His last year, 1953, he coached and worked with the pitchers, throwing just two innings (and giving up four earned runs.) In 1954 Ferriss again worked as a coach, which paid off when Higgins became manager of the Red Sox in 1955. Ferriss became his big league pitching coach, from 1955 through 1959, working with pitchers such as Frank Sullivan, Ike Delock, Willard Nixon, Tom Brewer, Mike Fornieles, Bill Monbouquette, and (the first year or two) Mel Parnell and Ellis Kinder. "I was fortunate to get those years in, to give me a total of almost 11 years in the major leagues. I left on my own accord. Our children were back and forth with school. Go to spring training, then back to Shaw — still making my home in Shaw — and we had children getting on up, eight or nine years old."

The Ferriss family had a son and a daughter. It was their daughter Margaret who was the athlete, competing in high school basketball and tennis. She is now administrator of the Mississippi Sports Hall of Fame and Museum, located in Jackson. David Junior is a medical doctor with CYGNA, working as an administrator in health management.

Boo himself took a position as athletic director and baseball coach with Delta State University in Cleveland, Mississippi and coached 26 years, until he retired in 1988. There was about an 18-month stretch in the middle when he was athletic director at his alma mater, Mississippi State, but the long tenure before and after were with Delta State. "We won three Division Two World Series and played for the national championship in '78. We went in '77, '78, and '82. In '78, we played Florida Southern for the national championship. They beat us in the final game. We finished two years in third place" Jim Miles, Stewart Cliburn, Barry Lyons, and Scooter Tucker were among DSU alumni who made it to the majors.

He very much enjoyed his time coaching college ball. "Had a winning record. Had the top record in Division Two for a good number of years there. Good experience working with young men and being a part of their lives. That's a very enjoyable and rewarding experience and I wouldn't take anything for it."

Inducted into the Red Sox Hall of Fame in 2002, Boo has made a number of trips to Boston in recent years and keeps in touch with several of the players from his era.

A decent batter, he averaged .250 in 372 at-bats and even did some pinch-hitting. His only home run came his first year, on June 29. It was the top of the ninth, off Johnny Humphries, a two-run homer into the right-field stands at Comiskey Park, giving the Red Sox a 4-2 win and giving him his 11th victory of the year. He's one pitcher who can look back at his major league career and know that he was almost never taken out for a pinch-hitter.

Boo Ferriss's brother Will was a salesman who served in the war, going into the service station and trucking business in Shaw after the war. He died in 1972. His sister Martha Ann Ferriss Parker was an excellent tennis player, in the Tennessee Tennis Hall of Fame. Their father died in 1943 and never had the chance to see Boo play professional ball. "He kept up with me, encouraging and everything, when I was in Greensboro and all, but he didn't see me play. That was a sad point in my life, because he would have loved that. He and I just dreamed always of being a major league player and I was fortunate to attain that and he would have loved that."
Postscript
Dave "Boo" Ferriss died at age 94 on Thanksgiving morning, November 24, 2016, less than a mile away from a baseball field which bears his name.


This biography originally appeared in the book "Spahn, Sain, and Teddy Ballgame: Boston's (almost) Perfect Baseball Summer of 1948," edited by Bill Nowlin and published by Rounder Books in 2008.


Source

Interview with Boo Ferriss, March 6, 2006
Born
December 5, 1921 at Shaw, MS (USA)
Died
November 24, 2016 at Cleveland, MS (USA)
If you can help us improve this player's biography, contact us.
http://sabr.org/sites/default/files/Ferriss-Boo-TCMA.jpg
600
800
admin
/wp-content/uploads/2020/02/sabr_logo.png
admin
2012-01-04 20:47:06
2012-01-04 20:47:06
Dave Ferriss