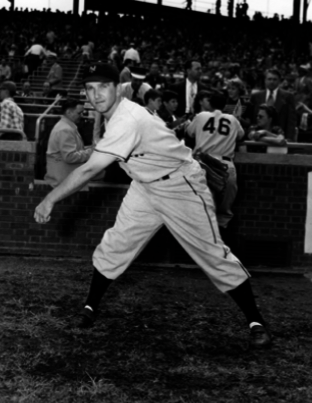 ---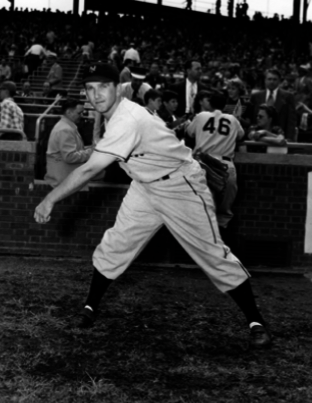 Hard-throwing southpaw Dave Koslo was touted as Carl Hubbell's successor when he debuted for the New York Giants in 1941.Though he never developed into the dominant ace many predicted, he won ten or more games in six of seven seasons (1946-1952) and finished with 92 wins in 12 big-league seasons. His career, however, is defined by another, much more dramatic victory. In Game One of the 1951 World Series, Koslo shocked baseball by tossing a complete game to defeat the New York Yankees, 5-1.
Dave Koslo was born George Bernard Koslowski on March 31, 1920, in Menasha, Wisconsin, to Stanley and Theodisia Koslowski. Both parents were born in West Prussia, an eastern province in the Kingdom of Germany, and emigrated to the United States as children in the late 1880s. The territory subsequently became part of the reconstituted country of Poland after World War I. Consequently, the Koslowskis alternately listed their country of origin as Germany, Germany-Poland, and Poland on various US Census reports, but also noted that they were native German-speakers. Stanley, who worked in a publishing house, married Theodisia "Tess" Konetzke, a local from Menasha, located on the northern tip of Lake Winnebago in east central Wisconsin. They welcomed seven children into the world (Theodisia, Lilian, Regina, Ambrose, Marcella, Herbert, and George) between 1904 and 1920. According to Koslo's daughter, her aunt Marcella nicknamed her father "Dave" for no apparent reason; for the rest of his life he was known as Dave.1
Growing up in the harsh economic times of the Great Depression, Dave and his older brother Herb found refuge in sports, moving from football and basketball to baseball as the seasons progressed. By all accounts, the two were inseparable with Dave throwing to the crouching Herb in sandlot and pickup games. They attended Menasha High School but made their names as batterymates for the Twin City Paper Makers of the semipro Northern State League in 1936, and in the Fox Valley League in 1937. In 1938 the brothers led the semipro Menasha Falcons to the state tournament, where 18-year-old Dave dazzled baseball scouts by tossing a no-hitter in the final. The dominant performance was alternately described by local papers as either Koslo's "third consecutive no-hit, no-run game of the tournament" or his third no-hitter of the season.2 After the final, Red Smith, a scout for the Milwaukee Brewers of the America Association who also coached for the Green Bay Packers, signed both Dave and Herb to minor-league contracts.
The Brewers assigned Dave and Herb to the Hopkinsville (Kentucky) Hoppers in the Class D Kentucky-Illinois-Tennessee (Kitty) League for the 1939 season. While a recurrence of a knee injury suffered in football (and a paltry .136 batting average) ended Herb's professional career after just 34 games, 19-year-old Dave prospered, leading the team with 11 victories against players whose average age was three years older.
After a look-see with the Madison (Wisconsin) Blues of the Class B Illinois-Indiana-Iowa (Three-I) League, Koslo was sent to Paducah of the Kitty League in 1940. For the second-place Indians, he developed into the best young lefty in the league, notching 17 victories. He also ranked second in three categories: Earned-run average (3.03), strikeouts (246), and fewest hits per nine innings (7.9). 3 On the 50th anniversary of the founding of the Kitty League, in 1953, Koslo was chosen by sportswriters to its all-time all-star team.4
During his two years in the Kitty League, Koslo discovered that public address announcers and even Harry Griswold, his manager with Hopkinsville, had trouble pronouncing his name; even more importantly for a promising young player, newspaper reporters had difficulties spelling it. His father suggested that he drop the last four letters of his surname Koslowski in order to get better press coverage. Though he did not legally change his name, Koslowski went by the name Koslo for the remainder of his baseball career.
By the time Koslo reported to the Milwaukee Brewers in 1941, he was already a hot commodity. Milwaukee had rejected offers from the New York Yankees, Washington Senators, and Boston Red Sox to purchase the emerging star. Manager Bill Killefer, who had seen plenty of highly touted young pitchers in his 20-plus years of managing in the major and minor leagues, was not prone to exaggeration, but was impressed by the hard-throwing lefty. "[Koslo] has poise, brains, and what's more, he's a cold-blooded cuss," said Killefer of his mild-mannered, quiet pitcher.5 Koslo was described as a "super sensation"; his forte was his speed, accuracy, and a knee-bucking curve.6 Ever humble, Koslo deflected attention and praised his teammates for his success. "Give credit for my work with the Brewers to my catcher, Ray Hayworth," he said. "He's the brains for the young pitchers on this club."7
Koslo, however, was one of the lone bright spots on the league's worst team (55-98). Attracting scouts all season long, he led the team in practically every pitching category, including wins (13) and innings (203), and was named to the midseason all-star team. Bill Veeck purchased the Brewers in midseason and sold Koslo to the New York Giants on September 1 for a reported $10,000.
Koslo reported to a mediocre Giants team en route to its third consecutive second-division finish, which had last happened at the turn of the century. On September 12 Koslo debuted against the Cincinnati Reds at Crosley Field and pitched two-thirds of an inning of scoreless relief, allowing one hit. After picking up losses in his first two starts despite pitching well enough to win (four earned runs in 14 innings), the confident lefty hurled his second consecutive complete-game six-hitter, and this time came out on the wining end, 2-1, against the Braves in front of just 2,310 spectators in Boston. He finished with a stellar 1.90 ERA in 23⅔ innings.
Despite the trappings of big-city life in New York, Koslo was an all-American small-town boy at heart. He was a lifelong resident of Menasha and returned home at the conclusion of every baseball season. He had rugged good looks, dark hair and eyes, and a dimpled chin, yet was also described as unassuming, approachable, and down-to-earth. In November 1941 he married his high-school sweetheart, Bernice Marcella Tietz, in St. John the Baptist Catholic Church in Menasha. Active in the parish their entire lives, they had two children, Roseann and Tim. Like most players of his era, Koslo worked in the offseason (mail carrier, salesman for a local brewery, paper mill, and publishing house) to augment his baseball salary, reported to be high as $18,000 in 1951. Somewhat of a local celebrity, Koslo was a fixture around town, attended and officiated at local sporting events, and spoke regularly at youth and service organization events. He enjoyed dancing and going to the movies, and even raised pigeons as a hobby.
During his first spring training with the Giants, in 1942, Koslo was described as "one of the most graceful pitchers" in team history.8 He extended his arms well above his head to begin his windup, and possessed a picture-perfect high leg kick; he delivered his fastball and curve with a traditional sweeping overhand motion, but could also drop down to a three-quarters or even side-arm delivery. His classic long follow-through put him in good position to field balls lined back to the mound. Longtime New York sportswriter Joe King raved about Koslo's pinpoint control, which proved to be the key to his success or failure in the major leagues. When he had it, he was unhittable; however, when he lacked it, he was a hitter's dream.9
Koslo seemed about to fulfill the promise of stardom so many predicted for him when he tossed the first of his 15 career shutouts in his second start of the 1942 season. He blanked the Philadelphia Phillies, 3-0, on six hits, striking out eight and walking just one at Shibe Park on April 22. This victory, however, was the highlight of his season. After failing to make it out of the second inning in three of his next five starts, he was relegated to the bullpen in May. The youngest member on the staff, Koslo faltered in his second chance in the rotation, in July, and was subsequently optioned to the Jersey City Giants in the International League. With the world at war, Kolso waited for more than three years for another shot in the big leagues.
Koslo served in the Army from November 1942 until December 1945, trained as a paratrooper and in glider-carried infantry.10 While stationed in the US through 1944, Koslo pitched on and managed several successful base teams. He was ultimately assigned to the 13th Airborne Division and deployed to France in January 1945; however, his division did not see combat. The Sporting News described Koslo, winner of 14 consecutive games for the 13th Airborne, as "one of the most successful pitchers in the military."11 The Giants took note of Koslo's accomplishments and eagerly awaited his return.
In 1946 the pitching-weak Giants enthusiastically welcomed Koslo to spring training, his first in four years. "He is fast and has added a knuckleball which has given him an exceptionally effective change of pace," wrote John Drebinger upon seeing Koslo pitch in camp.12 Koslo's changeup was more like a slow curve; baseball lifer Tom Sheehan helped him develop it in camp.13 Rounding into form, Koslo tossed four complete-game victories in May, and proved to be the only reliable pitcher for manager Mel Ott. On July 11 Koslo defeated the Cardinals in St. Louis to earn his fifth consecutive complete-game victory and become the NL's first ten-game winner (10-7). He then lost 12 of his final 16 decisions as the Giants' bats went silent when he was on the mound; the team scored just 13 runs in those 12 defeats, earning him a reputation as a tough-luck loser. Koslo proved to be a durable pitcher, leading the NL in games started (35), but also in losses (19), and ranked second in innings (265⅓). He was the only Giants pitcher to reach double figures in wins (14).
Koslo got off to another good start in 1947, benefiting from the Giants' explosive offense (they set a league record with 221 home runs). On July 15 he blanked the Chicago Cubs on five hits to push his record to 10-5 and keep the surprising Giants in third place just 3½ games off the NL lead. The excitement of tossing his third shutout and wining his 14th game of the year, a sparking five-hitter against the Phillies, on August 11, was tempered by the death of his father. After missing a week to be with his family in Wisconsin, Koslo struggled after his return to the Giants. During the final six weeks of the season, he won only once (in relief) and posted a 7.60 ERA. His season came to a premature end when he came down with acute pain in his left elbow. He finished the year with a career-high 15 wins against 10 losses, logged 217⅓ innings, and led the team with 31 starts. He also surrendered a league-high 23 home runs, including Jackie Robinson's first big-league round-tripper, on April 18.
Koslo underwent surgery in the offseason at the New York Medical Pavilion to remove bone chips in his left elbow. He claimed that the calcium deposits developed from the "constant snapping in [his] follow-through."14 Though the surgery was considered a success, it marked the end of Koslo's career as a durable starter capable of occasional relief outings. Bothered by elbow tenderness for the rest of his career, he reinvented himself as an effective reliever and swing man, averaging 38 appearances (18 starts) and 173 innings per season over the next six years (1948-1953) as the Giants regained respectability under manager Leo Durocher.
Koslo's two consecutive complete-game victories to start the 1948 season suggested that he had regained his form. But as the season wore on, it was clear that he was weak and no longer able to pitch every four days. He hurled consecutive shutouts in late July, but subsequently developed shoulder pain trying to compensate for his elbow. He won only twice in August and September and finished with a losing record (8-10).
Durocher slotted Koslo for the bullpen to start the 1949 season, and the 29-year-old veteran and longest-serving member of the staff responded by yielding only five earned runs in 32⅔ innings (1.34 ERA) to work his way back into the rotation. Beginning with a career-best 12-inning outing to defeat the St. Louis Cardinals on June 21, Koslo pitched four consecutive complete-game victories, concluding with his most memorable day at the plate. Not known as a hitter (he batted just .109 in 516 career at-bats), Koslo slugged two of his three career home runs and knocked in five runs in an 11-3 win over the Phillies on July 7 at the Polo Grounds. In his most effective stretch in the big leagues, Koslo completed 10 of 14 starts in August, September, and the beginning of October, and sported a nifty 2.70 ERA in 106⅔ innings, but won just five of 14 decisions. While the Giants slipped to fifth place, Koslo reached new heights. He completed 15 of 23 starts, relieved 15 other times, logged 212 innings, and walked a league-low 1.8 batters per nine innings. Surprisingly, he became the first hurler to lead the National League in ERA (2.50) with a losing record (11-14) since Dolf Luque in 1925, and the first ever to accomplish the feat without tossing a shutout.
The New York Giants and Koslo had good reasons to think they could contend for the title in 1951. The team had finished the previous season on a hot streak, winning 41 of their last 62 games. Koslo, firmly ensconced in his role as swingman, had posted a 13-15 record and logged 186⅔ innings in 1950, and had a productive spring in 1951. But the Giants got off to a poor start (3-12 in April) and could not keep up with the red-hot Brooklyn Dodgers, who led them by 13 games on August 11. Koslo likewise started slowly, but made the most of his starting assignments, tossing two impressive two-hit shutouts against the St. Louis Cardinals. (In his career, Koslo made 49 of his 189 starts (25 percent) against the Cardinals, primarily in order to face left-handed hitters Stan Musial and Enos Slaughter.) In one of the great comebacks in major-league history, the Giants won 37 of their last 44 games to tie the Dodgers on the last day of the season and force a best-of-three playoff series. Koslo contributed by winning each of his three starts in September and picking up a win in relief in his only other appearance in the memorable last month of the season. He did not pitch in the Giants' dramatic playoff victory over Brooklyn, and finished the season with a 10-9 record.
Durocher selected Koslo to start Game One of the "Rowboat" World Series against the New York Yankees on October 4 (the Polo Grounds and Yankee Stadium were across the Harlem River from each other). Facing Allie Reynolds, author of two no-hitters during the season, and the vaunted Yankees sluggers, the cagey southpaw pitched the game of his life, a seven-hit complete game to defeat the Yankees, 5-1, at Yankee Stadium. "I didn't think [Koslo] could pitch such a good game," said Yankees manager Casey Stengel. "Besides bothering us with his control, he was ahead of batters all afternoon."15 Koslo threw 109 pitches in the game and adjusted his motion due to the gusts swirling off the Harlem River. "I had the wind to my back and started throwing about three-quarters overhand," said Koslo, who had not started a game in 18 days. "But the curve was hanging up there so I ditched it. I came down to almost side-arm and threw fastballs from the third inning on."16 Koslo is often considered a "surprise" starter for the Series opener, but according to Durocher it was planned. Giants scout Tom Sheehan advised Durocher to "save" Koslo as the Game One starter against the Yankees should the Giants take the pennant.17 Sheehan and Durocher thought the Yankees were susceptible to left-handed pitching, and Koslo was the Giants' only left-handed starter. Consequently, Durocher shelved Koslo after his September 24 relief outing and kept him out of the playoff series with the predominantly right-handed Dodgers.
Facing elimination, Durocher sent Koslo back to the mound to start Game Six. Through five innings, Koslo held the Bronx Bombers to three hits and one run. With the game tied 1-1 in the sixth inning, he surrendered a single and issued two walks (one intentionally) to load the bases. Hank Bauer then drove a bases-clearing triple over left fielder Monte Irvin's head to drive in the winning runs in a 4-3 Series-clinching victory.
"My father always took baseball seriously, but also referred to it as a 'game,' " said Roseann Tews, Kolso's daughter, in an interview with the author. "I remember on nights before he pitched, he was intense and thought about the team and players he would face. He was always outgoing and soft-spoken, but you could see his concentration." She fondly recalled waiting for her father after games at the Polo Grounds and how he was willing to sign autograph books for kids. She vividly recalled the camaraderie on the 1951 Giants team. "Larry Jansen, Al Dark, and Bill Rigney often came to our house for dinner. They all spent a lot of time together. My father's roommate at the time was Monty Kennedy, who was a bachelor. My father kind of took him under his wing and showed him around. The players looked after each other."
In 1952 Koslo once again served as Durocher's trusted swingman, long reliever, and all-around fireman. The crafty veteran prided himself on being able to warm up quickly. Never an All-Star, Koslo participated in his one and only midsummer classic in 1952, when Durocher named him as one of the two batting practice pitchers for the NL squad. In his last effective season as a big leaguer, Koslo made a career-high 41 appearances (including 17 starts), won ten of 17 decisions and posted a fine 3.19 ERA in 166⅓ innings. He continued his uncanny success against the St. Louis Cardinals, beating them five times (twice by shutout) to extend his winning streak against the club to 13 games, before he finally lost to them in September. The Giants and Dodgers were once again locked in a fierce battle for the pennant, but the Giants could not duplicate the Miracle of Coogan's Bluff and finished in second place.
Koslo's last year with the Giants was 1953 and it was a disappointing and unhappy one. He lost his first six decisions, squabbled with Durocher about his lack of starts (just four after a debacle on June 23 in St. Louis in which he yielded four runs without registering an out), and demanded a trade. But he was the only lefty of the staff for much of the season and still a valuable commodity. Meanwhile the pennant-hopeful Giants faltered badly, losing 41 of their last 59 games to finish in fifth place.
The veteran's fate was sealed in the offseason when the Giants acquired left-handers Johnny Antonelli and Don Liddle in a blockbuster five-player trade with the Milwaukee Braves in exchange for local hero Bobby Thomson. Koslo arrived at camp fighting for a job, if not his career. Limited by a wrist injury and a pulled rib muscle for most of spring training, Koslo was sold for a reported $20,000 to the Baltimore Orioles. He made just three appearances before the team placed him on waivers at the end of May. He was picked up by the Milwaukee Braves and made a few late-season relief appearances before being released after just one very unforgettable game in 1955. In the second game of the season, Koslo surrendered a walk-off, game-winning home run to left-hander Bill Virdon, the first and only batter he faced in the 11th inning. It was his last pitch in professional baseball. He retired at age 35 with a 92-107 record, started 189 of his 348 appearances, and carved out a 3.68 ERA in 1,591⅓ innings. He also won 44 games and logged 700 innings in the minor leagues.
As he did after every season since he began playing professional baseball in 1939, Koslo returned to Menasha after his release. Less than two years after his retirement, he suffered a stroke on January 7, 1957, at only 36 years of age.18 He was paralyzed on his left side, but after a lengthy hospitalization and therapy, he recovered fully and worked in sales for the George Banta Publishing Company. His daughter told the author that her father never lost his passion and boyhood enthusiasm for baseball. He occasionally played in reunion games in Milwaukee, coached little-league and youth baseball, and was a constant presence on local sandlots. He also scouted informally for major-league teams, including the White Sox, and kept a watchful eye on big-league prospects.
On December 1, 1975, Dave Koslo died at the age of 55 from a heart attack at Theda Clark Memorial Hospital in Menasha. He was buried at St. John Cemetery in his home town. In June 1976 the city council of Menasha posthumously honored their local hero for his contributions to baseball and the community by renaming the local baseball field Koslo Park.
This biography appears in "The Team That Time Won't Forget: The 1951 New York Giants" (SABR, 2015), edited by Bill Nowlin and C. Paul Rogers III.
Sources
Interview with Roseann (Koslowski) Tews on August 2, 2013.
Dave Koslo Player file, National Baseball Hall of Fame, Cooperstown, New York.
Print
Durocher, Leo, and Ed Linn, Nice Guys Finish Last (Chicago: University of Chicago Press, 1998).
James, Bill, and Rob Neyer, The Neyer/James Guide to Pitchers: An Historical Compendium of Pitching, Pitchers, and Pitches (New York: Fireside, 2004).
Kahn, Roger, Memories of Summer: When Baseball Was an Art, and Writing About It a Game (Lincoln, Nebraska: University of Nebraska Press, 2004).
Thomson, Bobby, The Giants Win the Pennant! The Giants Win the Pennant! (New York: Citadel, 2001).
Williams, Peter, When the Giants were Giants: Bill Terry and the Golden Age of New York Baseball (New York: Algonquin Books, 1994).
Online
Ancestry.com
BaseballLibrary.com
Baseball-Reference.com
Retrosheet.org
SABR.org
Newspapers
Appleton (Wisconsin) Post-Crescent
Capital Times (Madison, Wisconsin)
Chicago Daily Tribune
New York Times
Oshkosh (Wisconsin) Northwestern
Rhinelander (Wisconsin) Daily News
The Sporting News
Wisconsin State Journal (Madison)
Notes
Born
March 31, 1920 at Menasha, WI (USA)
Died
December 1, 1975 at Menasha, WI (USA)
If you can help us improve this player's biography, contact us.
https://sabr.org/sites/default/files/KosloDave.png
600
800
admin
/wp-content/uploads/2020/02/sabr_logo.png
admin
2012-01-04 20:09:45
2012-01-04 20:09:45
Dave Koslo