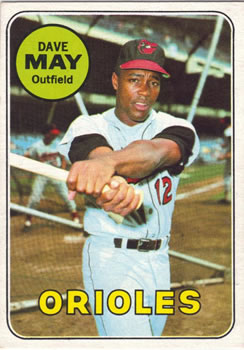 ---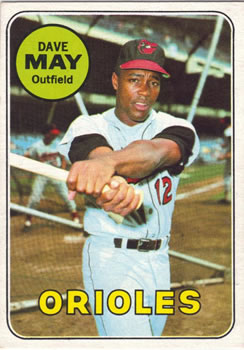 A journeyman outfielder during his 12 major-league seasons, Dave May was called by The Sporting News "a good man to have on a team."1 The stocky 5-foot-10½, 186-pound left-handed hitter played in 1,252 games for Baltimore, Milwaukee, Atlanta, Texas, and Pittsburgh, posting a .251 average with 96 home runs and 422 runs batted in. Best known for once being traded for Hank Aaron, May had experiences most journeymen would envy: playing in a League Championship Series, the World Series, and the All-Star Game. Dave Bristol, who managed him on the Milwaukee Brewers, called him "a big-inning hitter [who has] the power to hit balls out of any park, including Yellowstone."2 Del Crandall, who also handled him at Milwaukee, said May was "a good defensive outfielder [with the] speed to steal a base now and then. … There aren't many better center fielders in the majors."3
The Dallas Morning News called May "without question one of the friendliest players in the sport."4 According to The Great Delaware Sports Book, "Dave May could always hit."5 And he could look good doing it; Bobby Grich, his teammate on the Orioles, called Dave "the greatest batting practice hitter ever," adding, "He was awesome… He could hit an 80-mile-an-hour fastball better than anyone."6 For his efforts, Dave May is in two Halls of Fame, though neither is at Cooperstown. That honor is reserved for one of his gloves.
A native of New Castle, Delaware, David LaFrance May was born on December 23, 1943, the fourth of Sylvester and Catherine (Richardson) May's nine children. His father worked for an auto dealership; his mother was a custodian for the local school district. Sports were important in his family. His father was a catcher as a teenager and a boxer as an adult; his mother was a good softball player.
Dave learned baseball from his older brothers, Scrappy and Gilbert. Sylvester "Scrappy" May, the oldest, was one of the all-time great players in the Delaware Semi-Pro League. A seven-time all-star infielder, Scrappy helped his club win seven pennants and had a .330 lifetime average. Gilbert was the best player in the family and was a standout shortstop for William Penn High School. His promising career was abruptly ended when a cherry bomb accident blew off the fingers of one hand.
The May household on Williams Street was next to a firehouse; Dave threw tennis balls against its sidewall and caught the rebound. "I would do it late at night and my brothers and sisters thought I was crazy," May said. "I always told them what I was going to be and it turned out to be true."
May's first baseball club was Buttonwood of the New Castle Little League; Gilbert played shortstop and Dave pitched and played third. After playing Babe Ruth ball, Dave was a three-sport athlete at William Penn High School, earning All-Blue Hen Conference honors as a third baseman in baseball and as a halfback in football, receiving scholarship offers from Syracuse, Purdue, and Maryland. Dave was scholastically ineligible for sports during 1961-62, his last school year; he began to play semipro ball for Parkway during those summers.
May was only 13 when he started playing American Legion ball with Lawrence Roberts Post, a club that won a state championship in 1961. Scout Chick Genovese of the San Francisco Giants was impressed with Dave's tape-measure home runs and the way he got the jump on the ball, and often stopped by the May household to talk and conduct a workout. Genovese signed May to a contract with a $15,000 bonus in September 1961. Bob Carpenter and Judy Johnson of the Philadelphia Phillies signed him an to even bigger contract the same day, but he belonged to the Giants because their contract was received first by Organized Baseball
May began his professional career with the Salem (Virginia) Rebels of the Appalachian League, where the young outfielder won the batting title with a .379 average and was named to the league all-star team. After the season he was selected by Baltimore in the 1962 first-year player draft. Assigned first to the Stockton Ports in the California League, after hitting .250 in 40 games of part-time action, May was sent to Appleton, Wisconsin, to play for the Fox Cities Foxes of the Midwest League. The move was rewarding – Dave hit .310 in 71 games.
May returned to Appleton in 1964 and earned a trip to the league's All-Star contest. On September 2, Fox Cities won the league championship by beating Clinton 8-5; Dave had three hits, two runs, and two steals. He also won his second minor-league batting title (.368) and was chosen as the Foxes' MVP.
May's Tri-City Atoms (who played in Kennewick, Washington) won the Northwest League championship in 1965, and his stellar play included setting a Northwest League record for runs scored (129). He hit .335 with 23 home runs and 105 RBIs, and led the league in hits, total bases, and stolen bases. He was named to the Northwest League All-Star team and the Class A West All-Star team. In December the Tri-City Herald said May "probably was the most valuable player in the NWL last season."7
Promoted to the Triple-A International League's Rochester Red Wings in March 1966, right fielder May hit .274 with 11 home runs as his team won the league pennant. On September 9, May was recalled by the Orioles, to report to camp the following spring. Before that, he traveled to Santurce to play in the Puerto Rican Winter League. Santurce won the championship in February, with May driving in the tying run with a single in the ninth inning of the final game. Dave returned to play for the Crabbers for the next three seasons, and also played a season with Puerto Rico's Ponce Lions in 1970-1971 and two in Venezuela with the LaGuaira Sharks in 1975-1976 and 1976-1977.
In mid-1967, back in Rochester, his hot bat (.313 with 56 RBI) earned him a trip to the league's All-Star game, but instead he was promoted to the Orioles. On July 28 he started in right field, batted third, and was 1-for-5; his first major-league hit came in the fourth inning, an infield hit off Cleveland's Steve Hargan. May's first major-league homer came two days later, a two-run shot in the first off Cleveland's Stan Williams, triggering a 4-2 Baltimore victory. He stayed with the club as a reserve, and finished with a .235 average.
He made the club the next year and started most games in April and May, but after hitting .146 into early June, he began wearing glasses. On June 22 he was sent to Rochester. His .315 average during his five weeks there earned him a recall to Baltimore on August 3. Used primarily as a pinch-hitter and defensive replacement, he finished the season at .191.
May was a pinch-hitter and spot starter for the American League champion Orioles in 1969. Sent to the outfield against the Yankees on May 3, he cracked an eighth-inning home run to give Baltimore a 5-4 win. Dave hit .299 in August and September and added 22 points to his average during six consecutive starts from September 9 through 18. In 78 games, May hit .242 with three homers and 10 RBIs. He batted once in the playoffs against the Twins, and twice in the World Series against the Mets, drawing a walk off Gary Gentry in Game Three.
The next year May again struggled for playing time, with four strong outfielders (Don Buford, Paul Blair, Frank Robinson, and Merv Rettenmund) plus pinch-hitter Curt Motton ahead of him. After just 31 at bats, mainly pinch-hitting, on June 15 the Orioles traded May to Milwaukee for two minor-league pitchers. Switching Memorial Stadium clubhouses, May faced his old mates two days later, going 0-for-2 with a walk, a strikeout, and a sacrifice-fly RBI.
"It was tough playing for the Orioles because … it was hard to get into a groove," Dave told The Sporting News. "You like to be with a winning club, but with them, I was sitting around. With Milwaukee, I'll get a chance to play."8 Of his time with Baltimore, he said, "You can't help but learn when you're around guys like Brooks Robinson and the guys I got to watch as teammates."9 Robinson was World Series MVP that year using May's glove, which was sent to the Hall of Fame. Robinson had a habit of trading with teammates, preferring game-used leather. According to May, "Brooks had a deal with Rawlings because he owned a sporting goods store in Baltimore. He liked my glove and said, 'What do you want for the glove?' And I said I'll take five pair of spikes and two gloves. The next day, all those things were in my locker and he had gotten my glove. I had written my name on it in black marker and he couldn't get it off. He used it that year; the glove went to Cooperstown."10
At Milwaukee, May became the starting center fielder. He played in 100 games for the fifth-place Brewers, hitting .240 with seven home runs and 31 RBIs. His fielding was excellent, prompting manager Dave Bristol to tell The Sporting News, "You don't have to worry about balls hit in his direction. He'll get anything that gets up into the air. … I'm not looking for a center fielder any more."11 May's presence lifted a .300 club before his arrival to one that played at .448 afterward. Rusty and overweight, Dave dropped 15 pounds before the 1971 season. Batting second, he was Milwaukee's hottest hitter in May and June with 12- and 14-game hitting streaks. He finished at .277, the Brewers' leading hitter.
May struggled all year in 1972. "They kept saying that I was in a slump," he told The Sporting News. "I was hitting the ball hard, but this year it was at somebody."12 He also had to deal with the illness and death of his father. By the end of the year, Dave was hitting aggressively and giving the team tremendous defensive play, but finished with a.238 average and just nine homers.
In 1973 May enjoyed his finest big-league season. The Sporting News said, "May carried the club all year. … [He] was instrumental in igniting the Brewers' 10-game winning streak and a 15-out-of-16 victory binge in mid-season."13 May hit in 24 straight games from July 4 to July 31 and earned a spot on the American League All-Star team, the biggest thrill of his major-league career. He entered the game, a 7-1 National League victory, in the top of the fifth as a replacement for starting center fielder Amos Otis. He popped up to second base in the sixth and again in the bottom of the ninth. A bruised thumb hampered May's swing in the season's final weeks, but he finished his career year among the league leaders in several categories, including batting average (.303), hits (189), home runs (25), and RBIs (93). He led the league with 295 total bases. Milwaukee writers named May and George Scott as the club's co-MVPs.
In 1974 Dave had a bad case of the flu during spring training. Five games into the season, manager Del Crandall moved him from center to right field, leaving May perplexed. "I'm not happy about it at all," he told The Sporting News. "It's going to take time to adjust after being accustomed to playing center field for so long."14 Weak from the flu and unhappy with the move, May struggled at the plate, finishing at .226 with 10 homers.
On November 2, 1974, Milwaukee traded May to the Atlanta Braves for Hank Aaron and minor-league pitcher Roger Alexander. "I didn't ask to be traded," Dave told the Chicago Defender, "but … the way I was being played, I felt a trade was necessary and would help me out. Of course, there was an extra thrill involved in being traded for Hank Aaron."15
With the Braves May was used as a pinch-hitter and was platooned most of 1975, finishing at .276 in 82 games, with 12 home runs and 40 RBIs. His on-base percentage of .361 was the highest of his career. In 1976 Dave Bristol, Atlanta's manager, continued to use May as a platoon outfielder and pinch-hitter, and he hit only.215. After the season Atlanta traded May and four others, plus $250,000, to the Texas Rangers in exchange for slugging outfielder Jeff Burroughs. May welcomed the deal. "I feel I can play two more years at least as a regular," he told The Sporting News.16
May played sparingly during the early weeks of 1977. In June the Dallas Morning News wrote, "May continues to hit in the clutch while regular outfielders Ken Henderson and Claudell Washington remain out of the lineup with injuries."17 With his old Orioles coach Billy Hunter managing the team for the season's last three months, May continued to excel on offense.
Nolan Ryan was tough on May, who hit .125 against him. One at bat, however, was memorable. Ryan, then with the California Angels, was pitching against the Rangers in Arlington on September 12. Batting in the sixth inning with a man on base, May swung and one of his contact lenses popped out. Everybody looked for it. Ryan said, "Oh, just forget about it, you're going to strike out anyhow." Riled, May asked the batboy to bring his glasses, then smashed a ball down the left-field line for a double, scoring Willie Horton with the third Texas run in a 3-2 victory. May stood at second base and hollered to Ryan, "Is that a strikeout?" "I'll always remember that one," Dave said, "He didn't like it – he just wants to get back at you."18 Ten days later, May preserved a no-hitter by Bert Blyleven at Anaheim by charging in on a line drive by Don Baylor in the eighth inning and catching the ball waist-high. Texas won, 6-0.
May (.241, seven homers, 42 RBIs) was at his best for the second-place Rangers with runners in scoring position, hitting .299. At the annual Dallas-Fort Worth winter baseball banquet on January 20, 1978, he received the Good Guy Award.
May was placed on the disabled list with a sore shoulder on April 22, 1978. He hadn't played yet that season. Sold to the Milwaukee Brewers on May 17, he played in 39 games, 25 as a designated hitter or pinch-hitter, all against right-handers. He hit just .195 with two home runs and 11 RBIs for the Brewers in 91 plate appearances. On September 13 Milwaukee sold May to the Pittsburgh Pirates. With the Pirates, he reached base once in five pinch-hitting appearances; batting for pitcher Clay Carroll on October 1, he drew a walk from Dan Boitano and stole second in a 5-3 Pirates win. It was his last major-league game; he was released by Pittsburgh on November 6.
The Phillies signed May as a free agent in 1979 but released him during spring training. He signed with the Santo Domingo Azucareros of the short-lived Inter-American League, a six-team independent Triple-A circuit. Limited attendance doomed the league after two months, causing a financial nightmare for everyone. Miami (51-21) was declared the champion; Santo Domingo (38-29) finished third. According to May, "It was one of the worst things I ever did."19
May returned to Delaware and hooked up with Colonial Wallace, a semipro team run by a furniture-store owner. He sold furniture when he wasn't playing, finishing his five years in the league with a .313 average. In the spring of 1980, May, Chris Short, and Johnny Briggs led Colonial Wallace to Clearwater, Florida, for six exhibition games with the Phillies' minor-league teams, winning four of the contests. Best of all, Dave said, "It was another chance to go to spring training for free."20
In 1983 May became a roving hitting instructor for the Atlanta Braves' minor-league teams. During spring training he served as "the hatchet man." "I would tell the guys that Henry [Aaron] wanted to see them to give them their release. They didn't like to see me coming."21 After camp, May moved on to work with the Anderson and Savannah clubs. His star pupils included Ron Gant and Andres Thomas.
At the end of the season, May returned to furniture and home-appliance sales. He later worked for the county for five years as a recreational sports site director. In 2003, while working as a factory cook, May was diagnosed with diabetes and his right leg was amputated. He also dealt with a heart problem at the same time. "I went through hell that year," Dave recalled.22 He began kidney dialysis and was forced to use a wheelchair.
The 32nd Delawarean to play in the major leagues, May was inducted into the Delaware Sports Museum and Hall of Fame in 1984. He was inducted into the Delaware Afro-American Sports Hall of Fame in 2004.
May married Maxine Hopkins in 1964; they divorced in 1983. They had three children, David, Jr., Derrick, and Denae. David and Derrick played baseball, football, and basketball for Newark High School and were first-team All-State in baseball. David played baseball for Wilmington College and the University of Delaware from 1986 through 1990. In 2000 he became a scout for the Seattle Mariners. Derrick, a former first-round pick of the Chicago Cubs, had a 797-game major-league career (1990-1999), primarily with the Cubs and Houston Astros, posting a .271 average with 52 home runs and 310 RBIs. In 2007 he became the hitting coach for the Springfield Cardinals of the Texas League.
Dave's daughter, Denae, an office manager, was a fine softball player and sprinter for Caravel High School. May said her track coach told him, "The best athlete in your family is your daughter."23
In 2009 May told an interviewer that he spent much of his time following sports on television. "The Eagles and Phillies have kept me going," he said. "I live for the weekends."24 He said four of his nine grandchildren (he also had a great-grandson) had potential as ballplayers – perhaps a third generation of Mays will make it to the majors.
"To have two sons that followed in the profession you were in is very gratifying," May said. He also learned that "the guys I played ball with are happy because I played in the big leagues and that gave them the sense that they are playing in the big leagues because they played with or against me. They say 'I was on the same field that you were on.' I was so happy that they feel that way and that I played as long as I did."25
On October 20, 2012, Dave May died in Bear, Delaware. He was 68.
Sources
Thanks to Dave May for providing background and details on his career. David May, Jr. also helped with background information and arranging contact between the author and his father.
Appleton (Wisconsin) Post Crescent, 1963-1964
Atlanta Constitution, 1975-1976
Dallas Morning News, 1977
Fresno Bee, 1963
Kingsport (Tennessee) Times-News, 1962
The Sporting News, 1962-1980.
Syracuse Post-Standard, 1966
Tri-City Herald (Kennewick, Washington), 1965
Notes
Born
December 23, 1943 at New Castle, DE (USA)
Died
October 20, 2012 at Bear, DE (USA)
If you can help us improve this player's biography, contact us.
https://sabr.org/sites/default/files/MayDave.jpg
600
800
admin
/wp-content/uploads/2020/02/sabr_logo.png
admin
2012-01-04 20:43:04
2012-01-04 20:43:04
Dave May