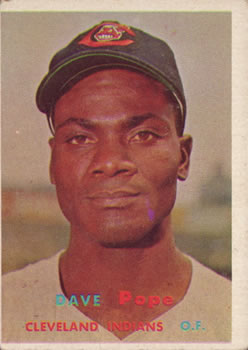 ---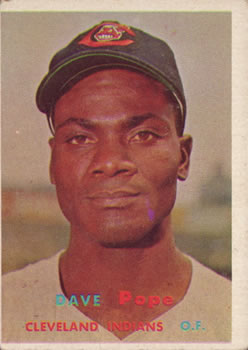 Although he spent just two full seasons in the major leagues, Dave Pope played in one of the most memorable games in baseball history. It was the game that featured "the catch," Willie Mays's spectacular play on a ball hit by the Cleveland Indians' Vic Wertz in the eighth inning of Game One of the 1954 World Series, with the score tied 2-2 and runners on first and second, that saved the game for the New York Giants. Two innings after "the catch," in the bottom of the tenth inning, Pope, playing right field for the Indians, could only wonder what might have been after having leaped for a fly ball hit by Dusty Rhodes that landed just beyond his reach down the right-field line and into the seats for a game-winning home run. The Giants went on to sweep the series from the Indians in four straight.
"There was just a slight breeze out there that day towards the stands," Pope recalled. "If the wind had not been blowing, I believe I would have caught the ball. After all, the ball just hit on top of the cement. …. When you look at a hit like Dusty Rhodes's, which was what – 200-and-something down the right field line? And when you think of a 250-foot home run and you think of a 410-foot out, it's just something that doesn't seem to match. But that's the way the game goes."[1] 
David Pope was born on June 17, 1921, into a family of 15 children, in Talladega, Alabama. His father, Willie, was a farmer and married to Sussie, according to the 1930 US Census. Pope's family moved north to Liberty, Pennsylvania, just outside Pittsburgh, when he was young and he grew up there. As a youth he practiced baseball in a way he had for years thought was unique until he discovered later in life that he was not alone, that he was in fact in good company.
"I . . . didn't think that anyone else had even experienced what I did in my young days – in my childhood days – and that is hitting bottle caps and broomsticks. I listened to (Hank Aaron) and he said that he did, that's the way he learned to hit, also."[2]
Pope starred in baseball and basketball at Liberty High School. After graduating in 1939 he entered the University of Pittsburgh, where he played baseball for three years. He had intended to become a doctor but instead joined the Army during World War II. Following his discharge from the Army, after having served for a year, he began his baseball career. In his first season, in 1946, he played in the Negro Leagues, first with Homestead Grays and later with the Pittsburgh Crawfords.
Pope married Nellie Archie on October 9, 1947. They had four children together – three daughters (Linda, Elaine, Sharyon) and a son (Vincent) – and later had ten grandchildren and three great-grandchildren.
In 1948, Pope signed on with Farnham of the Quebec Provincial League, an independent semipro league at the time, where he played, along with one of his brothers, Willie, for two seasons. By 1949, regarded by some as the golden year of Quebec baseball, the Provincial League had become famous as a refuge for baseball's dispossessed. "Former Negro League players [Terris McDuffie, Quincy Trouppe], young Latinos [Victor Pellot Power, Roberto Vargas], displaced major leaguers from the war years [Walter Brown, Tex Shirley], local, home-grown talent [Roland Gladu, Paul Calvert] – all were welcome."[3]
Farnham, meanwhile, had become a solid part of the Provincial League, having emerged as a good baseball town during the war. Known for its link with the black baseball community, Farnham fielded interesting if not always successful teams, later gaining national recognition when in 1951 it became the first team in Organized Baseball to have an African-American manager, Sam Bankhead.[4]
Pope performed well in his two seasons with Farnham. Although his team finished last in 1948, he batted .361, belting 23 home runs and knocking in 72 runs in 98 games. He kept up the pace in 1949, again batting over .300, with 19 home runs and 77 RBIs, as he helped lead Farnham, despite finishing fifth (out of six teams) in the regular season with a 42-55 mark, to the championship series, where it pushed the heavily favored Drummondville Cubs to the series limit of nine games.[5]
The Drummondville team featured several players who would become major leaguers, including Vic Power and Sal Maglie, playing there because he had been banned from Organized Baseball for playing in Jorge Pasqual's Mexican League. Maglie, who five years later took the mound for the Giants in that famous Game One of the '54 World Series, pitched for the Cubs in the deciding game of the Provincial League's championship series. It looked as though Pope's Farnham team was going to upset Maglie and the Cubs, and win the series, as it held a 1-0 lead into the seventh inning. However, Drummondville exploded for five runs and went on to win the championship.[6]
After his two years in Quebec, Pope was signed in 1950 as a free agent by the Cleveland Indians. Hank Greenberg, the Hall of Fame slugger and at the time general manager and part owner of the Indians, was credited in those years with having sponsored more African American players than any other baseball executive, and as a player had welcomed Jackie Robinson publicly in 1947. For Pope, having grown up in an integrated Pennsylvania town and having just played two seasons in an integrated Canadian league, Organized Baseball took some adjusting to.
 ". . . (W)hen I first joined the Indians, the integration had not really caught on at that time in sports and a very disappointing situation was in spring training," Pope said of his first spring training in the Indians' farm system. "There were two separate buildings for players to live in, one was for the white ballplayers to live in, one was for the black ballplayers. That would not have been so bad, but the place that the black ballplayers lived in was an emptied tool shed . . . maybe about 30 by 30 or something of that nature. There were eight of us and we were in double bunk beds in that building while the other ballplayers had – they weren't luxurious but they were facilities in what they called the 'Wigwam.' We were in the teepee, they were in the wigwam."[7]
While segregation was an unfortunate part of life off the field, Pope remembered few if any racist incidents on the field, recalling that his teammates, both black and white, were friendly with one another. Reflecting on his experience playing in 1952 for the Indians' Indianapolis farm team, he said the desire to win and the need to perform together as a team did more to bring a team together than racial differences did to drive them apart.[8]
Pope's first stop after being signed by Greenberg was at Wilkes-Barre in the Class A Eastern League, where he played for two seasons, 1950 and 1951. He batted .268 in 1950 and led the Eastern League in triples with 18. In 1951 he batted .309 with 15 home runs and 95 RBIs, and again led the league in triples (13), as well as in runs scored with 113.
Pope was moved up to the Triple-A Indianapolis Indians in 1952 and had arguably his best minor-league season: Batting a league-leading .352, he collected 167 hits, 49 for extra bases (29 doubles, 7 triples, 13 home runs), and 79 RBIs in 126 games. He reeled off 18- and 15-game hitting streaks, played well in the outfield, and was named to the post-season all-star team. He got a brief midseason call-up to the Indians, making his debut on July 1 shortly after turning 31 (though some accounts at the time listed him as 27). He left an impression – and the game – in his first appearance: "His zeal for the game was apparent the first time he took the field when he crashed into the (concrete facing of the) right field wall and suffered a chest bruise while chasing a foul ball."[9] Pope was forced to leave the game because of the injury. He stayed with the parent club for two weeks before returning to Indianapolis to finish the minor-league season.
Pope was back in Indianapolis for the 1953 season and batted .287 in 154 games, with 172 hits, 101 runs, 33 doubles, 14 triples, 24 home runs, and 88 RBIs. After two solid seasons at Indianapolis, he had shown he was ready to move up to the major leagues. In 1954, he made the Cleveland roster, a team that would win 111 regular-season games and play in the World Series.
Though not a regular, Pope played an important role in 1954. He batted .294 as a reserve and hit .381 in 24 pinch-hitting appearances, reaching base 11 times.
The capture of the pennant by the 1954 Indians interrupted the Yankees' spectacular run of championships under manager Casey Stengel. Pope saw similarities between those Yankee teams and the '54 Cleveland club. "Stengel had two ballclubs where he could just close his eyes and pull off the bench and say, 'Go ahead in there.' Well, in '54, Cleveland was much similar to that. We didn't have two ballclubs, but we had a lot of extra ballplayers who were performers. Al Lopez had not too much of a problem that year with doing things because whoever he called, the team didn't lose that much. Guys like myself, like Sam Dente, Wally Westlake, Hank Majeski – some of them had been regulars and stars before but they were on their waning years and some of us had never reached that level of stardom, but that year every one had a good year. It didn't matter what happened, if Lopez needed a pinch hitter or if he needed a shortstop to play or whatever he needed, it was there. The players produced for him."[10]
Pope felt the Indians' coaching staff also had a significant impact on the team's success. "I think that the guys who made that club were the coaches: Tony Cuccinello, Red Kress, Mel Harder, and Bill Lobe, and guys like that who kept the team on the prod and kept 'em loose, so to speak. I think that the coaches contributed much more than people give them credit for doing, as far as the morale of the ballclub and so forth."[11]
While Pope played a limited role in the World Series, going 0-for-3 with a walk and a strikeout, his play during the season led manager Lopez and the press to believe 1955 held a lot of promise for him. "The quiet, industrious Dave Pope needs only to display an improvement on defense to capture the right field post," a correspondent for The Sporting News wrote. "He has a strong arm and a good speed, but he has had moments of uncertainty as a flychaser. 'It's all a matter of experience,' points out Lopez. 'He isn't accustomed to the ball parks and that makes a big difference in outfield play. You've got to know the lights and shadows.' He mentions the sudden development of Al Smith in the outfield. 'It could happen to Dave, too,' the manager hopes. 'He has all the tools.' "[12]
During the offseason Pope continued to work on his game, returning to the Venezuelan League to play with Santa Maria. It was his fourth season in a winter league; he had played in Puerto Rico for San Juan in 1951-52 and 1952-53, and with Gavilanes in the Venezuelan league in 1953-54. In Pope's two years in the Venezuelan League, he got in nearly 450 at-bats, hitting a league-leading .345 in 1953-54 and .322 in '54-55.[13] With the Indians in 1955 Pope was batting .298 in 35 games with six home runs, including a grand slam, when on June 15 he was traded to the Baltimore Orioles along with outfielder Wally Westlake for outfielder Gene Woodling and third baseman Billy Cox. (Cox refused to report to his new team so the Orioles sent cash to Cleveland to complete the trade.) Though he played more frequently for the Orioles than he had for the Indians, his hitting and home-run production fell off and his average for both teams was .264 with seven home runs. In May of the following season, the Orioles traded Pope back to Cleveland for outfielder Hoot Evers. Pope played in just 37 games for Baltimore and Cleveland combined in 1956, spending most of the season back at Indianapolis, where he hit .302 with 25 home runs and 76 RBIs in 100 games. It earned him a return call-up to Cleveland late in the season, but it would be his last, as he played in his final major-league game on September 30.
"I left Cleveland in '57 (for the San Diego Padres in the Pacific Coast League) and I certainly thought that I was going to get another chance in the big leagues because the way I left was rather disappointing," Pope told interviewer Brent Kelley. "That year I think I had an excellent spring training. In the first place, I didn't feel that I should have been the person to go the minor leagues, because I felt that I performed as well as any of the outfielders on the ballclub. I didn't understand all of that other stuff about opportunities to play in the big leagues, how many years you had in the big leagues, the seniority system, and all that kind of stuff. I just felt that the best ballplayer ought to be out on the ballfield, and that wasn't the case; but I did have a good spring training, and I felt that I should not have gone to San Diego that year."[14]
Playing with the PCL Padres in 1957 and 1958, Pope was a model of consistency, with statistics nearly identical both years. In 1957 he batted .313 with 18 home runs and 83 RBIs in 129 games, and in 1958 he hit .316 with 19 home runs and 96 RBIs in 142 games.
Pope was ranked that he did not get a chance to return to the majors. "After I didn't get the opportunity to come back after the first years – that was '57 – and winning the Most Valuable Player Award for the San Diego club, also, I began to get a little frustrated at that time because I felt that if the Cleveland Indians were not going to bring me back to the big leagues, that I should have been released or sold to some other ballclub. Later, I found out that there were opportunities for that to happen, but they didn't sell me. In fact, Hank Greenberg (Cleveland general manager) came out there and we had a talk about that and he told me that he had an opportunity to sell me to a couple ballclubs but he felt that he didn't want to get rid of the best ballplayer in the Pacific Coast League. I couldn't understand his reasoning there, so we got into a little heated conversation about that."[15]
Then after the 1958 season, the Indians did deal Pope, to Toronto of the International League. He played for Toronto in 1959 and for the Houston Buffs of the American Association in 1960, batting in the .270s both seasons. Back at Toronto in 1961, he was a part-time player before retiring at the age of 40.
After retiring, Pope he worked in a job-counseling program with the Cleveland Recreation Department. He coached amateur baseball, and was an active member of First Zion Baptist Church in Cleveland. He later became a supervisor for the Equal Employment Opportunity Commission, then retired in 1994. Five years later, on August 28, 1999, Pope died of leukemia at the age of 78 in Cleveland. He is buried at Lake View Cemetery.
Reflecting on his career, Pope told Brent Kelley, "I hear people talk about great feats that they've done; I never remembered those. I never bothered about statistics. I never bothered about batting averages or anything. When I read the paper the next day, I read the important parts about winning and losing and that was about it."[16]
This biography is included in the book Pitching to the Pennant: The 1954 Cleveland Indians (University of Nebraska Press, 2014), edited by Joseph Wancho. For more information, or to purchase the book from University of Nebraska Press, click here.
Notes
Born
June 17, 1921 at Talladega, AL (USA)
Died
August 28, 1999 at Cleveland, OH (USA)
If you can help us improve this player's biography, contact us.
http://sabr.org/sites/default/files/Pope-Dave.jpg
600
800
admin
/wp-content/uploads/2020/02/sabr_logo.png
admin
2012-01-04 20:35:26
2020-08-16 03:06:03
Dave Pope