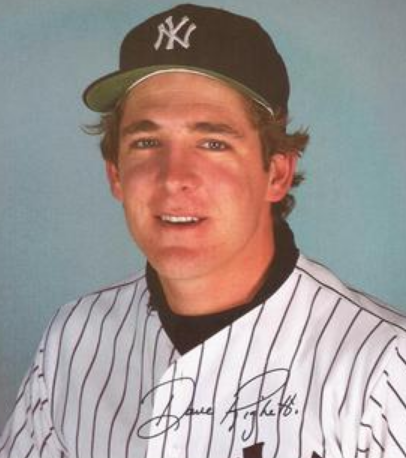 ---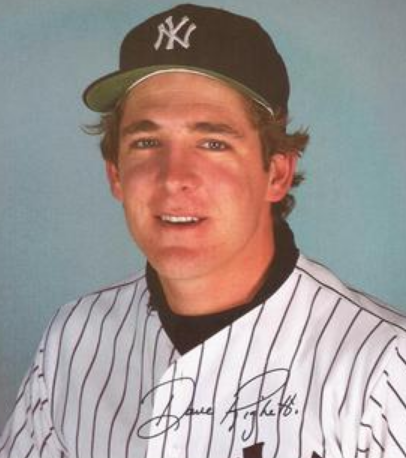 Dave Righetti pitched in the major leagues for 16 seasons (1979; 1981-95), amassing 252 saves. He also served 18 years (2000-2017) as pitching coach for the San Francisco Giants. However, "Rags" is remembered most for a performance that came during his early years as a starting pitcher. On July 4, 1983, before 41,077 fans at Yankee Stadium, Righetti became the first Yankee pitcher to throw a no-hitter since Don Larsen in the 1956 World Series.
David Allan Righetti was born on November 28, 1958 in San Jose, California. He was the second son, after his older brother Steven, born to Leo and Sandra (née Smith) Righetti. Leo Righetti was an infielder in the Yankees' minor-league system in the 1940s. He couldn't break into the big leagues and spent most of the 1950s playing for Seattle and San Francisco in the Pacific Coast League. Leo's last year was in 1957 and then he went to work for the San Jose Tallow Company. The business was owned by his father, Marco.1
Leo coached Dave and Steve on the finer points of the game. The brothers were teammates in Little League and then at Pioneer High School. Of the two, Steve showed more ability as a shortstop than Dave did as an outfielder. However, Paddy Cottrell — former head coach at the University of Santa Clara and then a Texas Rangers scout — spotted Dave's throwing motion from the outfield and suggested that he try his hand at pitching. It came slowly, but Righetti won all seven games that he pitched his senior season, striking out 15 during one victory.
Righetti enrolled at San Jose City College. Cottrell was convinced of the lefty's potential and persuaded the Rangers to draft him. They did so, making Dave the 10th overall pick on January 11, 1977.
Cottrell was not as enthusiastic about Steve's ability. Nonetheless, Texas selected him too, in the sixth round. The Rangers offered a contract to Dave, who was informed by Cottrell: "If you don't sign this contract, I'm not going to sign your brother. The only way he's going to get a shot is with a package deal."2
Dave signed and reported to Asheville of the Class A Western Carolinas League in 1977. His performance– 11-3 with a 3.14 ERA — affirmed Cottrell's ability as a scout. Righetti, a tall man at 6-feet-4, struck out 101 batters and walked 53 in 109 innings pitched.
Righetti was promoted to Tulsa of the AA Texas League in 1978. Although his record was only 5-5, his ERA was more impressive at 3.16. On some nights, luck was just not on his side. On July 16, 1978, Righetti set the record for most strikeouts in a Texas League game with 21 against Midland. It was the most strikeouts for any pitcher in a league game since 1909, when San Antonio's Willie Mitchell struck out 20 against Galveston. Righetti was pulled from the game when he gave up a leadoff double in the ninth inning, which eventually tied the game. He got a no-decision for his effort in spite of his standout performance. "I felt comfortable out there," said Righetti. "I had all my pitches — fastball, slider and change-up. I was using a different motion, because I wanted to slow myself down, and not overthrow. I blocked out everything and concentrated on throwing strikes."3
Even with all of his early success, Righetti was included in a 10-player deal that sent him to the New York Yankees on November 10, 1978. The big name in the trade was reliever Sparky Lyle, who was essentially exiled from the Yankees just before his book, The Bronx Zoo, was published in 1979. Lyle did not endear himself to Yankee management — in particular, principal owner George Steinbrenner — with the publication of his tell-all first-person account of the club. Advance copies of the book, and printed excerpts, compared the manuscript to Jim Bouton's Ball Four.
Righetti settled into his new surroundings, pitching in 1979 for West Haven of the Class AA Eastern League and Columbus of the AAA International League. Between the two teams, Righetti posted a 7-5 record with a 2.31 ERA and 122 strikeouts. He earned a call-up to the Yankees late in the season, and made his debut on September 16, 1979, against Detroit. In that game, Righetti got no decision as the Yankees lost 8-4.
Righetti spent the entire 1980 season in Columbus, where he regressed a bit with a 6-10 record and a 4.63 ERA. Although he struck out 139 batters in 142 innings, he walked 101. But in Game Three of the International League playoffs, he pitched the Clippers to a 5-1 win over Richmond, regain his earlier form.
Righetti came out strong in 1981, going 5-0 at Columbus before being recalled by the Yankees. Once he was in the major leagues, he made four straight strong starts and was 3-0 with a 1.50 ERA when the player's strike on June 10 interrupted the season. After play resumed in August, Righetti continued to pitch well, finishing the season at 8-4 with an excellent 2.05 ERA. Opposing hitters batted .196 against Righetti, the stingiest percentage among AL pitchers.
Although the Yankees had slumped to a 25-26 record in the second half of the strike season, their 34-22 mark in the first half got them into the AL playoffs. The team's first-round opponent was the Milwaukee Brewers, winners of the second half in the AL East. Righetti went six innings in Game Two, striking out 10 and getting credit for the win in the 3-0 Yankee victory. In Game Five, Righetti relieved Ron Guidry after four innings and pitched three innings, surrendering one earned run. He was the winning pitcher, as Goose Gossage pitched two innings for the save. "It felt great that they looked to me," said Righetti. "It felt great that they have that kind of confidence in me. The confidence rubs off."4
The win advanced the Yankees to the ALCS against Oakland and former Yankee manager and player, Billy Martin. New York took care of the A's quickly. Righetti worked six shutout innings in Game Three as the Bombers won the clincher, 4-0.
The Yankees met the Los Angeles Dodgers in the World Series. New York won the first two games at Yankee Stadium. Game Three at Dodger Stadium highlighted two exceptional rookie pitchers, the Dodgers' Fernando Valenzuela and Righetti. The last time that two rookie pitchers had started a World Series game was in 1967, when Boston's Gary Waslewski faced Dick Hughes of St. Louis in Game Six. Valenzuela got the best of the matchup, as he went the distance in the Dodgers' 5-4 win. Righetti lasted two innings, giving up three runs, all scoring on a Ron Cey home run. The Dodgers won the next three games to win the Series.
Righetti was named the American League Rookie Pitcher of the Year in 1981 by both the Baseball Writers Association of America and The Sporting News. "It's a nice honor," said Righetti. "But it's an individual honor. I was hoping to do better in the World Series."5 Unfortunately for Righetti, the 1981 World Series was his only opportunity to pitch in the postseason.
Righetti stayed in the Yankees rotation the next two seasons. During 1982, he was 11-10 with a 3.79 ERA. Plagued by wildness early in the season, he went back to Columbus for a stretch starting in late June, something that upset him.6 Pitching coach Sammy Ellis, who'd helped Righetti two years before, again helped the young southpaw regain his form. When Righetti returned in late July, Ellis came too, becoming the Yankees' fifth pitching coach that tumultuous season.7
In 1983 Righetti improved to 14-8, 3.44. His spectacular performance against Boston that July 4 was even more impressive because he held a potent offense in check. During the first three games of that series, the Red Sox had collected 38 hits, scored 25 runs, and hit nine home runs.
In his gem, Righetti struck out nine and walked four against New York's most bitter rival. After getting the last out, he said, "For one split second, I was blank. I didn't know whether I should jump around or not. I just kind of looked at [Yankee catcher] Butch Wynegar and I saw him coming, and I said 'Oh geez!' I just leaned on him and held on to him, I didn't want to fall to the ground."8
Wade Boggs, who made the game's last out, tipped his cap to his rival. "Sure, when I came up I was thinking about breaking up the no-hitter," said Boggs. "I wasn't looking for anything in particular, just going with the pitches. I wanted to keep the game going. Dave throws two types of sliders. The first one has a real big break. Then he's got one that doesn't break that much. When you begin your swing, you see the dot, and just hope it's not the one that's breaking."9
In 1984, after Gossage signed a free-agent contract with San Diego, Righetti was chosen to take his spot as the team's closer. On the outside, he made the move without complaint, putting the team's needs first. "Dave didn't want to become a reliever," said his agent, Bill Goodstein, several years later. "He was worried he would fail and be out of baseball. He could probably have been a 20-game winner for five or six years and made twice as much money."10
Yankees manager Yogi Berra did not think the transition would be much of a gamble. "It's pretty tough to take him out of the rotation," said Berra. "He's an established starter. He's got to be my stopper. He could strike you out. That's what I was looking for — a strikeout man. They're hard to find. I don't think we're going to take a big chance. He's got one foot on the ground."11
The transition was a smooth one for Righetti. "People always ask me how I can keep so quiet," said Righetti. "Well, sooner or later you cause yourself more problems by talking."12 He saved 31 games out of 40 opportunities in 1984. In 1985, Righetti saved 29 games in 39 opportunities. One of the adjustments Righetti had to make was that relievers were evaluated primarily on their most recent appearance.
At least in fans' eyes, this was true. As a starter, he pitched every five days, but as a reliever, and specifically a closer, he was in the spotlight and expected to deliver. "I've been booed so bad," said Righetti. "I walk from the mound with my head down, then fight to get through the parking lot. I watch the fans cheer guys who don't hustle. They cheer guys who rip the organization. I guess you have to be rotten to have the fans like you. Keith Hernandez is involved in the Pittsburgh drug trial, and he gets a standing ovation at Shea Stadium. I give up a run and I get booed like crazy. You figure it out."13
Righetti set a new major league record for saves in a season in 1986 with 46, breaking the mark then held by Dan Quisenberry and Bruce Sutter. On September 11 of that season at Toronto, Righetti saved both ends of a doubleheader. He did it again on the last day of the season, October 4, at Fenway Park. "When I was getting ready to go into the second game," said Righetti, "a Red Sox fan leaned over the bullpen wall and said to me: 'Tell 'em this one's for the vendors.' That cracked me up."14 Righetti became the first player in major league history to throw a no-hitter and also lead the league in saves. (Dennis Eckersley and Derek Lowe would eventually join him on this list.)
Arguably, Righetti's success validated the move to the bullpen. He was selected as the AL Rolaids Relief Man of the Year and the AL Fireman of the Year by The Sporting News. He was honored with both awards again in 1987, when he saved 31 games. Righetti was selected to the AL All-Star team for both 1986 and 1987 (the only two times he was chosen).
Righetti developed a sore arm in 1988; at times he could barely lift his pitching arm. But true to his nature, he said nothing about it. "If I had said something, people would have thought I wanted sympathy," said Righetti. "There were a lot of our players who were going on the DL (disabled list) and I didn't want to also go on and have people laugh at us. I thought I could pitch through it."15 After Righetti blew four consecutive save opportunities early in the season, he was used infrequently. Billy Martin and Lou Piniella each served as the Yankees manager in 1988, and both used reliever Cecilio Guante at times in righty-righty situations with the game on the line.
Righetti married the former Kandice Owen on February 11, 1989. They had three children in 1991: triplets Natalee, Nicolette, and Wesley. Kandice's sister, Kayla Campbell, served as a surrogate mother.
The Yankees finished in fifth place in the AL East in 1988 and 1989, sinking to last place in 1990. Although Righetti had saved 36 games in 39 opportunities, he was granted free agency on November 5, 1990. One month later, he returned to his roots in northern California when he signed a four-year, $10 million dollar deal with San Francisco.
Righetti saved 24 games in his first season with the Giants — but in 1992, he suddenly lost an estimated 10 miles per hour on his fastball. After 522 straight appearances in relief, he returned to starting that June, but the experiment in the rotation ended after four outings. The closer role was turned over to Rod Beck, a hard-throwing right-hander who saved 17 games in 1992 and then 48 in 1993. With his role diminished, Righetti was released by the Giants in November 1993. In three seasons with San Francisco, Righetti was 5-15 with a 4.61 ERA in 166 games with 28 saves.
Righetti returned to the AL in 1994, joining the Oakland A's. But after just seven games, he was released on April 27, 1994. He signed with the Toronto Blue Jays in May, joining their Knoxville farm team in the Southern League (Class AA). It was his first time back in the minors in 12 years. Knoxville coach Mark Connor, who'd been one of Righetti's pitching coaches in New York, recommended Righetti after the veteran contacted him.16 The Blue Jays recalled Righetti in June, and he spent the rest of the season with the big club until the strike was announced on August 12.
Toronto released Righetti that October. After big-league play resumed in 1995, Chicago White Sox General Manager Ron Schueler convinced Rags that he could contribute there and that the team had a good chance to win its division. Righetti signed with the Southsiders that April and again returned to starting. During the season's early months, he pitched for Triple-A Nashville, but the big club called him up in July. In ten games for Chicago (nine starts), he posted a 3-2 record with a 4.20 ERA.
Righetti was subsequently released by the White Sox, and when no other team showed interest in signing him, he decided to retire. Over 16 years and 718 games, Righetti was 82-79 with a 3.46 ERA. During his career, he struck out 1,112 batters while walking 591 over 1,403 2/3 innings pitched. His 224 saves as a New York Yankee ranks him second in franchise history behind Mariano Rivera.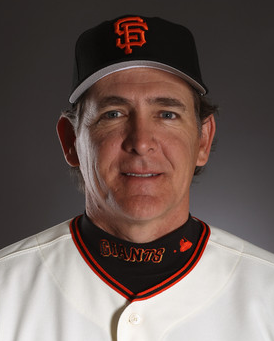 The Giants asked Righetti to work with their young pitchers in the Instructional League in 1998. The following year, he became a roving pitching instructor in the team's minor league system. In 2000, he replaced Ron Perranoski as the Giants' pitching coach. Righetti held that position through the 2017 season, serving under four different managers during that time. The Giants won four pennants and three championships (2010, 2012, 2014) — their first World Series wins since the franchise moved out west in 1958.
Under Righetti's tutelage, Tim Lincecum won the Cy Young Award twice (2008, 2009), Jason Schmidt won The Sporting News Pitcher of the Year (2004), Brian Wilson won the NL Rolaids Reliever of the Year (2010), and Madison Bumgarner was the World Series MVP (2014). His pitchers combined for 22 All-Star selections. "Righetti is obviously the only pitching coach I've ever had, but it would be hard to imagine a better one." said Bumgarner. "It seems like he always knows what to do and how to approach somebody and how to help him. He's not always set in one way to help someone out. He can adjust to who he's talking to and knows how to talk to them and he's a lot of fun to work with."17
The Giants finished in last place in the NL West in 2017. Following that subpar season, the team made changes to manager Bruce Bochy's staff, and Righetti was relieved of his pitching coach duties on October 21, 2017. He was moved into the front office, serving as a special assistant to General Manager Bobby Evans.18
"I really would like for the new pitching coach to have a lot of the qualities Dave Righetti has," said Bochy. "I can't imagine having a better pitching coach than Dave Righetti … We don't get to three World Series in five years without Rags. I was blessed to have him by my side. I'm honored that he's my friend. I'm just glad that he's going to be around so that I can still have Rags to talk to and he can help the organization throughout all levels."19
Last revised: January 23, 2018
Notes
1 Jill Lieber, "The Relief Is Not So Sweet," Sports Illustrated, April 16, 1990, 72.
2 Ibid.
3 John Ferguson, "Tulsa's Righetti 'comfortable' In Setting TL Whiff mark of 21", The Sporting News, August 5, 1978, 44.
4 Murray Chass, "Yankees Rally To Defeat Brewers, 7-3, For Division Title," New York Times, October 12, 1981, C4.
5 "Righetti Is Winner of Rookie Award", New York Times, December 1, 1981, B7.
6 Moss Klein, "Righetti Demoted in Latest Purge," The Sporting News, July 5, 1982: 41.
7 Moss Klein, "Righetti Returns, Brings His Coach," The Sporting News, August 2, 1982: 17.
8 Murray Chass, "Righetti Pitches First Yankee No-Hitter Since 1956," New York Times, July 5, 1983, B9.
9 William C. Rhoden, "Butch Wynegar Makes the Right Call," New York Times, July 5, 1983, B9.
10 Lieber, "The Relief Is Not So Sweet," 71.
11 Murray Chass, "Righetti Is Given Role As Yanks' No. 1 Reliever", New York Times, February 18, 1984, p. 21
12 Ibid.
13 Lieber, "The Relief Is Not So Sweet," 73.
14 Bill Madden, "Champagne for Righetti", The Sporting News, October 13, 1986: 22.
15 Michael Kay, "Rags' Living Nightmare", New York Post, July 22, 1988: 88.
16 "AA Notes," The Sporting News, May 23, 1994: 33.
17 Daniel Brown, "Why outgoing Giants guru Dave Righetti ranks among top pitching coaches of all time," San Jose Mercury News, November 3, 2017.
18 Ibid.
19 Ibid.
Born
November 28, 1958 at San Jose, CA (USA)
If you can help us improve this player's biography, contact us.
https://sabr.org/sites/default/files/RighettiDave.png
600
800
admin
/wp-content/uploads/2020/02/sabr_logo.png
admin
2018-01-23 13:19:21
2020-04-09 14:40:25
Dave Righetti