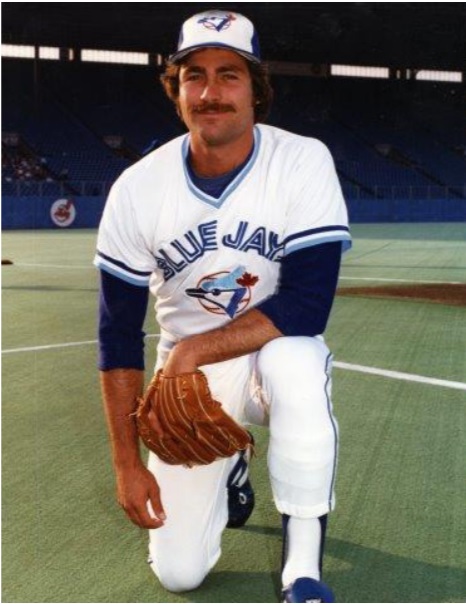 This article was written by
Joe Cox
---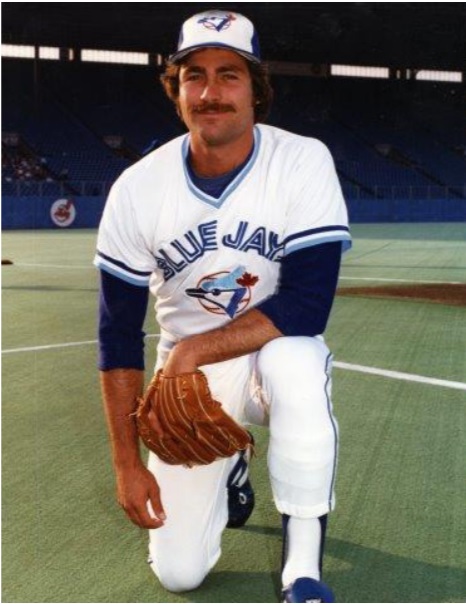 He won the second-most games of any pitcher in the 1980s, was a seven-time All-Star, and helped transform the Toronto Blue Jays from expansion basement-dwellers to world champions. But Dave Stieb may be best known for his terrible luck in attempting to close out no-hitters. Four times in five years, Stieb reached the ninth inning with no-hitters. Three times in 12 months, he actually reached the last out of a no-hitter. Each time he missed out on finishing the bid. Just when it looked as if Stieb would never join the no-hit club, on September 2, 1990, he successfully completed the game that, a quarter-century later, remained the only no-hitter in Blue Jays history.
David Andrew Stieb was born on July 22, 1957, in Santa Ana, California. Stieb's father was a contractor. His older brother, Steve, was a catcher in the Atlanta Braves system for three seasons, batting .217 as a professional and never reaching above Double-A ball. Dave initially made a splash in baseball as an outfielder, rather than as a pitcher. He described himself as having "decent power and an exceptional arm," but noted that he "had never tossed a competitive pitch until I played for Southern Illinois University – and then only in emergencies."1 In fact, Stieb hit .394 with 12 home runs and 48 RBIs in 1978 as a junior, and was named to The Sporting News's All-American squad.2 Stieb noted in his autobiography that he pitched a grand total of 17 innings that season.3
But when Toronto drafted Stieb in the fifth round of the 1978 major-league draft, they saw him as a pitcher. Stieb later recalled that Toronto asked him if he would mind pitching, and while he was initially reluctant, his attitude changed when Toronto officials told him, "The quickest way to make it would be pitching."4 Stieb pitched a grand total of 128 innings in the minor leagues in 1978 and 1979 before Toronto called him to the big-league club, where he proceeded to grow up as a pitcher on baseball's biggest stage.
Stieb described his stuff in 1986 as featuring a tailing fastball, a regular fastball, a slow, straight overhand curve, a near side-arm hard curve, a batting-practice fastball, which Stieb called a "dead fish," and a slider, which quickly became Stieb's out pitch.5
In the early years of the Blue Jays, Stieb could be brilliant, but often still lose games. As a rookie in 1979, Stieb compiled an 8-8 record with a 4.31 ERA. The rest of the Blue Jays' staff went 45-101, and Stieb's eight victories were only one shy of the team lead. The Blue Jays finished in last place in 1980 and 1981, as well, and the struggles behind him gave Stieb a reputation for hard-fought competitiveness – and for not always accepting the mediocrity that surrounded him in those early seasons in Toronto. Withering glares might be shot at opponents, umpires, or even Blue Jays who made errors behind Stieb. In time he would learn to control such outbursts, but his reputation as a fierce competitor was made. Speaking of such behavior, Blue Jays catcher Ernie Whitt said of Stieb, "That's just his makeup, the way he competes. He's like that on the golf course, playing cards, whatever."6
In 1980 Stieb made his first All-Star Game appearance. While he finished the season 12-15 with a 3.71 ERA, Stieb pitched 14 complete games and finished among the top seven or eight AL pitchers in pitching WAR. In a strike-shortened 1981 campaign, Stieb again was an All-Star, and his 11-10 mark (with a 3.19 ERA) marked the first time a Blue Jays pitcher had worked 150 innings and completed the season with a winning record.7 Stieb was unhappy playing for such a poor team, and Toronto engaged in serious trade discussions in the offseason involving him, including one contemplated deal that would have moved him to Philadelphia for six players including Ryne Sandberg.8
Stieb was eventually considered too valuable to trade. The following season, 1982, saw Toronto approach respectability with the best season in the franchise's young history. The Jays won 78 games, led by Stieb, who tallied 17 victories, and 19 complete games, pitching 288⅓ innings and finishing fourth in AL Cy Young Award balloting. Stieb won the AL Pitcher of the Year award from The Sporting News.
Stieb's hard feelings about Toronto were largely smoothed over when he inked a six-year, $5 million contract before the 1983 season. At the end of May Stieb was 8-3 with a 1.66 ERA. He started and won the All-Star Game, and his 17 victories and 3.04 ERA helped Toronto to its first winning season.
Stieb won 16 more games in 1984 as Toronto finished second in its division to the World Series winner, the Detroit Tigers. For the third consecutive season, Stieb led the American League in WAR for pitchers. He again started the All-Star Game.
In 1985 Stieb led Toronto to its first postseason appearance. He was just 14-13, but led the league with a 2.48 ERA, and was again an All-Star. On August 24, 1985, Stieb completed eight hitless innings against the White Sox before Rudy Law led off the ninth inning with a home run to spoil the no-hit bid. Still, Stieb helped Toronto win the division. The LCS had changed formats to best four of seven, and when Stieb shut out Kansas City for eight innings to win Game One, Toronto was in good shape. In Game Four Stieb worked six innings of one-run baseball. When Toronto rallied to win in the ninth inning, the Jays held a 3-games-to-1 lead in the series. However, Toronto lost the last three games, and thus the series, with Stieb taking the loss in Game Seven. Still, Toronto extended his contract through 1995.
After winning at least 11 games for six seasons and posting an ERA of no higher than 3.71, Stieb had a miserable 1986 campaign. At the All-Star break, instead of starting the midsummer classic, he was stuck at home with a 2-9 record and a 5.80 ERA. One contemporary account blamed Stieb's poor performance on some lingering elbow issues, which had caused him to move away from his trademark slider.9 Whatever the problem, Stieb did improve in the second half of the year, but finished just 7-12, with a 4.74 ERA. The Jays also struggled, finishing fourth in the AL East.
The 1987 season represented something of a return to form for Stieb. He started cold, but finished the year at 13-9, with a 4.09 ERA in 185 innings. The season ended in disaster for the Blue Jays, though, as they held a 3½-game lead for the AL East title with just seven games to play. Toronto lost all seven, and Detroit won the division outright with a 1-0 win over the Jays on the last day of the season. During that horrific stretch run, Stieb contributed a disappointing loss in which he was knocked out in the fifth inning. Manager Jimy Williams had bounced Stieb in and out of the starting rotation during the last month of the season.
During the offseason Toronto shopped Stieb extensively, but decided to keep him.10 One columnist called Stieb "erratic" and opined that he "will likely never be as good as he was a few years ago."11 In fact, after two straight difficult seasons, Stieb strung together three more excellent seasons from 1988 to 1990, nearly equaling his work from 1982 to 1984 as the peak performances of his career.
Stieb reached the 1988 All-Star break with a 10-5 record and a 2.93 ERA, which earned him his sixth All-Star Game selection of the 1980s. Stieb faltered a bit in midseason, but finished 1988 with a series of games that demonstrated both how good and how unlucky he could be.
Stieb gave up one run in seven innings to Detroit on September 13 to claim his 13th win of the season. On September 18 he shut out Cleveland on four hits for his 14th win. On September 24 Stieb faced the Indians again, this time in Cleveland, and nearly made baseball history. He completed 8⅔ hitless innings against Cleveland and had a 2-and-2 count on Julio Franco. Franco grounded the next pitch to second base, where the ball hit a divot left at the Stadium from a Cleveland Browns game and ricocheted over the head of second baseman Manuel Lee for a single, spoiling the no-hitter.12 A disappointed Stieb then got the last out and completed his second straight shutout. After the game he told reporters, "I needed one ounce of luck right there and what did I get? Bad luck. Oh well."13
Unbelievably, in his next start, the last of the year, on September 30, Stieb again flirted with a no-hitter, retiring 26 Baltimore Orioles without yielding a base hit. Again, he was disappointed, as pinch-hitter Jim Traber blooped a 2-and-2 pitch into right field for a single. Stieb retired the next hitter to end the game. "It's a heartbreaker," he admitted after the game. "I'm just wrecked. You get through it all, the ball hits the bat, and you wait. Then it doesn't happen."14
Stieb's final line for 1988 featured a 16-8 mark and a 3.04 ERA, as well as a 31⅓-inning scoreless streak to end the year. In his last three starts of the 1988 season, he pitched three shutouts, allowing just six hits over the 27 innings and twice falling one pitch shy of no-hitters. Even Stieb's harshest critics had to admit that he had shown the ability to again dominate opposing hitters.
After he finished 1988 so well, Stieb and the Blue Jays both had a poor beginning to 1989. Manager Jimy Williams was fired on May 14, at which point Toronto was 12-24 and Stieb had a 4.84 ERA. Longtime Jays coach Cito Gaston succeeded Williams, and the team rallied to a 77-49 mark for the rest of the season, winning the AL East. The memorable season was also highlighted by the unveiling of the Skydome, Toronto's state-of-the-art new stadium.
The year was memorable for other reasons for Stieb, who finished the season at 17-8 with a 3.35 ERA. He again suffered no-hit heartbreak when on August 4 he set down the first 26 Yankees he faced before Roberto Kelly broke up the perfect game with a double. Stieb struck out 11 batters, and held on to win the game, 2-1, but had yet again lost a no-hitter on the last batter. Stieb also lost both of his starts in the ALCS, as the Jays lost to Oakland in five games.
The 1990 season proved to be an odd one, both for Stieb and for the Blue Jays. Stieb was 11-3 at the All-Star break, and was chosen for his seventh (and final) All-Star squad. On September 2 he no-hit the Indians in Municipal Stadium, the Blue Jays first (and as of a quarter-century later, only) no-hitter.
In his next start, on September 8, Stieb won his 18th game of the year. He made five more starts, but did not win another game. The Blue Jays, who spent most of the season in second place, had a late-season surge, and led the AL East race by 1½ games with eight games to play. They lost six of the last eight, and on the last day of the season needed to beat Baltimore and have Boston lose to Chicago to force a tie for the division crown. Stieb pitched well, working into the eighth inning, but the bullpen lost the lead around the same time that Boston edged out Chicago, and Toronto was knocked out of the playoffs.
Still, Stieb had begun the 1990s with an 18-6 season and a 2.93 ERA, good for fifth in the Cy Young Award voting. But the rest of his career included just 10 more major-league victories. Stieb was effective early in the 1991 season, going 4-3 with a 3.17 ERA, but shoulder tendinitis and a herniated disc in his back limited him to just nine starts, the last of which came on May 22.
In 1992 Toronto had finally formed the nucleus to win a championship. Unfortunately or Stieb, he was reduced to a bit player. He was 4-6 with a 5.04 ERA in 96⅓ innings for Toronto, and his last appearance of the year came on August 8. Accordingly, when the Blue Jays beat the Atlanta Braves in the World Series, Stieb savored the moment, but as an injured spectator instead of as a starting pitcher. "It was very bittersweet," Stieb admitted. He recalled that when the Series ended he "celebrated like I won the last game … but I don't look at it like somebody that played in it and won it."15
The Blue Jays did not renew Stieb's contract after the season, and he signed a free-agent deal with the Chicago White Sox for 1993. Stieb made only four starts with Chicago, going 1-3 with a 6.04 ERA, before he was released. Stieb signed a minor-league deal with the Kansas City Royals, but six weeks later was released again, and decided to retire from baseball.
This held until 1998, when Stieb was in spring training as a coach for Toronto. He had thrown on numerous occasions, and did not notice the old elbow soreness. Eventually he was talked into asking manager Tim Johnson for a shot to pitch.16 Stieb went to the minors and worked his way back to the Blue Jays for one last hurrah. Stieb pitched 19 times, including just three starts, and went 1-2 with a 4.83 ERA. After the season, Toronto approached Stieb about continuing his career as a reliever, but he elected instead to again retire, this time for good.
Stieb continued to serve the Blue Jays as a coach for a few years, but gradually drifted back home to Nevada, where he was part of a construction company and spent much of his time with his family. As of 2016 Stieb remained Toronto's leader in many pitching categories, including wins (175), innings pitched (2,873), and strikeouts (1,658). Stieb threw five one-hit games in his career, but treasures the memories of the September 1990 day when he finally nailed down his no-hit masterpiece.
Notes
1 Dave Stieb with Kevin Boland, Tomorrow I'll Be Perfect (Garden City, New York: Doubleday & Company, Inc., 1986), 14.
2 Lou Pavlovich, "Horner and Gibson Stand Out in Selections," The Sporting News, July 8, 1978.
3 Stieb with Boland, 31.
4 Murray Chass, "Switch Helps Stieb's Career," New York Times, June 3, 1982.
5 Stieb with Boland, 80-81.
6 "Stieb Cools Temper, Gets Hot," St. Louis Post-Dispatch, July 31, 1985.
7 Neil MacCarl, "Losing Took Toll on Jays' Mattick," The Sporting News, October 24, 1981.
8 Peter Gammons, "'82 Will Be Brighter for These 10 Players," The Sporting News, January 2, 1982.
9 Moss Klein, "Beneath 30-Year Malaise, Pulse Felt in Tribe," The Sporting News, May 12, 1986.
10 Neil MacCarl, "Blue Jays," The Sporting News, January 4, 1988.
11 Moss Klein, "Blue Jays at Critical Point; Next Is Critical List," The Sporting News, May 2, 1988.
12 "Perez: One-Legged No-Hitter," The Sporting News, October 3, 1988.
13 Associated Press, "Stieb Loses No-Hitter With Two Outs in 9th," Chicago Tribune, September 25, 1988.
14 Dan Hafner, "Baseball Roundup: Out Away, It's Oh, No for Stieb No-Hitter Again," Los Angeles Times, October 1, 1988.
15 Dave Stieb, telephone interview with author, January 23, 2016.
16 Stieb interview.
Born
July 22, 1957 at Santa Ana, CA (USA)
If you can help us improve this player's biography, contact us.
https://sabr.org/sites/default/files/StiebDave.jpg
600
800
admin
/wp-content/uploads/2020/02/sabr_logo.png
admin
2017-02-09 13:55:00
2022-10-02 18:35:58
Dave Stieb