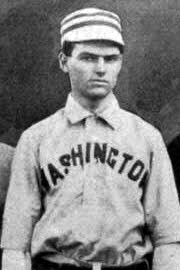 ---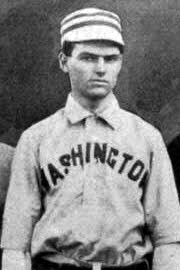 The baseball epitaph for Deadball Era right-hander Del Mason might well be the familiar: Minor League Star/Major League Bust. Twice the best pitcher of a minor-league circuit, Mason was a disappointment in ensuing trials with the Washington Senators (1904) and Cincinnati Reds (1906-1907). In retrospect, it appears that Mason lacked that extra level of pitching ability required for success against elite batsmen. Immaturity and a contentious disposition may also have worked against him. Then, while still a young man and a viable major-league prospect, Mason's insistence on pitching Florida winter ball took the life out of his arm. He finished his pro career as a minor-league journeyman in 1914. But in the end, things turned out well for handsome Del Mason. Only weeks after he had thrown his final pitch in Organized Baseball, he married the only child of William Chase Temple, wealthy industrialist and one-time co-owner of the Pittsburgh Pirates. For the next five decades, the Masons enjoyed a comfortable but very private existence, living near-anonymously in their adopted hometown of Winter Park, Florida, until Del's death in late 1962.
Adelbert William Mason was born on October 29, 1883, in Newfane, an upstate New York hamlet located on the shores of Lake Ontario. Del was the third of four children born to farmhand Charles A. Mason (1853-1887) and his wife, Ida (née Dutton, 1854-1920).1 Sometime after Charles's premature death in 1887, Ida and her children moved in with her brother E.M. Dutton, a local merchant.2 Del attended the Newfane elementary school and then matriculated to high school in nearby Lockport.3 While there, the tall and slender (eventually 6-feet, 160 pounds) teenager attracted attention on local baseball diamonds.4 In July 1902 Mason entered the professional ranks, signing with the Buffalo Bisons of the Class A Eastern League. Given a start on July 9, Del made an impressive debut, striking out seven in a complete-game 5-2 victory over the Rochester Bronchos.5 But a week later he did not make it out of the first inning of a start against Providence. With Buffalo in Eastern League title contention, the club was not a congenial fit for an inexperienced youngster. Worse yet, his older Bisons teammates resented Mason, treating him "shamefully, refusing to recognize him at the hotel, on the street, or on the [playing] grounds."6 In mid-August, Buffalo manager George Stallings reluctantly released "the phenom."7 Mason spent the remainder of the summer pitching for an amateur team in Jamestown, New York.8
Mason did not stay long in amateur ball. By November he had joined former Lockport High batterymate Pick Ryan as a new member of another Eastern League nine, the Toronto Maple Leafs.9 But again, young Mason was not ready for Class A competition. After he had several rocky early-season appearances, Toronto released him [and Pick Ryan, as well].10 Mason did not remain unattached, promptly joining the Schenectady Frog Alleys of the Class B New York State League. Here, the still-teenage hurler hit his stride. Despite getting a belated start against league opponents, Mason quickly established himself as the best pitcher in the circuit.11 On September 20 he posted the 9-5 victory over Johnstown that gave (80-52) Schenectady the league crown. The victory also capped off a 24-7 (.774) record that placed Mason at league forefront in pitcher winning percentage.12 Mason's performance did not go unnoticed, and in late September he was selected in the minor-league player draft by the American League Washington Senators.13
The young pitcher was headed for a (43-94) Washington club that had just finished last in the AL standings and was destined for a repeat in 1904, with an even worse record (38-113). The Senators showed their colors early, stepping off the new campaign by losing their first 13 games. Del Mason made his major-league debut in loss number 7, a complete-game 4-3 loss to New York on April 23. Notwithstanding the game's outcome, Mason's work was favorably reviewed. The Washington Post stated that he "had splendid control … and struck out five batters. At all times, [Mason] was as cool as a cucumber and fielded his position admirably."14 Ten days later, an encore against New York did not go as well. Mason was hit freely in an 8-2 defeat (Senators consecutive loss number 12). His third start ended in an 8-7 loss to St. Louis on May 12. Still, the Washington Post remained an admirer, declaring that "Mason and [fellow rookie Beany] Jacobson have shown fine pitching quality, considering the fielding and batting support that has been accorded to them."15 Sadly for Del, the club brass did not share the sentiment and sold his contract to the Baltimore Orioles of the Eastern League.16 In his brief rookie season, Mason had posted a 0-3 record, with a hefty 6.00 ERA in 33 innings pitched while yielding a .326 opponents batting average. A righty batter, he had been equally undistinguished with the lumber, having gone 0-for-15 at the plate.
Mason's sale to Baltimore became grounds for the first of the official grievance proceedings that would checker his career in professional baseball. Because Mason had been drafted from the Schenectady roster, Schenectady asserted that the rights to Mason reverted to their club – particularly since Washington had reneged on payment of the second $150 installment of the $300 draft price. The National Commission, the three-man overseer of Organized Baseball, agreed and ordered the return of Mason to Schenectady.17 Washington deferred to the decree, but Mason would not. He defied the ruling and remained in Baltimore, having previously signed a contract with the Orioles. Mason was thereupon placed on the suspended list.18 In reaction, Del returned home and donned the livery of the Plattsburgh club in the independent Northern New York League.19 Finally, the impasse was resolved when Baltimore and Schenectady thrashed out a deal that sanctioned the transfer of Mason to the Orioles.20
The third time in the Eastern League proved the charm for Del Mason. He posted a fine 16-7 mark for the second-place (78-52) Orioles, and even helped out with the stick, posting a respectable .243 batting average.21 Having just turned 21, Mason then extended his season by joining the Los Angeles Angels of the Class A Pacific Coast League and pitching into early December. The experience, however, was not particularly positive. His 3-3 log was underwhelming, and Del managed to antagonize the West Coast sporting press with snide comments about the caliber of PCL play.22 Worse yet, the young hurler had established the precedent of pitching into the winter, a practice that would yield dire consequences in the years to come. On the plus side, Mason added variety to his pitching repertoire while with Los Angeles, developing an effective slowball that he dubbed "messenger boy."23 But his attempts to master the spitball proved unavailing.24
That fall Mason was again selected in the minor-league player draft, this time by the National League Brooklyn Superbas.25 But Brooklyn was stockpiling players indiscriminately, and Mason, like many of the other Superbas draftees, never got a chance to make the club. Brooklyn released him to Baltimore in late February.26 Mason responded to the demotion with a petition for free agency, maintaining that Brooklyn and Baltimore had defaulted on two weeks' salary owed him from 1904. The National Commission was unmoved, dismissing the petition on jurisdictional grounds. In dicta, Mason was advised that he should have filed his grievance with the National Association of Professional Base Ball Leagues, the overlord of minor-league players.27 Once officially consigned to Baltimore, Del staged a holdout, threatening to remain west and play in Salt Lake. But in late April, he capitulated and came to terms with the Orioles.28
History repeated itself in 1905. As in the previous year, the Baltimore season was already underway by the time Mason assumed a place in the rotation. And again, he turned in first-rate work for a second-place (82-47) Orioles club. He threw 266 innings and went 18-11. But unlike the prior two falls, Mason went unclaimed in the minor-league player draft. Thereafter, his return to Baltimore for the 1906 campaign was beclouded by published report that he and Orioles left-hander Fred Burchall were bent on jumping to the Johnstown (Pennsylvania) Johnnies of the outlaw Tri-State League.29 But in April, Mason re-signed with Baltimore,30 and immediately proceeded to the zenith of his pro career. Del dominated Eastern League hitters, posting a sterling 26-9 record that led the league's hurlers in wins and winning percentage (.743). This brought Mason's cumulative four-year record to an exceptional 87-37 (.702) and certified him as a minor-league pitching star.
Yet even in the midst of a triumphant season, Mason proved unable to refrain from antagonistic behavior. His latest target: Baltimore sports editor Joseph M. Cummings. Prior to a late-August doubleheader at Orioles Park, Cummings approached the team bench in search of manager Hugh Jennings. Without warning, Mason seized a handy garden hose and doused Cummings. The soaking-wet sports editor said nothing, returning to the press box, where he remained for both games. But retribution was not long in coming. Several days later, Mason was taken into custody on an assault warrant sworn out by Cummings and hauled into Baltimore's central police booking station. There, proceedings were swiftly conducted before Justice Grannan. Mason interposed a quasi-justification defense, asserting that the dousing was just deserts for uncomplimentary commentary Cummings had authored about him the previous season. The court was unimpressed, found Mason guilty as charged, and then soaked him $50 plus court costs.31
Although this most recent display of Mason's truculence gained him further press disdain,32 it did not diminish major-league interest in the young right-hander. Many clubs were reportedly interested in securing his services, but the Orioles had reached an agreement with the Cincinnati Reds that gave the National League club first call on Baltimore players. Shortly before the early-September date of the minor-league player draft, Mason was sold to the Reds.33 On September 25 Del made his Reds debut, throwing four scoreless innings in relief of Bob Ewing in a 9-7 loss to Philadelphia. The game's outcome left the Cincinnati Post wondering if Reds manager Ned Hanlon regretted not having started Mason.34 But given the ball four days later, Mason was hit hard and unable to hold an early 3-0 lead, dropping a 7-3 decision to Boston. In addition to losing his only major-league decision of 1906, Del also kept his hitless at-bat streak alive. It now stood at 0-for-20.
During the postseason, Mason made the move that would change the course of his life. He relocated to the small resort community of Winter Park, Florida, located on Lake Virginia and only a short distance from Orlando. What prompted an unattached 23-year-old native of upstate New York to settle in Central Florida is unknown, but in time the relocation would precipitate dramatic changes in Del's professional and personal fortunes. For the time being, the move allowed Mason to assume the post of baseball coach at Rollins College, a Winter Park institution that, like most Florida colleges, played its baseball season in the winter. Not much older than the typical undergrad himself, Mason would guide Rollins to the unofficial Florida state baseball championship for the next five seasons running.35
Working out with his college charges all winter put Mason in superb physical condition for 1907 spring training and he showed well in camp. Inserted into the Reds' regular-season rotation, Mason trimmed the St. Louis Cardinals, 9-1, on April 15 for his first major-league victory. He kept up the good work thereafter, but suffered the fate of most hurlers laboring for a bad club. By late May, a string of one-run defeats had dropped Mason's mark to 3-8, prompting the Cincinnati Post to dub him "the Reds hard luck pitcher."36 Then, Mason's propensity for alienating others asserted itself. On the basis of manager Hanlon's ownership interest in the Baltimore Orioles, Mason demanded that Cincinnati pay him a $500 slice of his 1904 purchase price by Baltimore. Or else he would quit the Reds. Cincinnati club boss Gary Herrmann angrily spurned this outlandish demand and suspended Mason.37 The ever-litigious Mason responded with a grievance filed with the National Commission. Some months later the grievance was rejected (although the National Commission rebuked Baltimore for failure to sign Mason to a standard contract after his acquisition from Schenectady).38 In the meantime, Mason had become a ringleader of the Reds player insurrection confronting Hanlon.39
By mid-August and with the Reds heading for a sixth-place finish, Herrmann acted. He got malcontent-in-chief Mason (and his now 5-12 record) through National League waivers, and then sold him to the New York Highlanders.40 Del pronounced himself delighted with the transfer, taking a few gratuitous shots at Hanlon as he took his leave of Cincinnati.41 But after a week sitting on the Highlanders bench, Mason had new reason to be glum. He was optioned to the Jersey City Skeeters of the Eastern League.42
Mason went 6-1 in Jersey City livery and anticipated his recall to New York once the EL season concluded. But unbeknownst to him, his major-league career had reached its end. In parts of three seasons, he had accumulated a woeful 5-16 (.238) record, with a Deadball Era-lofty 3.72 ERA in 191 innings pitched. His walks/HBP total (83) exceeded his 65 strikeouts, while opposing batsmen had hit a healthy .286 off his servings. During the 1907 season, however, Mason had finally broken his schneid at the plate, managing the eight base hits that left him with a .125 lifetime major-league batting average. All things considered, Mason, a star at the minor-league level, had been a bust as a big leaguer.
In January 1908 New York manager Clark Griffith made Mason's assignment to Jersey City permanent, selling him and right-hander Earl Moore to the Skeeters in return for hot pitching prospect Joe Lake.43 Still only 24, Mason worked hard to re-establish his hurling credentials. He shut out Toronto, 4-0, on three hits in the Eastern League season opener and proceeded to turn in yeoman service throughout the season. But he punctuated a 16-19 campaign for a poor (58-79) Jersey City club with an on-field fight with teammate George Merritt. Reserved by Jersey City for the 1909 season,44 Mason then returned to Florida to resume his offseason regimen. Although his arm had been taxed by 323 innings pitched during the Eastern League season, Del insisted on pitching some more in the winter Florida hotel league. He also threw regularly to batsmen on his Rollins College team. The consequence of this abuse of his wing manifested itself the next spring. Mason reported to Jersey City's spring camp with a dead arm.45
Mason's arm refused to respond to treatment, making 1909 a lost season. He made only three appearances (one as a right fielder) for Jersey City. After posting a 0-2 record in six innings pitched,46 Mason was released.47 He then returned to Winter Park, where he added coaching the Rollins football team to his offseason duties.48 Del tried to come back in 1910, making brief and unimpressive stops in Toronto, Des Moines, and Newark before drawing his release. Against the odds, he returned to usefulness in 1911, going 8-9 for another bad (63-88) Jersey City club. But he was not the same pitcher as before, and no longer considered a major-league prospect. Mason returned to the Skeeters in 1912, going 9-12 for seventh-place Jersey City of the newly renamed International League. He then completed his professional career with respectable (12-9 and 12-14) campaigns for another IL also-ran, the Montreal Royals.
By now Mason had achieved some hometown celebrity, having piloted Rollins to multiple Florida state championships. Admirers of the good-looking college coach included Dorothy Temple, the teenage daughter of coal, lumber, and fruit magnate William Chase Temple, also a former mayor of Winter Park. Although a lover of the game – Temple had co-owned the Pittsburgh Pirates in the early 1890s and had donated the object of postseason pseudo-championship play in the National League (the Temple Cup) from 1894 to 1897 – it is doubtful that Temple was thrilled with the budding romance of his only child and a washed-up minor-league pitcher some 13 years her senior. But on November 5, 1914 (Dorothy's 18th birthday), she and Del Mason were married, the likely misgivings of the bride's parents notwithstanding.49 The birth of children Carolyn (born August 1915) and William (January 1917) would complete the Mason family.
Despite a new bride and an automobile-repair business in Winter Park, Mason signaled his intention to continue playing professionally in characteristic fashion: He filed a grievance against Montreal with the NAPBBL. Pursuant to the terms of his 1914 contract with the club, Mason demanded that he either be tendered a new contract at $350 per month by Montreal or be granted free agency. And for once, Mason prevailed, minor-leagues secretary John H. Farrell granting the relief sought.50 The point of the proceedings, however, is far from clear. Once formally released by Montreal, Mason never made another appearance in Organized Baseball and thereafter contented himself with playing the occasional game with Winter Park amateur nines.
For the remainder of his long life, Del Mason guarded his privacy. His local celebrity and the prominence of the Temple name generated the occasional mention of the Masons on newspaper society pages.51 But for the most part the couple avoided the limelight, living in the kind of quiet and comfort afforded by Dorothy's heritance.52 By 1935 Del Mason had given up working entirely, living off investment income.53 The only blight on family life was the death of 10-year-old son Billy in August 1927. By then, the well-to-do Masons had receded into virtual anonymity. The last-discovered trace of Del's post-baseball life resides in the 1956 Orlando area directory, which lists him as vice president of a local library and a resident of Winter Park.
As he grew elderly, Mason became afflicted with heart disease. In early December 1962, he developed a blood clot on the brain and died at home on New Year's Eve.54 Adelbert William "Del" Mason was 79. His remains were interred next to those of his son in Palm Cemetery, Winter Park. He was survived by wife Dorothy and daughter Carolyn Mason Frid.
Sources
Sources for the biographical information recited herein include the Del Mason file maintained at the Giamatti Research Center, National Baseball Hall of Fame and Museum, Cooperstown, New York; US Census, Florida directory, and Mason family posts accessed via Ancestry.com, and various of the newspaper articles cited below. Unless otherwise noted, stats have been taken from Baseball-Reference.
Notes
Born
October 29, 1883 at Newfane, NY (USA)
Died
December 31, 1962 at Winter Park, FL (USA)
If you can help us improve this player's biography, contact us.
/sites/default/files/MasonDel.jpg
600
800
admin
/wp-content/uploads/2020/02/sabr_logo.png
admin
2017-01-31 15:20:55
2017-01-31 15:20:55
Del Mason