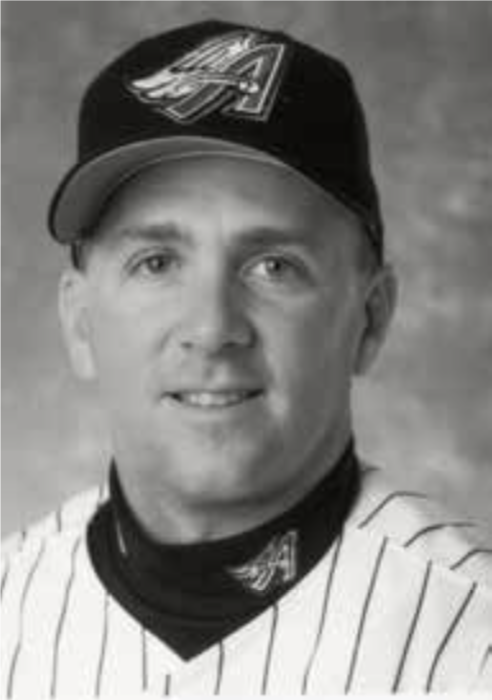 ---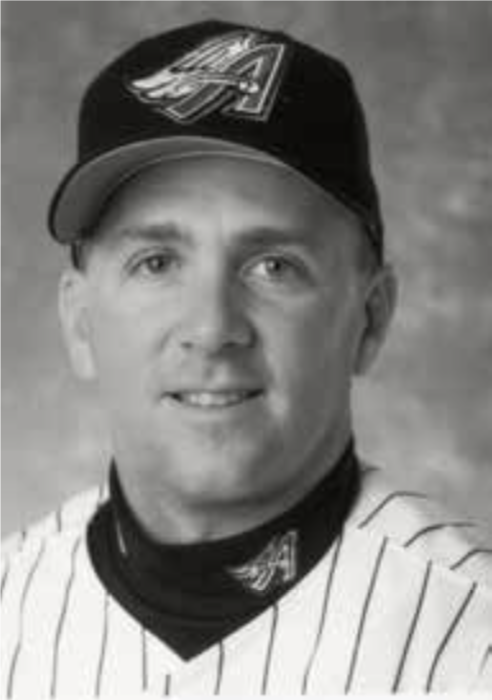 Over the course of roughly two decades, Dennis Springer's baseball travels took him practically everywhere in the U.S. and Canada, but he spent all his formative years in and around Fresno, California, and that's where he's made his second professional career in the years since his often-unreliable knuckleball finally became too unreliable.
Dennis LeRoy Springer was born in Fresno on February 12, 1965. His father was a teacher and football coach at suburban Washington Union High School, and so young Dennis first gravitated toward football. "I followed him around," Springer recalled. "It wasn't until I was nine [that] I started playing little league baseball."1
But he took to baseball quickly, and his favorite team was the Dodgers, because he would watch baseball games on television with his grandfather and the Dodgers were his favorite team. After going to the same high school where his dad coached, Springer pitched for two more local schools: two-year Reedley College, followed by a season at Fresno State University. After a junior season in which he went 6-5 with a 3.92 ERA for the Bulldogs, Springer got a nice surprise: His Los Angeles Dodgers thought he had the makings of a pro.
"I didn't think I was going to be drafted at all," he later said, "so when I got the phone call from our family friend who was actually the Dodger scout, I was really excited."2
Perhaps Springer was drafted because of that family friend; on the other hand, he wasn't exactly a late-round flier, going to the Dodgers in the 21st round of a draft in which they drafted 30 players after him. Still, the 21st round isn't where you find the can't-miss prospects. Springer had fooled around with a knuckleball in college, and upon showing his stuff in the minors, he recalled, "the coaches told me that the knuckleball would be my ticket to the majors."3
What they probably didn't tell him what while his knuckleball ultimately was his ticket to the majors, it would take many years for that ticket to be punched.
Springer's first pro season was in the Rookie-level Pioneer League. He thrived there, and thrived again the next season in Class A, especially after being told, "We'll give you a shot to start, but you have to throw [the knuckleball] all the time." Along the way, he also received some tips from Charlie Hough, the longtime major leaguer who'd also gotten his start in the Dodgers' farm system, 20-some years earlier.4
In Springer's third pro season, he split his time between the Dodgers' Double-A and Triple-A clubs: heady stuff for a late-round draftee who hadn't expected to get so far. But for all of 1989 and the next five seasons, that's as far as Springer got, bouncing back and forth between those levels. In fact, after the 1993 season — in which he'd gone 3-8 with a 5.99 ERA for Triple-A Albuquerque — Springer drew his release from the Dodgers after seven seasons, and signed as a free agent with the Phillies … who exiled him to Double-A Reading for all of the '94 season.
And in '95, it was yet another long stint in the minors for Springer, who racked up a 10-11 record with Triple-A Scranton/Wilkes-Barre. Finally, though, his patience and hard work was rewarded with a September call-up. Springer debuted on the 13th with a start (and loss) in Montreal, and remained in the Phillies' rotation for the rest of the season. Alas, he went just 0-3, with his best outing (against the Marlins) resulting in a no-decision.
That winter the Phillies cut him loose, but Springer signed with the California Angels, and spent most of the next two seasons in the majors. In 1996, he joined the Angels' rotation after the All-Star break, and went 5-6 in 14 starts the rest of the way; the highlight came on August 25, when he shut out the Orioles in Baltimore, allowing just five hits. Springer spent nearly all of '97 in the Angels' rotation, despite a worrisome strikeout rate, and finished 9-9 for the season. Again, there was one highlight. Shortly after a rough July outing that goosed his ERA for the season to 6.31, Springer was advised by Hall of Fame knuckleballer Phil Niekro — in a Fenway Park tutorial also attended by Tim Wakefield — that he might be throwing his knuckleball too hard; Wakefield opined that changing speeds might help, especially against Springer's next opponent, the Indians. And sure enough, Springer tossed a nifty eight-hit shutout in Cleveland, one of four shutouts in his career.5
That November, the Angels left Springer unprotected in the expansion draft, and the Tampa Bay Devil Rays snagged him with the 26th pick. The idea was that Springer would, at the very least, relieve the pressure on the first-year franchise's shaky pitching staff, much as Charlie Hough had done for the Florida Marlins five years earlier. That didn't actually happen this time, though; in early July, Springer was demoted to the minors with a 2-11 record (5.67 ERA). He did return to the Devil Rays in August, but pitched largely in lost causes, his only decision (a victory) coming in a spot start against the Tigers.
After the season Springer was on the move once more, this time signing a free-agent deal with Florida. The good news: For the first and only time in his professional career, Springer spent the entire season in the majors, and set his career high with 196⅓ innings pitched. He also threw a couple of shutouts, first against the cross-state Devil Rays and later — sweetest of them all — a gem against the Braves to beat Greg Maddux, 2-0. Springer was also one-half of a historical oddity: For the first month of the season, Springer was joined on the Marlins' staff by fellow knuckleballer Kirt Ojala. In one game, Ojala relieved Springer; in another, Springer relieved Ojala. The bad news: Springer finished the season 6-16, with a 4.86 ERA (and Ojala was dispatched to the minors in early May, and never pitched in the majors again).6
That winter, Springer signed with the New York Mets. "We feel we've added to our pitching depth," said Mets general manager Steve Phillips. "He's versatile and proved he can throw a lot of innings."7
True enough, but the Mets didn't have much use for Springer's innings, nearly all of which he tossed in Triple-A; he did start twice for the big club in April, but the latter appearance included 13 hits, four walks, and eight runs, after which it was back to Norfolk for the rest of the season. With no call-up in September.
After which, another winter, another job hunt. But this one lasted far longer than the others, as Springer didn't actually sign a contract for the 2001 season until May … but at least it was with the Dodgers, whom he would later describe as "truly the best organization in baseball."
Springer began his delayed season back with Las Vegas, the Dodgers' Triple-A affiliate. But he finally, so many years later, made his Dodgers debut on July 19, going four innings in Dodger Stadium against the Brewers.
Five days later Springer started again, this time in Milwaukee, and sparkled: seven innings, five hits, and one run, good enough for his first victory in the majors since 1999. Two days later, though, Springer lost both his spot in the rotation and his spot on the 25-man roster, when the Dodgers traded for veteran starter James Baldwin. "This was a good situation and I had a good time," Springer told the Los Angeles Times. "Hopefully, I can get back here; if not before September, then in September."8
Springer did make it back that fall, but didn't actually pitch until October. On the 4th, he pitched a scoreless inning in San Diego. And on the 7th, the last day of the regular season, Springer started against the Giants in San Francisco … and threw the most famous pitch of his career.
In the bottom of the first inning, Springer walked leadoff man Marvin Benard, then retired Rich Aurilia on a fly to center field. Which brought up Barry Bonds, sitting on 72 home runs for the season. Two days earlier against the Dodgers, Bonds had broken Mark McGwire's single-season record with his 71st homer, then hit another in the game for good measure.
Unlike a lot of teams, and with nothing but their pride on the line, the Dodgers had decided to pitch to Bonds throughout the season-ending series, home runs be damned. So first came those two blasts in game one, then just a pinch-hit single in game two, which left Bonds with 72 homers when he stepped to the plate in the first inning against Springer.
The knuckleballer's fifth pitch was a ball, but Benard somehow decided to take off for second base and was thrown out stealing, catcher to shortstop. Springer's next pitch just hung there, and … well, here is Duane Kuiper's call: Here's the payoff, a floater to Bonds — and he hits it high, he hits it deep, and it is … outta here!
There are probably thousands of Giants fans who weren't there but say they were, and there are probably thousands who were there and say the baseball landed in McCovey Cove. It didn't. The ball landed toward the rear of the stands just above and beyond the high right-field wall (Bonds' home run was caught and then lost by a fan with a glove; ultimately that fan and the one who retrieved it shared in the proceeds of an auction that ended with collector Todd McFarlane bidding the highest: $450,000).
What's forgotten (of course) is that Springer actually pitched quite well in that start, getting stuck with the loss despite allowing only two runs in seven innings (the Giants' Kirk Rueter and four relievers held the Dodgers to just four hits and one run).
"The home run by Barry Bonds was my claim to fame," Springer said in 2013. "It doesn't bother me now and it didn't bother me then. It was just one homer that I gave up. It just happened to be the last one of his year."9
It was also the last homer Springer gave up in the major leagues, as he would make just one more appearance in the majors. After starting 2002 in the minors, he was recalled in May, made a single relief appearance and took the loss, and was sent right back to Triple-A Las Vegas, where he finished the season with a 5.85 ERA in 143 innings. And so ended Dennis Springer's professional baseball career, at 37.
Springer certainly didn't think, way back when he was drafted, that he'd spend 16-odd years playing pro baseball. "I thought I would play a couple of years," he said later, "and then come back to Fresno and be a teacher and a coach like my dad."10
As of 2013, Springer did coach baseball. But instead of teaching, he's been with the Hanford (California) Fire Department for nearly 15 years, roughly as long as he got paid to throw knuckleballs. "I have always wanted to be a firefighter," Springer said, "and that is what I went into, as soon as I retired from baseball."11
Last revised: December 1, 2018
This biography appeared in "Time for Expansion Baseball" (SABR, 2018), edited by Maxwell Kates and Bill Nowlin.
Notes
1 Larry Ham, "Former Major League Pitcher Speaks at Reedley College," Kings River Life, January 17, 2013.
2 Ibid.
3 Ibid.
4 Elliott Teaford, "Hough Says Springer Can Help in Relief," Los Angeles Times, April 7, 1996.
5 "Springer Knuckles (Way) Down," Los Angeles Times, July 29, 1997.
6 David O'Brien, "Knuckleball Sandwich," South Florida Sun Sentinel, April 3, 1999.
7 Tyler Kepner, "Mets Sign a Workhorse to a Minor League Deal," New York Times, February 5, 2000.
8 Bill Shaikin, "Springer Gets Ticket for a Return to Vegas," Los Angeles Times, July 27, 2001.
9 Ham.
10 Ibid.
11 Ibid.
Born
February 12, 1965 at Fresno, CA (USA)
If you can help us improve this player's biography, contact us.
https://sabr.org/sites/default/files/SpringerDennis.jpeg
600
800
admin
/wp-content/uploads/2020/02/sabr_logo.png
admin
2012-01-04 20:04:05
2012-01-04 20:04:05
Dennis Springer