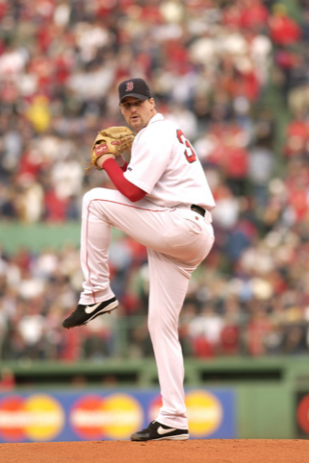 ---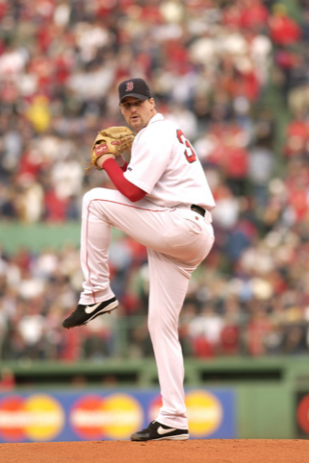 In 2004, as the Boston Red Sox won their first world championship in 86 years, right-handed sinkerball pitcher Derek Lowe earned the rare distinction of winning the clinching game in the Division Series, the League Championship Series, and the World Series itself.
He won 176 regular-season games pitching for seven different major-league teams, but his most notable tenure was with Boston, where he also threw a no-hitter in 2002, was a two-time All-Star, and was 70-55 with a 3.72 earned-run average.
He began his career with the Seattle Mariners, but came to Boston midway through his first season in one of the most lopsided trades in baseball history.
Lowe was born and raised in the Detroit suburb of Dearborn, Michigan, on June 1, 1973, the son of Don and Dianne Lowe. Dianne worked as a nurse and Don as a repairman. Derek grew up in an athletic family and told writer Herb Crehan, "Everyone in the family was involved in sports: uncles, aunts, cousins, everyone. I wouldn't change a thing about the way I grew up. I played whatever sport was in season: golf, soccer, basketball, and baseball. Playing and adapting to the different sports made me a better athlete."1
He graduated from Dearborn's Edsel Ford High School, where he lettered in four sports: basketball, golf, and soccer, as well as baseball. And he was an All-League honoree in four sports. He was expected to attend Eastern Michigan University on a basketball scholarship (Lowe was 6-feet-6 and is listed in baseball-reference at 230 pounds.) His all-league selection in baseball had been as a shortstop, though, not a pitcher, but he was drafted as a pitcher — despite winning only a pair of games in high school. "I was pitching my sophomore year against the number one team in the state in the playoffs, and the other team had kids that were getting looked at for the draft, so pro scouts were at the game. I lost the game but Seattle Mariners scout Ken Medeja noticed and started following my high school career. Seattle was drafting tall pitchers at that time hoping they would fill out in time and I fit that build. Long story short, I was drafted in the eighth round even though only winning two high school games."2
Unsurprisingly, Lowe was a Tigers fan growing up. "Chet Lemon. He was my man," he said in 2003. "But then I started playing shortstop, and I wanted to be Alan Trammell."3
"He was a typical high school kid," said Pat Wyka, athletic director at Edsel Ford for 25 years. "He wasn't 100 percent focused. … He did not have a good senior pitching season." But he was good enough to catch the eye of the Mariners' scouts.4
In the June 1991 player draft, it was the Seattle Mariners who drafted Lowe, in the eighth round, the 214th pick overall. Starting out with 213 prospects having been rated higher in the draft, Lowe wasted no time in signing, on June 7. Medeja is credited with the signing. The 18-year-old Lowe was sent to rookie league in Arizona, started 12 games, and built a 5-3 record with a 2.41 ERA, striking out 60 and walking 21.
He was advanced slowly through the system, working for Bellingham, Washington, in 1992, where he was 7-3 with a 2.42 ERA, nearly identical to that from rookie league. Lowe struggled at higher levels of play and was 21-25 over the next three seasons while giving up more than five runs per nine innings. He split 1996 between the Port City Roosters in Double A (in North Carolina) and the Mariners' Triple-A Tacoma Rainiers of the Pacific Coast League.
Lowe began the 1997 season with Tacoma but a very early-season injury sent Seattle left-hander Tim Davis to the 15-day disabled list and resulted in Lowe's being called up to join the major-league Mariners on April 24. His debut came two days later in Toronto. The score was tied, 3-3, when he was brought on in relief to pitch the bottom of the sixth. He got through his first three innings and got the first out in the bottom of the ninth. Otis Nixon reached on a single to third base and then stole second. Another infield single, to shortstop, put two men on; Nixon had to hold at second base. Manager Lou Piniella called on Norm Charlton to relieve. Charlton got a fly out but then yielded a single, which resulted in the loss of the game being charged to Lowe.
After another relief stint, Lowe was optioned back to Tacoma, but then recalled again and got his first start on May 27 against the Twins. He worked five innings and gave up four runs, but had a no-decision. Lowe's first win came — in Detroit — on June 6, thanks to a pair of two-run homers by Jose Cruz Jr. Lowe appeared in six June games and three in July. He held a 2-4 record with a 6.96 ERA in 53 innings, when he was optioned back to Tacoma in July
That's when the Mariners dealt Lowe to Boston in a July 31 trading-deadline deal. The Mariners really need to bolster their bullpen and acquired Heathcliff Slocumb from the Red Sox for Lowe and minor-league catcher Jason Varitek. Years later, Varitek said that he and Lowe were pretty raw: "He was a one-pitch pitcher, and I couldn't catch, hit, or throw."5
With Boston's Triple-A Pawtucket Red Sox, Lowe was 4-0 in 1997 with a 2.37 ERA (the last time he worked in the minor leagues) and in September he was called up to the big-league club, where he was 0-2 in 16 innings but with a solid 3.38 ERA.
Lowe's first two games in 1998 were starts, and losses. He relieved in 13 games, then got a few starts again, losing all five decisions in his next eight starts. He was 0-7 by the end of June, with an ERA of 4.23. He finished the year 3-9, with the three wins all coming in relief. His 4.02 earned-run average was, however, slightly better than the team's 4.18. The Red Sox made it to the postseason, losing the Division Series to Cleveland, three games to one. Lowe worked 4⅓ innings in the ALDS, giving up one run on three hits, the eighth run of nine in a 9-5 Game Two loss.
The Red Sox noted that Lowe had pitched much better in relief than when starting, and in 1999 they had him work exclusively out of the bullpen, pitching in 74 games, closing 32 of them and earning 15 saves (he was 6-3). His ERA for the year was 2.63. Come the postseason, one earned run in four innings cost him a loss in Game One of the Division Series, again against the Indians. Lowe won Game Three thanks to a big six-run bottom of the seventh at Fenway Park. The Red Sox advanced to the ALCS, facing the Yankees.
Lowe had a superb 2000 season, closing 64 games (most in the league) and earning a league-leading 42 saves (tied with Todd Jones of the Tigers). His ERA was an enviable 2.56 and he was honored in midseason by being named to the American League All-Star team. Won-lost records tend not to mean much for relievers; he was 4-4.
One could see 2001 as a transition year. By July 29 Lowe was 4-8, with 21 saves and a 4.15 earned-run average. There was a mixed bag of closers — by year's end, Lowe had closed 50 games, but Rod Beck had closed 28, Ugueth Urbina (acquired from the Expos on July 31) had 13, and Rolando Arrojo 11. The team also changed managers in midseason, with pitching coach Joe Kerrigan replacing Jimy Williams as manager. Lowe finished 5-10 with a 3.53 ERA; the team's ERA was 4.15.
Grady Little became Red Sox skipper for 2002; the team itself was under new ownership. Tony Cloninger became the pitching coach. Lowe returned to starting games and in his fifth start (April 27) he threw a no-hitter against the Tampa Bay Devil Rays, with only one third-inning base on balls. Lowe had an interesting take on the battle of wits between batter and pitcher when it comes to a no-hitter: "You need some luck, or good fortune, and you need to remember the pressure is on the batter because you are pitching well and they aren't having any success."6
It was the first time a pitcher had both had a 40-save season and thrown a no-hitter. Lowe won a career-high 21 games in 2002, against only eight losses, with a season ERA of 2.58 and a WHIP of 0.974. He was again named to the All-Star team. After the season, Lowe placed third in the Cy Young Award voting.
In 2003, when the Red Sox came to within a few innings of making it to the World Series, Lowe worked to a 17-7 record, though with an ERA of almost two runs per game higher — 4.47. The number of walks he'd allowed had jumped from 48 in 2002 to 72 in 2003. Walks haunted him in the 2003 postseason, too. In Game One of the ALDS, he came into a 4-4 tie game in Oakland to pitch the bottom of the 11th, and then again the 12th. In the bottom of the 12th, he walked two batters, sandwiched around a couple of groundouts, and then issued an intentional walk to load the bases — before giving up the one hit he'd allowed, an unexpected bunt single by catcher Ramon Hernandez.
In ALDS Game Three, Lowe started and gave the Red Sox seven innings of one-run ball. They won the game on Trot Nixon's two-run homer in the bottom of the 11th. In the deciding Game Five, back in Oakland, Boston was ahead 4-3 heading into the bottom of the ninth. Scott Williamson walked the first two batters he faced. Grady Little called on Lowe, who retired the side with two strikeouts after a sacrifice. In the ALCS, Lowe lost both Game Two (6-2) and Game Five (4-2), ending up with an 0-3 record for the 2003 postseason. After the Sox lost to the Yankees in extra innings in Game Seven, Lowe said, "That was the quietest clubhouse I have ever been in. Nobody said a word. Of course there wasn't anything to say."7
That was reversed in 2004, as noted above. Lowe had a mediocre regular season, again slipping a full run in ERA from 4.47 to 5.42. His record was 14-12. In the postseason, new manager Terry Francona, well aware of how Lowe had slipped, said he was asking him to work out of the bullpen. Lowe thought about going home, but Francona asked him to sleep on it. He accepted the assignment. And he won the clinching game in all three rounds of the postseason — getting the win in relief in the deciding Division Series game, winning Game Seven of the ALCS (allowing just one run in six innings) and winning Game Four of the World Series with seven shutout innings. He had also started Game Four of the ALCS, allowing three runs in 5⅓ innings. Afterward, he admitted Francona had been right: "I probably would have left me off the roster I had pitched so poorly. But it was tough to go back to the bullpen."8 All's well that ends well; he had a world championship ring.
Lowe was a free agent and in January 2005 signed a four-year deal with the Los Angeles Dodgers. There were rumors that the Red Sox had concerns about his drinking, and did not put on a push to re-sign him. Lowe started 35 games for the Dodgers in 2005, tied for the lead in the National League. He cut down his walks, struck out more batters, and brought his ERA down nearly two runs (a one-hitter — a single by the first batter in the game — on August 31 helped) to 3.61, but his record was just 12-15 (the Dodgers were 71-91). He won 16 games in 2006, enough to tie for the league lead with five others. Lowe's four years with Los Angeles were remarkably consistent, year to year, and he never missed a turn in the rotation, leading the league once more in starts in 2008 (and once more tied with several others). In that year's postseason he won the first game of the Division Series, but lost the first game of the NLCS, 3-2.
And then it was on to Atlanta for three seasons, Lowe again cashing in as a free agent and again twice leading the league in games started (in 2009 and in 2011, tied with five others in 2009 and two others in 2011). But he also led the National League in losses in 2011 (9-17, after winning 31 games in the two prior years). His ERA had crept back up over 5 (to 5.05). He'd started 2009 well enough, but the second half of the season was subpar by his standards. And 2010 was, as well, even a little more so; but suddenly in September Lowe got a second wind and reeled off five consecutive wins, becoming Pitcher of the Month and helping the Braves secure the wild card as he himself finished with an even 4.00 ERA on the season. He pitched very well in the Division Series against the San Francisco Giants, but ended up with an 0-2 record, saddled with losses of 1-0 and 3-2.
Like most pitchers, Lowe didn't hit that well (.149, with a .201 on-base percentage, in 534 plate appearances). His one home run was one of the bright spots of his 2011 season. On August 31 he homered at Turner Field, leading off the third inning against Washington Nationals pitcher John Lannan. Lowe worked a 3-and-2 count, with a couple of fouls mixed in, homering to deep left field on the eighth pitch to give Atlanta a 2-0 lead in a game Lowe won, 3-1.
Lowe was pretty good fielding his position, with a career .975 percentage, five times tied for being best among pitchers.
After the 2011 season, the Braves didn't see enough of a future in Lowe, given those 17 losses and his declining effectiveness, so they settled for some degree of salary relief and swapped him on the last day of October to the Cleveland Indians for 23-year-old lefty minor leaguer Chris Jones, with the Braves paying a reported two-thirds of Lowe's hefty salary for the final year of their four-year deal.
The Indians saw him as a fourth or fifth starter, but as a veteran with experience who might provide some help. Indeed, hoping for a comeback season, Lowe got off to an excellent start with the 2012 Indians and was 6-1 by May 15, but seemed to run out of steam and was 2-7 over June and July, while watching his ERA climb from 2.15 on May 20 to 5.52. The team released him on August 10.
The Red Sox and Orioles both showed some interest, and Lowe himself said he just needed a "tune-up." But three days later the team he had caught on with was the New York Yankees. He was asked to work back in the bullpen. On the 13th, he had what was only his second relief appearance (excluding the postseason) since 2001. He threw four innings of two-hit scoreless relief in his first game and was credited with a save. Over the remainder of the season, Lowe won one and lost one, with a 3.04 earned-run average in 17 relief appearances, and pitched in the postseason for the last time, throwing two innings of relief in three games, giving up three runs in three Yankees losses though never involved in any of the decisions.
Lowe ended his career with a win. A free agent again, he wanted to continue as a starting pitcher but the versatility he offered had appeal and he signed a minor-league deal with the Texas Rangers in the spring of 2013. Expected to make the big-league team, he did just that. The Rangers used him in relief nine times. When starter Nick Tepesch was struck by a line drive in the top of the second inning of the April 20 home game against visiting Seattle, Lowe was brought in for long relief and worked four full innings of no-hit relief, credited in the ultimate 5-0 win. But after he was tagged for eight runs over his final three appearances, in 2⅓ innings, the Rangers designated him for assignment on May 20. There was no interest from other teams and in mid-July Lowe announced his retirement.
Lowe said he'd go back to rooting for the Tigers. "I'm not going to go to the Hall of Fame, so I don't feel like I need to have a retirement speech," he said. "But I was able to play 17 years on some pretty cool teams and win a World Series. So, everyone's got to stop playing at some point, and this is my time."9
Lowe has been married twice. He had two children with his first wife, Trinka, and adopted the son she had from a prior relationship. Lowe later became involved with Fox Sports Net broadcaster Carolyn Hughes during the first of his Dodgers years while she was covering the team. His first wife, Trinka, had apparently had an affair with married German soccer star Stefan Effenberg.10 Following divorces from their respective spouses, Lowe and Hughes married in December 2008.
In his years since baseball, Derek Lowe has been able to enjoy being retired from the game. In June 2016 he said, "I am just splitting time between Florida and my home state of Michigan, spending a lot of time with family, and golfing quite a bit."11
Lowe is a survivor of squamous cell carcinoma and has donated time to a number of causes that fight cancer, including the Melanoma Foundation of New England and the National Council on Skin Cancer Prevention.
Last revised: February 2, 2017
This biography appears in SABR's "No-Hitters" (2017), edited by Bill Nowlin.
Sources
In addition to the sources noted in this biography, the author also accessed Lowe's player file from the National Baseball Hall of Fame, the Encyclopedia of Minor League Baseball, Retrosheet.org, Baseball-Reference.com, Rod Nelson of SABR's Scouts Committee, and the SABR Minor Leagues Database, accessed online at Baseball-Reference.com.
Notes
1 Herb Crehan, "Derek Lowe Remembers the 2004 World Championship," BostonBaseballHistory.com, June 30, 2014.
2 Email to author, June 15, 2016.
3 Associated Press, "Baseball the Right Choice for Lowe," ESPN.go, March 11, 2003, at http://sports.espn.go.com/mlb/news/story?id=1392434.
4 Ibid.
5 Tony Massarotti, "'Tek Support," Boston Herald, April 28, 2002: B24.
6 Crehan.
7 Ibid.
8 Ibid.
9 Tom Pelissero, "Derek Lowe 'Officially' Threw His Last MLB Pitch," USA Today, July 17, 2013.
10 "Inside Track," Boston Herald, September 8, 2008.
11 Email to author, June 15, 2016.
Born
June 1, 1973 at Dearborn, MI (USA)
If you can help us improve this player's biography, contact us.
https://sabr.org/sites/default/files/LoweDerek.png
600
800
admin
/wp-content/uploads/2020/02/sabr_logo.png
admin
2012-01-04 20:01:14
2012-01-04 20:01:14
Derek Lowe