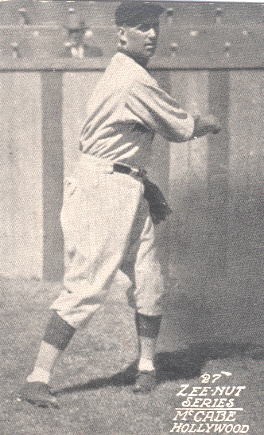 ---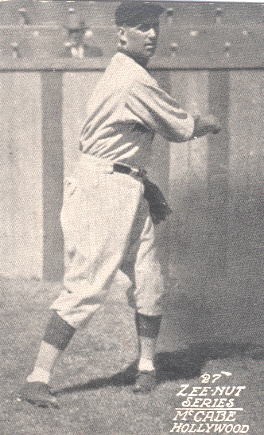 Dick McCabe was the only child of Margaret and Richard James McCabe, Sr. He was born on February 21, 1896, in Mamaroneck, in Westchester County on the outskirts of New York City. In 1914, at the age of 18, the 5 foot 10, 159-pound right-handed pitcher played with New Rochelle's semipro baseball team before signing a professional contract to pitch for the Eastern Association team in Bridgeport, Connecticut. For Bridgeport, McCabe pitched eight games with a 5-1 record, chalking up 30 strikeouts in 41 innings of work.
In 1915, McCabe played in the Class-B New England League, splitting his time between Lewiston and Lynn. League records are less than complete, but he posted a 13-9 mark in 27 games. This earned him a tryout with the Boston Red Sox, so in 1916 he was invited to his first big league spring training camp in Hot Springs, Arkansas. He lacked both experience and sufficient control and was unable to break onto the roster of the reigning World Champions. Instead, he took up again with Lynn before joining Hartford of the Class-B Eastern League. He was injured for most of 1916, appearing in only nine games. One report from July while he pitched for Hartford said he couldn't get the ball "within a yard of the plate." He was 2-3 for the season.
McCabe had a second stint with the Sox during 1917 spring training, but his contract was placed with the Buffalo Bisons of the International League. The World War was on and the entire Buffalo team, McCabe included, registered for the military draft, waiving any rights to claim exemption. As it happened, though, he gained some real pitching experience in 1917 as he logged 259 innings, appearing in 38 games, and posting a 15-13 record and a 3.06 ERA.
McCabe made his third appearance in Red Sox spring training camp in 1918, and this time he made the club. He appeared in seven springtime games, including an April 2 appearance in which he relieved Babe Ruth, hurled 10 innings, and recorded the win. Six of his seven spring games were played against the Brooklyn Dodgers. The other was a split squad game in which McCabe pitched for the Yannigans against the regular Red Sox. He pitched a shortened seven-inning game and proved to be an exceptionally fast worker pitching the entire seven innings in just 35 minutes. McCabe ended the spring of 1918 having pitched 37 innings, giving up 38 hits and nine runs, with four walks and eight strikeouts.
McCabe made the trip to Boston with the major league team and became the 1918 batting practice pitcher, a decision that pleased the hitters. He'd developed good control and they liked how perfectly he grooved the ball for their tune-ups. On May 30, as uncharacteristically arctic air filled Fenway, the 22-year-old McCabe made his major league debut. He went from putting the ball right over the plate day after day to facing the Washington Senators in the afternoon game of the day's doubleheader. Boston had won the first game, 9-1. McCabe gave up three singles in a row in the second inning, with one run scoring. In all, he pitched eight innings, allowing 11 safeties. There were two errors behind him; the final result was a 4-0 defeat. Today, that would be considered a quality start, but in 1918, the 11 hits raised a few eyebrows. The Boston Globe commented, "Dick pitches every day in batting practice and has to stick it over so the boys can tune up their batting eyes. He stuck it over pretty well for the Griffmen yesterday and they indulged in a little batting harmony, too, but no complaint can me made about Dick. Put him into a few more ball games and he will show something." Manager Ed Barrow underscored the point: "A few more games and he would be okay." That proved to be his only start for the Red Sox. He had two at-bats, but did not get a hit. McCabe apparently had a deceptive motion. He picked off two runners from first base during the game; Clark Griffith charged it was a balk move.
McCabe made just two other pitching appearances for the Sox, for a total of two additional innings. On June 7, he was the last of six Red Sox pitchers, yielding one hit in two-thirds of an inning of work as the Cleveland Indians clobbered the Red Sox, 14-7. By the middle of July, still subject to the "work or fight" order imposed by Secretary of War Newton D. Baker, he was released and picked up by the Jersey City Skeeters of the International League. With Jersey City, he got in 85 innings of work; his dismal 2-8 record was not a reflection of the 2.86 earned run average he recorded.
The following year, 1919, McCabe played again in the International League, splitting his time between Binghamton and Newark, winning 15 games (while losing 16), but with an even better ERA (2.63) and a strikeouts to walks ratio of more than two to one.
In 1920, he settled in with the Buffalo Bisons again, where he would pitch for 2½ seasons. Toward the end of the 1920 season, he won 13 straight games ending 1920 with a 22-6 record, with 232 innings of work and a 2.56 ERA. He struck out 103 and walked just 40. In 1921, McCabe was 17-17 with a 2.42 ERA. He'd begun to make a name in the minor leagues, primarily as a starter, and in June 1922, he was acquired by the Chicago White Sox. It was his second shot at major league baseball. The day he reported to the team, manager Kid Gleason thrust McCabe into the ninth inning of a game. His stint with the White Sox was even shorter than with Boston, however. He appeared in three games, but won a game on June 21, the beneficiary of two runs scored in the bottom of the ninth to salvage a 5-4 win over the Washington Senators. McCabe had thrown a scoreless top of the ninth. In all, he pitched only three innings for Chicago, giving up four hits and three runs. He had evened his major league totals at 1-1, but never did get another at-bat. McCabe was purchased for $5,000 in August 1922 by the Salt Lake City Bees president, William Lane.
McCabe pitched for Salt Lake for a little more than four seasons before Lane moved the Pacific Coast League franchise to Hollywood, renaming the team the Hollywood Stars. In five of his seven seasons in the Pacific Coast League, McCabe pitched over 200 innings. A serious bout with the flu limited him to 196 innings in 1927, just four innings short of six seasons in a row. His record in the PCL was 98-99. McCabe was inconsistent in his outings. There was never a mention of a fastball, just a good twister. One speculates that his batting practice fastball just wasn't good enough to make it in the majors, though the Coast League always played a high level of baseball and he fared well there. He was with Hollywood from 1927 into the 1929 season, and the Los Angeles Times once described his pitching as "classy" and said he had a "method to every pitch."
McCabe was a very smart pitcher and was used from time to time to scout the opposition, for instance an April 1928 game against Sacramento in which he sat in the stands behind home plate. He was also physically tough; in one inning on August 28, he took a ball off his left shin and then was struck in the head with a ball thrown to home plate, but he finished the inning.
After eight seasons of Pacific Coast League play, McCabe was sold to the Texas League's Fort Worth Panthers in June 1929. Despite a 1-4 record for Hollywood at the time of the sale, McCabe bounced back for the Panthers to post eight wins against three losses. 1930 was a bounce-back year for McCabe all the way around. He remained with the preseason favorite Fort Worth team and for the second time became a 20-game winner with a league-leading 20-7 mark. He made three appearances in the baseball classic of the South, the Dixie Series, in which the champions of the Texas League and Southern Association squared off in a series patterned after the World Series. McCabe was ineffective in the series, though, complaining of a dead arm.
1931 proved to be his best year and he was touted as the smartest hurler with an easy style. On May 8, he pitched a full 16 innings but four days later made his next scheduled start. He was called Dick "Control" McCabe in July after picking up his 16th win. In September he notched his 22nd win in his league-leading 27th complete game. He ended the year at 23-7 with 310 innings pitched. He yielded only 86 runs while striking out 111 and compiling a spectacular 1.97 ERA. McCabe even hit his second minor league career home run. Dizzy Dean of the Houston Buffaloes was named the 1931 Texas League MVP with his 26 wins. McCabe came in fourth place in the voting.
While pitching in a September game, McCabe earned the respect of Dean's Houston teammates with his crafty ability, which led the Houston Buffaloes to borrow McCabe to pitch for them in the 1931 Dixie Series when they needed to replace an injured Tex Carleton. In the first game, Dizzy Dean pitched in a 1-0 losing effort against the Birmingham Barons. McCabe pitched the second game and was brilliant, shutting out the Barons with a 3-0 gem. McCabe's final appearance came in the fifth game, which he lost, 3-1, giving up four hits in four innings. Dizzy Dean finished the series 1-2 with four appearances, including relief in the sixth game, but Birmingham won the series in seven games.
The Fort Worth Panthers rewarded McCabe for superb seasons in 1930 and 1931 by naming him player-manager of the 1932 team. He boasted that the team would be in the fight for the pennant. His main focus was to develop the youngsters to sell to higher leagues by making sure their confidence was never broken. His toughness came out again when cold climate prevented a workout and McCabe vowed that from then on, the team would hold workouts no matter what the weather conditions. He was one of the league's fastest pitchers, completing a 1-0 win over Houston in 63 minutes. In August, age began to win out over gritty determination and toughness when McCabe pitched only one inning of a game before being knocked out; he came back to start the next night but gave up three runs in the second inning.
McCabe resigned from Fort Worth at the end of August, signed with Dallas on the 29th and pitched a 3-0 shutout. It proved to be his last hurrah as he retired from baseball in 1933 after appearing in seven games combined for Montreal of the International League and Birmingham of the Southern Association. McCabe's minor league career spanned 20 years and 3,814 innings. He ended with a 259-212 record, 4,175 runs, 766 walks, 1,355 strikeouts, and a 3.64 ERA.
McCabe spent the off-seasons in Buffalo, New York, where he took up permanent residence after baseball. He secured employment as a salesman for the William Simon Brewery in Buffalo. McCabe rose in the ranks, and was promoted to sales manager before ultimately being named vice president three years before his death. He died at the age of 53 on April 11, 1950, in Sisters Hospital in Buffalo from complications following a stroke. He was survived by his wife, Theresa Ball McCabe.
Sources
Books
Babe Ruth and the 1918 Red Sox by Allan Wood
Minor League Baseball Stars Volume II: Career Records of Players and Managers Compiled by The Society for American Baseball Research
The Baseball Necrology by Bill Lee
The Year the Red Sox Won the Series: A Chronicle of the 1918 Championship Season by Ty Waterman and Mel Springer
Web sites
www.1918redsox.com
www.heritagequestonline.com
www.village.mamaroneck.ny.us
Newspapers
Boston Globe
Buffalo News
Chicago Tribune
Fitchburg Daily Sentinel
Fresno Bee
Galveston Daily News
Los Angeles Times
Modesto Evening News
New York Times
Oakland Tribune
Port Arthur News
Reno Evening Gazette
San Mateo Times and Daily News Leader
Syracuse Herald
The Sporting News
Van Nuys News
Woodland Daily Democrat
Born
February 21, 1896 at Mamaroneck, NY (USA)
Died
April 11, 1950 at Buffalo, NY (USA)
If you can help us improve this player's biography, contact us.
http://bioproj.sabr.org/bp_ftp/images3/McCabeDick.gif
600
800
admin
/wp-content/uploads/2020/02/sabr_logo.png
admin
2012-01-04 20:29:12
2012-01-04 20:29:12
Dick McCabe