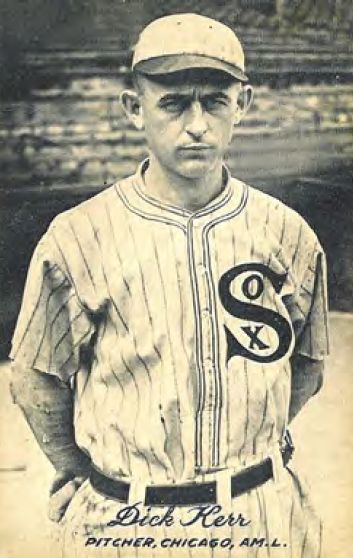 ---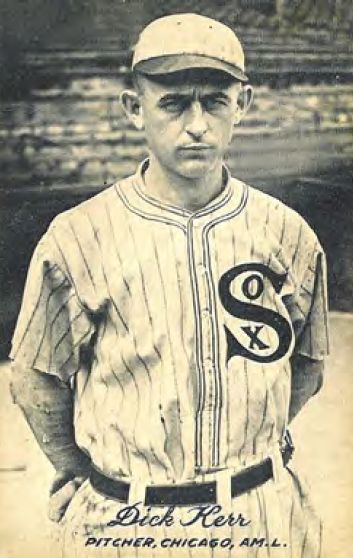 Exactly 90 minutes after Chicago White Sox left-hander Dickey1 Kerr fired a strike past Cincinnati's Morrie Rath to start Game Three of the 1919 World Series, he coaxed the dangerous Heinie Groh to tap an 0-1 pitch harmlessly to third base. Buck Weaver, the White Sox third baseman, fielded the ball effortlessly and threw over to Chick Gandil at first base to end the game, a 3-0 whitewashing of the Reds.
Staring down the barrel of an 0-2 Series deficit, White Sox manager William "Kid" Gleason had turned to Kerr, a 26-year-old rookie, in hopes that he could succeed where Gleason's veteran stars — Eddie Cicotte and Claude "Lefty" Williams — had failed. Undaunted by the pressure, Kerr responded with a three-hitter. Only twice did the Reds get a runner to second base; neither reached third.
It was one of the most dominating pitching performances in the 15-year history of the World Series.2
---
---
Richard Henry Kerr was born on July 3, 1893, in St. Louis, one of nine children of Richard J. and Anna (Tieman) Kerr.3 The elder Richard Kerr was a firefighter and later a raftsman on the Mississippi River; Anna a housewife.4
Though he was a slight youth, Dickey participated in many sports and was known as a pretty fair amateur boxer.5 But he showed a special ability on the baseball field. By the age of 14, he was playing on local nines with adults. During one lopsided loss when his team ran out of available pitchers, Kerr was asked to fill in on the mound. He held the opposition scoreless the rest of the way, and his pitching career was born.6
At 16, Kerr made his professional debut in 1909 with the Paragould Scouts in the low-level Northeast Arkansas League, playing alongside his brother Robert.7 He registered a 13-8 mark over two seasons with the Scouts. In 1911 he joined the Cairo (Texas) Egyptians in the Kentucky-Illinois-Tennessee (or Kitty) League, then spent the 1912 season with the Cleburne (Texas) Railroaders of the South Central League.8 The teenager played sparingly, but gained invaluable baseball experience.
Kerr's next stop, with Paris, Texas, in the Texas-Oklahoma League, was a memorable one. He met a local girl, Cora Downing (nicknamed Pep), and they married on July 7, 1914, four days after his 21st birthday. The two were inseparable for nearly half a century.
Kerr's baseball career also began to take flight in Paris: He posted a 41-15 record over two seasons there, and followed that up in 1915-16 with two more 20-win seasons with Fort Worth in the Texas League and Memphis in the Southern League. In Memphis his batterymate was Muddy Ruel, who would go on to have a 19-year major-league career.9
In 1917, at the age of 22, Kerr signed with the Milwaukee Brewers of the American Association, one of the highest rungs on the minor-league ladder. He pitched 484 innings in two seasons for the Brewers, and led the league in wins, innings pitched, and strikeouts in 1918.10 Despite having compiled a 147-76 record in 10 minor-league seasons, the little left-hander still had not been given a shot with a major-league club. "Scouts would notice I had a pretty good record for some minor-league club and would look me up, but when they got one look at me they'd turn the other way. 'Too little,' they'd say."11
But the 5-foot-7, 155-pound Kerr had caught the eye of a couple of important people. Clarence "Pants" Rowland, the former manager of the White Sox, was a part-owner of the Brewers. When that team shut down because of the "work or fight" order in World War I, Kerr moved on to Fairbanks-Morse, a semipro industrial outfit in Wisconsin. One of his teammates was White Sox third baseman Buck Weaver, who was working as a mechanic in the company's manufacturing plant.12 Weaver and Rowland recommended Kerr to the White Sox.
The 1919 White Sox had a veteran team with plenty of star power, including Shoeless Joe Jackson and future Hall of Famers Eddie Collins and Ray Schalk. However, pitching depth was a problem. Eddie Cicotte and Lefty Williams were dependable starters, but Red Faber, another future Hall of Famer, was limited all season due to the lingering effects of influenza.
Despite the fact that new manager William "Kid" Gleason himself had had a successful pitching career even though he was of short stature, Gleason was initially wary of Kerr's size. During spring training he confided to reporters that Kerr was "too small for the big league."13 But Kerr gradually won Gleason over by pitching well in exhibition games, first in relief and then in spot starting assignments. Five days before the start of the season, Kerr secured his spot on the big-league roster with a complete-game 3-1 win over the Cincinnati Reds.
The Reds would see him again later that season.
Kerr finished his rookie season with a 13-7 record and a 2.88 ERA. More importantly for the Sox, he had developed into the solid third starter Kid Gleason had been looking for back in spring training. Umpire Billy Evans, who worked the 1919 World Series, wrote in his syndicated column that Kerr was "a pretty pert southpaw," one who "may prove to be Gleason's ace in the hole."14 Gleason was effusive in his praise of his protégé: "Don't overlook that midget [Kerr] — he's a wonder — a better pitcher, in fact, than I had figured. He has a cool head, a fast-breaking curve, a mighty swell fastball, and a good change (of) pace. Kerr has everything a pitcher needs. He might come through this year just as [Red] Faber did in 1917."15
Kerr did shine in the World Series against the Reds. His three-hit shutout in Game Three gave the fans (and his "clean" teammates) hope after Cicotte and Williams were defeated in the first two, and his Game Six performance was a study in steadfast determination — he went the distance, allowing 11 hits, a pair of walks and a hit batter, as the White Sox rallied to win 5-4 in 10 innings.
It might not have been obvious to all what was happening in the Series, but those closer to the action — the players and some of the more astute writers — knew what was transpiring. After another set of back-to-back losses by Cicotte and Williams put the Sox in a dire four-games-to-one hole in the best-of-nine series, Gleason penned in his syndicated column, "I'm going to send Dick Kerr to the slab tomorrow. Maybe if he wins, I shall send him back the next day, and if he wins that one I might send him back again!"16
As much as he might have liked to, Gleason couldn't send Kerr back out the next day, and the next. Cicotte reversed form in Game Seven and gave Chicago a strong outing, but in Game Eight Lefty Williams — who may or may not have been threatened by anxious gamblers before the game — lasted just 16 pitches as the Reds closed out the series with a 10-5 triumph over the White Sox.
Given the circumstances of October 1919, it was no surprise that when the following spring training rolled around, the Sox were a splintered bunch. Chick Gandil and Eddie Cicotte, two of the fix leaders, were holding out for new contracts, as were Buck Weaver and Swede Risberg. So was Dickey Kerr.
All were eventually re-signed — with the exception of Gandil, who sat out the whole year and never played in the major leagues again — and the White Sox again got out to a strong start in 1920. By September 1, they were in first place with a 77-48 record, a half-game up on the second-place Cleveland Indians.
The two aces, Cicotte and Williams, were among the league leaders in wins again, and a healthy Red Faber had finally returned to form. After a temporary demotion to the bullpen in May, the 26-year-old Kerr emerged as one of the league's top pitchers. In July and August, he went 12-3 with a 2.65 ERA and 10 complete games. One of those losses came in a relief effort just one day after he had beaten the Yankees with a complete game.
Kerr had consistent success against the powerhouse Yankees, who were not yet known as Murderers' Row but won three AL pennants from 1921-23. His career 14-4 record (.778) against the Bronx Bombers is among the all-time best, ahead of Babe Ruth (17-5, .773), Hall of Famer Addie Joss (28-9, .757), and 21st-century star Roy Halladay (18-7, .720).17
Kerr also had his share of memorable one-on-one confrontations with Ruth, who joined the Yankees in 1920. On July 19, in the fourth game of a six-game series at the Polo Grounds, Kerr surrendered Ruth's single-season record-breaking 30th home run, a curveball poled to the right-field bleachers that gave the Yankees a 2-1 lead. Ruth added a second homer in the bottom of the ninth, but Kerr and the White Sox prevailed 8-5.
The White Sox entered the final month of the 1920 season a half-game ahead of Cleveland and one game up on New York, but the pennant race soon become secondary to a Cook County grand jury empaneled to investigate gambling in baseball, specifically the fix rumors surrounding the 1919 World Series.
On September 11 tempers and pent-up frustrations boiled over during Kerr's start against the Boston Red Sox in Chicago. An easy fly ball fell untouched in the outfield between Joe Jackson and Happy Felsch, and a perfect force throw from Kerr was flat-out dropped by Buck Weaver; these miscues helped turn a 1-0 Boston lead into a 6-0 laugher.
Kerr, however, wasn't laughing. At the end of the inning, he reportedly flung his glove across the field in disgust, glowered at Weaver and Swede Risberg, and screamed at them, "If you'd told me you wanted to lose the game, I could have done it a lot easier!"18 A riot nearly broke out on the White Sox bench, Ray Schalk joining his batterymate in the scrum, and manager Kid Gleason had to break up fistfights between teammates. The White Sox fell, 9-7, unable to overcome six errors.
Despite the obvious internal turmoil on the club, the White Sox remained in the pennant race until the final weekend. Down the stretch Kerr pitched and won three complete games and allowed just four earned runs. Two of those wins, an 8-3 victory over the Yankees and a 10-3 decision over the Indians, came against the White Sox' top contenders for the AL crown.
On September 28, with three games left in the season, Eddie Cicotte and Joe Jackson testified before the grand jury that the World Series had been fixed. Lefty Williams followed them into the courtroom a day later to confess. Eight players were implicated in the fix: Cicotte, Jackson, Williams, Happy Felsch, Swede Risberg, Chick Gandil, Fred McMullin, and Buck Weaver. They were suspended indefinitely by White Sox owner Charles Comiskey.
The "square" members of the team, some of whom suspected the players of also throwing games in 1920,19 cheered the suspensions and held a celebratory dinner at a downtown Chicago restaurant, then continued their party into the night at Eddie Collins's South Side home. The festivities were still going strong at midnight, and a messenger was sent out to buy cheese, chicken, and other items.20
But without the services of their top two pitchers and five members of their starting lineup, the White Sox had no chance to repeat as American League champions. With a makeshift roster, the Sox lost two of three games to the St. Louis Browns — Kerr won the season finale after the Cleveland Indians had already clinched with a victory over the Detroit Tigers.
It was Kerr's 21st victory against just 9 losses, a .700 winning percentage that ranked third in the league. The 1920 White Sox staff set a record with four 20-game winners, a feat that wasn't tied for more than a half-century, when the 1971 Baltimore Orioles turned the trick. Along with Kerr at 21-9, Red Faber went 23-13, Eddie Cicotte went 21-10, and Lefty Williams went 22-14.
After his breakout season at age 26, Kerr staged another holdout in spring training of 1921. And why not? In addition to his 1920 success, the little lefty had shown he was a big-game performer in the World Series as a rookie. And with the absence of Black Sox Cicotte and Williams, both banned, Kerr and Red Faber were the only proven starters on the staff and would be asked to shoulder a much heavier load.
Management wasn't pleased with Kerr's holdout. Owner Charles Comiskey felt he was taking advantage of the team's unprecedented situation: it was so hard-pressed to find able bodies in the wake of the Black Sox Scandal that it would have no choice but to acquiesce to Kerr's demands. Team secretary Harry Grabiner expressed his disappointment: "I give Kerr credit for having more brains than that, after what we agreed to when I signed him at Waco last spring. His terms for this season were fixed then. …"21
The two sides eventually agreed to terms, and Kerr indicated he was "well pleased with his new contract."22
With the exception of Kerr on the mound and future Hall of Famers Ray Schalk at catcher and Eddie Collins at second base, the depleted White Sox took the field for Opening Day 1921 at Detroit with a team full of rookies and castoffs. Kerr lasted just 6⅔ innings, allowing five runs, as the Tigers rallied late behind reliever Suds Sutherland, making his major-league debut, to win 6-5.
Kerr struggled to find any consistency in 1921, with a string of solid performances offset by an outing where he was shelled. Hard-fought pitching duels with Urban Shocker and Walter "Duster" Mails were followed by 17-3 and 16-8 losses. Wins over powerhouses New York and Cleveland were followed by 10-8, 6-1, and 11-10 losses to the Tigers, Browns, and Indians.
One aspect of Kerr's performance that did stay consistent: his mastery of the Yankees. In seven starts against New York, he pitched six complete games, posting a 6-1 record with a 2.70 ERA. Against the rest of the American League, Kerr was 13-16 with a 5.23 ERA. He also fared well against the defending World Series champion Indians, shutting them out twice, one a 5-0 whitewashing on September 29 that effectively ended Cleveland's chances of repeating.23 That was Kerr's 19th win and it came, appropriately enough, on "Dick Kerr Day" in Chicago. Kerr was honored with a 52-piece silverware set in a mahogany chest.24
No one knew it at the time, but the shutout would be Kerr's last big-league victory.
The 1922 offseason began much as it had in previous seasons: with Kerr holding out in a contract dispute. His failure to report to the White Sox' spring-training site in Seguin, Texas, raised concerns with management. For a second straight year, Kerr and Faber were the only major-league-caliber hurlers on the Sox staff.
Team secretary Harry Grabiner was once again dispatched to Texas to speak with Kerr personally. Kerr was optimistic about achieving a speedy resolution — he had sent word to the club that he was keeping in good shape, that he was coaching a high-school team, and "hoped for a quick adjustment on salary differences so that he could report."25
Kerr's request for a raise to $7,500 per year was hardly outlandish, given that his 40 wins in 1920-21 were the sixth-highest total in the American League. At issue was his insistence on a three-year contract, while the club wanted to limit the arrangement to one year.26
The two sides could not strike a deal. Grabiner refused to discuss negotiations, and Kerr grew testy over the lack of progress, eventually issuing an ultimatum: "If they think I am going to wait until the last day and not report and draw a fine and a suspension they are badly fooled. One week more and I will sign a contract with someone else."27
Kerr met with manager Kid Gleason on March 24 in Austin, Texas, in an effort to work things out. A week later, however, the White Sox still hadn't budged off their stance and, true to his word, on April 1 it was reported that the lefty had signed to play with Chicago's semipro City Hall club.28 It was no April Fool's joke:
"Considerable feeling is being shown by the fans of Chicago over the way Dick Kerr is being treated by Comiskey. The rooters are sore about it. … They seem to think he's justified in holding out the way he has, as he is one of the greatest little pitchers in the American League and is entitled to an increase in pay for the work he has done for the South Side Machine."29
By April 9, Kerr still hadn't reported to the City Hall squad, fueling speculation that he'd been rethinking the wisdom of simply walking away from the major leagues. He made the trek to Chicago from his Paris, Texas, home, and the City Hall team (now called the Chicagos) issued a statement on April 15 saying he had signed a contract and would pitch the following day. The White Sox responded with a statement saying the club was no longer pursuing Kerr's services. Promoters of the Chicagos challenged that assertion, claiming Kid Gleason had gone so far as to meet with Kerr at the train depot when he arrived in town, and had even accompanied the hurler during negotiations with the Chicagos' representatives.30
Kerr did take the mound for the Chicagos on April 16 against the Firemen at DePaul Field, winning 7-4, but it earned him an indefinite suspension from the White Sox and later a "permanent" one from Commissioner Kenesaw Mountain Landis. If Kerr thought the White Sox were bluffing, he was wrong. They refused to concede to his contract demands, and the 1922 season passed without Kerr making an appearance in the major leagues. So did the 1923 season. Kerr continued pitching for semipro teams in Chicago; Kenosha, Wisconsin; Moberly, Missouri; and other areas, earning "more than I would have with the Chicago [White Sox]."31
Eventually the siren song of the major leagues proved too alluring to resist, and Kerr stopped playing semipro ball in order to serve a probationary period and make himself eligible for reinstatement. Landis returned the lefty to baseball's good graces on August 4, 1925. Kerr quickly agreed to contract terms with the White Sox and caught a train to Boston to meet the team.
It took Kerr just a week to declare himself ready for game action. But new White Sox skipper Eddie Collins, his old teammate, opted to wait until the team was back in Chicago to give Kerr his first opportunity to pitch again.
Kerr's return came on August 15 against the Tigers in Comiskey Park. Red Faber allowed three quick runs to Detroit and Kerr relieved him in the third inning. Kerr received a huge ovation from the 20,000 fans on hand,32 and rewarded the home crowd with two scoreless innings as the White Sox rallied to even the score at 3-3. But he recorded just one out in the fifth inning, allowing two runs, before he was relieved by Sarge Connally. Still, it was a promising debut for a pitcher who had been out of the major leagues for 3 years and 10 months. The White Sox made the day triumphant with a run in the seventh inning and six in the eighth to win, 12-5.
But the good feelings upon Kerr's return did not last. Maybe it was the sheer number of innings Kerr had pitched in 15 years of professional and semiprofessional ball, or maybe age (31) was starting to catch up with him. Whatever the case, Kerr was less than effective in his abbreviated season with the White Sox. He pitched in 12 games (two starts) and finished 0-1 with a 5.15 ERA, and 45 hits and 18 walks allowed in 36⅔ innings. The White Sox released him after the season.
In parts of four seasons in the majors, Kerr ended up with a 53-34 career record and a 3.84 ERA in 811⅓ innings pitched.
After a few seasons in the minor leagues with the San Francisco Seals of the Pacific Coast League and Fort Worth and Waco of the Texas League, Kerr carved out a new career for himself in baseball: as a manager.
He got his first taste of managing in 1927 when he took over the helm at Rice Institute (later Rice University) in Houston. He led the Owls to a 6-14 conference record over parts of two seasons before being replaced by Charley Schwartz.33 In 1937 he took a job in Wausau, Wisconsin, in the Class D Northern League. The following year, Kerr moved on to Huntington, West Virginia, to coach in the Class D Mountain State League. In 1940 he was hired to manage the Daytona Beach Islanders in the Florida State League, where he would once again be remembered for his sterling character and integrity.
One of the top prospects on the Islanders, a St. Louis Cardinals farm club, was a left-handed pitcher from Donora, Pennsylvania. Stan Musial had been moderately successful with Williamson in the Mountain State League in 1939, posting a 9-2 mark. But some in the Cardinals organization questioned his pitching ability, which was wild to say the least — Musial averaged more than eight walks per nine innings. But he did show promise as a hitter (.352 in 71 at-bats).
Under Kerr's tutelage in 1940, the 19-year-old Musial prospered. He later said Kerr "taught him concentration, control and how to use his legs for more leverage."34 The result was an 18-5 record with a 2.62 ERA. Musial also continued his hot hitting as well, batting .311 in 405 at-bats. With just 14 men on the roster, Kerr made sure Musial got plenty of at-bats by using him as an outfielder between starts.
On August 11, 1940, while playing center field against Orlando, Musial chased a sinking liner to left-center. As he reached for the ball, his spikes caught in the turf and he crashed hard on his left (throwing) shoulder. Musial's pitching career was virtually over. He won just two more games that season, and battled shoulder soreness afterward.
The youngster was disappointed, but Kerr's reassurance kept Musial upbeat and focused. He suggested that Musial focus more on hitting to make it to the major leagues. "I became discouraged and was afraid Dickey would tell me to forget about baseball. Then Dickey gave me the big pat on the back I needed — and just at the right time," Musial said later.35
Kerr was more than a coach and teacher to Musial; he was a mentor and a father figure, too.
Before the season, Kerr and his wife, Cora, took Stan and his pregnant girlfriend, Lillian, into their home to help the young couple save money before the birth of their first child. In August, just a week before Stan's shoulder injury, it was Dickey Kerr who drove Lil to the hospital, "four or five miles away, in five minutes, against red lights."36 The Musials named their son Richard in honor of Kerr.
Both Kerr and Musial moved on from Daytona after the 1940 season: Musial climbed the next rung on his way to the major leagues and a Hall of Fame career with the Cardinals, while Kerr left the game for several years before coming back to manage Hutchinson (Kansas) in the Western Association in 1946 and Davenport (Iowa) in the Three-I League in 1947.
Kerr worked as a scout for the Cardinals in the early 1950s before retiring from the sport. He later worked as an office manager for the B&M Electric Company in Houston.
Musial never forgot the kindness Dickey and Cora bestowed upon him. In 1958, he purchased a home in Houston and handed the deed over to the Kerrs. Modesty prevented Kerr and Musial from talking about the gift, but when Houston Post sports editor Clark Nealon learned of the gesture, he felt compelled to write about it, saying, "It glowed of too much of the good, the right, and the grateful to keep it out of print."37
By the early 1960s, Kerr had been out of organized ball for several years, but the game didn't forget him. On January 10, 1961, he received the inaugural Tris Speaker Memorial Award from the Houston Chapter of the Baseball Writers Association of America. The award was created "to honor players or officials who make outstanding contributions to baseball."38
On June 28, 1961, Kerr was honored with a "night" at Busch Stadium (formerly known as Buffalo Stadium) in Houston. He was presented with a large silver tray — inscribed "To Dickie Kerr, a great baseball hero" — by Commissioner Ford Frick. "Baseball owes an eternal debt to Dickie Kerr," Frick said.39 (Four decades earlier, in his final season with the White Sox, Kerr had a night where he received a 52-piece silverware set. "I've still got every piece of it," Kerr said in Houston.40)
"There are men who won fame for the asking, but here's a man who took the hard way," Frick said. "He shone for his honor and integrity."41
Houston Mayor Lewis W. Cutrer was also on hand for the festivities, presenting Kerr with a key to the city, and a group of fans from nearby Huntsville presented Kerr with a framed resolution passed by the town's Chamber of Commerce urging Organized Baseball to induct Kerr into the Hall of Fame.42
Less than a year later, Kerr was diagnosed with cancer. The prognosis was grim and Kerr admitted, "It was hard to take. But then I thought of all the wonderful things that had happened to me, the thrills I've had playing and watching baseball from coast to coast. How could I do anything but accept my fate and spend my last days at home just remembering Ruth, Schalk, Musial and all the rest? Baseball was good to me."43
Kerr died on May 4, 1963, a couple of months shy of his and Cora's 49th anniversary. He was buried at Forest Park Lawndale Cemetery in Houston. Stan Musial was in attendance; Ford Frick and White Sox Hall of Famers Ray Schalk and Ted Lyons were among those who sent their condolences.44
Notes
1 Kerr told newspaper writers in 1963 that he spelled his name D-I-C-K-E-Y, but it almost always appeared in print as D-I-C-K-I-E. Joe Coppage, "Kerr Won Fame as Honest Hero of Black Sox," The Sporting News, May 18, 1963.
2 There had been one one-hitter and four two-hitters in the previous 88 World Series games.
3 Ancestry.com. Missouri Birth Records, 1851-1910.
4 Ancestry.com, 1900-10 US Censuses; St. Louis City Directories, 1895-1903.
5 Chicago Herald & Examiner, October 3, 1919.
6 "The Man Who Was Too Little to Pitch," Baseball Magazine, December 1919.
7 Memphis Commercial Appeal, February 25, 1937.
8 St. Louis Post-Dispatch, September 23, 1919.
9 Memphis Commercial Appeal, February 25, 1937.
10 SABR Minor League Database, Baseball-Reference.com.
11 The Sporting News, May 18, 1963.
12 Chicago Tribune, October 4, 1919.
13 New York Sun, October 4, 1919.
14 New York Times, September 30, 1919.
15 Chicago Daily News, September 30, 1919. Faber won three games (one in relief) and pitched two complete games in the White Sox' 1917 World Series victory over the Giants.
16 New York American, October 7, 1919.
17 Mark Simon, "Halladay: King of the Yankee-killers," ESPNNewYork.com, June 14, 2010.
18 Gerry Hern, "The Tipoff on the Black Sox," Baseball Digest, June 1949.
19 Bill Veeck with Ed Linn, The Hustler's Handbook (New York: G.P. Putnam's Sons, 1965), 284.
20 Chicago Tribune, September 29, 1920.
21 The Sporting News, January 27, 1921.
22 Chicago Herald & Examiner, March 8, 1921.
23 The loss dropped the Indians 2½ games behind the Yankees with three games to play.
24 Chicago Tribune, September 30, 1921.
25 Philadelphia Inquirer, March 9, 1922.
26 Kansas City Star, February 14, 1923.
27 That "someone else" couldn't be another major-league team. There was no free agency due to the reserve clause, which remained in effect until 1975, a dozen years after Kerr's death.
28 Chicago Herald & Examiner, April 1, 1922.
29 The Sporting News, April 13, 1922.
30 Chicago Tribune, April 16, 1922.
31 Memphis Commercial Appeal, February 25, 1937.
32 Chicago Herald & Examiner, August 16, 1925.
33 "Rice University Baseball History," RiceOwls.com, accessed online at grfx.cstv.com/photos/schools/rice/sports/m-basebl/auto_pdf/07-mg-baseball-history.pdf on October 19, 2013.
34 James N. Giglio, Musial: From Stash to Stan the Man (Columbia, Missouri: University of Missouri Press, 2001), 36.
35 The Sporting News, May 18, 1963.
36 Ibid.
37 Ibid.
38 Ocala (Florida) Star-Banner. January 6, 1963.
39 New York Times, July 7, 1961.
40 The Sporting News, June 14, 1961.
41 The Sporting News, July 5, 1961.
42 Despite spending just four years in the major leagues, Kerr actually did receive votes for the Baseball Hall of Fame. He received his first vote in 1937, and garnered as many as 25 votes (10 percent) in 1955, the last year he received consideration.
43 The Sporting News, May 18, 1963.
44 Houston Post, May 7, 1963.
Born
July 3, 1893 at St. Louis, MO (USA)
Died
May 4, 1963 at Houston, TX (USA)
If you can help us improve this player's biography, contact us.
http://sabr.org/sites/default/files/DickeyKerr.JPG
600
800
admin
/wp-content/uploads/2020/02/sabr_logo.png
admin
2012-01-04 20:45:36
2020-10-16 15:44:40
Dickey Kerr