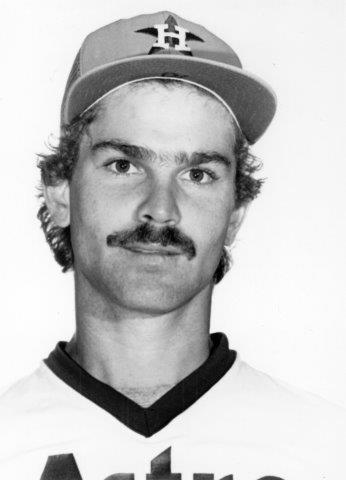 ---
"I'm lucky to be alive. I'm happy to be alive. I'm doing everything I can to play again. It would be a plus. But there are more important things." — Dickie Thon (1985)1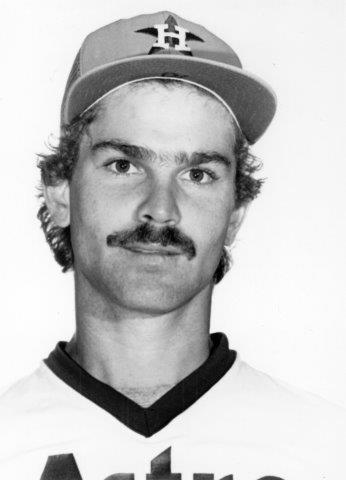 Some baseball careers are remembered for a single moment. It could be a hit to win the World Series, a strikeout to break a record, a diving catch, or a costly error. Dickie Thon's career is remembered for one moment … a pitch that got away. At a time when he was quickly becoming one of the rising shortstops in the National League, Thon's career and life changed forever when a pitch hit him in the left eye, leaving him with permanent partial blindness. Because of that one pitch, we will never know how great a player Dickie Thon could have been, but because of that one pitch, we know how great a man is Dickie Thon, who through faith and perseverance overcame a debilitating injury and persevered through a 15-year major-league career.
Richard William Thon was born on June 20, 1958, in South Bend, Indiana, to Frederick "Freddie" Thon Jr. and Evangeline Thon. Freddie played baseball at Notre Dame, but arm problems curtailed his career. He was in South Bend completing his undergraduate degree in business when Dickie was born. The family moved back to Puerto Rico, and Thon grew up in the Rio Piedras section of San Juan, where his great-grandfather had settled after migrating from Germany.2 Thon's grandfather, Fred Thon Sr., pitched for the San Juan Senadores of the Puerto Rican Winter League and turned down a Brooklyn Dodgers contract since he was making more money as an engineer.3 "From the time I was little," Dickie said, "I saw how important baseball was to the people of Puerto Rico. My grandfather told me stories about his days with San Juan in the 1940s and early 1950s. He talked about Monte Irvin, Joshua Gibson, and others who came down here."4 Thon remembered at the age of 5 meeting Irvin, who was visiting Fred Sr. Irvin, Dickie said, was "nice, polite, and strong." Young Thon also grew up cheering for baseball heroes Orlando Cepeda and Roberto Clemente.5
Thon was not the only player in his family to suffer an eye injury; his brother Frankie suffered the same fate on the baseball field. Playing American Legion baseball in San Juan in 1978, Frankie was hit in the face by a catcher's throw, and lost partial vision. Frankie played in the San Francisco Giants minor-league system, but vision problems forced him to retire in 1981.6
In his teenage years, Thon played for Bayamón in the Puerto Rico Winter League. He was signed by the California Angels as an amateur free agent in 1975. He spent the 1976 season with Class-A Quad Cities (Davenport, Iowa) of the Midwest League, batting .276 in 69 games at shortstop. Tom Sommers, then the Angels' director of minor-league operations, called Thon "the best natural-looking infielder I've ever seen."7
Thon spent 1977 with Class-A Salinas (California) and Triple-A Salt Lake City. Dick Miller of The Sporting News wrote, "The best prospect in the [Angels'] farm system is a 19-year-old shortstop named Dickie Thon."8 Thon spent 1978 and the beginning of 1979 at Salt Lake City. He was called up and made his major-league debut on May 22, 1979, when he replaced Bobby Grich at second base in the eighth inning of a game the Angels were losing to the Milwaukee Brewers. Thon singled in his first at-bat, against Rich Hinton of the Chicago White Sox in the second game of a doubleheader on May 27 at Chicago.
Thon took advantage of his opportunities, going 6-for-16 (.375) through June 17 while filling in for the injured Grich and Bert Campaneris, impressing manager Jim Fregosi. "It looks like he has all the tools to play up here," Fregosi said. Said Thon: "I'm learning all the time from both Jim Fregosi and (coach) Bobby Knoop. They really know this game."9 On September 6 Thon doubled home Don Baylor in the eighth inning with the go-ahead run in a 10-9 win over Chicago. The win kept the first-place Angels three games ahead of Kansas City, and the team went on to win the American League West. Thon pinch-ran and scored in Game Two of the ALCS against Baltimore in his only appearance in the series, won by Baltimore three games to one. Thon finished with a .339 batting average in 56 at-bats. As a rookie Thon met teammate Rod Carew, whom he would mention as the most influential player in his career.10
Thon started at Salt Lake City in 1980 and in 40 games blistered minor-league pitching, batting .394. He was recalled and went 5-for-5 in his first game back, on May 28 against Texas. "I was lucky on a couple of hits but I feel really good at the plate," he said after the game. "I feel comfortable here and I know I can hit big-league pitching."11 "I was nervous and excited at the same time," he recalled in 2016.12 Thon was 10-for-14 in his first three home games, batted a torrid .462 in May, and finished the season with a .326 batting average with runners in scoring position. "I'm just trying to fit in," he said. "I'm not that good yet. I have to be patient. I'm real excited about playing here."13 Thon finished the season batting .255 in 80 games for a dismal 65-95 Angels club. In the winter he returned to Puerto Rico and won a batting title with Bayamón, hitting .329, with a league-best 46 runs and 82 hits in the 60-game schedule.
Thon's chances of starting for the Angels in 1981 were slim, however, with stable veterans Grich, Campanaris, Rick Burleson, and Freddie Patek on the roster. Thon was traded on April 1, 1981, to the Houston Astros for starting pitcher Ken Forsch. "We were looking for an established, experienced pitcher who can throw a good number of innings," Angels executive vice president Buzzie Bavasi said. "While we are terribly sorry to lose Dickie, as far as this club is concerned, the future is now."14
In the strike-shortened 1981 season, Thon played a utility-infielder role for Houston, backing up veteran Craig Reynolds. He batted .274 in 95 at-bats, with a .337 on-base percentage. Thon also feasted on home cooking and left-handed pitching, batting .308 at home (compared with .250 away) and .370 against left-handers (compared with .184 against righties). His on-base percentage from August to October was .422 and his batting average was .409, helping the Astros win the National League West for the second half of the season, the unique setup due to the players strike. Thon cooled off in the postseason, batting only .182, and the Astros lost the Division Series to the Dodgers. Thon returned to Puerto Rico in the offseason and batted .333 for Bayamón, winning another batting title.
Thon replaced Reynolds as the starting shortstop in 1982 and asserted himself as one of the top shortstops in the National League, with the glove and the bat. He led the National League in triples (10) and was ninth in stolen bases (37). He was fourth in the league among shortstops in fielding percentage (.975), his range factor per game (putouts and assists divided by games played) was fourth, and a total zone runs average for shortstops (calculating the number of runs above or below average a player is worth to the team) ranked him second behind Ozzie Smith. "I am not really doing anything differently," Thon said. "I'm just getting the chance to play."15 Thon compiled a 21-game hitting streak from July 24 to August 13, batting .308 over that stretch, and had a four-hit game two days after the streak ended, going 4-for-5 with three doubles against Cincinnati. He hit his first major-league home run in his 567th at-bat, off Bob Walk in Atlanta on June 29. Thon finished the season batting .276 with 3 home runs and 36 RBIs for the 77-85 Astros. His 6.1 WAR (wins above replacement) statistic was sixth in the league for position players.
The 1983 season was Thon's breakout season, and his statistics were among the leaders in the National League in several offensive and defensive categories. His value to the improved 85-77, third-place Astros was immense, and his 7.4 WAR was first in the league among position players. Thon was seventh in at-bats (619), six in plate appearances (686), seventh in hits (177), and fourth in total bases (283). He ranked first in shortstop assists (533), third in putouts (258), and second in double plays turned as a shortstop (114). His .299 batting average in April was following by three months of .300 or better. Thon had a 12-game hitting streak from May 12-26 and three two-home run games, on June 17, 28, and July 9. His 14th-inning walk-off home run on August 10 beat San Diego. His power was a surprise even to him. "I wasn't thinking home run tonight," he said after the San Diego game. "I just wanted to get on base."16 Thon made the 1983 All-Star team and stroked a pinch-hit single off Rick Honeycutt. "I saw Willie Mays sitting next to me," Thon remembered from the event. "That was a thrill."17 His final numbers – .286 batting average, .341 on-base percentage, .457 slugging percentage, 20 home runs, 79 RBIs – were good enough to give him seventh place in the National League MVP voting.
Thon got off to a good start in 1984, batting .375 in the first four games of the season. Then his life changed forever on April 8, in a game at Houston's Astrodome.
Thon used a batting stance that leaned into the plate. New York Mets pitcher Mike Torrez had caught him looking in his first at-bat on a called third strike on the outside part of the plate. In his next at-bat, Thon crept even closer to the plate. Torrez decided to pitch him inside. "After I got him away, I decided to bring it in," Torrez recalled. "He has a tendency to crowd the plate and lunge for balls so I thought I'd jam him. It was a strategy decision, nothing more. But my ball was sailing that day."18
Torrez yelled a warning to Thon after releasing the ball, but Thon didn't hear it. Plate umpire Doug Harvey said he saw the ball move about 10 inches, starting waist-high and moving upward until it glanced off Thon's ear flap, then struck him above the left eye.19 "When I saw where the ball was, it was too late to get out of the way," Thon said.20 "He ducked," Torrez said, "but he ducked into (the pitch)."21 Thon said in 2015 that he continued to relive that moment in his dreams: the ball coming right at him, and himself powerless to move.22
The Astrodome crowd went eerily silent as team physician William Bryan and manager Bob Lillis bolted to the field. "I heard a bone break," Dr. Bryan said. "I heard the ball hitting the bone, like a dull thud."23 Thon didn't get up. "I kept thinking, 'I want to live'" he said. 'I want to see my family again.' I didn't know how bad it was. I was scared. I said, 'Is this really happening?'"24
At Methodist Hospital, X-rays revealed a fracture of the orbital rim, the bone above the left eye. "It was an accident, the pitch sailed on me," Torrez said after the game. "I feel awful. He's a good young ballplayer. I just hope to God he's all right. My thoughts will be with him and his family tonight."25 Torrez called Thon and apologized. "He told me he was real sorry," Thon said. "I believe him. It's one of those things. It's part of the game."26
Frankie Thon's wife, Blanca, who was watching the game, became so distraught that she went into labor and gave birth prematurely to Freddie Francis Thon.27 (Notwithstanding, Freddie represented the fourth generation of Thons in professional baseball, and played for several minor-league teams from 2004 to 2011.)
Thon's 1984 season was over, and his road to recovery was beginning. "I'm not really ever emotional about it and I'm not afraid of getting back in," Thon said later in 1984. "But in the morning, when I wake up, that's when I think about it. I don't blame Mike Torrez. I blame myself. I think, 'Why did I let this happen?' I just stood there."28
Three days after he was hit, Thon had surgery on the left orbital bone, but the blurred vision continued. "I hope the Good Lord will help me recover quickly," he said. "It's tough to work hard in spring training to get ready, then have something like this happen. But I'll be back."29 "I feel for my brother (Frankie)," said Thon. "And I feel him in me. He never had a chance to play in the majors. I have to come back, for me and for him."30
An eye examination measured the vision in his left eye as 20/300, and Thon could neither read nor drive. By June 1 his vision had improved to 20/50, but there was still scar tissue behind the retina. He was examined by Stephen J. Ryan, an expert in retina damage at the University of Southern California. "It has to improve on its own," Thon said. "The doctors say I can adjust (to seeing a blurry ball) in time. If it's a matter of work, I'll do it. I'm not down and I'm not giving up."31 "I have no depth perception," he said. "Glasses won't help right now. … I've tried batting practice, but the ball is a blur." While dressing and being on the Astros bench during home games kept him in the game and relaxed, "the problem starts when I drive home and I can't always tell how far the traffic light is," he said.32
With time off, Thon took business courses at a community college. "I took a course on sports psychology that really helped," he said.33 He also continued eye exercises that involved following marks on a golf ball and reading numbers on a spinning record.34 An exam in the fall showed Thon's vision improved to 20/40. "If you take a piece of wax paper and crinkle it up," Dr. Bryan said, "then try to straighten it out, it still has wrinkles. The ophthalmologists tell us that's how the back of Dickie's eyeball looks. It [beaning] affected his visual acuity – his ability to read letters – and his depth perception."35
Thon returned to the field in late 1984 in the Arizona Instructional League. He played in five games and had five hits.36 He played winter ball for the San Juan Metros,37 hitting a home run in his first game but going 0-for-6 with two errors in his next two games. "I asked to be removed from the lineup," said Thon,38 who felt he was being used by the team owner as a promotional gimmick.39
In spring training 1985, Thon was hopeful. "My timing is bad," he said. "I'm rushing everything. I don't do anything smoothly. Hopefully it's getting better. I'm seeing the ball better and better. Sometimes it's hard to overcome the fear of being hurt. I'm trying to concentrate on seeing the ball and getting out of the way. I know I can do it. It's something I am working on. I have a lot of faith in God. If he wants me to play again, I will."40
Thon's career pre-injury was that of a young and promising star. The post-injury Thon was a much different player, one who had to constantly battle physical and mental hardships. "I didn't enjoy the game the same way," he said in 2015. "It was more work for me. Before, it was fun. After that, it was, 'I gotta do this to work for my family, to work for my future.'"41
Thon was the Astros' starting shortstop on Opening Day in 1985. A crowd of 42,876 gave him a lengthy standing ovation, and were thrilled to see him single and score the Astros' first run of the season in a 2-1 win over the Dodgers. "This is a big step," he said. "I was anxious about it. The regular season is different from spring training. I wanted a groundball hit at me early to get it out of the way. And the first hit helped."42 "We were rooting so hard for him that when he came back in the dugout after that first hit, it was as if every player on our team had gotten that hit," manager Bob Lillis said.43 "He has so much determination that I knew it was just a matter of time until he made it back," said teammate Jose Cruz.44
Thon struggled early on, batting .200 in April, striking out 11 times in 40 at-bats, and batting .163 in June, striking out 13 times in 43 at-bats. "They know I'm not going to get worse, but they don't know if I'm going to get better," he said of the 20/40 vision in his left eye. "I've got to be patient with myself."45 Batting just .207, he went on the disabled list on May 19. He returned to the field in mid-June, but by July 10 was batting .193. Thon batted .299 with five home runs over the remainder of the season, lowering his strikeouts and raising his season batting average to .251.
With a new two-year contract, Thon arrived at spring training in 1986 optimistic. "This year I feel a lot better than I did last year at this time," he said. "I think the best thing I can do is play and get the competition. That's what I need." He reported that his left eye vision was 20/30, "but I'm getting used to it and seeing the ball good. I wasn't confident last year. I had a lot of friends and a lot of players back me up. I have a lot of faith. I'm working hard."46 Thon slumped at the plate, but played in 106 games, platooning with Craig Reynolds and facing mostly left-handed pitching.
Complaining of blurred vision, Thon, hitting a paltry .205, went on the disabled list on June 5. When he returned on June 23, he batted .280 the rest of the season, and .300 in the September Western Division title run. Thon was on the field as Mike Scott threw a no-hitter against San Francisco, clinching the National League West. "Very good pitching and very steady infield. Good outfield, good bench, and [manager] Hal Lanier did a great job," Thon remembered.47 Batting eighth, Thon belted a home run off Sid Fernandez of the Mets in Game Four of the NLCS, giving the Astros a 3-1 victory and tying the series at two games apiece. He played in all six games, going 3-for-12 at the plate, as the Astros lost to the Mets.
Thon left spring training without permission on March 14, 1987, complaining of vision problems. He had gone hitless in eight at-bats, striking out twice, and had made three errors. He underwent a 2½-hour eye examination, with results showing no improvement. Thon also requested psychiatric assistance. His agent, Tom Reich, stated, "Dickie is suffering from a lot of stress. Obviously, at this point, Dickie isn't ready to play." Thon had no desire to return. "I don't know when I'll go back to Florida," he said. "They want to make me make a decision right away, but I'm not going to do it."48 The team fined Thon $1,000 a day for his absence. He returned to Puerto Rico to see a specialist.49 Thon returned to the team in May, but left again July 3 after batting .212 and complaining of continual eye problems. "I feel sad because I wish I could have done more for the team," Thon said. "I feel a lot for this team. I feel I'll always be one of them."
Thon was placed on the disqualified list after an unsatisfactory meeting with Astros GM Dick Wagner. "The way [Wagner] has been dealing with my situation, I won't be around here anymore," Thon said. "It's difficult to walk away from a game I'd do anything to play."50
Thon's career with the Astros was over, but in 1988 the San Diego Padres were looking for a shortstop to back up Garry Templeton. Thon signed with the Padres as a free agent and played against left-handed pitching, batting .264 in 95 games, but was frustrated with his role. He asked the Padres to trade him. "I had to erase a stigma," Thon said. "I knew by then I could play, but I had to convince others that I could."51 After the season he was traded to the Philadelphia Phillies. In the winter before the 1989 season, Thon worked in Puerto Rico with Ken Duzich, who was both a hitting instructor and vision specialist. "Dickie was left-eye dominant," Duzich said, "I recommended he open up his head a little bit more so that the right eye had better vision."52
Thon no longer crowded the plate but stood away, allowing his right eye to compensate for his left. He also switched from a 34- to a 38-ounce bat.53 Thon had his best season since 1983, batting .271 in 136 games with 15 home runs, the most among NL shortstops. On September 12 he hit a walk-off home run to beat the Mets 2-1 in a September in which he batted .357. "I think he's back," Phillies manager Nick Leyva said. "And after all the things Dickie has gone through, you have to feel good for him. He's been through a lot of adversity."54 Thon was just glad for the opportunity to play. "I'm just trying to go out and play as hard as I can every day," he said. "I feel good right now, and I'm getting the chance to play. I think playing so much has made a big difference."55 He was rewarded with a 1990 contract for $1.1 million in base salary.56 He continued as the everyday shortstop in 1990, playing in 149 games with a .255 batting average and 8 home runs. On July 13 he hit two home runs at the Astrodome, to the polite applause of the fans, as the Phillies defeated the Astros 4-2. "I feel good about the Houston fans," Thon said. "They have always been good to me. I'm glad I did something they liked."57
Thon downplayed being labeled "courageous" when he was awarded the 1990 Philadelphia Sports Writers Association's Most Courageous Athlete Award. "My wife is more courageous than me," he said. "She's had three (caesarean sections), and she wants to have another baby. That's being courageous."58
Thon had a nearly identical 1991 season for the Phillies, batting .252 with 9 home runs and 44 RBIs. He slumped in July, and heard the boos from Philly fans. "It bothers me a little bit," Thon said. "I know that always comes when you struggle, but I just want people to know that I play hard, and I think I've been doing my job."59Thon's time in Philadelphia came to a close when the Phillies did not offer him a contract for 1992.
In December of 1991 Thon was presented the second annual Tony Conigliaro Award. Conigliaro was a Boston Red Sox player who also suffered vision problems after a beaning in 1967. The annual award is presented to the major leaguer who overcomes "an obstacle and adversity through the attributes of spirit, determination and courage."60 Thon was a well-deserved recipient.
Shortly after receiving the award, Thon returned to Texas when he signed as a free agent with the Rangers. "This is like home, and it's a very good club," Thon said.61 A team with many offensive weapons was plagued with one of the worst pitching staffs in the league, and the Rangers finished 77-85 in 1992. A bone bruise on his right shoulder forced Thon to miss most of August and September,62 and he was released after appearing in 95 games, batting .247 with 4 home runs and 37 RBIs. He returned to the Puerto Rican Winter League with major leaguer Juan Gonzalez and led Santurce to defeat San Juan in the finals. The series attracted 90,369 fans to the ballpark for the six games, including a record crowd of 23,701 in Game Six.63
Thon signed with the Milwaukee Brewers for 1993.64 He batted .396 in April, and singled home the winning run against Toronto on June 25, spoiling ex-Brewer Paul Molitor's return to Milwaukee. Thon played in 85 games, batting .269 with one home run. After the season the Brewers declined his $350,000 option, and he signed a minor-league contract with Oakland in February of 1994. But he retired a month later, complaining of not seeing the ball well in the field.65 "It's a tough break," said A's manager Tony La Russa. "He's always been a guy I'd like to have on my club. It was just the wrong time of his career … defensively; he didn't really react like I know he could."66 Thon's 15-year career, which took him from a promising young star to a gritty survivor, was over.
In a 2015 interview with Greg Hanlon of vicesports.com, Thon revealed that the scar tissue behind his retina still had not fully healed, and that his vision and depth perception troubles continued to plague him. Driving and reading were still difficult. Thon played for 10 years while having vision in one eye described as "looking through a sheet of wax paper." No one except his wife, Sol (short for Maria Soledad), knew the extent of his disability. Thon became good at guessing the answers during the eye tests, officially giving him 20/30 vision he likely didn't really have. "I was afraid they wouldn't give me a chance to play," he said.67
In 1996 Thon was the Astros' minor-league baserunning and infield instructor. Later he returned to Puerto Rico and continued to be involved with the winter league, working with the Cangrejeros de Santurce club, as well as youth baseball. Thon's family is known for its success in athletics. His wife, Sol, was a volleyball player on the Puerto Rican National Team; daughters Soleil, Vanessa, and Mariana were collegiate volleyball players at Rice, Tulsa, and South Florida; and son Dickie Joe Thon, an infielder, was drafted by the Toronto Blue Jays in the fifth round of the June 2010 amateur draft, and received a $1.5 million signing bonus. As of 2016 he was still playing in the Blue Jays farm system. "He earned more by signing than I did in my best year," his father joked.68
In 2011 Thon and Torrez met face-to-face for the first time since the beaning. Torrez again apologized, but Thon repeated what he had said 27 years earlier: It's just part of the game. A devout Catholic, Thon said he looked instead to the blessings of his life instead of the hardships. "I've had a lot of good things happen to me. I try to think about it that way," Thon said.69
Asked by the author to describe anything important he would want conveyed in this biography, Thon said: "One thing I've learned is that [you should] always believe in yourself and accomplish everything you want in life, with hard work and determination. Don't listen to negative stuff. Always concentrate on believing that you can accomplish anything if you are willing to work hard."70
This biography appears in "Overcoming Adversity: The Tony Conigliaro Award" (SABR, 2017), edited by Bill Nowlin and Clayton Trutor.
Sources
In addition to the sources cited in the Notes, the author also benefited from the Dickie Thon file at the Baseball Hall of Fame Library, Cooperstown, New York.
Notes
1 Gordon Edes, "Dickie Thon Is the Latest Big League Player to Attempt a Comeback From a Serious Beaning: GAME'S NIGHTMARE," Los Angeles Times, March 18, 1985.
2 Greg Hanlon, "Lost Greatness, Scar Tissue, and Survival: The Life of Baseball's Brief Superstar, Dickie Thon," Vice Sports. Retrieved March 8, 2016, sports.vice.com/en_us/article/lost-greatness-scar-tissue-and-survival-the-life-of-baseballs-brief-superstar-dickie-thon.
3 Mason Kelly, "Thon Family Bound By History," Bakersfield (California) Californian, July 16, 2006. Retrieved January 30, 2016, bakersfield.com/sports/2006/07/16/thon-family-bound-by-history.html.
4 Thomas E. Van Hyning, Puerto Rico's Winter League: A History of Major League Baseball's Launching Pad. (Jefferson, North Carolina: McFarland, 2004), 108.
5 Dickie Thon, mail correspondence with the author, September 2016.
6 Thon correspondence with author.
7 Earl Gustkey, "Angel Officials Keep an Eye on the Minors," Los Angeles Times, April 23, 1976: 8.
8 Dick Miller, "Rich Angels Ask: Which Niche for Grich Next Year?" The Sporting News, October 22, 1977: 31.
9 Pete Donovan, "Angels…Who are Those Guys?" Los Angeles Times, June 23, 1979: D8.
10 Thon correspondence with author.
11 Jim Shulte, "Thompson, Thon Lead Angels' Win Over Texas," San Bernardino (California) County Star, May 29, 1980: D3.
12 Thon correspondence with author.
13 Dick Miller, "Thon Hits a Ton, and Angels Think of Trade," The Sporting News, June 28, 1980: 10.
14 Associated Press, "California, Houston Swap Two Players," Santa Cruz (California) Sentinel, April 1, 1981: 49.
15 Hal Bodley, "Thon Earns His Stripes at Short for the Astros," USA Today, June 29, 1983: 5C.
16 Associated Press, "Thon's 16th Homer Gives Astros the Win," Baytown (Texas) Sun, August 11, 1983: 2-C.
17 Thon correspondence with author.
18 Craig Wolff, "A Fearless Moment Keeps Its Hold on Dickie Thon," New York Times, June 17, 1984. Retrieved January 31, 2016. nytimes.com/1984/06/17/sports/a-fearless-moment-keeps-its-hold-on-dickie-thon.html?pagewanted=all.
19 Ibid.
20 Ray Didinger, "The Future Is a Blur for Dickie Thon," The Sporting News, September 24, 1984: 58.
21 Ibid.
22 Hanlon.
23 Ibid.
24 Ibid.
25 Ibid.
26 Associated Press, "Thon Afraid of Not Being Able to Play Again After Being Hit by Pitch to Head," Big Spring (Texas) Herald, April 11, 1984: 10. Retrieved March 27, 2016, bill37mccurdy.com/2015/06/06/the-night-dickie-thon-went-down/.
27 Wolff, "A Fearless Moment."
28 Ibid.
29 "Thon Has Surgery," Associated Press clipping in Thon's Hall of Fame file marked 4/12/1984.
30 Wolff, "A Fearless Moment."
31 Ibid.
32 Craig Wolff, "Thon Now Looks to 1985," New York Times, June 16, 1984.
33 Ron Fimrite, "You Can't Keep a Good Man Down," Sports Illustrated, April 16, 1990.
34 Ibid.
35 Edes.
36 Ibid.
37 Associated Press, "Thon to Make Comeback in Winter League," Albany (New York) Times Union, undated article in Thon's Hall of Fame file.
38 Hal Bodley, "Dickie Thon: Astros Shortstop Battles Blurry Vision, Doubts in Comeback," USA Today, January 22, 1985.
39 Edes.
40 Ibid.
41 Hanlon.
42 Neil Hohlfeld, "Thon Makes Opening Night to Remember," The Sporting News, April 22, 1985: 24.
43 Ibid.
44 Neil Hohlfeld, "Thon Now Appears Back in Stride," The Sporting News, September 9, 1985: 18.
45 Jack Etkin, "Astros' Thon Praying Path to Lineup Clears," Kansas City Times, May 2, 1985.
46 Fred McMane, "Thon's Fight Back Nearly Completed," Tampa Tribune, March 13, 1986.
47 Thon correspondence with author.
48 "Thon Asks for Help," Albany Times Union, March 23, 1987.
49 "Thon Given Ultimatum," Albany Times Union, March 18, 1987; "Thon Will be Back," Albany Times Union, March 19, 1987.
50 "Thon Doesn't Plan Return to Astros," New York Post, July 7, 1987.
51 Fimrite.
52 Van Hyning, 108.
53 Hanlon.
54 Bill Brown, "Thon Has Completed Long Journey," The Sporting News, September 25, 1989.
55 Ibid.
56 Unknown clipping in Thon's Hall of Fame file, marked 2/19/90.
57 "Thon's Blasts Light Up Night for Phillies," New York Daily News, July 15, 1990.
58 Paul Domowitch, "Thon: My Wife Is More Courageous," Philadelphia Daily News, February 13, 1990. Retrieved March 27, 2016, articles.philly.com/1990-02-13/sports/25880359_1_courage-dickie-thon-mike-torrez-fastball.
59 Diane Pucin, "Struggling Thon Not Ready for the Scrap Heap Just Yet," Knight-Ridder News Service story published in the Albany Times Union, August 4, 1991.
60 "Tony Conigliaro Award," Baseball Reference Bullpen. Retrieved March 27, 2016, baseball-reference.com/bullpen/Tony_Conigliaro_Award.
61 Randy Galloway, "Thon's Voice Will Be Heard in Clubhouse," Dallas Morning News, April 2, 1992.
62 United Press International, "Rangers' Thon on DL," August 7, 1992. Retrieved February 27, 2016, upi.com/Archives/1992/08/07/Rangers-Thon-on-DL/1406713160000/.
63 Van Hyning, 108.
64Ed Glennon, "Brewers Sign Thon," Rockford (Illinois) Register Star, March 31, 1993: 5D.
65 "Thon Retires," Stamford (Connecticut) Daily Advocate, March 3, 1994: C2.
66 "Eyesight Fading, Thon Retires," Santa Cruz (California) Sentinel, March 3, 1994: B-3.
67 Hanlon.
68 Marc Seide, "Seniors Storied Childhood Paves Way to USF," The Oracle, October 26, 2010. Retrieved March 27, 2016, usforacle.com/news/view.php/690131/Seniors-storied-childhood-paves-way-to-U; Bob Elliott, "Thon's Father Knows Best," Toronto Sun, August 23, 2010.
69 Hanlon.
70 Thon correspondence with author.
Born
June 20, 1958 at South Bend, IN (USA)
If you can help us improve this player's biography, contact us.
https://sabr.org/sites/default/files/ThonDickie.jpg
600
800
admin
/wp-content/uploads/2020/02/sabr_logo.png
admin
2012-01-16 11:54:29
2012-01-16 11:54:29
Dickie Thon