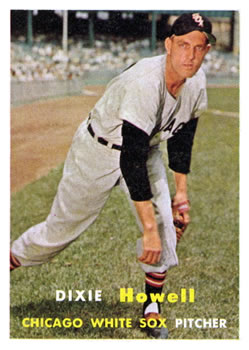 ---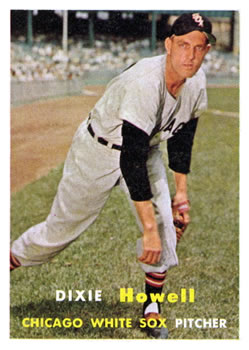 There have been two major-leaguers named Dixie Howell. Both were born in Kentucky, just four months apart in 1920. Homer Elliott Howell was a catcher who made it to The Show for 340 games from 1947 through 1956. Millard Howell, the subject of this story, pitched in the majors as early as 1940. He did not make it back to the top level until 1949, though — and it was another six years before he returned again. Howell won 19 games for the Chicago White Sox from 1955 through 1957, the heart of his big-league career. Over the course of 19 seasons in the minors, however, he won 194 games. He might well have made it to 200, but his life was cut short at age 40 in spring training 1960.
Howell was a strapping man who stood well over six feet tall and weighed 210 pounds.1 He kept a low profile. "Dad was a country bumpkin," said his son, Millard "Dixie" Howell Jr. "His family was from the hills. His pastime was taking things apart to see how they worked. He'd take TVs apart and try to fix them. He dug out a dirt basement by himself. He worked in a scrapyard in the off season. He liked that kind of thing. He was quiet and shy unless he was around family."
His shyness extended to the baseball locker room. As White Sox trainer Eddie Froelich put it, "I doubt I have ever heard the sound of his voice. Don't get me wrong, he's one of the most decent guys I have ever known. No alibis. He asks no favors. He never gets mad. He's the original quiet man…a man of few words and strong deeds."2
Millard Howell was born on January 7, 1920, in Harold, in the far eastern part of Kentucky, not far from the state line with West Virginia. His parents were William Howell, a farmer and coal miner, and Almeda (née Ratliff). Before Millard came a daughter named Naoma; his younger sisters were named Polly and Edith.3 He was named for the 13th president of the United States, Millard Fillmore.
When Millard was about nine years old, his family moved to Dehue, West Virginia. He dropped out of school in eighth grade. He played on the town team with adults, playing infield, outfield and pitcher — "anywhere just so I could get on the team," he said. He impressed the mine foreman, who recommended him to the pro club just a few miles away in Logan, West Virginia.4 The Class D Mountain State League had started operations in 1937, and Logan was a Cleveland Indians affiliate.5
Howell had been signed as a left-handed hitting outfielder who threw right-handed, wickedly. When the 17-year-old got to Logan, they made him a pitcher. He was second in the league in wins (13) and led in innings pitched (233). His ERA was a solid 2.86. Throughout his professional career, though, Howell remained a solid hitter.
It was in Logan that Howell became known as Dixie. "I was something of a favorite of the colored fans," he told the Sporting News in 1955. "Whenever I came up they would holler 'come on Dixie' and I guess the name just stuck."6 The fans may have been influenced by another man named Millard "Dixie" Howell, the Alabama football star who was the hero of the 1935 Rose Bowl. That Dixie Howell also played minor-league baseball, from 1935 through 1942.
The Howell in focus here had a rough year in 1938 playing at both Class D and Class C. Overall, he was 2-10 with a 6.46 ERA. Nonetheless, in 1939 he advanced to Class B and was assigned to Wilkes-Barre, Pennsylvania. That city became home for the rest of his life after he met his wife-to-be, Helen Bielecki, the daughter of a Polish immigrant carpenter, One day that spring, Helen and a couple of her girlfriends were on the sidewalk near a downtown hotel watching Wilkes-Barre firemen in action. Howell stepped out of the hotel to see what was going on and stood next to her. The firemen put out the building fire, but as the Sporting News put it years later, "they didn't douse the fire that was ignited that day in Wilkes-Barre."7
From 1939-42, Howell played in 234 games for the Barons as a pitcher, outfielder and pinch hitter. His won-lost record as a pitcher was 37-33, and he batted .260 with six home runs. That doesn't sound like a lot, but the four he hit in 1942 was the third highest on the team.
Howell had a knack for winning his own games with hits. In July and again in August of 1940, he delivered decisive late-inning blows. On May 4, 1942 he beat Williamsport 7-3 and was 3-for-3 batting with a three-run home run. In a 3-2 win over Binghamton in an 11-inning game on June 24, 1942, he struck out seven and set up the winning run in the 11th with a triple.
It was Howell's pitching, however, that earned him his time in the majors. On August 15, 1940, he stunned the Eastern League by striking out a league-record 20 Binghamton Triplets in a nine-inning, 3-1 win.8 In 1940 Cleveland called him up after the EL season and he pitched in three games — the starting point for his most unusual major-league record.
In 1941 Howell was invited to the Cleveland spring training camp, but just before the season started, Cleveland sent him back to the Barons camp in Sumter, South Carolina. A sore arm, an undiagnosed malady that would plague him for years, delayed his debut in '41. He used the break to marry Helen that May 24. They moved into a house on Custer Street in Wilkes-Barre. Three days later he was back on the mound for the Barons and his teammates gave him and Helen a wedding gift, a silverware set. The Howells eventually had four children: Carol Ann, Shirley, Dixie Junior, and Stephen.
In April 1943, Cleveland sold Howell to Cincinnati and the Reds optioned him to Syracuse in the International League (Class AA). Although the Reds had acquired him with the outfield in mind, he had a good year on the mound with the Chiefs (13-9, 3.11). Back home in Wilkes-Barre after his first season in Syracuse, Dixie joined the Army — even though he was exempt from the draft with a wife and daughters (Carol Ann was two and Shirley just three months). He was inducted in Wilkes-Barre on November 23, 1943.
Less than a year later, in September 1944, Howell was went missing in action in Belgium. Helen spent over two months wondering and worrying. On November 21, 1944, she received word that Private Millard Howell was a Nazi prisoner of war.
She learned that Dixie and 150 other infantrymen had been crossing the Meuse River in Belgium in boats when a large force of Germans suddenly appeared on a bluff above them and took them prisoner. Though Howell never talked much about his POW experience, or anything else, he did open up to the Sporting News in 1955 about his time in Stalag 7A at the Moosburg prison camp. "In the morning we got nothing but bad coffee. The noon fare was some sort of soup. In the evening we'd get minced ham. The fellows called it horse meat. The Red Cross would give us chocolate bars and other hard to get things and some of us would trade these things for bread. We slept on straw beds in our clothes to keep warm."9 Howell and the other prisoners did not know how the war was going until May 1945, when the camp was liberated by Allied forces.
After the war Dixie recovered at home in Wilkes-Barre before reporting to spring camp in 1946. He continued to play for Syracuse from 1946 through 1949. By this time, the International League was classified as Triple-A. In 1948, Howell won a career-high 17 games for the Chiefs, also batting .260 while contributing as a pinch-hitter and part-time outfielder.
Howell went to spring camp with the Reds in 1949, but after pitching in sleet and rain in an exhibition game, he developed a sore arm. It was so bad that he couldn't comb his hair, let alone throw. After trying all kinds of treatments, he got into five games in late April and early May but was hit hard.10 On May 1, at Crosley Field, he made the first of just two starts in his big-league career. Manager Bucky Walters lifted him in the third inning, and he took the loss as the Pittsburgh Pirates won, 10-4. Sent back to Syracuse, Howell pitched only 39 innings during the rest of the season.
From Syracuse, Howell's minor league odyssey continued in Minneapolis, a New York Giants farm team. In 1950, he went 14-2 (despite a 4.78 ERA). He pitched a no-hitter at Minneapolis on August 10 against Columbus.11
Howell spent one more year in Minneapolis (9-9, with a lofty 6.50 ERA because his sore arm had recurred). In January 1952, the Baltimore Orioles (then a farm club of the Philadelphia Phillies) purchased his contract from the Giants organization.12 He was hit hard in five appearances, and in May he was returned to Minneapolis.13 Shortly thereafter, Howell was sold to the Memphis Chicks, a Chicago White Sox farm team in the Southern Association.14 That was a step back to Double-A ball.
Through 1951, Howell had been mainly a starting pitcher — but from 1952 through 1954, he pitched mostly out of the bullpen. He made just five starts in 126 appearances. Memphis sent him to the bullpen, likely because of arm trouble, but the move worked for him and the Chicks. He appeared in 40 games in 1952 and was "reputed to have saved 20."15 He also won two games in the Dixie Series. In 1953 he appeared in 32 games, winning 10.
Keeping a family together on minor-league money and a minor-league schedule couldn't have been easy. The Howells traveled a lot, often spending the summers wherever Dixie was playing. When the younger Dixie was in fourth and fifth grades, he and his older sisters finished the school year in Memphis. It was there that the family grew to four kids when son Stephen was born in July 1954.
Howell appeared in 49 games in 1954, all in relief; he was 9-6 with a 4.13 ERA. In the early part of the 1955 season, Memphis put him back in the rotation; he made 11 starts in 12 appearances. The results were middling (5-3, 3.96) — yet that June, the White Sox called him up. General manager "Trader Frank" Lane had made two deals early that month, and needed to restock the bullpen.16 One of the team's coaches was Don Gutteridge, who had managed Memphis in 1954 — he "gave an unqualified opinion that Howell had the ability to be a good relief pitcher in the major leagues."17
In his third outing for Chicago, on June 25, 1955, Howell pitched six innings in relief against the Red Sox at Fenway Park. He was the winning pitcher, thereby setting an odd major-league record likely never to be eclipsed: the longest time, nearly 15 years, between his first appearance and first win in the majors.
Improbably, Howell became one of the team's best relief pitchers, along with Sandy Consuegra. As the Sporting News story of September 14 put it: "Nineteen years a minor leaguer…eight months in a Nazi prison camp…a hopelessly sore arm…then suddenly, at age 35, a major league star on a pennant contender."18 By the end of the '55 season Howell had an 8-3 record. He led the White Sox in saves and games finished, and was third in ERA. Manager Marty Marion called him "the salvation of our bullpen."19
How did Howell put together a star-caliber major-league season — better than most of his minor-league seasons — at age 35? An improved sinker was one big reason. Asked how he developed the pitch, Dixie said that it wasn't new. "I guess I started throwing it in Minneapolis in 1950…I don't know how it happened. I don't put any special twist on the ball. I just throw a fastball and it sinks so the batters hit it into the ground."20 Howell allowed just one homer in 73 2/3 innings pitched that year, and only 10 in 213 innings during his big-league career.
Howell was not as successful for Chicago in 1956. He gave up 79 hits and 26 walks in 64 1/3 innings, which fueled a 4.62 ERA, and his save total dropped to four. A high point of that season came on August 23 at Yankee Stadium. In his only other big-league start, he pitched 5 2/3 innings, and though he gave up 10 hits, just two runners scored, and the White Sox hung on to give Howell the win. He bounced back the next year, trimming his ERA to 3.29. He picked up five more saves.
Howell also has two other weird major-league records — as a batter. Both came in 1957. That year he set the single-season mark for most base hits without a single: five (three home runs, a double, and a triple in 27 at-bats). Two of those homers came on Father's Day, June 16, at Comiskey Park. One of the blasts went into the upper deck. Howell became the last relief pitcher to go deep twice in a game (it had been done twice before).21
When the White Sox scored four runs in the bottom of the eighth, Howell also became the winning pitcher. In the crowd that Sunday afternoon was 10-year-old Dixie Howell, Junior. "We stayed at the Piccadilly Hotel in Chicago," recalled Dixie Junior (who still lives in Nanticoke, near Wilkes-Barre). "The biggest perk I ever got was to go on field before games. I was a Yankee fan. He didn't like that much. I got to meet Yogi, Mantle, Ford, Moose Skowron, who kind of resembled my dad. It was a lot of fun."
Howell's only game with the White Sox in 1958 — and his last ever in the majors — came on April 26. On May 14, as Chicago got down to the 25-man roster limit, they sent him down to Indianapolis, where he spent his last two seasons in baseball. He made 70 appearances, of which 10 (all in 1958) were starts.
On March 18, 1960, Howell was in Florida with Indianapolis and the family was in Wilkes-Barre. It was a week before the younger Dixie's 12th birthday. "I was playing outside. My mother called me in. She told us dad had been hurt in spring training. That he'd been hit by a baseball and died."
Dixie Junior clearly remembers what his mother said, but newspaper accounts differ. The Wilkes-Barre papers and the Sporting News reported that the pitcher complained of chest pains after a workout and was taken to the hospital. He appeared to be recovering but died an hour and a half later of a heart attack.22
Dixie Junior played his one and only summer of Little League baseball after his dad died. "It was a rough season because he wasn't around. Other kids had their fathers involved. It was rough getting over it. Especially with the not really knowing. We weren't sure what really happened."
Forty-two years after his death, Dixie Howell made it possible for his family to take one more baseball trip to Syracuse, where he is the Chiefs' all-time leader in wins, 55, and home runs by a pitcher, 12. On August 3, 2002, Helen, Dixie Junior, Stephen, Carol Ann and Shirley attended Dixie's induction onto the Syracuse Chiefs Wall of Fame. "It was great," Dixie Junior said. "We went for the weekend. Hotel. Meals. For a minor-league event they did it in a major-league way." Dixie sat in on the radio broadcast of the game. Helen went onto the field for the induction. "It was one of the last things mom got to do." Helen died in 2005.
Millard "Dixie" Howell is buried in Wilkes-Barre's Oak Lawn Cemetery. If there is one line that sums up his life, the best may be what he said himself in 1955: "I always had confidence in myself and I always had hope."23
Sources
This biography was developed (with additional research by Rory Costello) from a story written by Jack Smiles for The Citizen's Voice of Wilkes-Barre, Pennsylvania, published on February 14, 2016.
Millard "Dixie" Howell Jr. was interviewed on three occasions in January 2016.
Internet resources
ancestry.com
familysearch.org
Floyd County Birth Records (http://kykinfolk.org/floyd/birth.htm)
1940census.archives.gov
Notes
Born
January 7, 1920 at Harold, KY (USA)
Died
March 18, 1960 at Hollywood, FL (USA)
If you can help us improve this player's biography, contact us.
https://sabr.org/sites/default/files/HowellDixie_1957Topps_0.jpg
600
800
admin
/wp-content/uploads/2020/02/sabr_logo.png
admin
2016-06-22 15:24:27
2016-06-22 15:24:27
Dixie Howell