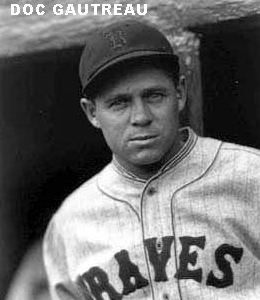 ---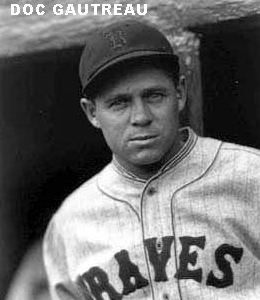 Walter Paul Gautreau was born on July 26, 1901 in Cambridge, MA. His parents, Henri and Bibienne Gautreau, came to the United States from Sorel, Quebec, Canada after having lived earlier in New Brunswick. The Gautreau brood consisted of Walter, three other brothers and a sister. His first words as a child were spoken in French and he would communicate with his parents in that tongue through adulthood. His French-Canadian heritage would later play an important role in his baseball career.
In his youth, Gautreau once quit public school to toil in a local bakery. Fortuitously, he met a fellow baseball enthusiast, Harold "Pie" Traynor, from neighboring Somerville. Doc and Pie worked out together and the latter encouraged his friend to return to school. Years later, Doc would reminisce with his lifelong pal, "Gee Pie, do you [recall] the day we sat in that baker's wagon over in Cambridge and dreamed about the big leagues? Do you remember that we said we'd both reach the majors some day?"
Given his pugnaciousness, Doc picked up the nickname "Punk" along the way to becoming a three-letter athlete at Cambridge High and Latin School. In 1921, his high school ball club won 22 consecutive games and is still regarded as one of New England's greatest schoolboy teams. The all-scholastic catcher would further refine his baseball skills during summer breaks by participating in the North Cambridge Twilight League. The origin of his "Doc" nickname is a bit murky. It was once reported that when it had come time to have a portrait taken for an article on high schoolers chosen for the all-scholastic nine, the writer of the piece felt that Gautreau's "Punk" moniker would be an inappropriate title to include as part of the photo's caption. The reporter was partial to "Doc" for an undisclosed reason and suggested it as a substitution. Gautreau was cajoled into making the change and the new nickname would stick with him throughout his entire baseball career.
Doc's play caught the attention of Holy Cross baseball coach Jack Barry, formerly part of the Philadelphia Athletics' "$100,000 Infield." Barry invited Gautreau to the Worcester, Massachusetts, institution of higher learning to try out for the 1922 squad. Barry's only opening was at third base and although the 5'4" Gautreau had focused on backstopping in high school, he possessed the versatility to perform at any position. Shifted to second base after his freshman year, Gautreau remained there for the rest of his college career. His diminutive stature was offset by a fiery competitive spirit. Gautreau played every inning on a Crusaders team that won 92 of 101 games under Barry's stewardship. He won all-America honors in each of his four years and led all college batters with a .428 average in 1925 as a senior. His accomplishments on the diamond would ultimately result in a spot in the Holy Cross Athletics Hall of Fame. He was awarded the honor posthumously in 1981.
Several big league teams scouted the collegiate star. A good word from coach Barry to his former skipper, Connie Mack, resulted in Gautreau's big league dream coming fulfilled with the Athletics immediately after he received his Holy Cross degree. However, his stay in the City of Brotherly Love was painfully brief. Doc went hitless in four games. An impatient Mack called him into his office after a game and delivered what had to have been a devastating evaluation. "Young man, you never will be a ball player. You are too small. You haven't the right knack in hitting. I think I am doing you a big favor in telling you this now. There is no sense in joshing you and making you waste a lot of valuable time. I would send you to Portland in the Coast League, but I know that you couldn't hit even there, so I am going to send you home." In order to unconditionally release Gautreau, Mack first had to place the little second baseman on waivers and give other big league clubs the opportunity to pick up his contract. Instead of leaving town with his head hung low, Doc hopped a train to the Hub for a new chance with the Boston Braves as their owner, Judge Fuchs, claimed him off the waiver list. The Braves had had their eye on Gautreau while he was at Holy Cross but were unable to offset coach Barry's Athletics' influence. This turn of events proved fortunate for Gautreau as he capitalized upon this second opportunity and secured a spot on his hometown team's major league roster.
Upon his arrival in Boston, Gautreau was deployed at second base, forming a slick keystone combination with playing manager and future Hall of Famer Dave Bancroft. According to Doc, Bancroft took him under his wing and the duo formed sort of a mutual admiration society. With the slick fielding second baseman at his side, "Banny" led the league's shortstops in fielding and directed the club from a basement finish the previous season up to fifth place. Bancroft said of Gautreau, "He covers more ground than a thunder shower and makes his plays like lightening." Despite concerns about the rookie's ability to hit big league pitching, Bancroft predicted that Doc "will be another Eddie Collins in two more years."
According to Gautreau, during his first season, "Dave kept up a running fire of comment and instruction during the ball game. He'd apparently be paying no special attention to me — so far as the fans could tell — yet he'd be talking all the time, telling me how fast the batter was, where he usually hit, what sort of a baserunner he was and how his batting would go with the sort of pitching we were getting at the time."
National League umpire Charley Rigler observed that Gautreau's acquisition "made" the Boston Braves. Said the arbiter, "his alertness, intelligence and pepper have made the team completely over. For the first time since Bancroft came to Boston he has a man beside him who can play his kind of ball. You can see what effect this has had on the rest of the team, particularly the pitchers."
Rigler's opinion was shared by others. In the flowery language seen in sports pages of that era, Gautreau's debut was hailed. "[I]n the few short weeks that he has been a Brave [he] has already made his mark. He has done all the things that made Link Lowe and Fred Pfeffer and Lajoie and Eddie Collins and Evers, yes and Maranville, too, names to read about, names to conjure with, as wonder-workers do; names to remember….The Maranvilles and Gautreaus of this world, such small, wonderful prize packages, are few and far between. They are seldom heard of outside of fairy tales. But when their tiny, fiery light does flash across the heavens, the planets and the red fixed stars turn pale."
Doc had his own take on his stature. "I think it an advantage to be small at second base. A quick start is what tells and a little man can get under way much sooner than a big fellow. Besides, he's closer to the ground and can scoop up the low ones better. No doubt once in a while a hot drive will go over my head that I might reach if I were six feet tall, but against the few drives of this kind that I would lose, I think I can get a much larger number of slow grounders that I can scoop up now but might miss if I were taller."
The rookie's diminutive size once led to a humorous incident in the Braves clubhouse. Attendant "Jitney" Goss was at his usual post at the room's entrance when Doc came along to join his teammates in pre-game preparations. When he approached the door, Goss did not recognize him and inquired loudly, "Where do you think you're going?" Gautreau responded that he was headed to the dressing room. The clubhouse gatekeeper bellowed, "Like Hell you are." Fortunately someone set Goss straight, saying "That's Doc Gautreau." "It is?" Goss responded incredulously. "I thought he was one of the kids who sells peanuts."
Improved team play and Doc's local fan base helped bolster Braves Field attendance, increasing from 177,478 in 1924 to 313,528 in 1925. Despite his novice status, Gautreau had his own "day" during the season and he was presented with a Velie sedan by his Cambridge followers who packed the Wigwam (as Boston's Braves Field was nicknamed). Doc was also given a box of chocolates "with the hope that it would sweeten up his batting average." Even ex-manager Mack wished him well. "I'm glad the Braves are making such good use of Gautreau; and glad, too, that he is to be given a 'Day.'" In his acceptance speech, Doc proclaimed "I never wanted to be anything else but a big league ball player. That's why I played ball every chance I could get. Well, I'm that today." His inaugural campaign consisted of 72 games and a batting average of .255. He even drew two mentions in the Senior Circuit's Most Valuable Player balloting.
Gautreau's size often received play in the press of the day. One cartoon portrayed a fan in the stands mistaking him for a mascot and then upon viewing Doc's performance on the field, gasping in amazement, "Gosh! – If the mascot kin play like that — these Braves must be World's Champs." Another featured his portrait with the header "The Biggest Bean in Beantown." When stories were written, terms like "midget," "pee wee," "pepper box," "half pint," "runt" and "pygmy" tended to find their way into the text. Press photographers of the day seized upon the opportunity to compare and contrast Doc's size with larger teammates. A favorite pairing for these snapshot artists was of Gautreau and 6'3" outfielder Ed Brown. Under the caption "Long and Short of It," "Big Ed" and Doc posed side by side with the former resting his elbow on the latter's head. In another portrait, "The Doc is Up in Arms," Brown lifted Gautreau off the ground and cradled him in his arms.
The magic that seemed to be present in 1925 disappeared the following season. The Braves dropped to seventh place but Gautreau increased his playing time (79 games) and batting average (.267). His principal competition came from Andy High who split his time between the hot corner and second base.
In 1926, Doc was a participant in a legendary play that was the genesis of the famous joke: "The Dodgers have three men on base! Oh, yeh? Which base?" The Braves were in Brooklyn on Sunday, August 15 playing the first game of a doubleheader. In the seventh inning of a 1-1 game with the bases loaded and one out, Babe Herman slammed a drive into right field. The runner on third scored but pitcher Dazzy Vance on second hesitated until he was sure that the ball would not be caught. Vance was a slow runner by nature and was plodding to third with teammate Chick Fewster breathing down his neck, followed by Herman running with his head down. The third base coach yelled for Herman to go back but Vance, who had rounded third, thought that the instruction was directed at him and returned to the hot corner, meeting Fewster on the bag. Herman arrived shortly thereafter. Fewster, believing that he was out, left for the dugout. Braves third baseman Eddie Taylor tagged everyone he could reach. Gautreau took the ball out of Taylor's hands and chased down Fewster for a just-in-case tag. Umpire Beans Reardon ruled Fewster tagged out and Herman out for passing a leading runner. Brooklyn manager Wilbert Robinson remarked, "That's the first time those guys got together on anything all season." Writer John Lardner reported that "Floyd 'Caves' Herman did not triple into a triple play, but he doubled into a double play, which is the next best thing." For years, Herman would moan that everyone had overlooked the fact that despite the boner, he'd driven in the game-winning run.
The Braves were mired in seventh place in 1927 and while Doc appeared in a career-high 87 games, both his at bats (236 vs. 266) and batting average (.246) declined. More ominously, he played fewer games at second (57) than either of his two previous seasons with the Tribe. Two stronger hitters, Eddie Moore and Doc Farrell platooned there as well. The departure of manager and mentor Dave Bancroft after the season would not bode well either.
Gautreau remained an immensely popular player in the Hub and was referred to by one sportswriter as "the Tribe's most colorful player since the days of Rabbit Maranville." Another "day" was scheduled for him in 1927. He shared it with his Somerville, Massachusetts, neighbor and Braves catcher, Shanty Hogan when the latter's tribute had been prevented earlier in the season by rain. Gautreau and Hogan had been high school rivals and now were billed "The Might and Mite of the Braves' Outfit." The ceremony was set for September 3 in between games of a doubleheader against the Brooklyn Robins. In the first game, Doc thrilled those in attendance by tying a major league record when he stole home twice, a feat that would not be replicated until 1958. He also turned in several stellar plays in the field and accounted for three of the four tallies in the Braves' 11-inning 4-3 triumph. The folks of Cambridge had placed a rush order to the factory in Moline, Illinois, for a brand new 1928 Velie Special 60 Sedan and one had to be diverted from another order to satisfy the request. Doc was especially pleased with the gift, recalling that the Velie presented to him two years earlier gave him wonderful service, plenty of speed and no troubles. The previous day, Gautreau had received an even more memorable "gift," as his wife Susan had given birth to their daughter, Marjorie. Hogan's fans were generous as well, awarding the backstop a large loving cup along with a check for $1,450.
During the winter, Judge Fuchs designated Jack Slattery, a former local college coach, to succeed Bancroft as Tribe manager and a couple of days after that appointment, on January 10, 1928, picked up future Hall of Fame second baseman Rogers Hornsby from the Giants. Hornsby would replace the outmatched Slattery at the Braves' helm on May 23. Knowing his regular position was lost, Doc headed to spring training early, taking along a brand new glove, in hopes getting a head start on a shift to the hot corner where he hadn't played since his first year in college.
There appeared to be two schools of thought concerning Gautreau worthiness for a spot on the team. Doc's loyalists were firmly convinced that he had been discriminated against because of his size and not given satisfactory playing time to prove himself. Others felt that a player as "green" as Gautreau would have been sent to the minors the day after he joined the Braves from Philadelphia if he hadn't been such a good gate attraction for the poorly drawing club.
Responding to allegations of a below average arm for the third base position, Gautreau challenged that belief. "There are plenty of fellows in the major leagues who have held down jobs for a long, long time whose baseball propelling powers do not approximate mine…. As the present day saying goes relative to fielding your position at third base, you either get 'em or you don't." However, this perception and the lack of pop in his bat led the Tribe to acquire third baseman Les Bell from the Cardinals in late March. The club's lack of confidence in Gautreau was also reflected in earlier rumors that a swap had been under consideration with the Cubs wherein he and hurler Joe Genewich would depart for the Windy City with pitcher Hal Carlson and infielder Fred Maguire heading east. Despite newspaper headlines proclaiming it a near certainty, the transaction never took place. Gautreau was destined to spend most of his time this season at second base but with the Providence Grays of the Eastern League and not the Tribe. With the Rhode Islanders, Doc was the league's All Star second baseman and batted .335. In Boston, however, he only saw action in 23 big league games and was unaware that his September 29 appearance in the line-up would turn out to be his major league swan song.
As Gautreau was making plans to drive his wife and daughter south to the Braves' spring training camp in St. Petersburg, Florida, the ballclub was engaged in talks with the International League Montreal Royals about a deal. No longer in the Braves plans, Gautreau was expendable and attractive to the Royals given his ethnic background and fluency in French. He was on the road when the transaction was consummated on February 13, 1929. The outright sale deposited some $10,000 into the Braves' coffers. The move was not a surprise to Gautreau. The deal had been agreed upon earlier but a public announcement was delayed because of a difficulty in communications with the Montreal club. Braves owner Judge Fuchs had invited Doc to use the team's Florida facility until the Royals opened their camp in Daytona Beach.
Montreal had rejoined the International League in 1928 and believed that Gautreau would be a gate attraction for the large French-speaking populace in the area. Doc teamed up with another short-of-stature player, Billy Urbanski, to form a keystone dynamic duo. Urbanski would move up to the Braves in 1931 and perform at shortstop for several seasons.
Doc provided a solid return on Montreal's investment. He held down the second base post for five seasons, including two years where he performed in over 160 games. Doc had the top International League fielding mark for second-sackers in 1930 (.979) and batted a robust .312 in 1932, the same year he took over the helm of the Royals during the season. Although he yearned for a return to the big leagues, he enjoyed his time in Canada. "That Montreal is a great city. I'm getting fan mail all the time and the letters are written in French. That's the language of my youth and we speak it now at home. I'll not try to tell you that the fans of Montreal know as much about baseball as do Boston fans. They don't. Nevertheless the boys in Quebec like the game." Doc also enjoyed the "working conditions." "Playing ball in the International League is not so wearing as the big league variety. In fact, you find that you do not have to live on Pullmans as you do in the big league. We only have a few night sleeper rides…. The weather in Montreal shows none of those extra warm spells. Our games start at 4 o'clock and there's always a cool breeze around. They have a slick plant for the game up there."
Gautreau's first shot at managing came because of a combination of lackluster team play and the incumbent's deteriorating health, both of which had a bearing on the latter's abrupt resignation. His promotion resulted in him becoming the "smallest, lightest and youngest manager in Double A or major league baseball." More importantly for the team's ownership, Doc became the only skipper of French-Canadian heritage in organized baseball, the first since Napoleon Lajoie had directed the Toronto Maple Leafs in 1918. The club finished with a 90-78 record but 19 games behind the league leader and out of the playoffs. The Royals performed poorly in 1933 and Gautreau was replaced as manager during the season. During the winter, he was traded to the American Association Kansas City Blues where he played in 42 games in 1934 before heading closer to home to end his active career with the Watertown (Massachusetts) Townies of the Northeastern League. He did so with a flourish, batting .388 for that Class B ball club.
From 1935 to 1939, Gautreau managed outside of organized baseball with the Saranac Lake Red Sox of the Northern League, a circuit comprised of town teams populated by locals, college students and former professionals. In 1940, he skippered the Sherbrooke Braves of the Quebec Provincial League. The circuit had only recently affiliated with organized baseball and was granted a Class B league charter. The six team league was unstable from the start. One club was forced to disband in July and Doc left Sherbrooke before it too ceased operations on August 1.
Gautreau continued his involvement in sports after leaving organized baseball. Settling in Bolton, Massachusetts, he worked at the Norton Company plant in Worcester as an expediter and managed the semi-pro Worcester Nortons of the New England League through 1946. The league achieved some notoriety because a number of its players, some of whom where members of the military assigned to area bases, used assumed names. Gautreau got caught up in a bit of this controversy when a Worcester newspaper revealed that three members of the Nortons employed false identities. An incensed Doc took strong exception to any negative remarks about his "boys." "All the boys were servicemen … who could not use their right monikers in performing now because of government restrictions." Their alleged "crime" was "not as bad as the paper would lead us to believe." During this period, Gautreau also umpired high school and college baseball in the summer and officiated football and hockey during the winter. He conducted classes in baseball and golf for area youth as well.
After receiving many entreaties by local schools to formally join their athletic programs, Doc accepted the position of director of physical education at Hudson High School in September of 1944. He had frowned upon school jobs in the past out of a concern that such a position would interfere with his love of officiating sports. The Hudson job provided just the right fit as the school played its contests under the lights on Fridays, leaving his Saturdays free.
Gautreau ran his teams using the same philosophy that he followed in the pro's, "Let the players know that you are behind them every second, showing keen interest in their performances on the field."
In assessing the youth of the day, Doc candidly prophesied "Someday … every school in the nation will have to set up some kind of rigid athletic program. To my mind there is nothing more disgraceful than high school boys of 18 so out of condition that they waddle when they walk. It is a shame."
In light of his own college experiences and the challenges that he overcame to play professional baseball, Gautreau also bemoaned the state of the college game in the mid '40s. "Most of the youngsters I run into like to play the game and that's all. They are not willing to work hard in practice sessions trying to improve. They are not willing to spend a few years in the minor leagues learning how to play baseball properly. I can't understand why more youngsters won't sacrifice a little in order to become a star ball player."
Given his varied coaching and officiating roles, Gautreau was in an ideal position to identify youngsters with exceptional talent and pass word along to potentially interested parties. An opportunity arose to return to the Boston Braves in a full time scouting capacity and Doc had his name formally added to the front office roster in 1947. He worked under Chief Scout Jack Zeller and New England regional head Jeff Jones in covering six Northeastern states.
In addition to attending numerous collegiate and high school ball games, Gautreau was assigned many other tasks as a Braves scout. Using Braves Field as a base of operations when the club was out of town, Gautreau would conduct open tryout camps. These events rarely revealed talent worthy of signing. One time, after working out a group of 33 spectacularly untalented candidates, an appalled Doc remarked: "These guys either came to steal the equipment or take a shower."
In the spring and summer months, Gautreau was called upon to run baseball schools sponsored by the region's newspapers through the New England Association of Circulation Managers. Many of the programs restricted participants to high school graduates under 21 years of age. Assisted by part-time members of the scouting department who often were moonlighting from regular high school and college coaching positions, Doc met with groups of upwards of 70 young men at dusty local diamonds and put them through fundamental skills drills. The clinic's "faculty" would be attired in hand-me-down sateen uniforms originally worn by Tribe major leaguers for night games during the 1946-48 seasons. The school would run up to four days and culminate in inter-squad games. At its conclusion, Gautreau and his band of scouts would select the best players to represent the respective publication in a multi-day tournament held later at the Wigwam.
There was no off-season for scout Gautreau. He attended Hot Stove gatherings, showing World Series and Braves promotional films and sharing tales from his own experiences. In the winter of 1949, the Braves put together a "traveling baseball college" that ran from early January to just prior to the start of spring training. The six-man faculty was comprised of players Earl Torgeson, Red Barrett, Ray Martin as well as Gautreau and fellow scouts Jeff Jones (the "Dean") and Fred Maguire. Designed to give playing pointers to students and coaches, the "school teachers" conducted sessions at the University of Vermont, Bates College, Amherst College, Brown University, Harvard University, Exeter Academy and Wesleyan College. "Professor" Gautreau, recalling his own high school days, lectured on the fine art of catching.
Doc remained with the Boston Braves until their final days in the Hub. A sportswriter once remarked that "Gautreau has been around Braves Field so long he's afraid someone might mistake him for one of the grandstand pillars." Doc joined a number of colleagues, including assistant farm secretary Roland Hemond in the westward trek of the franchise to Milwaukee. Hemond once remarked that Doc had taken him under his wing when he joined the Braves front office in 1951 and "taught me lots of inside baseball."
Doc witnessed the golden years of the Braves in Milwaukee with a blossoming farm system that reflected scouting efforts begun while in Boston and continued in Wisconsin. The majority of players on the Tribe's roster were homegrown. He explained the reasons for the club's track record: "We go everywhere. I just came back from upper Wisconsin. I've been to towns like Superior, Green Bay, New London, Eau Claire and Sheboygan…I looked at 1,200 kids."
The Tribe took advantage of Doc's expertise in directing popular regional instructional programs. Under the auspices of Braves' farm director John Mullen and his assistant Hemond, "Silver Sluggers" baseball schools were conducted under the sponsorship of 22 Wisconsin and Upper Michigan daily newspapers and drew large turnouts of players between 16 and 21 years of age. Credit was given to the team for not just running the program as a glorified tryout camp but rather as a clinic to provide solid instruction from Gautreau and other members of the Tribe's scouting department to the attendees. Similar to the Boston-based program, the best Midwest teams faced each other with the title tilt played at Milwaukee's County Stadium.
Doc picked up an additional assignment along the way. Each spring, he undertook the responsibility of acting as the assistant director of the Braves' minor league spring training camp at the team's Waycross, Georgia, complex. In addition to acting as the official camp host to a multitude of visitors, Doc was in charge of all playing equipment. He insisted that all items be of first class quality so that the prospects could display their talent under the best of conditions. One of his greatest challenges was to assure that bats and other borrowed articles were returned by the players after workouts and placed in their designated spots in the equipment locker. His reputation as a "pepper pot" would be evidenced should a lackadaisical player not follow Doc's rules. When his duties permitted, he would join general manager John Quinn, farm director John Mullen and training camp director Hugh Wise on the observation deck of a building to view and evaluate the hopefuls on the diamonds below.
In November 1960, Gautreau joined the exodus of Braves' front office talent to the American League expansion Los Angeles Angels. Fred Haney took the general manager's post and invited Doc to join him. The two had become acquainted during their time in Boston in the late 1920's. Haney, similarly height challenged at 5'6", performed at third base for the neighboring Red Sox in 1926-27. In the City of the Angels, Doc was part of a "Boston Braves West Coast Alumni Association." Roland Hemond had become the Halos first farm and scouting director. Former Boston Braves batboy Tom Ferguson also left a Wisconsin Tribe position to serve as the Angels' equipment manager. Field manager Bill Rigney appointed former Braves' star Bob Elliott to the Angels' inaugural coaching staff. A bit later, Chuck Tanner joined this group of Boston refugees when he began his managerial career in the Angels' farm system.
Gautreau served as a senior scout for Los Angeles through 1969. During his time there, he received recognition for his many years of toiling in anonymity as a scout. The Boston Baseball Writers Association recognized the contributions of scouts early on. At their annual dinner in 1967, Doc was one of the first in his profession to be honored. The scribes presented him with a new suitcase. Always ready with a wisecrack, Doc remarked to the gathering, "Thanks a lot. I get the hint. Get out of town." The gift had a bit of symbolism to it. It represented the full circle of Gautreau's professional career. At its very beginning, Doc was given a wardrobe trunk by his Holy Cross fans after he played his last collegiate game and was heading off to Philadelphia. Although Doc had joked about his dinner award, the writers later learned the value that he'd placed on it. Pirates' scout Chick Whalen, a close friend, disclosed, "You guys will never realize how much Doc appreciates the honor. He takes that suitcase with him wherever he goes."
A shake-up in the ranks of the now California Angels in 1969 had ominous overtones for Gautreau. Old pal Bill Rigney was dismissed as manager and Fred Haney had been "retired" to consultant status. Major League Baseball had also been on an economy drive and scouting had been targeted as an operation where expenses might be reduced through consolidation. The Central Scouting Bureau was created and its regional scouts produced prospect reports for several teams at a time. At 68 years of age, Gautreau saw no other option but to sign on.
The Bureau assigned Doc the Rocky Mountain area as his territory. As sportswriter Larry Claflin of Boston's Record American opined, "Montana and Utah seem to me like a hell of a place to send a tough little Frenchman from Cambridge."
Gautreau suffered a massive stroke while on the job in Salt Lake City, Utah, most likely with his beloved suitcase. Learning of his mentor and colleague's serious illness, Roland Hemond rushed to Doc's bedside. As Hemond later related, "he had lost the ability to speak but his face lit up when I entered his room." Shortly thereafter, on August 23, 1970, Doc Gautreau, a baseball lifer, passed away at age 69. In summing up Gautreau's life, Hemond remarked, "He was a great man with a great sense of humor — and very smart."
Doc's final resting place is in Mount Auburn Cemetery in Cambridge, Massachusetts.
June 14, 2011
This biography originally appeared in the Boston Braves Historical Association Newsletter (Volume 20, Issue 1 Spring 2011).
Sources
The author is indebted to Doc Gautreau's daughter, Marjorie Allen Gautreau for the sharing of family memories, including access to scrapbooks compiled by Doc's brother, Albert. Unfortunately, in most instances, the materials in the scrapbooks were clipped in a manner that eliminated references to dates and sources. The author also wishes to express his gratitude to Roland Hemond for contributing his recollections.
Born
July 26, 1901 at Cambridge, MA (USA)
Died
August 23, 1970 at Salt Lake City, UT (USA)
If you can help us improve this player's biography, contact us.
http://bioproj.sabr.org/bp_ftp/images5/GautreauDoc.jpg
600
800
admin
/wp-content/uploads/2020/02/sabr_logo.png
admin
2012-01-04 20:31:25
2012-01-04 20:31:25
Doc Gautreau