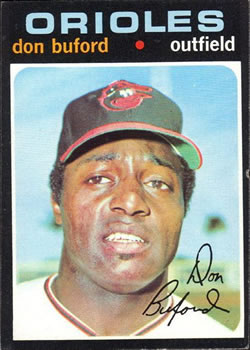 ---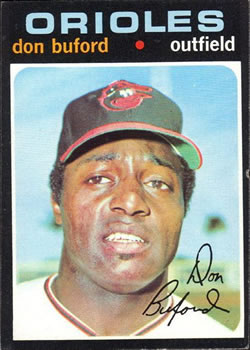 The leadoff men of the 1960s were known mainly for slapping singles and stealing bases. Into this game stepped Don Buford, a versatile switch-hitter with speed and a little power, and also the ability to draw walks and get on base. He had some success for a few years with the White Sox, but it was not until he joined forces with Earl Weaver in Baltimore that the full measure of his value was exploited. Weaver wanted his leadoff man to be a productive hitter who could start the offense, and the first thing he did when hired to manage Baltimore Orioles in July 1968 was to put Buford, a utility player at the time, at the top of the batting order every day. Buford became a star, and, not entirely coincidentally, the Orioles soon became one of the best teams in baseball history.
Donald Alvin Buford was born on February 2, 1937, in Linden, Texas, a small town in the northeast corner of the state, near the Louisiana border. His father was apparently a pretty good semipro player, but Don never got to know him—he was killed in a shooting accident when Don was about 6 or 7 years old. Soon afterwards, his mother, Sedalia, moved with Don to Southern California to be closer to her own family.
Buford grew up playing sports with his friends, in sandlots and backyards with whatever equipment they could rustle up. He always worked, beginning with a paper route as a boy. He starred in baseball and football for Dorsey High in Los Angeles but because of his small size (5-feet-7, 160 pounds), was not heavily recruited. After his 1955 graduation, he spent three semesters at Los Angeles City College, winning all-conference honors at quarterback in 1955 and at halfback in 1956, and getting honorable mention as a junior college All-American. He tried to interest several Pacific Coast Conference schools in his services, and chose the University of Southern California so that he could play baseball as well. He played baseball in the spring of 1957 before his football scholarship started in the fall.
On the baseball diamond Buford played little in 1957 but regularly the next two years. He hit .323 as an outfielder at USC, and his 1958 squad, which also included future major leaguer Ron Fairly, won the College World Series, the first of 10 won by Rod Dedeaux as head coach. On the gridiron, Buford played defensive and offensive halfback in 1957 and 1958; he led the Trojans in 1958 in interceptions, punt returns, and rushing yardage, and in both seasons in kickoff returns. In the big game against Notre Dame in November 1958, Buford rushed for 34 yards, threw a touchdown pass, returned kicks and punts, and made two interceptions. Notre Dame won, 20-13, but all the national stories featured Buford's performance. That year he was named All-Pacific Coast, and was a halfback for the national all-stars in the Copper Bowl in Tempe, Arizona. In May 1959 he was awarded USC's Jacob Gimbel Athletic Attitude Award, given to a senior athlete for best attitude.
Still, there were no professional football offers and few for baseball. Buford later said he spoke with four baseball clubs—the Yankees, Dodgers, Pirates, and White Sox—and it was Chicago that gave him the best deal, a Triple-A contract and a small bonus. He was signed in November 1959 by scout Hollis Thurston.
In the spring of 1960, Buford trained with the Triple-A San Diego Padres (Pacific Coast League), and hit safely in his first 21 games before being stopped in the spring-training finale. This earned the 23-year-old a starting outfield position for the Padres to start the season, but after hitting .268 for two weeks he was sent down to Lincoln, Nebraska, in the Three-I League. There he hit .287 with 94 walks and 36 stolen bases, but suffered a knee injury late in the season that required surgery. The knee bothered him the rest of his career, and was operated on three additional times.
Buford recovered in time to play all of 1961 with Charleston in the Sally League, where he hit just .236 in 136 games. He showed signs of progress after the season, hitting .324 playing against many future major leaguers in the Florida Instructional League. The next year he began with Triple-A Indianapolis, but after going just 3-for-27, was sent down to Single-A Savannah in the Sally League. He hit .323 there, with 91 walks and 100 runs scored, again showing signs of the great on-base skills that would later mark his major-league career. He shifted to third base in midseason, and was named the third baseman on the circuit's all-star team after the season. He was a promising player, but at 25 years old a bit long in the tooth for Single-A. He played that fall in the Florida Instructional League, then played winter ball in Venezuela.
Buford, though small in stature, developed surprising power from both sides of the plate. With Indianapolis in 1963, he proved himself ready, leading the International League with a .336 batting average, 206 hits, 41 doubles, 114 runs scored, and 42 stolen bases and helping his team capture the league's championship. He was named most valuable player and rookie of the year, and The Sporting News minor-league player of the year. After the season he joined the White Sox, where he played 12 games and hit .286 in 42 at-bats. In his September 14 debut in Washington, Buford finished 1-for-3 with a double off Bob Baird. He spent the winter playing in Puerto Rico.
With young star third baseman Pete Ward blocking Buford's path to the majors, the club played Buford at second base in September and after the season sold longtime second baseman Nellie Fox to Houston, partly to open up the job for Buford.
Although it would take another generation before on-base skills became universally valued, Buford's performance in this area was always remarked upon. In his first major-league spring training, Al Lopez raved, "This fellow knows how to get on base."1What came more difficult for Buford was his transition from third base, a position he had played only a couple of years, to second base, having to the learn the difficult double-play pivot at age 27. Although he proved to be sure-handed, most observers felt that he had trouble taking the ball out of his glove fast enough on the pivot. In early April, Buford and the San Francisco Giants' Jesus Alou were named by The Sporting News as the rookies most likely to succeed in 1964.
Buford was not the best rookie in the league, but he did hit .262 with good plate discipline that made up for his erratic glove. Middle infielders in the mid-1960s rarely hit as high as .262, so Buford's job was secure. He improved considerably the next year, up to .283 with 67 walks, which helped him score 93 runs, fourth most in the league. He generally hit second in the batting order, but he defied type by drilling 10 home runs among his 37 extra-base hits.
Nonetheless, Buford's defensive struggles caused the White Sox to play him at third whenever regular Pete Ward needed a rest. In 1966 manager Eddie Stanky moved Ward to the outfield so that Buford could play his "natural" third base, a position he had really not played until his last year in the minor leagues. Buford responded by leading league third basemen with 26 errors, mostly on throws. He also fell off at the plate, hitting just .244 while still scoring 85 runs. Stanky also wanted Buford to run more, and offered him a sports coat if he stole 30 bases. In the event, Buford stole 51, second in the league, earning himself slacks, a shirt and tie along with the jacket.
The next season Buford continued to struggle getting hits, dropping to .241, but walked enough to be a valuable offensive player. The White Sox were part of a historic four-team race for the pennant, and Buford epitomized the club—a versatile singles hitter with good speed (34 steals). Stanky moved him back to second base during the pennant race, and he handled himself well enough at second, third, and left field. Nonetheless, after the season he was traded to the Orioles, going with pitchers Roger Nelson and Bruce Howard for outfielder Russ Snyder, first baseman John Matias, and shortstop Luis Aparicio. The Orioles mainly wanted the pitchers, while the White Sox coveted Aparicio (whom they had traded away five years earlier) and Snyder.
Buford was going to a team one year removed from a championship, and a team that already had an All-Star third baseman (Brooks Robinson), an established second baseman (Dave Johnson), and three outfielders (Curt Blefary, Paul Blair, and Frank Robinson) whom manager Hank Bauer liked. Buford had no place to play. Earl Weaver, who joined the club that year as the first-base coach, loved Buford's game, and remembered managing against him when he was a star outfielder in the minors. He urged Buford to remind Bauer that he could play the outfield, but Buford spent the early part of the 1968 season as a part-time second baseman, when Johnson sat down or moved to shortstop in place of Mark Belanger. At the All-Star break he had started 22 games and played in 26 others, mainly at second, and was hitting .234 with his usual patience. During the break, Bauer was fired and replaced by Weaver.
In Weaver's first game, he played Buford in center field and batted him leadoff. Buford walked and scored in the first, then homered in the fifth, the only runs in Dave McNally's 2-0 shutout over the Minnesota Twins. Buford never left the lineup again that season. Weaver essentially platooned Blair and Blefary, with Buford playing left field when Blair started and center field when Blefary did. Buford hit leadoff the rest of the way, and responded by hitting .298 with 11 home runs and 45 walks in the final 82 games of the season. "Don Buford is the spark plug," said teammate Frank Robinson after the season, "the guy who always gets on base, who doesn't scream or yell, but when you see him out there on a sack, you just have just got to bring him home."2 Buford scored 45 runs in the second half of the season.
Weaver's 1968 team had a lot of talent, and he helped guide them to a second-place finish behind the Tigers. His key change to the club was his insertion of Buford into the regular lineup, a move that helped spark the team to its three straight pennants. Leadoff men of the 1960s were often little guys who choked up on the bat and hit singles. Weaver loved Buford because he got on base, a skill not universally valued at the time but coveted by the rookie manager.
The move to Baltimore was easier on the field than it was off. The Buford family, which included his wife, Alescia, and two sons (soon to be three) had difficulty finding housing in Baltimore, suitable apartments suddenly not available when the renters realized that the interested family was black. Once their plight became publicly known, offers were made, and they rented a place just north of Memorial Stadium in a predominantly black neighborhood. Still, Buford openly wondered how it would be were he not a famous baseball player.
Meanwhile, Baltimore's outfield picture was complicated in 1969 by the arrival of Merv Rettenmund, who had hit .331 with 22 home runs at Rochester in 1968, and was ready to break in. Although Buford assumed the regular left-field job on Opening Day, many observers felt that Rettenmund would take over soon enough. Instead, Buford played 144 games, hit .291 with 11 home runs, 31 doubles, 96 walks, and 99 runs scored. He led off all year, and helped spark the great offense and the team to a magnificent 109-53 record. After hitting .286 in the team's playoff sweep of the Twins, he led off the bottom half of the first inning of the World Series with a home run off Tom Seaver, leading the Orioles to a 4-1 victory over the New York Mets. But he hit only 2-for-20 in the Series, which the Orioles lost in five games.
Rettenmund broke through to hit .318 in 1970, playing part time at all three outfield positions, though mainly in center field. Buford played 144 games again, and the club dominated the division with 108 wins. Though his average dropped to .272, he compensated with 109 walks and 17 home runs, helping epitomize the perfect Weaver leadoff hitter. On April 9 he hit home runs from both sides of the plate, the first Oriole to accomplish the feat. On August 28, after Milwaukee pitcher Dave Baldwin intentionally walked pinch-hitter Boog Powell, Buford hit a grand slam to lead the Orioles to an 8-4 victory. He hit .318 in the postseason, with a home run in both the LCS and the World Series, helping the great club to a dominating World Series title over the Cincinnati Reds.
Buford's final big year came as a 34-year-old in 1971. Weaver brilliantly employed his four outfielders, giving them all between 545 (Robinson) and 589 (Rettenmund) plate appearances. Despite the slightly lessened workload, Buford responded with a .290 average, 89 walks, a career-high 19 home runs, a career-high .413 on-base percentage (fourth in the league), and a league-leading 99 runs. He played in his only All-Star Game, striking out against Don Wilson of Houston in the AL's 6-4 win. He hit .300 in the postseason, including two home runs in the World Series, but the Orioles fell to the Pirates in seven games. For his career, Buford hit five home runs in 22 postseason games.
In December 1971 the Orioles traded Frank Robinson to the Dodgers to ease the logjam in the outfield, though the holdovers had to contend with another great prospect, Don Baylor. The incumbents all later claimed they tried too hard to adjust to Robinson's departure and the entire offense collapsed. The Orioles team had led the league in runs for the past two seasons but fell to eighth of 12 teams in 1972. Buford was now 35, and hit just .206 for the season, and scored just 46 runs.
After the season the Orioles offered Buford a big salary cut and the sides could not come to terms. Instead Buford signed to play with the Taiheiyo Club Lions in Japan, doubling his salary and allowing his wife and three sons to enjoy a new culture. He played three years for the Lions, making two All-Star teams, and then played 1976 with the Nankai Hawks. He finally retired after the 1976 season, after 17 years in professional baseball.
With his baseball career over, Buford went to work as a personnel manager for Sears, with whom he had worked over several off-seasons. He kept this job until 1981, when old friend Frank Robinson, manager of the San Francisco Giants, hired him to coach. Buford worked as the first-base coach for four years, and later served under Robinson with the Orioles and Washington Nationals. He also served as a minor-league manager several times and worked with the Orioles in player development for a few years in the 1990s.
In 1960 Don married Alescia Jackson, who eventually graduated from UCLA law school and owned her own public-relations firm in Sherman Oaks, California. The couple raised three sons. Donald, Jr. played baseball at Stanford and USC, and graduated cum laude in economics from USC. He then played four years in the Orioles minor-league system before graduating from UCLA medical school. He began a practice as an orthopedic surgeon in Dallas in the mid-1990s. Daryl graduated from Cal-Berkeley and USC Law School, and became a lawyer and sports agent in Beverly Hills. Damon followed his father to USC, and then had a nine-year career in the major leagues with the Orioles, Mets, Rangers, Red Sox, and Cubs.
Don and Alescia Buford, rightly proud of the accomplishments of their sons, pointed especially to their educational achievements that they both had stressed. "I just really have tried to encourage all three of them, and be in their corners," Don told the Baltimore Sun. "I always told them that whatever they do, they have to dedicate themselves."3 Asked by another writer about Damon following in his footsteps as a major league player, Don said, "Damon wasn't raised to be a baseball player. He decided he wanted to pursue it from the time he was in college. They were kids, not really stressing being professionals but enjoying themselves and having fun."4
Buford was elected to the Baltimore Orioles Hall of Fame in 1993, and was hailed as the club's greatest-ever leadoff man. Despite their early difficulties finding a place to live in 1968, the Bufords grew to love the city, and the city them. "That was the time of our lives," Mrs. Buford told the Sun, "That was home."
Notes
Born
February 2, 1937 at Linden, TX (USA)
If you can help us improve this player's biography, contact us.
https://sabr.org/sites/default/files/Buford71.jpg
600
800
admin
/wp-content/uploads/2020/02/sabr_logo.png
admin
2012-01-04 20:38:36
2021-09-22 18:57:13
Don Buford