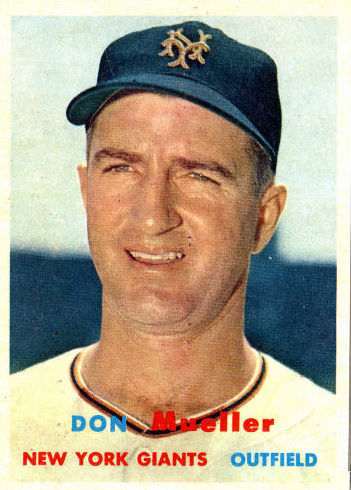 ---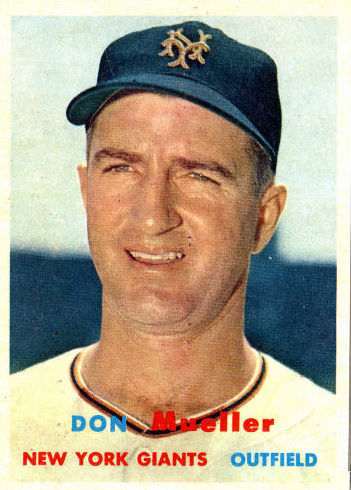 Outfielder Don Mueller was a hard man to strike out – in five of the eight years in which he played in at least 120 games for the New York Giants in the 1950s, he led the league in fewest strikeouts per at-bats. He was a two-time All-Star who participated in some of the most memorable games of the era.
Born in the St. Louis suburb of Creve Coeur, Missouri, in 1927, young Donald Frederick Mueller learned hitting from his father, Walter J. Mueller, a backup outfielder for the 1922-1926 Pittsburgh Pirates. "He taught me an awful lot," Don recalled. "He showed me how to grip the bat, to use pressure on one hand or the other to hit where you want to hit. He also had me focus on the ball by pitching corn kernels that I would hit with a broomstick. Concentrating on such a small object improved my depth perception."1
Don had a brother, LeRoy, a bit more than three years older. His mother, Caroline Lena Heinrichs, and father were both Missouri natives, Caroline's German-born mother the only one of the four grandparents who wasn't a Missourian. Walter Mueller worked as a hauling contractor after his career in baseball.
Mueller played two years of American Legion baseball, hitting .600 one summer, then won a spot on his Christian Brothers High School team, batting left-handed and throwing right-handed.2 Developing into the caliber of a professional ballplayer, Don received offers from several teams, including the Chicago Cubs, "except," he said, "my dad didn't like the contract they offered me." Walter's choice was the New York Giants, whose scout Gordon Maguire took Mueller to Sportsman's Park in 1944, when the Cardinals were playing the Giants. Manager Melvin Ott, who had been Don's favorite professional player, approved signing the 17-year-old, still in high school, for the Giants' top farm team, Jersey City, managed by the great Chicago Cubs catcher Gabby Hartnett. Mueller played three games that season, driving in three runs with one hit in seven at-bats.3
The following year, as a high-school senior, he was invited to the Giants' spring-training camp. Approaching draft age, he signed up for the Merchant Marine and served two years, playing baseball for Jersey City during shore leaves. After leaving the Merchant Marine in mid-1946, Mueller batted .359 for Jersey City during the final weeks of the season and in 1947 – the year he turned 20 – he was asked to get more seasoning at Single-A Jacksonville. He hit .348.
Mueller was back with Jersey City in 1948. Hitting .328 with ten homes runs, he was called up by the Giants and made his major-league debut on August 2, playing 36 games and posting a .358 average with nine RBIs. The Giants had replaced Ott as manager that year with the fiercely competitive Leo Durocher. Under Ott, the offense had been known as the National League's "lumberjacks," for the big but slow power hitters. "The team did not have a good won-loss record," Mueller said. "Leo got rid of the home-run hitters. He wanted base hits, with good pitching. I got the job because I was his kind of ballplayer: hit, advance the runner."
In May 1949 the 22-year-old Mueller married his high-school sweetheart, Genevieve Babor, and they took up residence in Creve Coeur and then the Maryland Heights suburb of St. Louis where they lived the rest of their lives. After a successful stint in Minneapolis, Mueller batted a meager .232 in 51 Giants games, all but a handful of them as a pinch-hitter. Then in 1950, he became the team's regular right fielder, after the Giants traded home-run hitter Willard Marshall. Durocher, who on his selection as manager had announced, "I come to win," confidently predicted a pennant that year. Mueller moved around in the order more than most of the Giants, batting third more than any other position, but often hitting second, fourth, sixth, and seventh.
Early in the season, the team played mediocre ball, with poor hitting and worse pitching. But in early August as a pinch-hitter, Mueller began improving, with soft singles and line drives. Again in the lineup, he hit well over .300 during the final two months and ended the season at .291. Sportswriters dubbed him Mandrake the Magician for his ability to stroke the ball through holes in the defense.4
The Giants finished third in 1950, five games behind the pennant-winning Philadelphia Phillies. Durocher told reporters in the spring of 1951 that the Giants would "take it all." But after a 2-1 start, his team lost the next 11 games. After one particularly bad outing, Durocher berated each of the players, surprising even veterans with his foul-language tirade.5 "It was a turning point," recalled one teammate. "From the next day on we played fantastic baseball," a winning stretch that continued through the season, aided by the team's 20-year-old rookie sensation, Willie Mays.
Mueller, who had been among the slumping hitters at the start of the year, hit very well in June and July. Of his 65 career home runs, five came in two consecutive games on September 1 and 2 against the Brooklyn Dodgers at the Polo Grounds, tying a record held by Adrian Anson, Ty Cobb, Tony Lazzeri, and Ralph Kiner.6
Trailing the Dodgers by 13 games on August 11, the Giants won 39 of their final 47 games to end the season in a first-place tie with Brooklyn, forcing a three-game playoff for the pennant. With the series tied, 1-1, and the Dodgers leading 4-1 in the bottom of the ninth inning of the final playoff game, the Giants' Alvin Dark singled. Mueller, taking the first pitch for a ball, noticed that first baseman Gil Hodges was holding Dark close to the bag. The Magician hit the next pitch between Hodges and Jackie Robinson at second, out of Hodges' reach, allowing Dark to reach third. Whitey Lockman lined a double into left field, scoring Dark. Mueller, scrambling for third, slid past the bag and tore the tendons on both sides of his ankle. Writhing in pain, he was carried into the clubhouse.
His pinch-runner, Mueller's roommate Clint Hartung, was about to become a footnote in history. Bobby Thomson, a journeyman outfielder in the biggest at-bat of his career, stepped to the plate. Giants players and fans hoped for a single that would tie the game, but Thomson hit an astounding walk-off three-run homer into the left-field stands.7 "I played the whole game and got a big hit in the ninth inning," Mueller recalled. "When Bobby Thomson hit his home run – The Shot Heard 'Round the World – I was the only one in the clubhouse."
He heard the crowd erupt while lying on a clubhouse table. "I couldn't be certain that it wasn't something good for the Dodgers because there were plenty of Brooklyn fans in that park," he told author Ray Robinson. "I knew pretty quickly what had happened once the players got back to the clubhouse and started to pour champagne over my injured ankle."8
Mueller's injury kept him from the World Series, in which Casey Stengel's Yankees won their third straight championship, four games to two. Some analysts believed that had Mueller been in the lineup, the Giants might have won the Series. Indeed, his right-field replacement, Hank Thompson, hit only .143 in the Series and committed two damaging errors.9
With a 17-5 start in 1952, fans anticipated another good season. But the team soon felt the loss of their power hitters. Mays left in May for military service (it was the time of the Korean War), while Irvin was out with a broken ankle. The other hitters, including Mueller, may have felt some pressure to attempt home runs. Mueller hit 12, second-most in his career. The team as a whole hit 28 fewer. Mueller also had to prove his ability in right field, vying with Thompson, Hartung, and others, but played more games than any of them and ended the season with a .281 batting average.
Early in the 1953 season, after being benched again for lack of home-run power, Mueller stopped trying to be a power hitter. "My chance of hitting a single is very good," he said. "My chance of clouting a homer is very poor. It is certainly better for the team this way. If I am on base, I save a chance for Mays, Irvin, Thompson, or somebody to knock me in."10 As proof of his theory, Mueller finished fifth in the National League with a .333 batting average. And with only 13 strikeouts, he was the most difficult batter to fan that year.
On May 2 Mueller "stood in right field and watched five balls go over my head" at Busch Stadium when Stan Musial hit five homers in a Giants-Cardinals doubleheader, all into the right-field seats. Although Mueller had hit five home runs in two consecutive games in 1951, Musial became the first major leaguer with five in one day. Mueller contributed to the Giants' win in the second game, going 5-for-5, including a double and a triple, driving in two runs, and scoring three. "My 5-for-5 got exactly two lines in the paper the next day," he said, referring to the extensive coverage of Musial's feat.
National League All-Star team manager Walter Alston, the Dodgers' skipper, selected Mueller for the 1954 team. Pinch-hitting for pitcher Robin Roberts in a five-run fourth inning, Mueller came through with a clutch double that gave the NL the lead, though the American Leaguers ultimately won the game, 11-9.
Nearly all season Mueller made at least one hit per game, and in the first game on July 1, against four Pirates pitchers, he hit for the cycle: a double to left field, a triple to right center, a single to center, and in his final at-bat, a home run into the right-field seats off lefthander Paul LaPalme, his first homer of the season. As a left-handed batter, Mueller said, "Normally, I didn't try to pull left-handers. I took them the other way. But I was a situation hitter and this was a situation. So I pulled him over the right-field wall for the home run."11 That homer was one of Mueller's four that year, all hit at home. He was the first Giant to hit for the cycle since Harry Danning in 1940 and the only major leaguer to accomplish the feat in 1954.
Willie Mays, who had returned from two years of military service, hit 41 home runs to lead the Giants to the 1954 National League pennant. On the final day of the regular season he and Mueller were tied for the batting title. Mueller singled twice in six at-bats, but Mays had three hits in four at-bats to win the crown at .345, to Mueller's .342. Though runner-up in the batting race, Mueller accumulated 212 base hits, the most in the league that year, and 17 more than Mays had. He placed ninth in the MVP voting.
Entering the 1954 fall classic, the heavily favored Cleveland Indians, with four future Hall of Fame pitchers and a league-record 111 wins, had ended the New York Yankees' five consecutive years as world champions. But Durocher managed a four-game sweep by the Giants. Mueller played right field in all four games and batted a composite .389, with seven singles in 18 at-bats. Although Dusty Rhodes was the acknowledged hero of the Series with two homers and seven RBIs in only six at-bats, some believed that Mueller's hit-and-run single in the third inning of Game Three was the key play of the Series.12 He lived up to his Mandrake the Magician nickname, pushing a groundball through the left side of the infield as George Strickland, the Cleveland shortstop, raced over to cover the bag. The Giants went on to score three runs in the inning on the way to a 6-2 victory and an insurmountable three games to zero lead.
Named to the 1955 National League All-Star team, Mueller started in right field and garnered one hit in two at-bats as the Nationals won 6-5. He ended the season with 185 hits and a .306 average.13
The following years saw steady declines in Mueller's ability. His batting average dropped to .269 in 1956 and .258 in 1957. Mueller looked forward to the Giants' move to San Francisco in 1958, but in March the team sold him to the Chicago White Sox for an estimated $25,000.14 The White Sox had a strong 82-72 second-place season under manager Al Lopez but Mueller, well past his peak years, saw limited playing time: 42 hits in 166 at-bats, for a .253 average. The following May, appearing in only four games and under treatment for gout and arthritis, the 32-year-old retired from baseball.15 He enjoyed the memorable 1959 World Series from his St. Louis home.
Mueller is probably best remembered for putting the ball in play (that is, not striking out or walking) in 93 percent of his career plate appearances. "Many 21st–century players have more K's in one season than Mueller's career total of 146," wrote baseball analyst Al Doyle, "but his 164 walks would scare off modern number crunchers."16 Mueller's career batting average of .296 remains a proud accomplishment. In five different seasons, he was the most difficult batter to strike out in the National League.
An avid outdoorsman, during offseasons, Mueller, his brother, and fellow players often spent time together fishing and hunting. After his playing days, Mueller raised cattle on the family farm and for a few years scouted for the Giants in Missouri and Illinois. Then he began a lengthy career as an insurance company investigator.
In 1992 the New York Baseball Writers awarded him the Casey Stengel Award, and in 2001 he was elected to the Brooklyn Dodgers Hall of Fame. Why the Dodgers? "Well, the Giants didn't have a Hall of Fame, and I guess the Dodgers were acknowledging that I was a pain in their butts."
Mueller and his wife settled in suburban St. Louis, where they could enjoy activities with the families of their three sons, Mark, Jurt, and Doug. When they were youngsters, Mueller taught each of them to hit corn kernels, with a Wiffle Ball bat instead of a broomstick. Mark Mueller was born on September 2, 1951 – the day his father hit the fourth and fifth home runs of his five-in-two-days record.17 Mark was a 34th-round draft pick of the Cardinals in 1971 and played infield during three seasons in the low minors, batting .253, largely in Single A ball.
Genevieve Mueller died on July 9, 2011, and Don died later that year, on December 28, at a nursing home in Chesterfield, Missouri.
An updated version of this biography appeared in "The Team That Time Won't Forget: The 1951 New York Giants" (SABR, 2015), edited by Bill Nowlin and C. Paul Rogers III. It also appeared in "Go-Go to Glory: The 1959 Chicago White Sox" (ACTA Publications, 2009), edited by Don Zminda. This article is adapted from "The Magician" by Petterchak, which appeared in the 2007 issue of SABR's "The National Pastime."
Notes
Born
April 14, 1927 at St. Louis, MO (USA)
Died
December 28, 2011 at Chesterfield, MO (USA)
If you can help us improve this player's biography, contact us.
http://bioproj.sabr.org/bp_ftp/images5/MuellerDon.jpg
600
800
admin
/wp-content/uploads/2020/02/sabr_logo.png
admin
2012-01-04 20:42:46
2021-09-24 17:15:52
Don Mueller