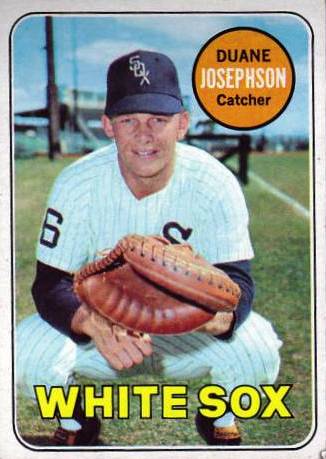 ---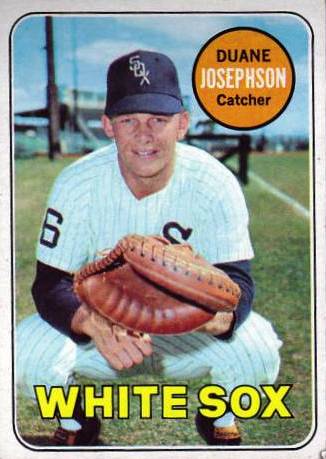 A major-league catcher for parts of eight seasons, a couple of weeks before receiving the Boston Baseball Writers' Good Guy Award in January 1973, Duane Josephson was described as "the hustling but hard-luck catcher of the Red Sox." He was being honored, the newspaper article said, "because he's a nice guy." They didn't know it at the time, but Josephson had already played his last major-league game. He suffered from pericarditis, an inflammation of the membranes that surround the heart, and it had not only truncated his 1972 season but forced him to retire from the game. Josephson enjoyed a good 24 more years back in his hometown of New Hampton, Iowa, but he died much too young, at 54, on January 30, 1997.
A right-hander, Josie (as he was usually known) had a major-league playing height of an even 6 feet and weighed 195 pounds. His was a New Hampton life – his parents, Carl and Lucille, were from New Hampton as well. The city was about 3,000 people at the time of his birth on June 3, 1942, the county seat of Chickasaw County in the northeastern part of the state.
The family, Josephson's sister Doris said, goes "way, way back" in New Hampton. Carl was an automobile mechanic and Lucille was a waitress, but they saved and were able to buy a restaurant in town, the West Side Inn. Lucille Josephson was now able to work for herself. The family's restaurant was "more like a sandwich-type place," Doris said. "…Mom did serve dinners, but we had a very large school clientele. We were probably 2½ blocks from the high school." Carl had a third job, too. He hauled mail from the trains.
The high school was where Duane Josephson first showed his stuff athletically, lettering 10 times in baseball, basketball, and track. In this, he followed his father to some extent. Carl Josephson was very sports-minded, and was active pitching for the town team. "I'm sure he could have played any position on the field that he wanted to," recalls daughter Doris, "but most of my memories are of him pitching for the town team in New Hampton."
It was at New Hampton Community High School that Josie first caught the eye of Rich Blumeyer, an associate scout (bird dog) for the Chicago White Sox. Blumeyer worked as an umpire and saw Josephson's promise as a big-league prospect. That potential also earned Josephson a full scholarship to the State College of Iowa in Cedar Falls (now the University of Northern Iowa) to play baseball, basketball, and football. On the basketball court, he averaged over 20 points per game. On the diamond, he became the first Panther to be named a Baseball All-American. The Waterloo-Cedar Falls Courier says that he not only led his team in home runs during his senior year, but led college players across the nation, hitting 10 in 24 games. [Waterloo-Cedar Falls Courier, February 9, 1997, and The Sporting News, September 10, 1966]
Josie played under college coach Lawrence Whitford, who also coached Eddie Watt, a right-handed pitcher who played eight seasons with the Baltimore Orioles and one apiece with the Philadelphia Phillies and the Chicago Cubs. Though they eyed each other across the field for a couple of years, the first time the two faced each other was in the top of the 12th inning in the July 4, 1968, game at Baltimore's Memorial Stadium. Watt whiffed his former batterymate. Watt being primarily a reliever and Josephson only once playing in more than 100 games, they faced each other only five times. The pitcher prevailed all five times.
Not only did Josie star at sports for his college, he also was named Most Popular Guy in the school yearbook. Josephson's wife, Nancy, also hailed from New Hampton. The couple had six children.
Before the 1964 season, lacking just one semester for his degree in physical education, the 21-year-old Josephson was signed by the White Sox as an amateur free agent by scout Bill Kimball. He was assigned to the Clinton C-Sox (Class A, Midwest League), where he hit .267 in 319 plate appearances, driving in 39 runs in an even 80 games, and committing only seven errors in 569 chances. A couple of years later, Josephson looked back at playing for Clinton. "It was the low minors, and while I enjoyed the catching part of it, I hated to go to the plate. You can't imagine how wild the pitchers can be in a league like that. Most of the time they have no idea where the ball is going. I guess I never went up to the plate without the idea that I was going to protect myself first and then hit if I could. Maybe it sounds funny, but the higher I went in the minors the better I hit. And I'm sure it was simply because of a shift in my concentration. I was hitting, not protecting." [Christian Science Monitor, August 19, 1968]
In 1965, Josie moved up to Double A, playing for the Lynchburg White Sox in the Southern League. He hit .300 in 122 games, driving in 65 runs and playing equally well on defense, and was selected all-star catcher. His improved performance at the higher level earned him a September call-up to the majors and he debuted on September 15, 1965, batting eighth in a game against the Angels at Dodger Stadium, catching for John Buzhardt. He grounded out his first time up, but then walked and scored in the fifth and singled and scored in the sixth. The White Sox won the game, 8-1. The single was his only hit of the season in nine at-bats. That winter, Josephson played winter ball in Venezuela.
The following year, 1966, was spent at Triple A playing for the Indianapolis Indians. Though Indiana is a long way from the Pacific, the club was part of the Pacific Coast League. Josephson was chosen an all-star once again, hitting .324 with 77 RBIs, and was named Most Valuable Player in the Coast League, both for his hitting and his fielding. "…His catching was almost impeccable," enthused Seattle sportswriter Hy Zimmerman. "PCL managers voted his arm the best gun in the league." [The Sporting News, October 1, 1966] There was one remarkable incident that had occurred in Tulsa during the first game of an April 27 doubleheader. His fifth-inning double "struck the clock on the outfield fence, setting it on fire. The Tulsa fire department was summoned and quickly extinguished the blaze." [The Sporting News, May 14, 1966]
"I'm a line-drive hitter who likes to go with the pitch," he told Les Koelling in Indianapolis. "If they pitch me away, I'll go to the right." Indianapolis manager and former major-league catcher Les Moss was full of praise: "He may be the best catching prospect in baseball today. He has a chance to be one of the great ones." [The Sporting News, September 10, 1966] "He's one of the best baserunners on our club," added coach Ted Beard. Unlike some catchers, he was fairly nimble and fleet afoot.
After Josephson's MVP season, he joined the White Sox again in Chicago and picked up his first three major-league RBIs, hitting .237 in 38 at-bats. He was White Sox manager Eddie Stanky's choice as first-string catcher heading into 1967. Some felt that Stanky was rushing the youngster. Team vice president Al Lopez, who at the time had caught more major-league games than any other man, agreed with Stanky. The season almost ended prematurely, however, in a March 18 exhibition game when Frank Howard swung hard at a pitch and the backlash of his swing sent Josie to the hospital, bleeding profusely. "I thought he was dead," admitted Howard, happy to learn that it had taken only eight stitches to close the head wound.
Josephson spent almost all of 1967 with the White Sox, but instead of being the regular catcher, he appeared in just 62 games, behind first-string catcher J.C. Martin, and hit.238. He lost almost a month after being bowled over by Bob Allison in a collision at home plate in Minnesota. He held the ball for the out that ended the game, but he jammed his left thumb so badly he didn't play again until June 27. Three days later, on June 30, a foul ball broke the index finder on his right hand. Another month lost, he reappeared on July 29. After the season ended, Josie spent a couple of weeks in the Florida Instructional League just to get in a little more work. He did hit the first of his 23 major-league home runs that season, a bases-empty shot off the Tigers' Johnny Podres on July 30 that turned out to be the White Sox' only run in a 7-1 defeat. Hitting in the major leagues "was like starting all over again," he told the Christian Science Monitor's Phil Elderkin. "Big-league pitchers seem to have a way of finding your weakness the first time they face you. … If they discover you have trouble with the curveball – well, that's all you're going to see for the next six months. Sometimes you see it so often you learn to hit it as well as you do the fastball. But if you don't, you might as well get into another business." [Christian Science Monitor, August 19, 1968]
In 1968, Josephson appeared in 128 games, the most of any year before or after. He hit .247 with six homers and drove in 45 runs. That summer, Duane was one of two backup catchers in the All-Star Game. He played defensively only, inserted for Joe Azcue in the bottom of the eighth inning. In exactly 1,000 innings behind the plate, he committed only seven errors for a .990 fielding average. (He finished his career with a .989 fielding average.) The White Sox pitching staff in both 1967 and 1968 had two knuckleballers – Hoyt Wilhelm and Wilbur Wood (who also pitched for Chicago in 1969). Josephson learned to catch the knuckler. "If you just wait for the knuckler and don't go grabbing for the ball, it isn't that tough. I actually turn my glove over and hold it as though it was a basket whenever I'm catching Wilhelm or Wood. The idea is not to fight the pitch." [Christian Science Monitor, August 19, 1968]
He suffered a blood clot in his right shoulder on June 22, 1969, and missed all of July and August, not returning to action until September 8. Ed Herrman and Don Pavletich handled most of the backstop duties that season. Josephson hit .241, appearing in only 52 games.
Both the left-handed-hitting Herrmann and Josephson appeared in 96 games in 1970, Herrmann getting a handful more at-bats. The two roomed on the road, and Herrmann named his newborn son Duane. Despite suffering another broken finger on May 7, Josephson was back three weeks later and had by far his best season at the plate, hitting .316 and leading the White Sox, but without as much power as Herrmann. He'd been "ready to play baseball since Christmas," he declared during spring training, working out all winter on a special weights program. [The Sporting News, March 14, 1970] It paid off, but at the same time, it may have raised his profile enough to make him trade bait for the last-place White Sox, who were anxious to improve their club. The one position where they had the most depth was behind the plate, with another right-handed-hitting catcher in Charley Brinkman, who impressed new manager Chuck Tanner. Josephson was available.
The White Sox pulled the trigger on March 31, sending Josie to the Boston Red Sox with outfielder-turned-pitcher Danny Murphy in order to acquire pitcher Vicente Romo and first baseman Tony Muser. The Red Sox' Carl Yastrzemski had been talking up Josephson for a while. Boston manager Eddie Kasko penciled him in as Boston's starting catcher, relegating Bob Montgomery to backup work. Red Sox pitchers seemed to perk up early on, thanks to Josephson's defense and his aggressiveness. On the basepaths, he could be counted on to come in hard to break up plays on the bases. He was solid blocking the plate as well, including a block of home plate in the top of the eighth against the Yankees on Opening Day, that may have saved the game. Boston sportswriter Larry Claflin thought his football background might have added to his toughness. In fact, the day after the trade, Claflin's column bore a surprising headline: "Josephson Could Mean the Pennant." Red Sox farm director Neil Mahoney told Claflin he'd made a mistake in not trying to sign Josephson years earlier and letting Chicago sign him. Of Josephson, Claflin wrote, "Only Carlton Fisk is capable of replacing him, and only if Fisk hits a lot better than he has for the past two seasons." It wasn't so much that Josephson himself was that powerful. He was no Johnny Bench, admitted Claflin and "he will perform no miracles" but he was a very good catcher and he filled a void where the Red Sox were weakest. [Claflin column of April 1, 1971]
Josie enjoyed some moments in the batter's box, too, the best day of his career coming on May 21 in Baltimore when he hit two home runs and drove in four runs, after barely missing getting beaned by Pat Dobson. After the second home run, Josephson kept peppering Dobson as he rounded the bases. "You couldn't print what I called him," Josie said. [The Sporting News, June 12, 1971] Kasko commented on his early-season play: "He provided a forest fire, not just a spark. This was a fine trade. Where can you get a good catcher like Josephson?" [The Sporting News, April 17, 1971]
As always, Josephson was fine behind the plate. All of a sudden, he blossomed with some power, hitting 10 home runs but driving in only 39 as he saw his average dip back down to .245. He lost three weeks after a home-plate collision with Davey Johnson of the Orioles. He played progressively less as the season deepened, with Montgomery playing more in July and August and Fisk taking the lead after his September call-up. There was some talk of playing Josie at first base, once George Scott was traded to the Milwaukee Brewers in October. His decline in average Josephson attributed to the lure of the left-field wall at Fenway Park. He acknowledged that the Red Sox had warned him it wasn't as easy to hit as it might look. "But I was stubborn," he told the Monitor's Phil Elderkin. "I figured those rules didn't apply to me." [Christian Science Monitor, May 31, 1972]
"Times have changed," wrote Larry Claflin in February 1972. "Josephson is practically a forgotten man. He might be a catcher and he might be a first baseman. Or he might be neither." Carlton Fisk had come on strong. The job was his, and he came through, becoming an All-Star and Rookie of the Year. Josephson had a real scare in the offseason back home in Cedar Falls. He was hospitalized for a two-week bout with pericarditis, losing 18 pounds. "That scared the wits out of me," he said.
He hit well in 1972 spring training and was at one point thought to have regained the battle for the lead role as catcher, but Fisk prevailed. It didn't help that Josie pulled his groin in the third game of the season and missed a couple of weeks. Josephson actually played more first base (16 games to the six he caught) in 1972, taking playing time away from Danny Cater. He admitted, "I'm never going to be more than adequate in the field and I know it. But if that's the only place they'll play me – well, it beats sitting on the bench." [Christian Science Monitor, May 31, 1972]
Josephson's season was cut short when he was hospitalized again for a recurrence of the pericarditis. His last game was on July 2. In March 1973, an electrocardiogram administered during spring training troubled the Red Sox trainer, Buddy LeRoux, and he sent Josie back to Boston for testing. It proved to be his third bout with heart disease. As he was released from a Boston hospital, Josephson announced his retirement from baseball. He was 30 years old. Red Sox general manager Dick O'Connell said he would be signed to a scouting contract. [New York Times, March 28, 1973]
Josephson had a wife and six children to look after and he returned to Iowa. There he kept busy, running a sporting goods store he owned named Josie's and then working in real estate. In his spare time, he helped coach basketball at New Hampton's high school.
Josephson survived a near-fatal heart attack in 1995, and then succumbed to a second one on that early date in 1997.
Sources
In addition to the sources cited in the text, the author consulted the online SABR Encyclopedia, retrosheet.org, and baseball-reference.com.
Interview with Doris Greenland on October 17, 2009 and with Roger Greenland on December 4, 2009.
Thanks to Mike Cooney.
Born
June 3, 1942 at New Hampton, IA (USA)
Died
January 30, 1997 at New Hampton, IA (USA)
If you can help us improve this player's biography, contact us.
http://bioproj.sabr.org/bp_ftp/images3/JosephsonDuane.jpg
600
800
admin
/wp-content/uploads/2020/02/sabr_logo.png
admin
2012-01-04 20:32:12
2012-01-04 20:32:12
Duane Josephson