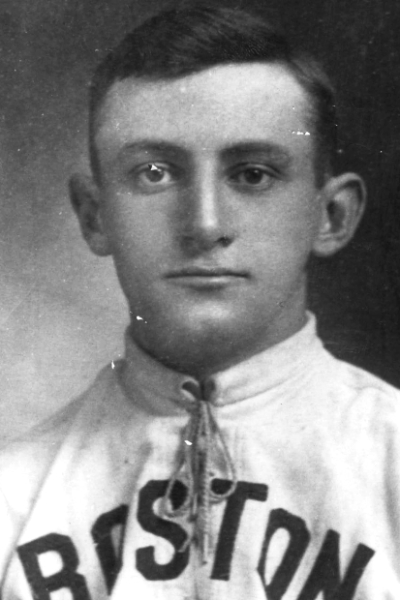 ---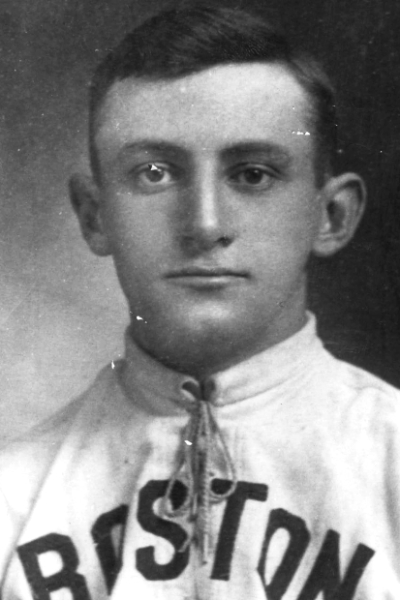 Meat seems to have been the family business, and working with meat was apparently more in Dutch Lerchen's skill set than baseball. Still, he tried his hand at playing ball, making the major leagues at least briefly as a shortstop for the Boston Red Sox. The year was 1910. He was born Bertram Roe Lerchen, in Detroit on April 4, 1889, the youngest of five boys born to Edward Lerchen, a meat cutter who'd been born in Michigan to a father from Germany and a mother from New York. The 1900 census shows Edward without a spouse, but with his mother-in-law Louisa Roe living in the household with her children Emma and John Roe. Edward may have married his sister-in-law Emma, because she is shown as his wife at the time of the 1920 census, at which time she was 49 years old while Edward's youngest son was 31. Bert Lerchen's death certificate indicates his mother's name as Malena.
The first Lerchen who turns up in organized ball was Frank Lerchen, Bert's older brother by a year, who played first base for the Dubuque Dubs in the Three-I (Illinois-Indiana-Iowa) League in 1909. He hit .238 with one home run in 137 games. The following year, 1910, Frank played for Dubuque again, one less game (136), while batting .213. That seems to be the extent of his time in organized ball.
As best we can tell, Bertram, known as Dutch, began his own baseball career in the major leagues. After completing eight years at Barstow Elementary School in Detroit, he attended Central High School where he starred in both basketball and baseball. He put in a year at the Detroit College of Medicine and played shortstop for the Detroit Athletic Club, but it was basically straight from the sandlots to the big leagues. He was a shortstop and was 5-foot-8, weighing in at 160 pounds.
During the first few days of August 1910, the Boston Red Sox played in Detroit and manager Patsy Donovan had come across Lerchen there. Once it was clear that his Red Sox were struggling to stay in the race, Donovan began to make some moves and on August 9, he traded two popular players – third baseman Harry Lord and second baseman Amby McConnell– to the Chicago White Sox for Billy Purtell and Frank Smith. Hack Engle had filled in capably for Lord when he was out for a couple of weeks, and Larry Gardner was doing excellent work when he'd taken over for McConnell after a fairly serious leg injury.
Red Sox owner John I. Taylor met with the team while they were in Detroit and the Boston Globe noted, he "never overlooks a chance to pick up a clever youngster. While here this week he had been tipped off by a Detroit baseball writer to two clever youngsters playing with independent clubs and today made a deal for a young man who has been knocking the cover off the ball this season and can play both the infield and outfield. Bert Lerchen is the name of the young man and he was out in uniform today that manager Donovan might get a line on him and will show up again on Thursday and may be taken along with the team."[1]
He was.
Donovan apparently thought he could get good value for Lord and McConnell in a trade. Sporting Life noted at the time: "Manager Pat Donovan is banking some on that lad, Lerchen, whom he picked up in Detroit. He handles himself finely in practice and looks like a comer."[2]
His first appearance came after umpire Bull Perrine finally ended a 20-minute argument with shortstop Heinie Wagner by banishing him to the Boston clubhouse in the second game of the August 14 doubleheader in St. Louis. Lerchen took Wagner's place and was 0-for-2. On September 2, in New York, Wagner again got himself kicked out of a game and Lerchen took over at shortstop, leading off the top of the ninth in a 6-4 game, Boston needing two runs to tie. He grounded back to the pitcher, but the Red Sox scored one run on pitcher Charley Hall's triple, but couldn't bring Hall home.
Lerchen got his first starting assignment in the morning game of a split admission doubleheader on September 5 in Boston. He was perfect in five chances at short in adverse wet conditions "and handled himself like a good ball player" but was 0-for-3 at the plate.[3]
The Sox squeezed in an exhibition game in Worcester the following day, which ended in a 2-2 tie after nine. Lerchen sacrificed once and helped turn a double play but was hitless.
On September 19, he was released on option to Sacramento, but somehow still appeared in the game on the 24th, adding another hitless at-bat after taking over for Wagner. Lerchen started on September 25, and was 0-for-3 as the Tigers beat the Red Sox, 4-2, in Detroit. Playing in front of some hometown fans, however, Lerchen scored one of Boston's two runs, reaching base on a fielder's choice and scoring on a hit by Larry Gardner. Charley Hall pinch-hit for him in the ninth. He played in the final game of the year, in New York, and was 0-for-5. He committed the only error he'd made in the majors, but given that he only had 14 chances, that left his fielding percentage at .929.
His lifetime batting average was .000 – he'd had 16 plate appearances, and walked once (for an on-base percentage of .063) and scored the one time, on the fielder's choice. He was officially 0-for-15, the most hitless at bats of any position player to ever play for the Red Sox.
When the players went their separate ways after the season was over, Sporting Life noted that Bert Lerchen was going to open a meat market in Detroit.[4]
In early 1911, he was one of the Red Sox team who took part in the first truly cross-country spring training trip ever taken when owner John I. Taylor arranged for his Red Sox to train in Redondo Beach, California, split into two squads, then travel up and down California and both head east on separate routes while playing 63 games coast-to-coast.[5] He didn't make the big-league team. In fact, he didn't come east. On February 22, he was cut from the big-league team and placed with the Sacramento Sacts in the Pacific Coast League. He played shortstop for them.
And, in fact, he played against the Red Sox when the two teams faced each other on March 21 – and he didn't get a hit then, either, 0-for-4, though reportedly made one or two superb fielding plays.
In July, he was formally optioned to Sacramento for $300. He played the season for the Sacts, appearing in 182 games and batting .210, with 14 doubles, four triples, and 112 singles. He was kept on Sacramento's reserve list at the end of the season, but Boston still held some sort of string on him until they officially cut all ties in January. There was every expectation, into February, that he would return for 1912 – but for reasons unknown today, he never reappeared in organized baseball, yet was still on Sacramento's roster in early 1913.
Perhaps he found reason to stay close to home. On November 16, 1912, he married Violet Savallisch.
Listed in the 1920 census as "merchant, meats," he was the proprietor of a small chain of five meat markets in the Detroit area before becoming a food inspector with the Detroit Department of Health.[6] The couple lived in the prosperous suburb of Highland Park. They had three children – Bertram, Dorothy, and Elizabeth, and were well-off enough to have a live-in maid at the time, Hilda Paget. His wife pre-deceased him, and Lerchen himself died of leukemia of January 7, 1962. He was 72.
December 1, 2011
Sources
In addition to the sources noted in this biography, the author also accessed Lerchen's player file from the National Baseball Hall of Fame, the online SABR Encyclopedia, the Encyclopedia of Minor League Baseball, Retrosheet.org, and Baseball-Reference.com. Thanks to Cliff Otto.
---
Born
April 4, 1889 at Detroit, MI (USA)
Died
January 7, 1962 at Detroit, MI (USA)
If you can help us improve this player's biography, contact us.
http://bioproj.sabr.org/bp_ftp/images5/LerchenDutch.jpg
600
800
admin
/wp-content/uploads/2020/02/sabr_logo.png
admin
2012-01-04 20:33:30
2012-01-04 20:33:30
Dutch Lerchen