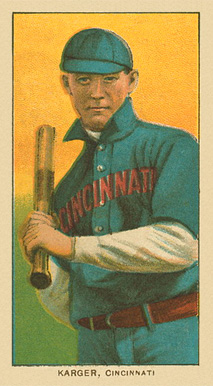 ---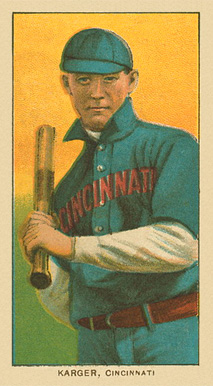 Southpaw hurler Ed Karger was a major-leaguer for six years, from 1906 to 1911, with a lifetime log of 48 wins and 67 losses. The record is heavily weighted by 44 defeats suffered in three years with the hapless St. Louis Cardinals, a team buried in seventh or eighth place during that period. Karger's earned run average in the Show, 2.79 overall, is indicative of pitching during the Deadball Era.
Ed's most active season was with the Cardinals in 1907; he worked 314 innings in 39 games, completed 29 of 32 starts, threw six shutouts, had an ERA of 2.04, and led the club in victories with 15. He lost 19 games, but teammate Stoney McGlynn was beaten 25 times, tops in the National League. Karger's most impressive performance in '07 lasted only seven innings, a game in which he retired all 21 batters. The 4-0 no-hitter over the Boston Doves, played on August 11 in St. Louis, was the second of two contests played that day, and halted after seven frames by earlier agreement. Baseball-Reference.com states, "The game was ended due to a prior mutual agreement and the rules of the time permitted the teams to decide on a seven-inning game in that circumstance. It is the only major-league abridged perfect game or no-hitter that was not abridged by weather or darkness." [1]
Edwin Karger was born in San Angelo, Texas, on May 6, 1883, to Friedrich Albert and Marie Schmidt Karger, both of Dutch extraction. Lacking a middle name, Edwin acquired a nickname, "Loose," more than likely the result of the diamond sport. The Dickson Baseball Dictionary, in defining the adjective "loose," states, "A general good attitude and easy approach toward the game." Also, the moniker may have been partly due to the left-hander's velocity and sidearm pitching delivery, described as "fast and loose."
Friedrich Karger, called "Fritz," worked as a blacksmith and cooper. The family moved 150 miles southeast to Kerr (now called Kerrville), where Ed and older brother, Arthur, became active on the baseball diamonds in the area. By 1903 their skills in the sport had grown, and the two traveled west to the Arizona Territory. Art signed with a team in the Bisbee-Douglas area, where he continued to reside after his playing days. Lynn Bevill's website states, "He became a businessman, and at one time was mayor of the city of Douglas."
Ed hooked on with Clifton, a small mining town that competed against other independent clubs in the territory, including Globe, Miami, Morenci, and Tucson. Many of the players were collegians from Texas and Colorado, employed during the baseball season in company stores and mills. Karger apparently pitched well enough to be recruited by the Tucson club for the 1905 season. That venue provided a greater opportunity to be noticed by scouts, along with a regular job patrolling the streets as a Tucson policeman.
A U.S. customs inspector, Warren "Hick" Carpenter, was in the stands the day Tucson came to play in the border town of Nogales. Carpenter knew his baseball; he played 11 years of big-league ball, mostly with the Cincinnati Red Stockings, and was a novelty: a left-hand throwing third baseman. Hick had connections in baseball, and after scouting Karger's pitching, word got around of the youngster's talent.
In 1905 Karger was signed to a professional contract by Houston of the Class C South Texas League. The side-wheeling hurler was a sensation with the Buffaloes; after racking up a 24-8 won-lost record, he was selected as the circuit's most valuable player. Available statistics reveal that Loose pitched in 46 games, with 150 strikeouts and 49 walks. Houston waltzed to the pennant by 17 games over San Antonio.
The Pittsburgh Pirates were cognizant of the 5' 11", 185-pound Texan's breakout year in the professional ranks, and acquired his services for 1906. However, Bucs owner Barney Dreyfuss and manager Fred Clarke weren't pleased when Ed reported late to spring camp. Nonetheless, the skipper chose the 22-year-old neophyte to start the second game of the season at St. Louis, after veteran Vic Willis had beaten the Cardinals, 2-1, on Opening Day.
Karger was effective in his debut, posting a 5-3 victory and holding St. Louis scoreless for eight innings. Twelve days later he faced the Cardinals again, but the tables were turned, and he lost, 8-2. After six appearances as a reliever, and a record of two wins, three losses, and a 1.95 ERA, Loose was traded to St. Louis on June 3 for hurler Chappie McFarland.
The Cardinals had no one on the roster to compare with Fred Clarke, Tommy Leach, and Honus Wagner, the big thumpers back in Pittsburgh. The St. Louis team batting average was only .235, and provided meager batting support. Karger took a regular turn on the mound and completed 17 of 20 starts, recorded a 2.72 ERA, but won only five times. His 16 losses tied teammate Buster Brown, and the club finished '06 in seventh place, 63 games behind champion Chicago, and a scant 3-1/2 games ahead of Boston, the NL cellar-dwellers.
Ed's 1907 year was mentioned earlier, along with the 25 defeats of teammate McGlynn. Ironically, the two had more in common than a large number of pitching losses; both had served as policemen. Ulysses Simpson Grant McGlynn wore a badge in York, Pennsylvania, when not hurling for the White Roses in the Tri-State League. His workload was remarkable; from 1904 through 1911 he twirled 2,832 innings, an average of 354 per season. In '06 he totaled 512 frames with three teams (York, Steubenville, and St. Louis), and in '09 threw 446 for Milwaukee. McGlynn wore down after 1911, and hurled in only 35 games from 1912 until 1915, when he hung up his gear. He posted a 17-33 record in three major-league seasons.
St. Louis resided in the cellar again in 1908, and with newcomer Bugs Raymond and second-year southpaw Johnny Lush taking over the top spots in the rotation, Karger's pitching assignments were reduced. He worked in 22 games, 15 as a starter, with a record of four victories, nine defeats, and a 3.06 ERA. Following the season Ed and fellow moundsman Art Fromme were traded to Cincinnati for catcher George "Admiral" Schlei.
Karger pitched in thee leagues in 1909. With Cincinnati at the start of the season, he made five starts for manager Clark Griffith, and was winless until the final one on May 12 at Boston.
He twirled an ugly 6-2 complete-game victory; in and out of trouble throughout, issuing 12 walks and stranding 15 runners. On June 9 he was sold to St. Paul of the American Association, and good fortune followed. He managed a 7-3 mark in 15 games with the Apostles, and six weeks later was on his way back to the big leagues. The Boston Red Sox acquired Karger and hurler Charley Hall from St. Paul in exchange for pitchers Charlie Chech and Jack Ryan and cash. In six starts for the American League club, Ed won five of seven decisions. The Red Sox closed the season in third place, 9-1/2 lengths behind Detroit.
In 1910 Karger moved into the third slot in the Boston pitching rotation, behind Eddie Cicotte and Ray Collins, and completed 16 of 25 starts, with 11 victories and seven defeats. Also, he had the best year of his career as a hitter, batting .294 (20-for-68), with two home runs. In spite of finishing fourth in the standings, the future looked bright for the club, with the team building around its young pitcher, Smoky Joe Wood, and the 22-year-old outfield trio of Duffy Lewis, Tris Speaker, and Harry Hooper.
Wood took over the top spot in the 1911 rotation, and Karger slid back to number four. He lost a tough 1-0 duel to Eddie Plank of the Athletics in his season debut, and was inconsistent thereafter. He did pitch a 12-0 shutout over Washington on May 29, but rookie Larry Pape moved into Karger's position by mid-season, and the veteran started only one contest after August 5. He lost to the New York Highlanders on September 4, and was released the following day with a season log of five wins and eight losses. (Karger's wife, Maude, mentioned in a 1971 letter that her husband had a broken finger on his pitching hand in 1910; statistics indicate that the injury may have occurred in 1911.)
Karger returned to the minors in 1912, again with St. Paul, where he played four seasons with an overall pitching record of 40 victories and 72 defeats. The Apostles/Saints finished in the second division three years running, until 1915. Loose was a 20-game loser in '12 and '14, and wound up his time in St. Paul with a 4-10 mark in '15, when neighboring Minneapolis won the pennant over the Saints by a 1-1/2 game margin.
The left-hander married Maude in 1915, went back to Texas, and worked in construction, traveling wherever jobs became available. In 1920 he was in South Dakota when the Class D South Dakota League was gearing up to launch its inaugural season. At age 38, Loose made a comeback, signing with the Aberdeen Boosters as a pitcher-first baseman, as well as adding a veteran presence to a team of youngsters. By mid-season, with the team limping toward its eventual seventh-place finish, Ed was named manager. On the diamond he pitched in 11 contests, won seven, lost three, and batted .297 (43-for-145) in 41 games.
He contracted for the 1921 season as pitcher-manager, and the league changed its name to the Dakota League. Aberdeen switched nicknames and became the "Grays." Name changes had no effect on the club's standing; the Grays, with the skipper winning eight of 15 decisions on the mound and hitting .313 (50-for-160), including 17 extra-base knocks, were seventh again. One of Karger's young players made it to the big leagues; shortstop Pete Turgeon played briefly with the Chicago Cubs in 1923.
Ed left baseball for good after the 1921 season, when he accepted a position as foreman in a Minnesota lumber camp. In the years that followed, he worked as a construction engineer in the United States and Canada. The 1930 U.S. Census had the Kargers residing in Minnesota, and later on, with their three children, settled in western Colorado. On September 9, 1957, Edwin Karger, under care at the Thomas Resthaven Nursing Home in Delta, Colorado, succumbed to carcinoma of the rectum. At the age of 74, the six-year major- league pitcher and author of a perfect game in 1907, was laid to rest in Delta Cemetery. A brief obituary stated that he had been a "ballplayer."
Twenty years before Karger's death, Ty Cobb paid him a backhanded tribute. When interviewed by an Associated Press writer on February 24, 1937, the Georgia Peach was asked to name the toughest pitcher he faced. The legendary winner of a dozen American League batting titles stated: "There were three left-handers, Carl Weilman of St. Louis, George Mogridge of Washington, and Ed Karger of Boston. That Boston fellow didn't have much more than a barnyard curve and a prayer but he had me breaking my back."
Sources
In preparing this biography, the writer relied on clippings from the Research Center at the National Baseball Hall of Fame. Also helpful were Encyclopedia of Minor League Baseball; The Baseball Necrology; Total Baseball; Retrosheet.org; Baseball-Reference.com; Geneologybank.com; Ancestry.com; Bevillsadvocate.org; and SABR founding member Ray Nemec.
---
[1] The Commissioner's reclassification of no-hitters in 1991 would place Karger's accomplishment in the "unofficial no-hitter" category.
Born
May 6, 1883 at San Angelo, TX (USA)
Died
September 9, 1957 at Delta, CO (USA)
If you can help us improve this player's biography, contact us.
http://bioproj.sabr.org/bp_ftp/images5/KargerEd.jpg
600
800
admin
/wp-content/uploads/2020/02/sabr_logo.png
admin
2012-01-04 20:49:46
2012-01-04 20:49:46
Ed Karger