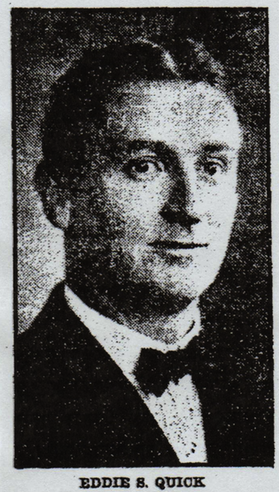 ---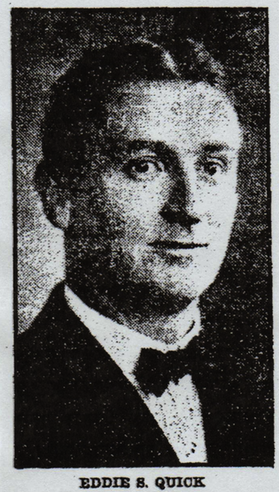 On September 28, 1903, the New York Highlanders auditioned a 21-year-old right-hander. The surname of this youngster had much in common with the duration of his tenure as a major leaguer — and indeed, his life. All were quick. More particularly, the entire big-league career of Eddie Quick consisted of one game appearance and 12 batters faced. Thereafter, he returned to the minor leagues, where he toiled with largely indifferent results for the next decade, though he attracted a fair amount of local press attention as a dandy. Quick was still employed on the fringes of professional baseball when he was stricken with pneumonia — he was dead before he reached age 32.
Unfilled gaps exist in our subject's biographical history. Among other things, his middle name,1 exact date of birth, religion, and education have been lost to time. What has been established is that Edwin Stewart Quick Jr. was born in Baltimore on December 27, 1881. He was the second of three sons.2 His father, Edwin S. Quick (1851-c. 1906), was a farmer and later a fireman. Quick Sr. and his wife, the former Susanna Hungerford (1853-1937), were also Baltimore natives. Little is known of Eddie's early life, apart from the fact that he lived at home and worked on the Quick family farm in his youth.3 In his leisure time, Eddie played amateur baseball, acquiring some local repute as a pitcher.
The starting point of his ensuing professional career is uncertain. Following Quick's death in June 1913, it was reported that he began with the short-lived Petersburg club in the 1900 Virginia League, and was with the champion Raleigh Senators of the North Carolina League the following season.4 An article published a decade earlier had young Quick playing "in minor leagues all through the East and South."5 He also reportedly made a splash pitching for the Maryland Athletic Club in a preseason practice game against the 1902 American League Baltimore Orioles, an outing umpired by Orioles skipper John McGraw. After the contest, a favorably impressed McGraw described pitcher Quick as "a youngster who will be a Chinese puzzle some day."6 Presumably it was a compliment.
However it began, Quick's professional career took root in 1902 when he joined the Logan club of the independent Utah League. Almost from the start, Quick's appearance drew as much attention as his performance. He was good-sized at 5-feet-11, with a sturdy but slender frame — and handsome. He was often called Adonis in newsprint and was a particular favorite of female fans. Eddie cut a flamboyant figure, dyeing his light-colored hair blond and favoring trendy, often garish, high-fashion garb off the field.7 A news report of game action maintained that Quick "had plenty of speed and several kinds of curves."8 The particulars of his "excellent pitching record" for Logan went undiscovered.9 However, when the Utah League folded in late July, Quick was immediately signed by the Spokane Smoke Eaters of the Pacific Northwest League.10
Toiling for a last-place club, Eddie struggled, posting a record in the neighborhood of 4-13.11 And a late-season loss to the Butte Miners embroiled the young hurler in controversy. The Spokane ballclub, and Quick in particular, were accused of dumping a mid-October 10-9 decision that gave Butte the league crown. Quick denied the charge indignantly, declaring the accusation "ridiculous. … I never threw a game in my life, and the charge that I laid down against Butte is unjust and unfair."12 Spokane management and teammates rallied to Quick's defense, and the matter promptly blew over. Nevertheless, Quick did not return to Spokane for the 1903 season. Rather, he began the campaign in the uniform of a league rival, the Portland Green Gages.13
The "flaxen-haired" Quick was Portland's Opening Day starter, pitching "triple-plate gilt-edge"14 ball but dropping a 4-3 decision in extra innings to Spokane. The setback launched the Green Gages on a season-starting 10-game losing streak. Performing poorly (21-42, .333) and drawing worse, the Portland franchise relocated to Salt Lake City in early July. The new venue had just a modest effect on the club's play, as the newly christened Salt Lake Elders headed for a 56-91 (.381) finish at season's end. But by then, Eddie Quick's fortunes had taken a dramatic turn for the better. Despite a lackluster 14-21 log, Quick was selected in the September minor-league player draft by the pitching-hungry New York Highlanders of the American League.15 Immediately thereafter, he left Salt Lake for a late-season tryout with his new club.
On September 28, 1903, Highlanders pitcher-manager Clark Griffith decided to put some of his newly arrived talent to the test, pairing Quick with rookie backstop Jack Zalusky in a meaningless home contest against the Detroit Tigers. In the top of the first, Quick was "hit hard" by the Tigers, but umpire Tommy Connolly was hit harder, briefly knocked unconscious by an errant between-innings warm-up throw by Detroit catcher Fritz Buelow. With Connolly in need of hospital care, the game continued with New York skipper Griffith and Tigers pitcher Bill Donovan assuming the officiating duties.16 The Tigers were already ahead 4-1 when their leadoff man reached base in the top of the third. Griffith had seen enough of Quick and brought in right-hander Elmer Bliss, another New York newcomer making his big-league debut. Unlike his predecessor, Bliss was sharp, holding the Tigers in check the rest of the way while the home side rallied for a 7-6 victory. In his two-plus innings pitched, Quick had surrendered five hits and a walk. But only two of the five runs charged against him were earned, and the Highlanders comeback had gotten him off the hook with a no-decision. Unbeknownst to the 21-year-old, he would never get a second chance to show his stuff at the highest level. Eddie Quick's major-league career was now over.17
Spending the offseason at home in Baltimore, Quick was disheartened by his demotion to the minors, He was dealt with Zalusky to the Toledo Mud Hens of the American Association in exchange for catcher Red Kleinow.18 Also disaffected by the transfer was the ownership of the Salt Lake club, which filed a grievance with the National Commission alleging that it had not been properly compensated by the Highlanders for the draft of Quick the previous September. In late January, the commission agreed, and returned the rights to Quick to Salt Lake.19 Eddie had spent the preceding months working out in Annapolis with the pitchers for the US Naval Academy, and reported to Salt Lake in excellent physical condition.20 But his attitude was a different story. Disgruntled about being back in the same Pacific Northwest League from which he had graduated a year earlier, Quick sulked in preseason practice sessions, complained of a conveniently sore arm, and openly disrespected Elders manager Dad Gimlin. Salt Lake responded by suspending Quick, and then selling his contract to the Butte Miners.21 Quick got off well with his new club, defeating Boise, 5-3, in his first start. But soon his attitude and erratic pitching landed him in the Miners doghouse, as well.
Released by Butte in early July, Quick changed leagues, signing with the Omaha Rangers of the Class A Western League.22 The next several months would yield perhaps the best-quality pitching of his professional career. Filling a weak spot in the Omaha rotation, Quick ably contributed to the surge led by staff ace (and future Chicago Cubs standout) Jack Pfiester that propelled the Rangers from mid-pack to the Western League crown.23 In little more than a half-season, Quick went 14-9 with a 2.55 ERA in 199 innings pitched, and won seven of his eight September decisions.24 Re-signed by Omaha for the 1905 campaign, Eddie stayed local that winter, working as a photographer in an Omaha art studio.25
Neither Quick nor Omaha could repeat the heroics of the previous season. The team, now called the "Rourkes" in honor of club owner-manager Pa (William) Rourke, fell to third place in Western League final standings, while Eddie posted no better than a journeyman 18-18 mark in 312 innings pitched. Indeed, Quick's sartorial accoutrements captured more notice than his pitching. The press dutifully reported the reward posted for return of a diamond stud lost from a Quick shirtfront.26
That trend continued in 1906. Poor early-season pitching led to Quick's sale to a Western League rival, the Pueblo Indians.27 But Quick declined to report, signing instead with a semipro club in Fremont, Colorado. A shelling in his first outing led to his prompt release by Fremont, as gleefully reported in the Omaha World-Herald, which frequently lampooned the dandified hurler.28 In time, Quick, a decent hitter,29 hooked on as a first baseman-outfielder with the cellar-dwelling Little Rock Travelers of the Class A Southern Association. In 76 games, Quick batted a soft .205 (only 11 extra-base hits), but his attire provided fodder for the press back in Omaha. One World-Herald dispatch informed readers that Eddie was providing fashion reports for a local newspaper on his offdays.30 Another alleged that "one of Eddie Quick's new Parisian vests caused the turning in of a fire alarm in downtown Little Rock."31
The 1907 season found Quick on the West Coast, alternating between the pitcher's mound and the outfield for the San Francisco Seals of the Class A Pacific Coast League. He turned in a respectable 12-10 record with a 2.54 ERA in 191⅓ innings pitched for the second-place (104-99) Seals, but managed only a .183 batting average in 151 at-bats.32 Following his late-season release,33 Quick spent the short fall baseball season as a member of the woeful (3-34) San Francisco entry in the independent California State League.34
Now featuring a spitball in his pitching repertoire, Eddie began the next season across the bay with the PCL Oakland Oaks, but was released in mid-May.35 Quick's career now spiraled downward. A brief stint with the Santa Cruz Sand Crabs of the California State League was followed by time spent with a semipro nine in Morenci, Colorado, and then a state champion semipro team in Chehalis, Washington. Quick spent the summer of 1909 pitching for a semipro club in the Colorado resort town of Cripple Creek.36 Thereafter he teamed up with former Highlanders batterymate Jack Zalusky for exhibition-game play in Fort Collins.37 During the winter, Eddie made his home in Denver, living at the residence of his older brother, John, and family.
Quick returned to Cripple Creek in 1910.38 The following year, however, he reentered Organized Baseball, signing with the Butte Miners, now a member of the newly formed Class D Union Association.39 Selected to start the Miners season opener, Eddie reportedly "sent to the south for a whole case of slippery elm bark, so he can cut capers with his 'spitter' on the opening day."40 As before, attention was often paid to the looks of the pitcher, now 29 years old: "Quick is a genuine Adonis with German silver smile and tousled blond locks who would make a fortune as a matinee hero. In stature he is a modern Apollo Belvidere but his curves are all alike," sneered the Salt Lake Tribune when the Elders defeated their one-time teammate in July.41 Putdowns notwithstanding, Quick developed into the ace of the Miners staff, going 23-15 in 317 innings pitched for the third-place (77-60) Butte club.42
Shortly after the season ended, it was rumored that Quick and several teammates were attempting to secure a Union Association franchise for Pocatello, Idaho.43 Nothing happened on that front, but Eddie was in for a change of scenery in any event. In early March, Butte traded him and infielder Nig Perrine to league rival Missoula.44 Eddie began well with his new club, notching three wins with a no-decision in his first four outings as Missoula jumped off to a scintillating 15-1 start. But from there, Quick won only three more times and was routinely hit hard. Some two months into the 1912 season, Missoula released him.45 But almost immediately, another UA club (Great Falls) signed him.46 Five poor performances later, Quick was released again.47 And with that, his time in Organized Baseball came to an end.
Efforts to find another engagement were interrupted when John Quick suddenly took ill. Eddie returned to Denver in time to bid his brother farewell before he passed away on October 27, 1912. John was only 32. The following February, it was reported that Eddie was mulling offers from teams in Memphis; Peoria and Danville, Illinois; and Saginaw, Michigan.48 For the time being, however, he hung around Denver, throwing five shutout innings for a picked team of minor leaguers against a local semipro club in mid-April.49 A month later, Quick signed to pitch for a semipro squad in Rocky Ford, a melon-growing community about 135 miles southeast of Denver.50
By early June, however, it was reported that Quick was unable to pitch, having been stricken by pneumonia.51 After seeming to improve, Quick's condition worsened. Edwin S. "Eddie" Quick, Jr. died in Rocky Ford on June 19, 1913.52 He was 31. After funeral services, his remains were interred next to those of his brother John in Fairmount Cemetery, Denver. Never married, Quick was survived by his mother, Susannah, and younger brother, Charles.
Acknowledgments
This biography was reviewed by Rory Costello and Len Levin and fact-checked by Chris Rainey.
Notes
1 The previously undetermined middle name and date of birth for Quick were uncovered by researcher Carlos Bauer and ratified by adoption in the March-April 2021 report of SABR's Biographical Research Committee.
2 His siblings were John Henry Quick (1879-1912) and Charles Harrison Quick (1889-1955).
3 Per the 1900 US Census.
4 According to "Diamond Dust," Salt Lake Telegram, June 24, 1913: 10. But the writer's examination of league statistics and contemporaneous local reportage regarding both the Petersburg and Raleigh clubs uncovered no trace of Quick.
5 See "He's the Peroxide Blonde from Dixie," Baltimore American, February 24, 1903: 10. Another report had Quick pitching for a club in Penn Park, Pennsylvania. See "Must Go Back to Salt Lake," Harrisburg (Pennsylvania) Patriot, January 8, 1904: 7.
6 "He's the Peroxide Blonde." It was earlier reported that Quick "would have been added to the staff of [the Orioles] had he a little more experience." See the Waterbury (Connecticut) Democrat, March 25, 1902: 8.
7 Quick's newsprint soubriquets included Pretty Eddie, Adonis, and Eddie the Vest.
8 Salt Lake Herald, June 15, 1902: 5.
9 Per "Quick Goes to Spokane," Salt Lake Herald, August 2, 1902: 2.
10 "Quick Goes to Spokane."
11 Per the writer's extrapolation from published game accounts. Baseball-Reference provides no 1902 pitching stats for Quick, and not having the 25 appearances required, he was not included in the PNWL numbers published in the Oregon Journal, October 29, 1902.
12 See "Enter Denial," Seattle Times, October 14, 1902: 9.
13 During the offseason, the circuit expanded from six to eight clubs and adopted a new name, the Pacific National League.
14 Per "Fourteen Innings," The Oregonian (Portland), April 15, 1903: 6.
15 As reported in "Quick Will Play in Faster Company," Butte (Montana) Inter-Mountain, September 10, 1903: 9; "Quick Goes to New York," Tacoma (Washington) Ledger, September 10, 1903: 6: "Base Ball Notes," Washington (DC) Evening Star, September 10, 1903: 12; and elsewhere. For some reason, other newspapers erroneously reported that Quick had been drafted by the National League New York Giants. See e.g., "Quick Signs with McGraw," Baltimore Sun, September 8, 1903: 10, and "Sporting Notes," Worcester Daily Spy, September 10, 1903: 8.
16 As reported in "New York (A.L.) 7, Detroit 6," New York Sun, September 29, 1903: 11; "American League," New York Times, September 29, 1903: 10, and elsewhere. Griffith called balls and strikes for Highlanders pitchers, while Donovan did the same for Tigers teammate Frank Kitson.
17 The big-league pitching career of winning pitcher Bliss was over as well, but he would get to play several innings of a May 1904 game in the New York outfield.
18 Per Retrosheet.
19 The rationale of the National Commission ruling is more fully explained in "Why Eddie Quick Was Awarded to Salt Lake," Salt Lake Telegram, January 20, 1904: 9. See also, "Quick to Be an Elder the Coming Season," Salt Lake Tribune, March 4, 1904: 8.
20 Per "Elders Meet Miners First," Salt Lake Herald, April 3, 1904: 5, and "New Ball Players Coming In, Salt Lake Telegram, April 9, 1904: 8.
21 As reported in "Gimlin Is Big Chief," Salt Lake Telegram, May 4, 1904: 9; "Suspensions and Fines Imposed," Salt Lake Tribune, May 4, 1904: 7; "Butte Has New Pitcher," Idaho Statesman (Boise), May 7, 1904: 5; "Eddie Quick Sold to Butte," Tacoma Ledger, May 7, 1904: 6.
22 See "Brief Gossip of Sporting Circles," Salt Lake Telegram, July 7, 1904: 3, and "Gossip about the Players," Seattle Times, July 12, 1904: 10.
23 See "Omaha Closes Pennant after Hard Fight," Omaha World-Herald, September 25, 1904: 11. The Rangers won 16 of their final 17 games to finish 90-60, edging out the second-place Colorado Springs Millionaires for the WL crown by a 1½-game margin.
24 Per Omaha club stats published in the Omaha World-Herald, October 23, 1904, and as calculated by the writer from contemporaneously published Western League box scores and game accounts. Baseball-Reference provides no pitching stats for Omaha hurlers other than Pfiester (24-11), and undercounts by at least four the number of Omaha games that Quick appeared in as a batsman.
25 Per "Omaha's Champions Scatter for the Winter," Omaha World-Herald, October 23, 1904: 18.
26 See "Local Brevities," Omaha World-Herald, May 10, 1905.
27 As reported in "Pueblo Club Gets Pitcher Eddy Quick," Denver News, May 11, 1905: 8; "Slats Davis Wins Home," Salt Lake Herald, May 20, 1906: 8; and elsewhere.
28 See e.g., "An Ode to Edward Vest," Omaha World-Herald, May 21, 1906: 5; "Eddie Vest Quick," Omaha World-Herald, October 1, 1907: 7.
29 Baseball-Reference and Retrosheet list Quick as "bats unknown," and no specific info regarding the way that Quick batted was discovered in contemporaneous reportage. But minor-league game accounts suggest that Quick hit from the right side.
30 See "Small Sporting Palaver," Omaha World-Herald, July 4, 1906: 8.
31 "Small Sporting Palaver," Omaha World-Herald, July 3, 1906: 5.
32 Per Baseball-Reference.
33 See "Eddie Quick Released," Salt Lake Herald, October 13, 1907: 10; and "Seen from the Press Box," San Francisco Chronicle, October 18, 1907: 8.
34 As noted by sportswriter Frank B. Hart in "Stockton Sure of Pennant," San Francisco Chronicle, November 3, 1907: 2.
35 As noted in "Baseball Gossip," San Francisco Call, May 13, 1908: 13; and "State League Gossip," Sacramento Bee, May 16, 1908: 20. In nine games, Quick batted .163 (5-for-31) for Oakland, and posted an 0-1 pitching mark.
36 See "Pine Crest Downs Tritches by One-Sided Score," Denver News, July 19, 1909: 9; "Pine Crest in Race for State Pennant," Denver News, August 7, 1909: 7.
37 See "State Champions to Play Ironworkers Tomorrow," Denver News, September 23, 1909: 8.
38 As reflected in "Webster Signs Players," Denver Post, April 27, 1910: 12.
39 Per "League Notes," Salt Lake Telegram, March 22, 1911: 7.
40 "Diamond Dust," Salt Lake Telegram, April 25, 1911: 7.
41 See "Salt Lake 6, Butte 4," Salt Lake Tribune, July 20, 1911: 11.
42 Baseball-Reference attributes the 23-15 record to Edward E. Quick, failing to recognize that he is the same player as Eddie (Edwin S.) Quick.
43 See e.g., "Eddie Quick Would Become a Manager," Daily Missoulian (Missoula, Montana), November 8, 1911: 9; "Pocatello's Chances," Anaconda (Montana) Standard, November 26, 1911: 10.
44 As reported in "Missoula and Butte Clubs Make a Trade," Anaconda Standard, March 3, 1912: 2; "Diamond Dust," Salt Lake Telegram, March 5, 1912: 7.
45 As reported in "Good Pitcher Adrift," Salt Lake Telegram, July 1, 1912: 10.
46 As per "Diamond Dust," Salt Lake Telegram, July 2, 1912: 12.
47 As reported in "Diamond Dust," Salt Lake Telegram, July 22, 1912: 8. By the writer's calculation, Quick went a combined 6-8 in 23 appearances for Missoula and Great Falls.
48 See the Salt Lake Telegram, February 15, 1913: 19.
49 Per Harry Rapp, "Cubanolas Lose to Minor Leaguers," Denver News, April 14, 1913: 7.
50 As noted by sportswriter Rapp in the Denver News, May 4, 1913: 16.
51 See e.g., Rocky Ford (Colorado) Gazette-Topic, June 4, 1913: 1, and Harry Rapp in the Denver News, June 6, 1913: 10.
52 See "Eddie Quick Responds to Last Call," Rocky Ford Tribune, June 20, 1913: 1; "Claimed by Pneumonia," Salt Lake Telegram, June 24, 1913: 10 (with formally attired photo of Quick).
Born
December 27, 1881 at Baltimore, MD (USA)
Died
June 19, 1913 at Rocky Ford, CO (USA)
If you can help us improve this player's biography, contact us.
https://sabr.org/sites/default/files/QuickEddie.png
600
800
admin
/wp-content/uploads/2020/02/sabr_logo.png
admin
2020-01-22 15:32:23
2021-05-17 10:39:38
Eddie Quick