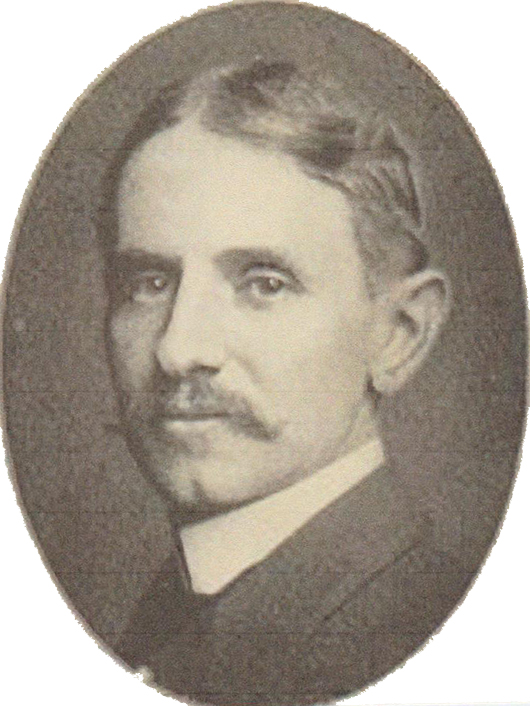 ---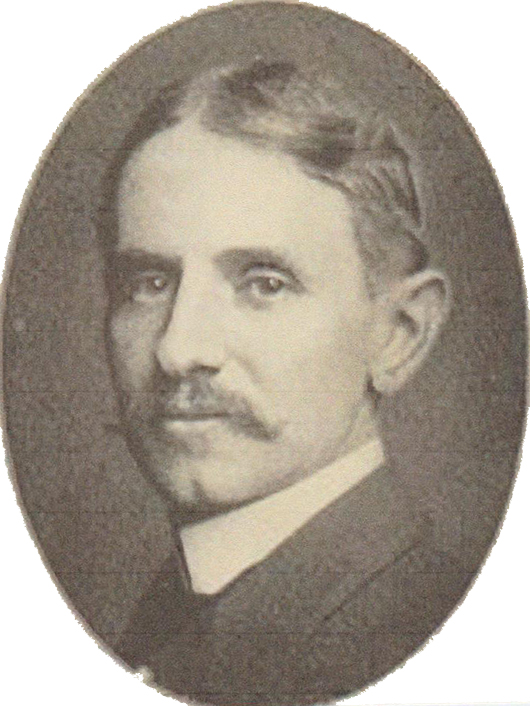 During the years between the ownership of the New York Giants by club founder John B. Day (1883-1890) and the tumultuous stewardship of Andrew Freedman (1895-1902), the franchise was controlled by a group of business-minded men with varying degrees of interest in baseball. Although he never held the title of team president, the unquestioned leader of this group was young Wall Street financier Edward B. Talcott.
Likely the most avid baseball enthusiast of the franchise investors, Talcott was initially enticed into the game's ownership ranks by Albert L. Johnson, the Cleveland trolley car magnate who bankrolled the ill-fated Players League (PL). In late 1889, Talcott assembled the financial backers of the New York entry in the upstart circuit. And like other PL backers, the new club owner and his associates took a red ink bath. When the Players League folded at the close of the 1890 season, New York's rival major-league ball clubs consolidated, with the Talcott group (Talcott, Edwin A. McAlpin, Cornelius C. Van Cott, and Frank B. Robinson) merging their PL team assets with those of Day's National League Giants. Within a year, the Talcott group largely displaced the financially-strapped Day in management of New York Giants affairs. An able man, Talcott took the lead in restoring the franchise to fiscal health. He also approved the player acquisitions that made the Giants competitive on the diamond, as evidenced by New York's capture of the 1894 Temple Cup. But despite this playing field success, baseball did not provide the return on investment anticipated by the club's owners. So in January 1895, Talcott orchestrated the sale of their controlling interest in the New York Giants to Freedman and left the game. His biography follows.
Edward Baker Talcott was a man of distinguished lineage, descended from English gentry that reached American shores in the 1630s. His more immediate forbears included a colonial governor, military commanders, and business leaders. Born in New York City on January 21, 1858, Talcott was the fifth of seven children born to Frederick Lyman Talcott (1818-1884) and his wife, the former Harriet Newell Burnham (1820-1905). The elder Talcott was a prosperous banker and commodities broker known as "the Cotton King." His son Eddie (as the New York baseball press often called him) was educated at Fort Washington Institute in Manhattan. At age 16, he entered Talcott & Sons, the family banking house. Several years later, Eddie joined the brokerage firm of Charles F. Hardy & Company, where his youthful enthusiasms were seasoned by trips to Europe on company business. In 1879, the 21-year-old Talcott married Sara Roberson, a relation of future US President Grover Cleveland. Sadly, none of the couple's three children lived beyond age six.1
In 1880, Talcott returned to the family firm as a partner. Three years later, he went out on his own. Purchasing a seat on the New York Stock Exchange, "the boy wonder of Wall Street" proved an adept trader and was soon a wealthy man.2 He also became a force in New York City Democratic Party politics, but steadfastly declined to stand for elective office or accept appointment to a local government post. Rather, Talcott preferred to exercise his considerable influence behind the scenes.3 In his leisure time, Talcott was an active clubman, holding memberships in the Manhattan and New York Athletic Clubs, as well as the Atlantic Yacht Club. A baseball fan since childhood and "himself a pitcher of no small ability"4 in his youth, Talcott was also frequently in attendance at Giants games played at the original Polo Grounds.5
In 1889, Talcott was in the house when Giants first baseman Roger Connor slugged a tape-measure home run at the New Polo Grounds.6 "Eddie Talcott, broker and baseball fan, jumped up and started a collection … [Spectators who] chipped in [included] Col. McAlpin and … [Albert] Johnson … They gave Roger a big gold watch."7 But Talcott, Johnson, and tobacco company tycoon McAlpin were doing more than just taking in ball games together. Each was preparing to assume a pivotal role in a new professional baseball venture, the Players League. Johnson would provide crucial seed money for the circuit. McAlpin would become league president, and Talcott would chart the course of the PL's cornerstone franchise in New York.
Given that the Players League was the brainchild of New York Giants' shortstop John Montgomery Ward and that New York was the fount of player rebellion against the game's establishment, the New York PL club would be stocked with defecting NL Giants players, including future Hall of Famers Buck Ewing, Roger Connor, Jim O'Rourke, and Tim Keefe.8 Incorporated in Albany as the New York Base Ball Club Limited, the chief financial backers of the franchise were Talcott, McAlpin, New York City Postmaster Cornelius C. Van Cott, and Pittsburgh stockbroker (and McAlpin brother-in-law) Frank B. Robinson. A number of PL Giants ball players also held nominal shares of club stock. The position of club president was conferred on Van Cott, but Talcott did most of the heavy lifting, including securing playing grounds for the new operation. Audaciously, Talcott leased real property and then erected a new ballpark (Brotherhood Park) so close to the New Polo Grounds that only a 10-foot-wide alley and the stadium walls separated the two.
The fan allegiance question was settled on Opening Day when 12,013 attended the debut of the Ewing-led "Big" Giants, while only 4,644 chose to watch Day's "Real" Giants play next door. As the season progressed, both teams drew poorly, but the NL club suffered more, attracting little more than one-third the home gate of the PL Giants. In fact, the situation at the New Polo Grounds grew so dire that only an emergency infusion of cash by fellow NL magnates kept Day's club from declaring bankruptcy at midseason.9 The NL Giants managed to stagger to the finish line of the 1890 season, but the club's future looked grim. Also taking a financial beating—and not hardcore baseball lifers like Day—were the investors in the Players League New York club. If they were to stay in the game, an accommodation of sorts would have to be reached with their local rival.
Preempting larger National League-Players League consolidation talks, Day and Talcott swiftly reached agreement on merger of the two New York teams. Day, a one-time friend of the renegade players, had been adamant that John Montgomery Ward and other player representatives be excluded from the discussions. "The players have nothing to say at all," said Day, "The capitalists on both sides will do the negotiating. The players will have to do what they are told to do."10 Talcott concurred, brushing off objections by Ward. "I don't propose to have Mr. Ward or anybody else criticize my business methods," declared Talcott, testily. "Nor shall I allow Mr. Ward to tell me how my financial interests must be arranged. The fight cannot go on another year, for baseball will become a dead sport. Ward can say what he likes but it cannot alter matters with us a particle."11 With its New York operation co-opted, the Players League soon passed from the baseball scene, its remaining backers scrambling to reach consolidation or buy-out agreements with National League counterparts. By late-November 1890, triumphant Chicago White Stockings owner A.G. Spalding could legitimately proclaim, "The Players League is as dead as the proverbial door-nail."12
While it may have been dead, the brief existence of the Players League exacted a fearsome toll on the fortunes of John B. Day and loosened his grip on the Giants operation. On January 24, 1891, the concerned parties met to reorganize the franchise under the laws of New Jersey. The proceedings were dominated by the Talcott group, which now controlled slightly over one-half of the Giants stock. Other NL club owners (A.G. Spalding, Arthur Soden, John T. Brush, et al.) controlled just over one-quarter combined, while the stake of Day and his junior partners had been reduced to about 15 percent.13 Former PL organizers Ward, O'Rourke, and Keefe, plus a few others held the remaining odd stock lots.14 The new organization was named the National Exhibition Company, the corporate handle for all the ensuing years that the New York Giants would be in existence. The well-respected Day was bestowed the title of club president, but executive power would be wielded by vice-president Talcott and his allies.
An early sign of Talcott ascendancy was embodied by the selection of the team's playing site for the 1891 season. Day had built the second iteration of the Polo Grounds less than two years earlier and the stadium was a first-class baseball venue. But Brotherhood Park was the home of the Talcott forces, and he himself was personally responsible for the ten-year lease taken out on the property. With no intention of having an idle ballpark on his hands, Talcott had Brotherhood Park renamed the Polo Grounds and designated the permanent home field of the Giants. Day's adjoining stadium was re-titled Manhattan Field and relegated to hosting college football, track meets, horseracing, and other sporting events. Day's diminished stature in the new club hierarchy was also reflected in the treatment of his old friend and collaborator Jim Mutrie.15 Giants manager since 1885, Mutrie continued in that post at Day's insistence for the 1891 season. But Mutrie was shorn of effective command, supplanted in authority by Buck Ewing, the former PL Giants field leader. Soon after the season ended, Mutrie was unceremoniously severed from franchise employ, with Day powerless to prevent it.
The next season was a trying one for New York, both on the field and at the gate. The 71-80 Giants of 1892 were mediocre non-contenders, and Polo Grounds attendance (130,566) remained only a fraction of the crowds attracted only four years earlier.16 Meanwhile, the Talcott group strengthened its hold on franchise operations by purchasing the bonds that had to be issued to cover club indebtedness. In February 1893, Day resigned as club president.17 Van Cott assumed the post, but only as a figurehead. Talcott would steer the franchise course. As noted by the New York Herald, it was "an open secret that [Van Cott] has little knowledge of the game and that Mr. Talcott will be the power behind the throne."18
Having reconciled with John Montgomery Ward (now manager of the NL Brooklyn club), Talcott decided to improve New York prospects by securing the accomplished Ward for the Giants. For $10,000 or a share in Giants gate receipts—accounts differ—Ward was acquired as player-manager for the 1893 season.19 Shortly after his installation at the helm, Ward dispatched aging Giants icon Buck Ewing to Cleveland for young infielder George Davis, whose Hall-of-Fame career blossomed once in a New York uniform. With fireballer Amos Rusie doing yeoman pitching work and Ward and Davis anchoring the infield, the Giants began to climb in the NL standings. Attendance surged as well, with the 387,000 patrons drawn to the Polo Grounds during the 1894 season setting a major-league attendance record. Capping the Giants campaign was a four-game sweep of the NL pennant-winning Baltimore Orioles in the inaugural postseason Temple Cup.
Notwithstanding the improvement in the Giants fortunes, the club did not produce the financial return anticipated by its commerce-minded ownership group—particularly Edward B. Talcott. And by late-1894, the group decided to sell the club. The timing of events could not have been better for Andrew Freedman, a young Manhattan real estate millionaire who had already begun quietly acquiring stock in the New York club.20 Apart from personality differences—Talcott was polished and personable, Freedman volatile and prickly—the two men had much in common. Both were intelligent and handsome, astute in financial matters, and influential Tammany Hall insiders. In January 1895, Talcott delivered a slim, but working, majority of New York Giants stock into Freedman's hands. And at a bargain price too, variously estimated between $48,000 and $54,000.21 In his determination to sever his financial connection to the game, Talcott was reportedly willing to let his franchise stock go for "50 cents on the dollar," and persuaded McAlpin, Van Cott, and a reluctant Frank Robinson to do the same.22 With that, the New York Giants had a new owner, a club boss who would soon be deemed the most-hated man in turn-of-the- century baseball.
The dark years of the Freedman regime, however, lay somewhat in the future. Initially, the acquisition of the Giants by a wealthy, well-connected native Manhattanite was well-received, with Talcott joining the welcoming chorus for the new club ownership. "I have no hesitation in saying that the incoming [Giants] Board will be the finest body of men which ever represented a baseball club," Talcott declared. "They are all men whose standing in the commercial world is the very best."23 Talcott declined Freedman's invitation to serve as a board member, but got his successor off on the right foot by arranging a meeting between Freedman and Polo Grounds real property landlord James J. Coogan at which the two political adversaries "buried the hatchet."24
Only in his mid-30s when he left the game, Eddie Talcott spent the remaining years of his long life mostly out of the public spotlight. He continued his frequent attendance at the Polo Grounds and could be relied upon to predict a Giants pennant at the start of each season. In 1897, Talcott joined the brokerage firm of Bell & Company, and the following year reportedly earned over $1 million during the five-month run up to the Spanish-American War. In 1901, Talcott sold his seat on the New York Stock Exchange for a handsome sum and only dabbled in the market thereafter.25 Later that year, A.G. Spalding floated Talcott's name as a potential buyer of Andrew Freedman's NY Giants holdings during Spalding's fight with Freedman and John T. Brush over the National League presidency.26 But Freedman had no intention of selling out to Talcott or any other buyer proposed by Spalding, and would ultimately prevail in his efforts to oust Spalding from the league president post. Interestingly, Talcott did not veto the idea of assuming the NL presidency himself. When asked if he would accept the position, Talcott replied, "I don't care to answer that. But it has not been offered to me as yet. Everybody knows the interest I take in baseball. I want to see this muddle straightened out."27 When the dust settled, however, the NL presidency was conferred upon a non-partisan candidate, Pittsburgh Pirates executive Harry Pulliam.
By 1910, Talcott and his wife had relocated to the New Jersey shore, where Talcott kept a low profile, giving his occupation as stockbroker for Hudson, Ivey & Company to census takers. Following the death of Sara Talcott, Ed remarried, taking widow Mary Howell Grover as his second wife in 1925. Talcott's name last appeared in the press under peculiar circumstances. A spinster heiress named Louise Williston attempted to enlist Talcott's aid in her effort to gain release from a New York mental asylum.28 But by now Talcott was old and ailing and could provide no assistance.
Edward Baker Talcott died after "a long illness" at his home in Point Pleasant Beach, New Jersey on April 6, 1941.29 He was 83. Following funeral services in nearby Manasquan, he was buried at Woodlawn Cemetery in the Bronx. With his passing, the veil was drawn on the group of businessmen that had owned the New York Giants a half-century earlier.
Acknowledgments
This bio contains excerpts from The Polo Grounds: Essays and Memories of New York's Historic Ballpark, 1880-1963 (McFarland & Co., 2019), edited by Stew Thornley, and is re-published by permission.
This version was reviewed by Phil Williams and Joel Barnhart and fact-checked by Alan Cohen.
Sources
In large part, this bio is drawn from the writer's previous work on the New York Giants franchise, including the organizational histories published in the Fall 2016 issue of Outside the Lines, the newsletter of SABR's Business of Baseball Research Committee, and The Polo Grounds: Essays and Memories of New York's Historic Ballpark, 1880-1963, Stew Thornley, ed. (Jefferson, North Carolina: McFarland, 2019). Specific sources include the Edward B. Talcott file maintained at the Giamatti Research Center, National Baseball Hall of Fame and Museum, Cooperstown, New York; US Census data; an entry on Talcott in Jay Henry Mowbray, Representative Men of New York: A Record of Their Achievements (New York: New York Press, 1898), Vol. 3, 164-165; and certain newspaper articles, particularly a biographical sketch of Talcott in the New York Clipper, July 20, 1893, and obituaries in the New York Times, April 7, 1941, and The Sporting News, April 17, 1941.
Notes
1 See generally, "E.B. Talcott," New York Clipper, July 20, 1893, and Jay Henry Mowbray, Representative Men of New York: A Record of Their Accomplishments (New York: New York Press, 1898), Vol. 3, 164-165.
2 For how the youthful Talcott accumulated wealth, see "Quits with a Million," Rockford (Illinois) Register-Gazette, February 8, 1899: 4, and "E.B. Talcott Dies at Shore," Asbury Park (New Jersey) Press, April 7, 1941, 1-2.
3 Per Mowbray, 165.
4 According to one widely-syndicated report. See e.g., Charleston (South Carolina) Evening Post and Topeka (Kansas) State Journal, February 6, 1899.
5 Located on 110th Street just north of Central Park in Manhattan, the original Polo Grounds were constructed by John B. Day and served as Giants home field until razed after the 1888 season.
6 The New Polo Grounds (later Manhattan Field) were erected in far north Manhattan. Opened mid-season in 1889, the ballpark hosted the National League New York Giants through the 1890 pennant race.
7 As recounted by sportswriter John Kieran in "The Brave Days of Old in Baseball," New York Times, January 7, 1931: 40.
8 Ward, meanwhile, would assume the position of player-manager for the Players League outpost in Brooklyn.
9 Those who kept the Day's Giants afloat included NL club owners A.G. Spalding (Chicago), Arthur Soden (Boston), John T. Brush (Indianapolis), Ferdinand Abell (Brooklyn), and Al Reach (Philadelphia). Day's indebtedness to fellow magnates came to about $80,000 which was forgiven in return for proportionate shares of NY Giants stock.
10 As quoted in "New York Clubs Will Unite," Chicago Tribune, October 15, 1890: 6.
11 Per "Base Ball in a Tangle," Chicago Tribune, November 7, 1890: 6, and "Mr. Talcott to Ward," New York Herald, November 7, 1890: 9. See also, "Talcott Out of Temper," Sporting Life, November 8, 1890: 1.
12 See "Here Are the Figures," Chicago Tribune, November 22, 1890: 6.
13 Dominant shareholder Day and much-junior partners Joseph Gordon, Charles Dillingham, and Walter Appleton had operated the Giants as a closely-held New York corporation called the Metropolitan Exhibition Company.
14 Extrapolated from data published in George H. Dickinson, "New York Comment," Sporting Life, October 17, 1891: 3.
15 Mutrie and Day had joined forces to revive professional baseball in New York in 1880, and Mutrie had served as manager of Day-owned teams from then on through the 1891 season.
16 During the 1888 season, 305, 455 fans attended NY Giants games at the New Polo Grounds.
17 Per "Mr. John B. Day Retires," New York Times, February 10, 1893: 3. Much reduced in circumstance, Day remained on the margins of baseball for the rest of his life. He died in January 1925 at age 77.
18 "Postmaster Van Cott Leads the Giants," New York Herald, February 10, 1893: 4.
19 For more on the machinations that attended Ward's transfer to New York, see Bryan DiSalvatore, A Clever Base-Ballist: The Life and Times of John Montgomery Ward (New York: Pantheon Books, 1999): 348-349.
20 To camouflage his intentions, Freedman often used proxies like circus impresario James A. Bailey to acquire Giants stock.
21 See e.g., the 1895 Reach Official Base Ball Guide ($48,000) and James D. Hardy Jr., The New York Giants Base Ball Club, 1870-1900 (Jefferson, North Carolina: McFarland, 1995) ($54,000).
22 According to "New York Club Sale," Baltimore Sun, January 18, 1895: 6. Other accounts pegged the cost even to club purchaser Freedman even lower: "50 cents on two dollars." See e.g., "Said to Have Bought Giants," Chicago Record, January 17, 1895: 6.
23 As quoted by sportswriter O.P. Caylor in "Old Board Goes Out," New York Herald, January 30, 1895: 11.
24 New York Herald, January 30, 1895 11. While title to the Polo Grounds itself came with the acquisition of the New York Giants franchise, the real property on which the ballpark sat did not. That had to be leased from the vastly-propertied Gardiner-Lynch family via family estate agent (and son-in-law) Coogan, then a minor political thorn in the side of Tammany Hall boss and Freedman mentor Richard Croker.
25 Per the Talcott obituary published in the New York Times, April 7, 1941: 17.
26 As reported Denver News, New York Times, Worcester Daily Spy, and elsewhere, December 25, 1901.
27 As quoted in "Concessions Will Be Made," Cleveland Plain Dealer, April 2, 1902: 6.
28 Reported in "Hospital Release Sought by Heiress," Trenton Evening Times, April 26, 1939: 2.
29 New York Times, April 7, 1941: 17.
Born
January 21, 1858 at New York, NY (US)
Died
April 6, 1941 at Point Pleasant Beach, NJ (US)
If you can help us improve this player's biography, contact us.
https://sabr.org/sites/default/files/Talcott-Edward-B.jpg
600
800
admin
/wp-content/uploads/2020/02/sabr_logo.png
admin
2020-02-25 14:46:26
2020-04-09 14:37:26
Edward B. Talcott