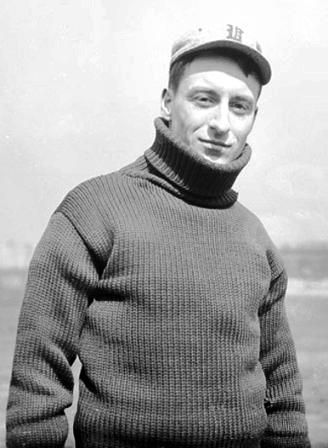 ---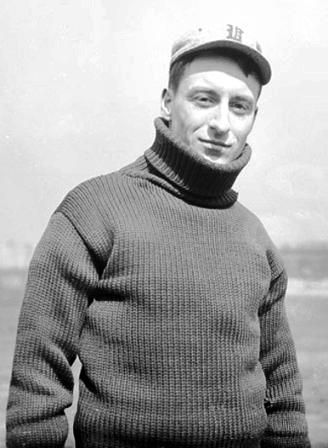 There are hundreds of major-league players who fall into the nebulous category of having had a "cup of coffee" in the big leagues; a baseball idiom for a short time a minor-league player spends playing in the major leagues. It could be for a single game, or a few short weeks. The time period is undefined, but there is one player who holds the unique distinction of pitching and winning a game in his major-league debut — never to pitch in the majors again — and then returning to the majors the following season to play one inning as an outfielder, never to bat or field in the majors again: meet Elmer Ward Bliss.
Austin Bliss, carpenter, and Mary (Henderson) Bliss, homemaker, of the rural lumber/farming community of Penfield, Pennsylvania, welcomed their second child into the world, Elmer Ward Bliss, on March 9, 1875. Elmer joined his sister Edith and as they grew so did the family with siblings Charles, Nellie, Mable, and Lester arriving over the next 15 years. Sometime prior to 1900, Austin and Mary moved their family about 20 miles downstate to the neighboring town of Dubois, Pennsylvania. Austin Bliss flourished there as a house builder and son Elmer, now 25, earned his living as a day laborer for the Dubois Iron Works.1 Bliss had returned to Dubois from Rixford, Pennsylvania, after spending two years working in the Bradford, Pennsylvania oil fields as an oil-rig builder.2
At Dubois the 6-foot, 180-pound Bliss took a sudden interest in baseball and, finding a talent for the game, he signed on with the Elmira Pioneers (New York) team in the Atlantic League, playing shortstop from April until the league disbanded on June 14.3 Needing employment, Bliss settled in Bolivar, New York, where he dressed tools for the oil industry during the morning shift and honed his ability as a baseball pitcher in the afternoon, hurling for Bolivar and other nearby town teams.4 Attaining recognition for his pitching prowess the red-headed right-hander signed on with the Cortland/Waverly Wagonmakers and the Utica Pentups of the New York State League in 1901. Exactly which team he played for — perhaps both — and for how many games, is uncertain, but it would not be the last time Bliss signed more than one contract with more than one team in a season.
Feeling secure at making a living at baseball, Bliss and Miss Gertrude Lebar were united in marriage on Saturday April 12, 1902, and the following Monday Bliss left Bolivar to join the Utica team for his second professional season.5 In early June the new Mrs. Bliss joined her husband in Utica, where he was in the midst of pitching in 30 games for the Pentups.6 Complete minor league records with which to entirely judge Bliss's performance for the years 1900-1904 are unavailable at this time.
In 1903 Bliss was back with Utica, appearing in 33 games, winning 18 and losing only 4 when the New York Highlanders of the American League purchased his contract in August.7 Bliss rode the Highlanders pine until the second-to-last game of the 1903 season. On September 28 New York manager Clark Griffith gave Eddie Quick the game's starting assignment on the mound vs. the Detroit Tigers. Quick, making his major league debut, was not up to the task and the Highlanders quickly found themselves down 4-0 after two innings. Griffith replaced Quick with Bliss, also making his first big league appearance, and Elmer threw brilliant ball the rest of the way, holding the Tigers to two unearned runs and only four hits while striking out three. The Highlanders came back to win the game, 7-6, to give Bliss the victory. The New York Times reported that Bliss made an excellent showing, was cool and steady, and threw a rise ball that was very effective. The game took just one hour and fifty-five minutes to play and when umpire Tom Connolly was hit in the head by a thrown ball, Griffith and Tigers bench player Wild Bill Donovan took over the officiating, each calling balls and strikes when the opposite team batted.8 Bliss would never pitch in another major league game, but he would make another appearance with the New Yorkers the following season. Returning home to Bolivar in late October, Bliss opened a billiards room in nearby Angelica, New York, to supplement his baseball income.9
During the following spring training with the Highlanders in Albany, Georgia, Bliss pitched well and when the team headed north, Elmer had made the big club. However, inexplicably on May 4, 1904, without allowing Bliss to pitch to a single major league batter, the Highlanders released him with ten days' advance notice and the team retaining his services during that time while advising the press that the club had too many good pitchers and no room on the roster for Bliss.10 On May 11, in a 4-3 win against the Cleveland Naps, manager Griffith sent Bliss out to right field for an inning and an at-bat. Highlander Willie Keeler had been tossed from the game for arguing an interference call in the first frame and Red Kleinow, ordinarily a catcher, replaced him in right field. In the late innings Bliss took over for Kleinow in right.11 Was this gesture of Griffith's a farewell gift or did the Highlanders need an outfielder in a pinch? Kleinow's innings in the outfield were his only appearance in the garden in his eight-year career. Since Kleinow was most often a backstop, it is possible Griffith wanted a more agile defender in right at the end of a close game.
Disappointed with being cast off by New York, Bliss returned to his residence in Richburg, New York, near Bolivar. But apparently Bliss was a hot commodity and he quickly signed with the Albany Senators of the New York State League, the Montgomery Senators of the Southern Association, the Montreal Royals of the Eastern League, and the Baltimore Orioles of the Eastern League. Bliss went to Baltimore in early June, but Albany cried foul and said they had seen him first. Albany looked to Highlanders owner Frank J. Farrell to make a decision as to which team now owned the pitcher's services.12 Whether Farrell did make a decision about where Bliss should play for the rest of 1904 or whether Farrell had any authority to make that decision is unclear. In the end Bliss played for Baltimore, Montreal, and the Rochester Bronchos in 1904, although records are unavailable to determine how many games he played with each.
In February 1905, Bliss sold his interest in the billiards parlor and on March 9 the Bolivar Breeze reported that Bliss had renewed his contract with Rochester and would probably play the outfield and pitch and that, "He is a fast player and ought to make a record to be proud of the coming season." However, in the fall of 1904, Bliss had been sold to the Chicago White Sox who assigned the now twenty-nine-year-old pitcher to the Grand Rapids Orphans of the Central League.13 No records exist to show that Bliss played for Rochester in 1905, but he did pitch 227 innings for the Orphans that season, winning 17 and losing 11. Maybe it was another time, as with midseason 1904, that Bliss hedged his bets by signing with more than one team, so he was sure to have a place to play. His hometown paper predicted his success in Grand Rapids, noting that Bliss would receive $1,200 for the season and that he is a first class twirler, good hitter, a fast base runner, and ought to make a fine record with the Western team.14
While enjoying his fine baseball summer in Grand Rapids, Bliss's entrepreneurial spirit rose again as he and James J. Cameron entered into a partnership to build a roller polo rink and put a team in Muskegon, Michigan for the National Polo League.15 Professional roller polo was all the rage in the upper Midwest in the early part of the twentieth century; a game played indoors in winter on roller skates; similar to hockey, only played with a hard rubber ball instead of a puck.16 Within a few years the fad ran its course with the advent of basketball as the number one winter sport. Bliss had previous experience with roller polo as he and Grand Rapids owner/manager John Ganzel, a former teammate on the New York Highlanders, were already co-owners of an indoor polo team in Jackson, Michigan.17 Bliss also found his name in the newspapers for auto speeding in Grand Rapids in August 1905.18 Since automobiles and speeding tickets were in their infancy, one can imagine that this infraction may have caused a lot of talk around the Orphans ball grounds.
Bliss won 19 games and lost 8 for the newly nicknamed Grand Rapids Wolverines in 1906; yet no major league team came calling. Disgruntled at being passed over by the majors, Bliss harbored ill will against many of his Grand Rapids teammates who he thought received undue praise and, by the end of the season, he was not on speaking terms with several of them. To show his displeasure, Bliss returned home to New York State without playing in the customary post-season exhibition games. Bliss was not expected to return for the next season.19
Bliss held out for a salary increase in the spring of 1907, but finally was persuaded by new owner Phil Arnold to join Grand Rapids for the 1907 campaign.20 In the middle of a fine season in which he posted a personal 14-9 won-loss record as a pitcher, Bliss took over as manager of the Wolverines from Cuppy Groeshow on June 12.21 The team would go 60-77 under the combined efforts of both managers.
The Central League carried a Class B classification while Bliss played for Grand Rapids. In the spring of 1908 the White Sox traded Bliss to the Class A Montgomery Senators (Alabama) of the Southern Association. Elmer reported to the team in late April and although he only logged a four and six record in 13 games on the hill, he did hit .297 as a first basemen in 155 at-bats. However, Bliss returned home to Bolivar in mid-June.22
Maybe thinking that his career in baseball was coming to a close, Bliss, drawing on his previous experience as an oil-rig builder, had a well drilled on his father-in-law's property in Richburg, New York in February 1909.23 Whether the speculation was a success or failure is not recorded, but Bliss did report back to Montgomery (now known as the Climbers) and fashioned a fine 14-7 mark on the mound. However, in February 1910, Montgomery traded Bliss to the Mobile Sea Gulls for Liz Torrey and cash considerations.24 Apparently the deal fell through as records show Torrey played with Mobile in 1910.
Now 35 years old, Bliss purchased a billiard hall in Hornell, New York, and made his residence in that town. Hornell had a first-class baseball team at the time and Bliss spent the spring and early summer playing with the semipros. On July 15 he signed on with the Binghamton Bingoes of the Class B New York State League. Bliss hit .264 at the plate and went 4-9 from the rubber for the last-place Bingoes. In December 1910, Bliss signed to play the 1911 season with Binghamton, but no records show that he appeared on the playing field with the Bingoes that season. Bliss was, however, a hero in another manner when on August 1 of that year, he dashed into the street in Howard, New York, and stopped a runaway carriage that was imperiling the lives of its occupants, Mr. and Mrs. George Agnoy, he a cripple, and also nearby citizens, by tackling one of the horses and throwing it to the ground. The Agnoys were badly shaken and Bliss, identified as a star pitcher for Binghamton, was cut, and bruised, and his clothes torn.25
The year 1912 brought no professional offers for Bliss's baseball services but he continued to play ball over the next couple of years in and around Hornell while operating his billiards parlor. On September 9, 1913, Elmer and his wife Gertrude were divorced.
In March 1914, Bliss ran into trouble when he was arrested and fined $100 for permitting gambling at his Idle Hour Pool Parlor.26 That winter the Class D Interstate League formed with franchises from Bradford and Warren, Pennsylvania, and Hornell, Olean, Jamestown, and Wellsville, New York. Bliss expected to play and manage the Hornell entry but that fell through, likely due to the gambling situation, and it was not until June 25 that Bliss got back in the game when the Wellsville Rainmakers, sitting at the bottom of the league, hired Bliss to manage for the rest of the schedule.27 Bliss did little twirling that year but he hit .323 in 30 games. The team finished at the bottom of the standings in the second half with a record of 21-27.
In February 1915 Bliss sold his pool and billiard room and moved from Hornell to Bradford, Pennsylvania to open the Bliss Insurance Agency: "When You See Bliss Don't Think of Insurance, But If You Think of Insurance — See Bliss."28 The same month, in Cattaraugus County, New York, Bliss wed Miss Jayne B. McQuistion of Rixford, Pennsylvania, and on June 2 at the Methodist Episcopal Church in Angelica, New York, they exchanged vows again. They would have one son, Albert Austin, born in June 1916.
Bliss would successfully operate his insurance agency until he sold the business in 1950. Over the years he would be a devoted supporter of Bradford baseball teams and a sometime executive in their semi-professional and professional endeavors, usually as team secretary. On August 30, 1952, Bliss was invited to Yankee Stadium for an Old Timers game and to see the Yankees play the Washington Senators. Clark Griffith, the Senators president, and Bliss's 1903 manager with the New York Highlanders (forerunner to the New York Yankees), introduced the five remaining living players of that team, stating that Bliss was a top flight hurler.29 That moment would be the highlight of Bliss's later years. Elmer Ward Bliss died in Bradford on March 18, 1962; at his death he was the last living member of the original 1903 New York Highlanders.
Acknowledgments
This biography was reviewed by Joel Barnhart and fact-checked by Alan Cohen.
Sources
In addition to the sources cited in notes, the author also consulted Retrosheet.org, Baseball Reference.com, and Ancestry.com.
Notes
1 "The Elmer Bliss Agency Here Grows," Bradford Era, (Bradford, Pennsylvania), December 29, 1941: 14.
2 Ibid.
3 Ibid.
4 Ibid.
5 "Vicinity Letters," Bolivar Breeze, (Bolivar, New York), April, 17, 1902: 5.
6 "Vicinity Letters," Bolivar Breeze, June 5, 1902: 5.
7 "All The Sports." Fort Wayne Daily News, April 16, 1905: 7.
8 "Yesterday's Baseball," New York Times, September 29, 1903: 10.
9 "In Old Allegany," Bolivar Breeze, October 22, 1903: 3.
10 "Little Breezes," Bolivar Breeze, May 12, 1904: 8.
11 "Yesterday's Baseball," New York Times, May 12, 1904: 10.
12 H. L Fry, "Albany Claims Bliss," The Sporting News, June 4, 1904: 1.
13 "The Elmer Bliss Agency Here Grows," Bradford Era, December 29, 1941: 14.
14 "Bliss Goes to Grand Rapids," Bolivar Breeze, April 13, 1905: 1.
15 "Sports," Fort Wayne News, July 24, 1905: 5.
16 Karin Cramer, "Roller Polo," Herald Bulletin, (Anderson, Indiana) July 30, 2011: 1.
17 ""The World Of Sport," Goshen Daily Democrat, (Goshen, Indiana), July 26, 1905: 1
18 "Bliss Fined For Auto Speeding," Fort Wayne News, August 16, 1905: 8.
19 "Short Sport Items," Evening Herald, (Traverse City, Michigan), September 25, 1906: 6.
20 "Arnold Getting Team," Evening Herald, (Traverse City, Michigan), February 18, 1907: 6.
21 "Today's Game, "Newark Advocate, (Newark, Ohio), June 12, 1907: 6.
22 "Richburg Ripples," Bolivar Breeze, June 18, 1908: 7.
23"Latest Oil News," Bolivar Breeze, February 4, 1909: 1.
24"Montgomery Trades Bliss," Constitution, (Atlanta, Georgia), February 22, 1909: 10.
25 "Elmer Bliss Is Hero," Bolivar Breeze, August 3, 1911: 1.
26 "Bliss Pays Fine," Allegany County News, (Whitesville, New York), March 12, 1914.
27 "Bliss To Manage Wellsville," Wellsville Daily Reporter, (Wellsville, New York), June 27, 1914: 8.
28 "Classified Business Directory," Bradford Era, January 31, 1933: 10.
29 "Ex-Major Leaguer of Bradford Honored," Bradford Era, September 1, 1952: 9.
Born
March 9, 1875 at Penfield, PA (USA)
Died
March 18, 1962 at Bradford, PA (USA)
If you can help us improve this player's biography, contact us.
https://sabr.org/sites/default/files/BlissElmer.jpg
600
800
admin
/wp-content/uploads/2020/02/sabr_logo.png
admin
2018-12-26 14:11:24
2020-04-09 14:38:38
Elmer Bliss