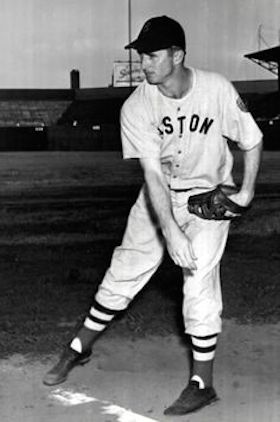 ---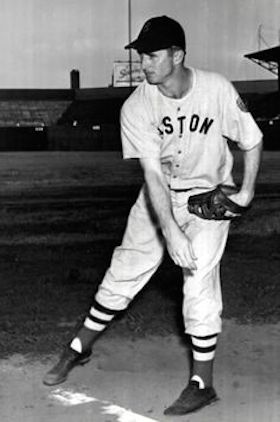 It could be difficult to tell parents they misspelled their son's name, but one guesses that was the case with Robert Emmett O'Neill, named for perhaps the single most prominent figure in the history of the fight for Irish independence — Robert Emmet, who was hanged (and then drawn and quartered) by the British in Dublin in 1803. Since Ireland achieved independence over 100 years later, with the birth of the Irish Free State embracing 26 counties in 1921, Emmet has been honored by a statue in Dublin, with his image on postage stamps, and with innumerable street names, pub names, and other honors.
When O'Neill was born on January 13, 1918, in San Mateo, California, his parents (or local authorities) grafted an extra "t" onto his middle name. Both parents were immigrants from Ireland. Daniel O'Neill arrived in America in 1904; he worked as a dairy operator at the time of the 1920 census. His wife, Margaret (Spring) O'Neill, arrived in 1905. As of 1920, they had seven children – Anna (or Hannah), Helen, Margaret, Daniel, John, Grace, and Robert. Ten years later, in 1930, Daniel was listed as a cattle rancher.
Emmett, as he was known, attended Haywood Park School in San Mateo for eight years, then San Mateo High, and went to St. Mary's College in Moraga, California, from which he graduated with a Bachelor of Arts degree. He also played basketball, football, and tennis.
St. Mary's has a long baseball history. Over the years, this small college has produced an astonishing number of major league ballplayers — 63 in all! The most recent ones are Mark Teahen, James Mouton, and Tom Candiotti. The Red Sox alone count the following former St. Mary's men among their own alumni: Frank Arellanes, Bill Fleming, Harry Hooper, Bill James, Earl Johnson, Dutch Leonard, Duffy Lewis, Jim McHale, and Emmett O'Neill.1 St. Mary's won the California intercollegiate championship in the spring of 1940.2
O'Neill was a right-handed pitcher, standing 6-foot-3 and listed at 185 pounds. Some sources report a nickname of "Pinky," but according to O'Neill, he had none.3
He had envisioned a career teaching and coaching high school sports. He played some semipro ball in 1939, but while he was still in college, he signed to play professionally. He was said to be the first bonus pitcher from California signed by the Red Sox.4 He reports that he was originally an infielder "but got too tall."5
The Boston Globe reported that O'Neill was "heavily recommended by Earl Sheely, former American league first sacker, who incidentally is the St. Mary's coach."6 He signed with the Sox on April 23. The San Francisco Chronicle reported that Sheely was the "Boston Scout" who signed both O'Neill and third baseman Al Lingua, and would accompany both of them on the United Air Lines flight to Boston.7 The two students had left campus a week before graduating, but had already completed their final exams.8
The Red Sox assigned him to Scranton on option. He pitched briefly in May and June for Scranton, then was passed on to the Class-B Piedmont League Rocky Mount Red Sox. With Rocky Mount, he was 2-2 in nine games with a 3.80 ERA.
O'Neill pitched both for the Class-B Greensboro Red Sox and the Class-C Oneonta Indians (Canadian-American League) in 1941. He was 1-0 for Greensboro and 4-3 for Oneonta. He didn't pitch anything like a full season either year due to a troublesome arm.9
In 1942 he pitched for two Double-A teams, Louisville and Toronto, and had mirroring records, 4-3 and 3-4 respectively, with a combined 3.48 earned run average.
He started the 1943 season for Louisville. In July, Boston's minor-league supervisor Herb Pennock, who had been following O'Neill, declared the young pitcher ready for the big leagues.10 On July 30, the Sox released Babe Barna to Louisville in exchange for O'Neill, and sent Lou Lucier to Louisville on option.
O'Neill's Red Sox debut was on August 3. He came into a game the Cleveland Indians were winning, 7-0, and struck out the first batter he faced on three pitches. In all, he pitched the final four innings and surrendered four runs. The Red Sox scored nine runs (six in the bottom of the ninth), but came up short, 11-9. O'Neill had one plate appearance, doubled, and scored a run when Skeeter Newsome followed with a homer. His second outing resulted in his first win, a 10-6 victory on August 12 in Chicago. He was the pitcher of record when Boston scored four runs in the top of the sixth.
It was his only win for the 1943 Red Sox. His first start was a complete-game, 5-2 loss in Cleveland, and he lost three of his four starts in September, the Red Sox scoring only eight runs over the four starts in support. By season's end, he was 1-4, with an ERA of 4.53 and a WHIP (walks and hits per inning pitched) of 1.769.
Heading into 1944, there was at least a moment before the season began when it appeared that O'Neill could become the #1 starter for the Red Sox. Manager Joe Cronin apparently liked him and he had a strong spring. Ed Rumill of the Christian Science Monitor saw his April 10 column headlined "O'Neill Top Sox Hurler; Game Friday."11
He was 6-11 (4.63) in 1944, a year in which the Red Sox were true contenders for the pennant until the very last few weeks of the season. He beat the Yankees, 5-2, on April 19, and had his best stretch in his first three starts in August when he threw his only shutout, 4-0, a two-hitter against the Senators. He followed that with 2-1 and 5-1 wins, but then lost every one of his next six starts.
He collected another shutout in 1945, when he bumped his won/loss record up to 8-11 on the season, despite an ERA that deteriorated still further to 5.15. The shutout was a four-hitter on July 24, again against St. Louis. He was always plagued with control problems; Harold Kaese of the Boston Globe once wrote that catcher Bob Garbark "goes to bed especially early the night before O'Neill pitches."12 O'Neill lucked out on July 14, when he walked 10 Tigers, but gave up only three hits and won the game, 7-1. Again, his losses mounted up at the end of the season. He was 8-4 through July, then lost every one of his next seven starts.
He had the biggest base hit of his career on June 1, 1945, a three-run homer. Despite being a former shortstop, he hit only .180 over his 122 career at-bats, struck out 36 times, and drove in 11 runs.
Over the wintertime, he had an operation to deal with varicose veins, resulting in 300 stitches in his legs. At the time, he owned San Mateo's "most prosperous night spot – the Sports Club."13
Come 1946, with so many Red Sox players coming back from military service, the team placed him on waivers and presumably were pleased to have him selected by the Chicago Cubs on March 29. He threw all of one inning for the Cubs, and didn't give up either a hit or a run, but he did walk three. Less than a week later, the Cubs put him on waivers and the White Sox brought him down to Chicago's South Side on April 23.
He pitched a bit of unusual relief on April 28, facing five St. Louis Browns batters and giving up four hits and one walk, and two runs – but both runs were unearned. The Browns scored nine times in all in the top of the first inning.
He married Miss Caroline J. Tobin on May 20, 1946. She didn't put him on waivers and they remained married for nearly 50 years.
In O'Neill's last appearance in a big-league game, he pitched 3 2/3 innings against New York at Yankee Stadium, didn't allow a hit, but did walk four. For the season, he was 0-0 with an ERA of 0.00.
Later in June, the San Francisco Seals acquired O'Neill on option from the White Sox, but in 10 innings he surrendered 19 bases on balls and five hits.
He started the 1947 season with the Seals, appeared in three games, giving up nine hits and 13 walks in 12 innings, and was released in late May.
In 1948 the Sacramento Solons decided to give him a try. The Bee's Wilbur Adams called him a "wild man" and said the manager, Joe Orengo, realized O'Neill could "throw the ball as hard as anyone in the business. But he is not always quite sure where the horsehide is going."14 He appeared in 28 games and threw 75 innings, but is listed with a record of just 0-2. He played another 24 games in the outfield, but hit only .174. He was released by Sacramento before the 1949 season began, and does not show in the historical record for that year.
In 1950, O'Neill pitched for Shreveport (2-3) in the Texas League and Danville (7-7) in the Carolina League.
O'Neill retired from baseball in 1951. A Nevada resident by then, he became a gaming executive, managing the Stateline Country Club at Lake Tahoe, co-owning and managing the Silver Club in Sparks, Nevada, and the River Inn in Reno. The year before his death he retired after 12 years at the Regency Casino in Laughlin, Nevada.
After a lengthy illness, O'Neill died at Sparks on October 11, 1993. He was survived by his wife, Caroline, and their sons Stephen and Barry.
Sources
In addition to the sources noted in this biography, the author also accessed O'Neill's player file and player questionnaire from the National Baseball Hall of Fame, the Encyclopedia of Minor League Baseball, Retrosheet.org, Baseball-Reference.com, and the SABR Minor Leagues Database, accessed online at Baseball-Reference.com.
Notes
Born
January 13, 1918 at San Mateo, CA (USA)
Died
October 11, 1993 at Sparks, NV (USA)
If you can help us improve this player's biography, contact us.
http://sabr.org/sites/default/files/O%27NeillEmmett.jpg
600
800
admin
/wp-content/uploads/2020/02/sabr_logo.png
admin
2016-02-17 19:24:50
2016-02-17 19:24:50
Emmett O'Neill